Marvelous Visitors!
This past Saturday, two very special visitors touched down in Boston to stay the night – my good friend Rachel and her husband Steve! She got her wedding dress on Newbury Street, so thankfully for me, each fitting involves a visit to moi. (Rachel and Steve got married in a family-only church ceremony on New Year's Day, but are having a big ceremony/party in Mexico in June, hence why Rachel the wife still needs a dress fitting.) And once the fitting was done (of course Steve didn't accompany us to that portion), I had plenty of marvelous activities planned for the three of us.
Marvelous is…retail therapy. Before reuniting with Steve, we took advantage of girl time and headed to the Pru for some shopping, which I actually haven't done since moving here. LOFT was having a great sale so I got a couple of tops for just $36, and a very helpful Sephora associate helped me pick out my first bronzer and eyebrow pencil. I'm really growing up!
Marvelous is…lunch with a view. I love dining at Top of the Hub's bar because it's a cheaper way to experience one of Boston's prettiest restaurants. Some may call the place touristy, but I love going up there because it feels fabulous! I knew Rachel would agree and we both enjoyed our meal and drink selections. I picked a salad I've had before because though I try not to repeat dishes, it was the perfect light lunch and just what I craved. And of course I asked for some bread, because Top of the Hub serves their bread with those awesome balls of butter.
Marvelous is…showing someone new my apartment. Rachel's visited before so she'd already seen it, but I was happy to have the chance to show Steve my first place-of-my-own! We also were able to find free street parking, which was a semi-miracle since half of the spots are still covered in snow. More money for cocktails!
Marvelous is…an epic restaurant tour. And cocktail we did! After hanging in my apartment for awhile, the three of us took the T over to the Fenway area so that I could show Rachel and Steve some of my favorite spots. We ended up going mostly to places Rachel had already been, but she didn't mind repeating since she liked them so much the first time around! First stop was Citizen, because I hadn't been there in two weeks and was having some withdrawals. My friend and bartender Laura made me a Red Hook, and Rachel and I shared fried pickles. I definitely think Citizen has the best fried pickles I've ever had!
Then we went to Eastern Standard for dinner, because of course. I ordered my favorite cocktail there, the Prospect Park. Lately I haven't been able to bring myself to try any of their newer selections because I'm so stuck on that amazing rye, maraschino, aperol, and sweet vermouth combo. Despite the fact that we were told a 45 minute wait when we walked in, our table was ready in about 10 minutes! Score.
The next stop was the Hawthorne for an after-dinner drink, and man oh man, I was blown away by the service! As we were leaving Eastern Standard, I mentioned to (another great Boston bartender) Kevin that we were headed to the Hawthorne. Both places are affiliated with the Hotel Commonwealth and some sort of communications magic must have taken place…we walked in, and the hostess asked, "Are you Cait?" Confused, I confirmed that I was, and she led us to some seats at the bar that had been reserved for us! We felt so special. Big thanks to the Hawthorne and Eastern Standard for making my friends think I have way more pull than I actually do! 😛
Marvelous is…party time! Our next stop was Charlestown, for a party at my friends' house. Yes, we were certainly all over the place. After a quick package store trip for a bottle of bubbles, we touched down at the party. Rachel was psyched to meet Allie's dog Nessie, and the feeling was mutual. Just picture the motions of a pogo-stick, and that's Nessie for you.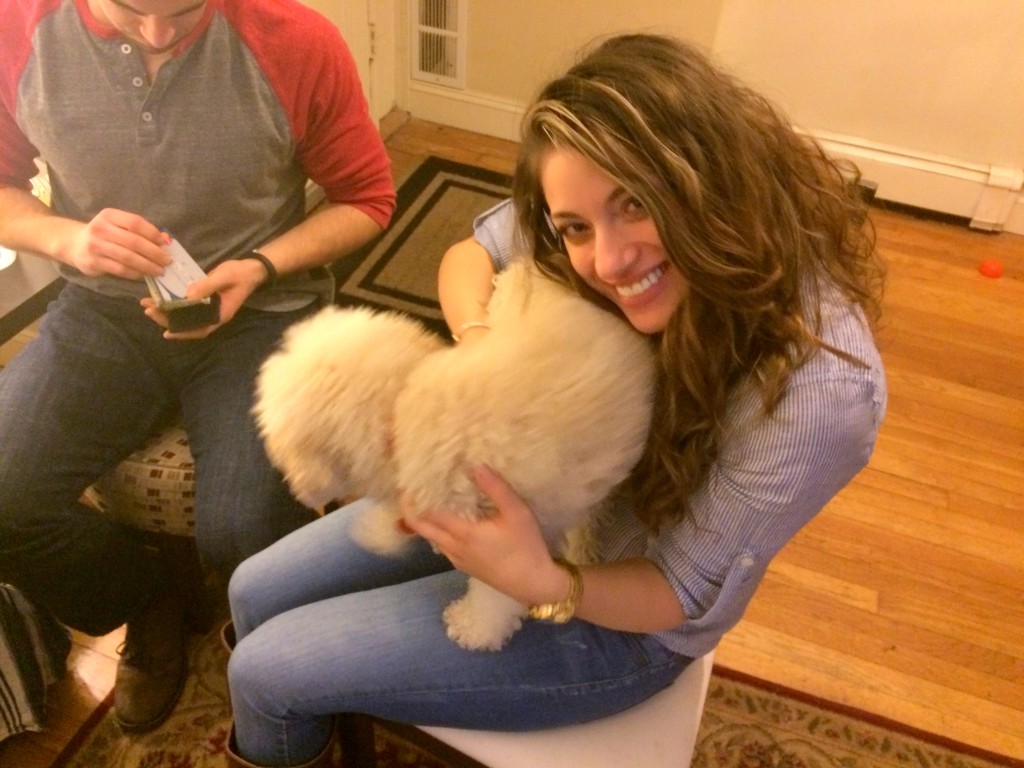 I was happy that Steve and Rachel got to meet some of the friends that I frequently hang out with here in Boston! I love connecting people.
Marvelous is…a special breakfast. We went to one last bar before heading home, which was certainly NOT something I needed (isn't it always that last drink – and late night appetizer – that ends up being not needed?). As a result I did not sleep well. I woke up throughout the night regretting my decisions and hating myself for not having more self control. I distinctly recall telling myself that I would have to eat as little as possible the next day to "make up for" the evening. So going out to breakfast soon after waking was not even a blip on my radar…until Rachel and Steve suggested we do just that. Unlike me, they are definitely breakfast people! So I suggested we check out @Union, because I have definitely been meaning to do so since I moved here, and have only heard great things from others who live in my area.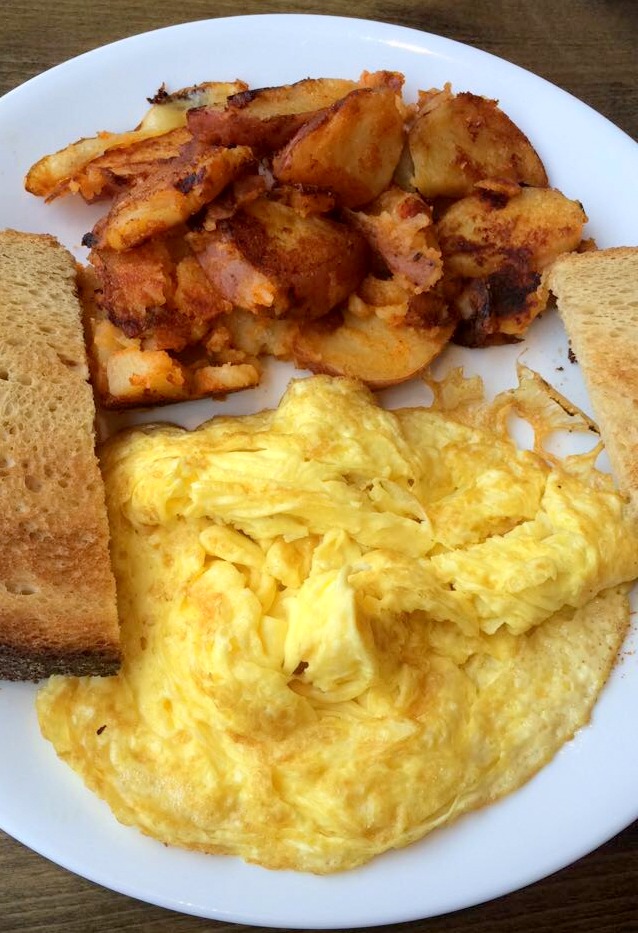 At first I told myself I'd just get iced coffee, and then I saw the wonderful menu. The thought of sitting and watching Steve and Rachel eat a tasty-looking breakfast did NOT sound fun. So I started perusing my options, and realized that my usual safe options of egg white veggie omelettes and various fruits would not satisfy me. I just honestly wanted eggs, not egg whites. I wanted toast, not fruit. So I went for it – I ordered what I craved. I got two scrambled eggs with dry wheat toast, and didn't even ask for fruit instead of home fries. And you know what? It was all damn delicious and left me satisfied without even finishing the plate. I wasn't staring in envy at Steve and Rachel's plates as I picked at fruit and attempted to digest veggies that I wasn't in the mood for at all. I ordered what I wanted, enjoyed it until I was done, and also felt a whole lot better mentally and physically for the day's gym trip! I'm grateful Rachel and Steve were there when I woke up to get me out of the apartment and moving on with my day, because otherwise I honestly think I would have laid in bed hating myself for much of the morning.
After breakfast, Steve and Rachel headed out and I went to the gym. It was a marvelous visit and I was happy to hear that they had a wonderful time! I'm excited for the next time I see them whether it's in CT or Boston, and know that in early June we will all be together at their wedding in Mexico, having the most marvelous time! Now I just have to start working on my maid of honor speech…
What do you enjoy doing with friends when they come to visit you?
What's your favorite breakfast to order out?
What was marvelous about your weekend?