Doubling Up on Barcelona
This month I've had the chance to visit both Barcelona Wine Bar locations in Boston! First I went to Brookline to attend a Tour of Galicia dinner (and take over the Barcelona Brookline Facebook to share my experience).
As usual there was no shortage of wine at this event…each course was paired with two different varietals!
We started with what I could have just eaten all night – cheese and charcuterie. That 6-Month Manchego was something special.
The waiters then brought out food that wasn't even on the menu. I had already been wondering how I'd finish what was listed, let alone extras!
We then moved onto seared scallops with blistered tomatoes. The scallop was cooked to perfection and I could have eaten several more. I also couldn't get enough of the vinaigrette soaking the vegetables, and was sure to mop up every last drop with more bread.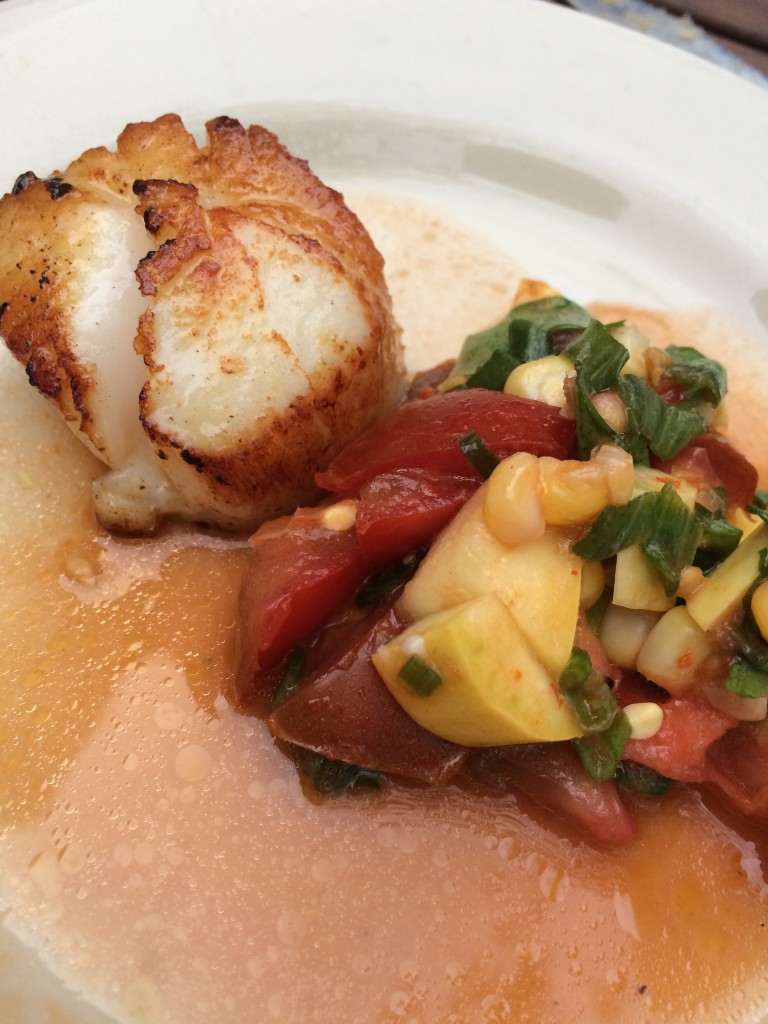 The seafood trend continued with clams, chorizo, and green garlic. I am admittedly not a huge clams fan, but the chorizo in this dish made me VERY happy. Once again the broth tasted stellar, especially when paired with still more bread.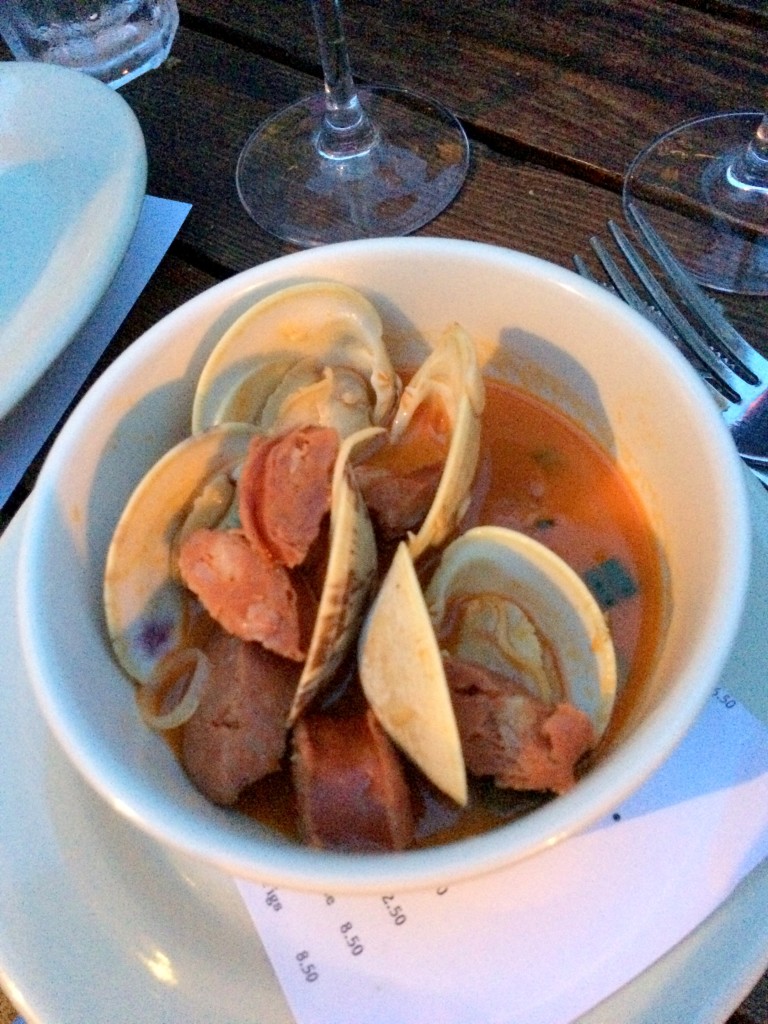 The "main course", pulpo gallego (octopus with potatoes), was prepared on a cart right in front of us. I didn't get a good photo of the finished dish (it got dark and I lost all my lovely natural light), but despite how full I was at that point, I truly could have eaten another helping. The octopus wasn't my favorite part though…the potatoes were.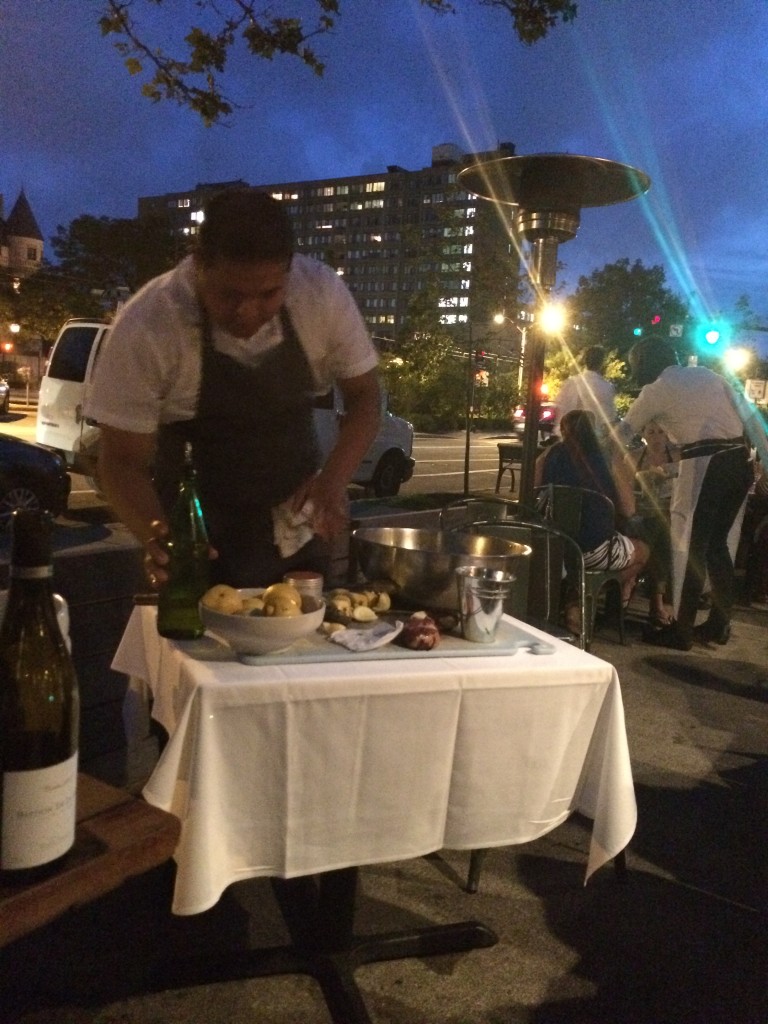 And then came the surprise of the night, for me at least. This being that my favorite course of the night was the dessert! Many who know me know I am not a big dessert person. I'd rather eat cheese, another few pieces of bread, or have another cocktail. However, that changed with the chocolate Galician almond tart.
As Stefon would say, this dessert had eeverything. A flaky crust. A rich, but not TOO rich, chocolate mousse. Crunch from all of those almonds. And two great wine pairings. Despite the fact that I already had a food baby going, I took advantage of finding a dessert I loved this much, and finished my friend Kate's helping too. Needless to say a walk home after this event was much needed.
---
Speaking of events, Barcelona is doing an event in Connecticut on Thursday 8/27 – on a farm! Chef Eric Stagl is going to be making a multi-course meal, complete with wine pairings as well as Barcelona's signature homemade sangria. The dinner will take place on beautiful Eddy Farm in Newington, CT and tickets are $95. You may be skeptical of the price tag, but keep in mind that the event I recapped above came with just a $45 price tag – and look at all that we received. Barcelona's events are always more than worth the cost of the tickets, and this upcoming dinner has five starters alone! You can view the menu here, and click here to get your tickets. This would make a great birthday or anniversary meal – or just a fun foodie night out.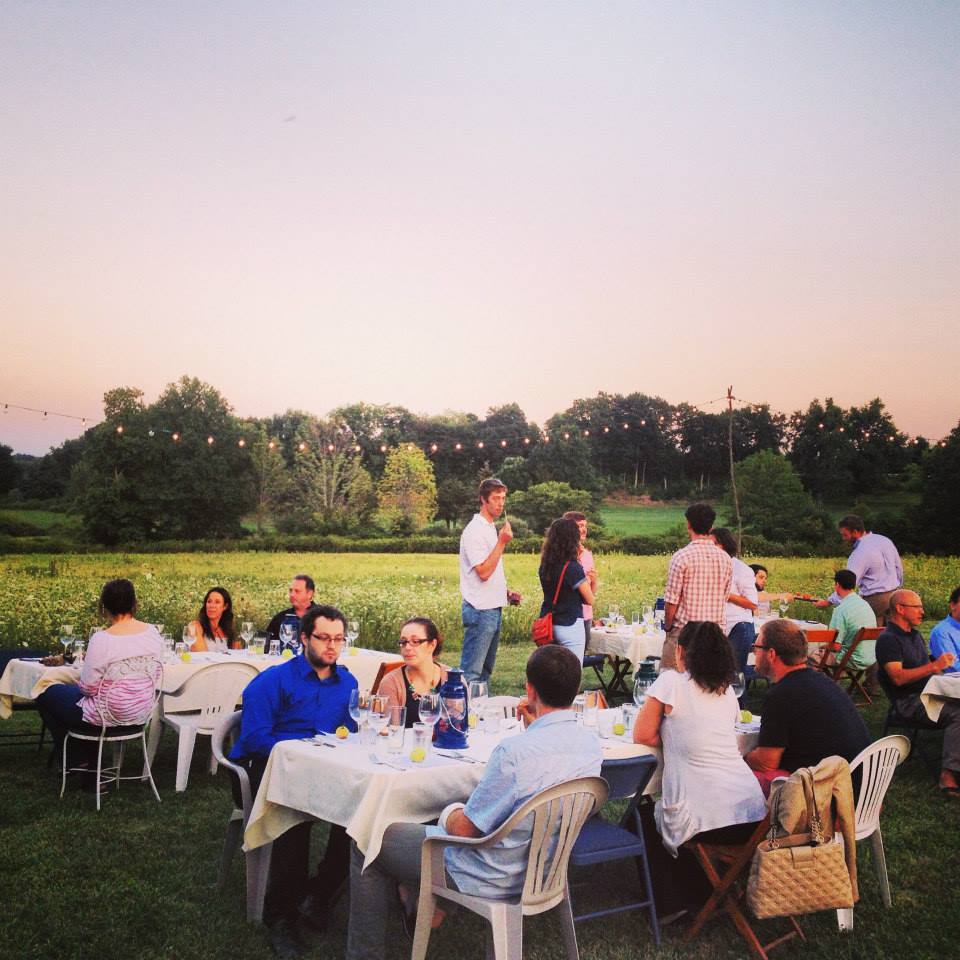 ---
Last week I also visited Barcelona's location in the South End for dinner with my longtime friend Molly. Oddly enough neither of us were in a cocktail mood, so we started with a couple glasses of my favorite sparkling wine at Barcelona, the Casas del Mar Blanc de Blancs. It's a fantastic brut wine and at $8 per glass, a great value too. Once we were seated, we then ended up sharing a bottle of – what else? – Rosé. Our waitress was kind enough to bring over a sample of each of the three by-the-glass offerings so we could decide on the perfect bottle. We ended up going with Liquid Geography, a Provence-style Rosé from Spain. The waitress also informed us that 100% of its profits are donated to cancer research! And the bottle was $26 – a price that made my wallet happy, since I expected to pay more than that for a good wine at a restaurant.
We shared six tapas, but I only got photos of a couple of them because the lighting inside of Barcelona restaurants in the evening is not kind to pictures. We did order that Manchego that I previously pointed out on the Galicia dinner cheese plate! And during our first round of tapas, we shared the giant marinated beans, because Molly and I love legumes of all kinds.
During the second round we kept the bean train going and ordered the crispy beans…and spent as much time talking and raving about them as we did eating them. If you get to Barcelona while these are still on the menu, ORDER THEM. They tasted just like french fries, and paired so well with the wine.
Two other tapas we ordered that I didn't take pictures but would highly recommend were the chorizo & potatoes topped with a runny egg (because of course that would be recommended) and the mushrooms topped with goat cheese. Molly and I were seriously craving cheese so between that mushroom dish, the Manchego, and another cheese we ordered whose name is escaping me, we were alllll set.
After dinner Molly and I strolled over to one of our favorite bars in Boston, but one we had yet to visit together – the Oak Bar inside of the Fairmont Copley Plaza hotel. There we enjoyed a still crowded (for a Tuesday) atmosphere and more Rosé. It was a great Tuesday night out with a great friend!
So there's lots going on at Barcelona locations, both here, in CT, and elsewhere. Be sure to stay tuned to their events calendar to find out about the next event in your area!
Which of the dishes from the Galicia event looks best to you?
Are you a legume lover? A fellow Rosé fanatic?
(Some of the drinks and food in this post were provided free of charge.)