#SweaterWeather and Cocktails at Foxwoods!
I always have a great time when I visit Foxwoods Resort Casino, especially when I pair together some fun activities. Last time it was dinner/drinks and a show. This time around it was shopping and lunch/drinks! That's what's great about a casino – I can arrive and park (for free!), and know that I have a long list of ways to have a good time that are available to me in one place.
My friend Rachel and I participated in a fabulous #SweaterWeather blogger outing centered around shopping for fall fashion at the new Tanger Outlets at Foxwoods. Boston and Connecticut bloggers were invited to partake in a little friendly competition – receive a gift card and use it to purchase as many sweaters as possible. The winner was to receive an overnight stay at Foxwoods, dining and spa credit, and more!
I honestly didn't expect to win the contest because we only had an hour to shop and I planned to take my time selecting cute sweaters that I truly wanted to keep and wear this fall and winter. And thankfully the Tanger Outlets had plenty to offer. I was so impressed with the stores and offerings inside!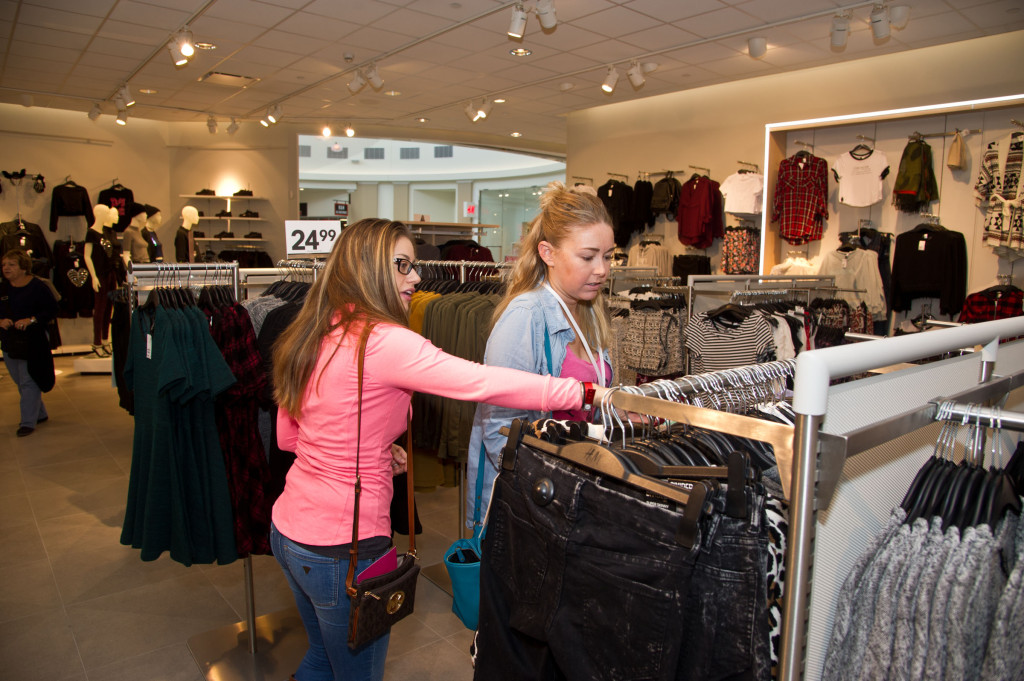 In honor of Breast Cancer Awareness Month, the outlets ran a special promotion – pay $5 and receive a Power of Pink card (mobile version available too) that gives 25% off any item at participating stores. And the card  can be used an unlimited number of times during the month of October! We were given cards to use ourselves, as well as hand out to shoppers. Proceeds from sales of the cards benefit the Breast Cancer Research Foundation.
As suspected, my strategy to carefully select sweaters I loved resulted in me not winning the contest. But I came home with six adorable sweaters, plus some non-sweater purchases, from shops like J. Crew Factory and H&M. So I'd say it was still a winning shopping experience! I would love to return to the outlets soon, especially with the holiday shopping season coming up quickly.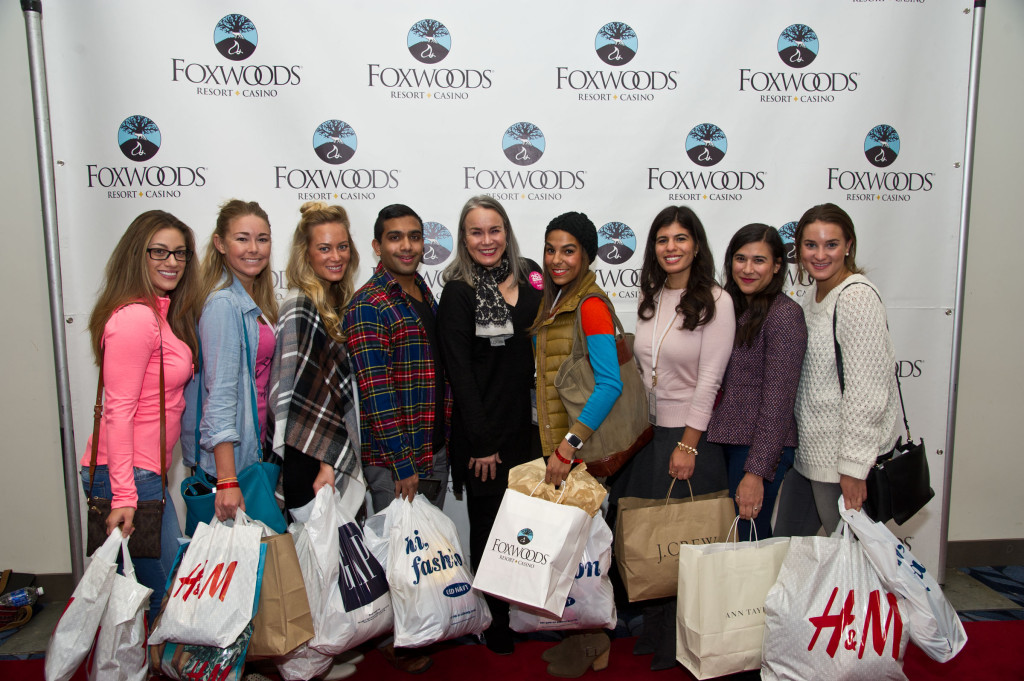 All that shopping worked up an appetite so we took a quick walk to Cedars to not only snack, but also partake in another contest – of the cocktail variety! Bartender Stephen laid out juices, garnishes, salts, sugars, and more so that we could create our own cocktails. The winner was to appear on the Cedars cocktail menu!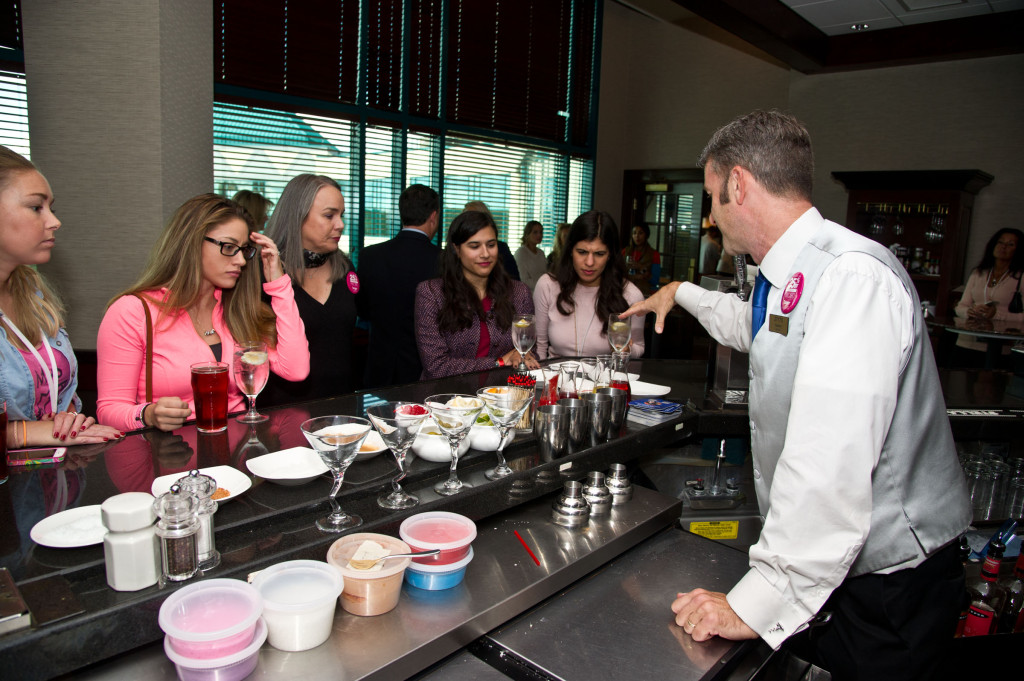 My creation involved Woodford Reserve, dry vermouth, and some blueberry puree. Sadly I did not win because Stephen loved my drink but thought it was "too boozy for most people". I'll take that as a compliment.
Lydia's combo of Hendrick's Gin, St. Germaine, champagne, lime juice, and citric acid took home the prize – and deservedly so. This refreshing beverage went down dangerously easily! I would order it in a second!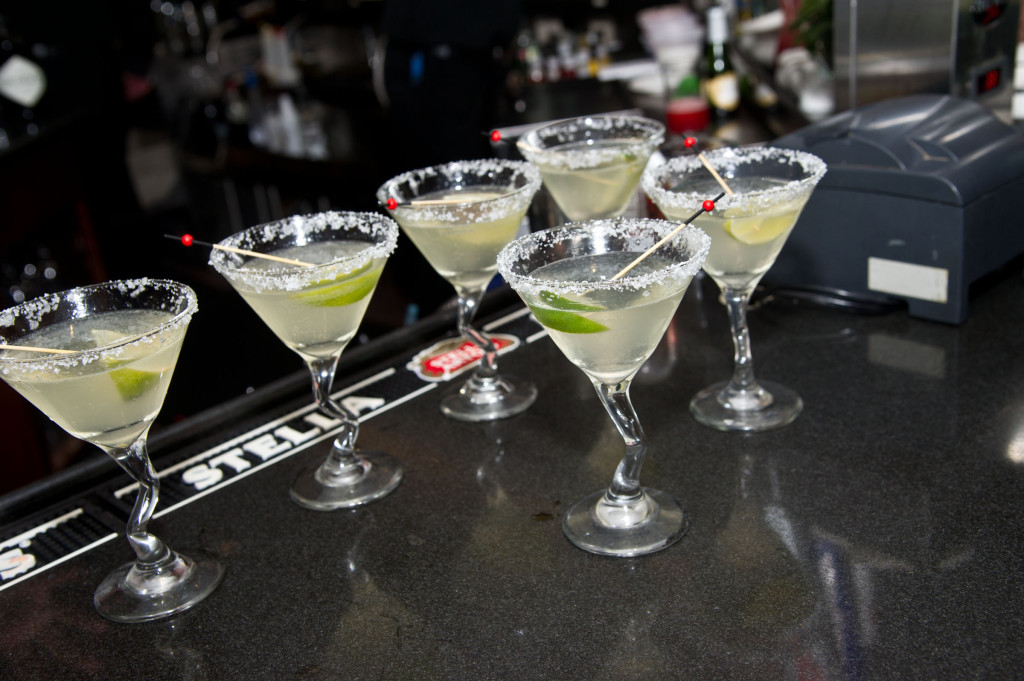 Along with drinks we also sampled a few shopping-themed bites. Rachel and I were huge fans of the Cashmere Artichokes, goat-cheese stuffed and Parmesan crusted! By the end of the event the waitress was coming by our group to offer us a few at a time. It was pretty casual.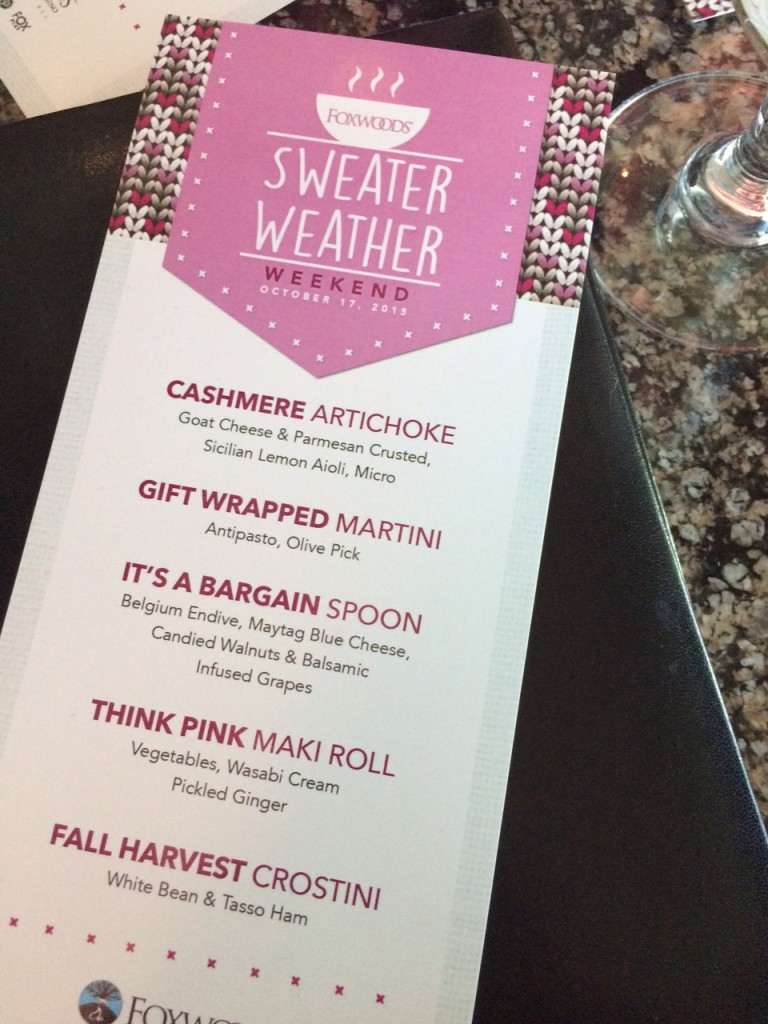 Once the cocktail competition and passed apps concluded, Rachel and I joined Connecticut bloggers Lydia and Meg for some more food, because passed apps does not a lunch make. I had a Caesar salad and some maple baked beans. Everything we ate was delicious and I'd absolutely eat at Cedars next time I come to Foxwoods!
I had an overall great experience shopping and dining at Foxwoods and am already excited for my next trip. Especially now that winter is coming, the casino is moving up higher on my list of preferred destinations since I can bop from place to place without stepping foot into the cold! Thank you to Foxwoods for having me and Rachel!
I was provided a gift card for shopping, as well as food and drink. All opinions of my experience are my own. Most photos are courtesy of the Foxwoods event photographer! (You can probably tell which photos too.)
Are you stocking up on sweaters for fall?
Do you live near a casino?