Getaway to Blue in Plum Island
Though I received my stay at Blue Inn free of charge, my opinions are 100% my own. In short, I'd pay to go back in a second!
I have never encountered a Lark Hotels location I didn't love (I've stayed at Gilded in Newport, and dined at Whitehall in Camden), and last Sunday's visit to Blue Inn, located in Plum Island, MA, was no exception. The Plum Island and Newburyport area have always been special to Jeff and me, because we took our first overnight trip there as a couple and also visited Plum Island on one of our first dates. Staying at Blue sounded great to us because we already know the area (well, Jeff does), so the trip felt like a staycation despite us being almost an hour away from Boston. Blue picked out a gorgeous ocean view king suite for us, which somehow managed to feel like a quaint beach house while also feeling fabulous and luxurious.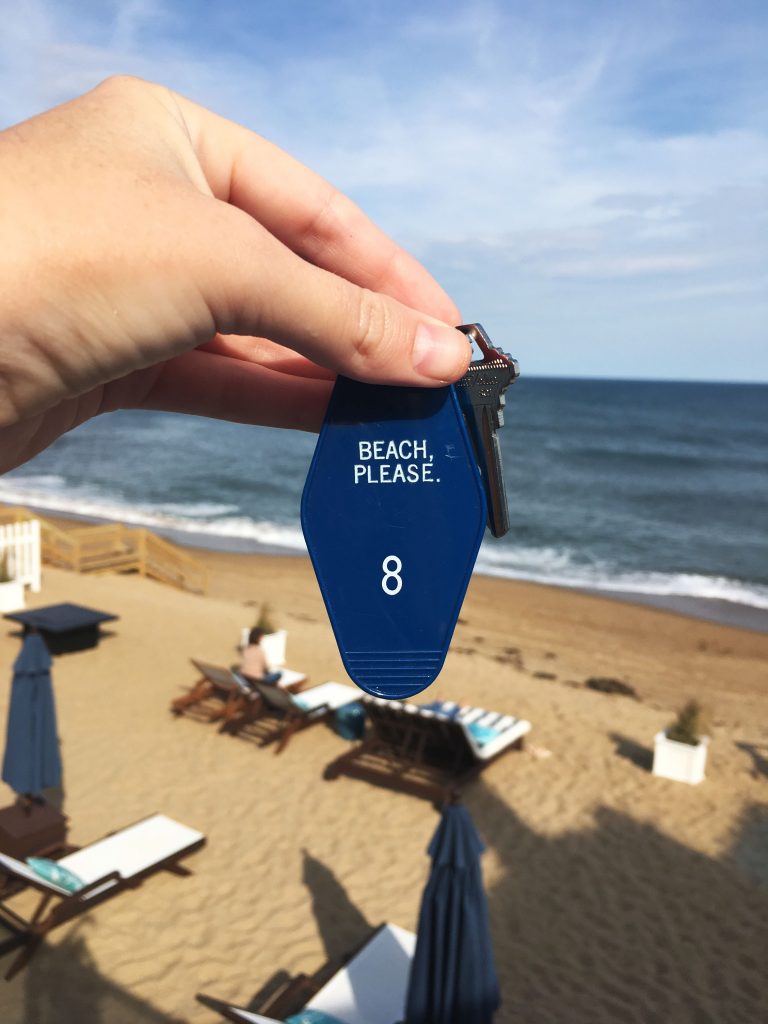 I knew in advance that our room would be ocean-front, but never in a million years expected a semi-private deck. Jeff and I took full advantage, both for late-afternoon beers and for morning coffee and mimosas.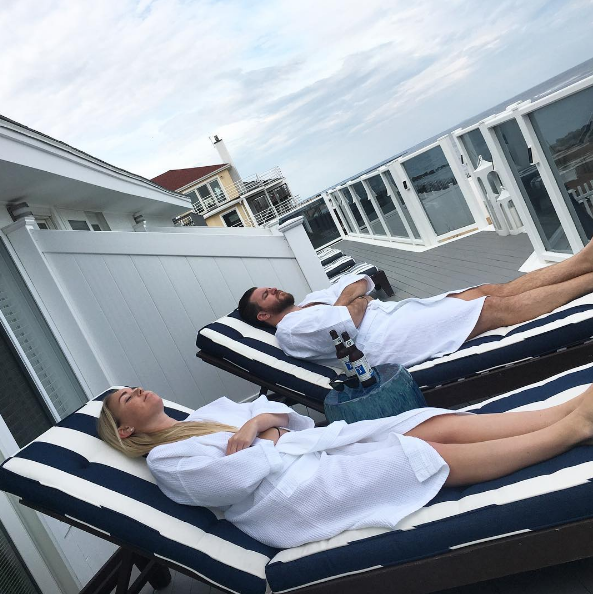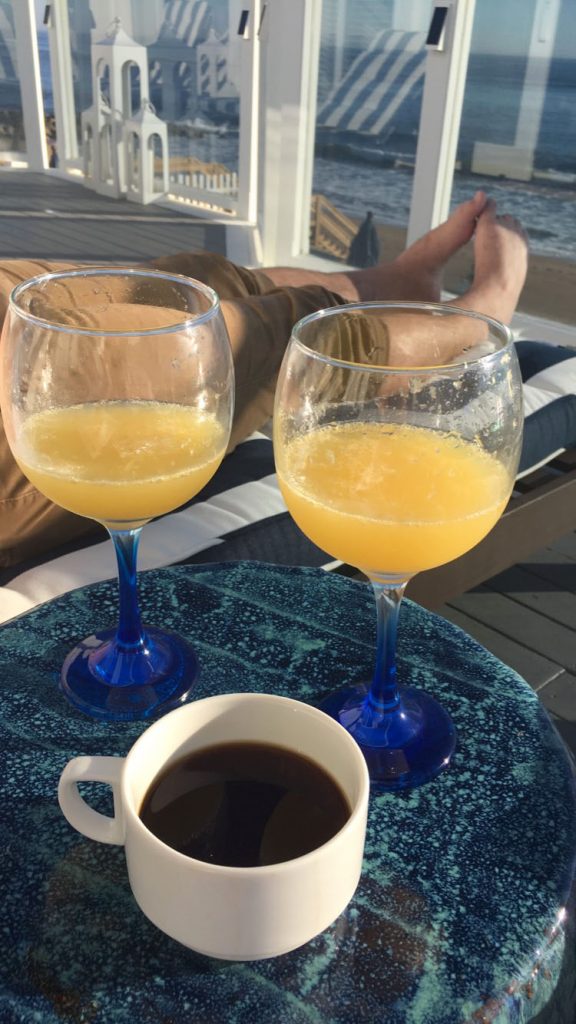 When we first "touched-down" at Lark, our first order of business was to take advantage of the fortuitous mid-October warm weather. We laid out some towels on the beach (I had brought one, but our room came conveniently stocked with PLENTY – always nice at a beachfront property) and Jeff took a dip while I soaked up the sun.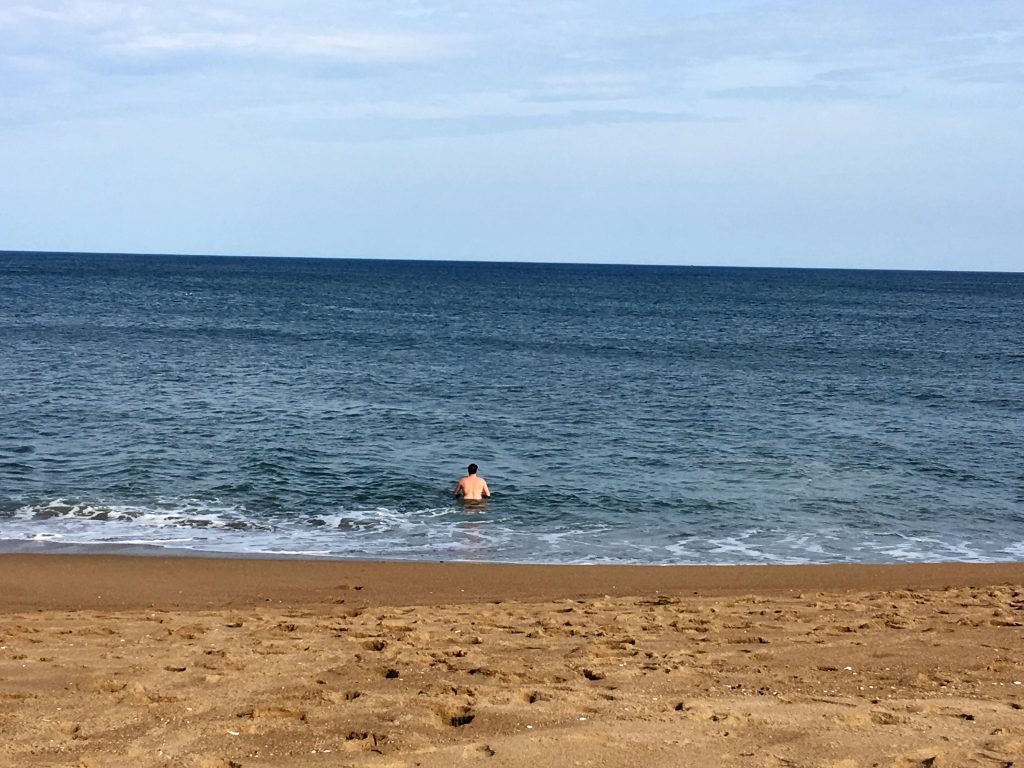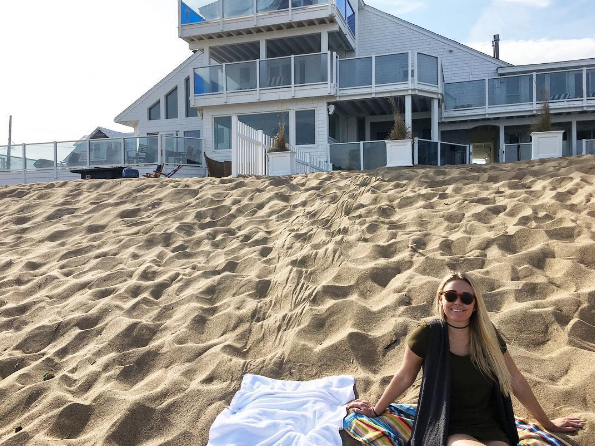 Next up was the part of our stay I had most looked forward to – the outdoor hot tub with a view of the beach. Nothing better. The hot tub remains covered unless someone is using it, but it was very easy to uncover on our own. There is also a hot tub located across the street, next to some larger cottages also owned by Blue, but we stuck with the one right near our room. The property is so small, though, that anything can be considered "close"!
That evening Jeff and I enjoyed a great dinner at The Poynt in Newburyport (more on that later), and then returned to Blue Inn for more beach-side cigars. We went to bed listening to the waves crashing onto the shore – which, by the way, is how I'd like to fall asleep every night from now on.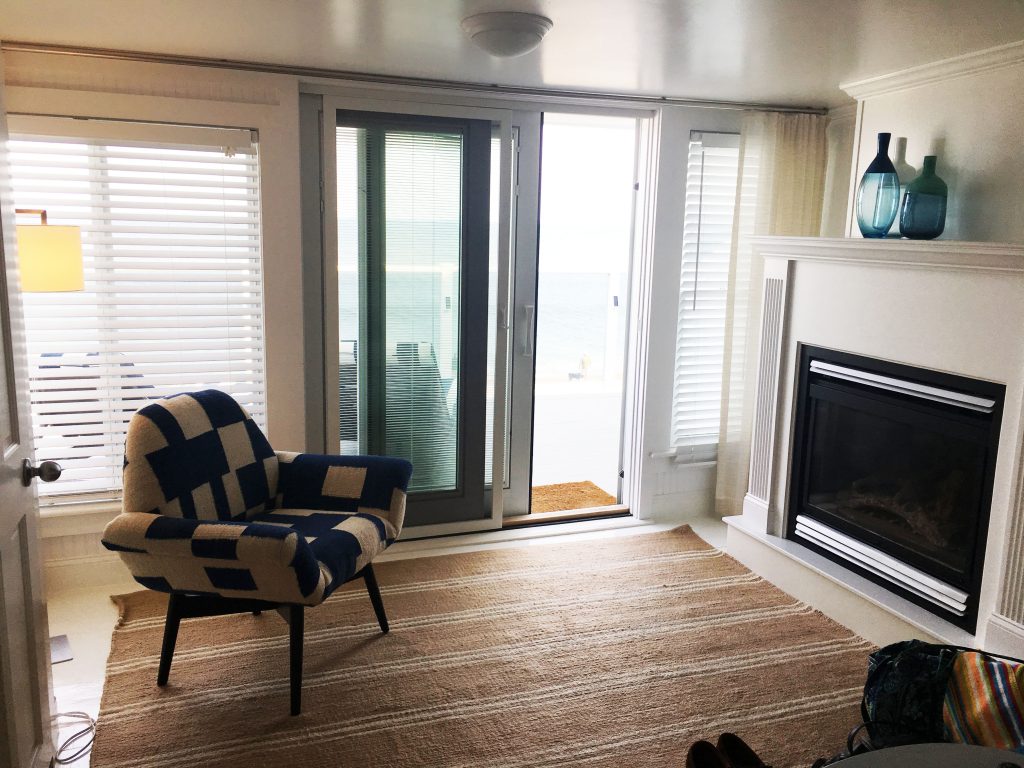 The next morning the sun woke me up at 7:30am, yet I felt so well-rested and ready to take on the day. Around 8am a cute breakfast basket and fresh pot of coffee was dropped off outside our door, so I decided to take on that instead.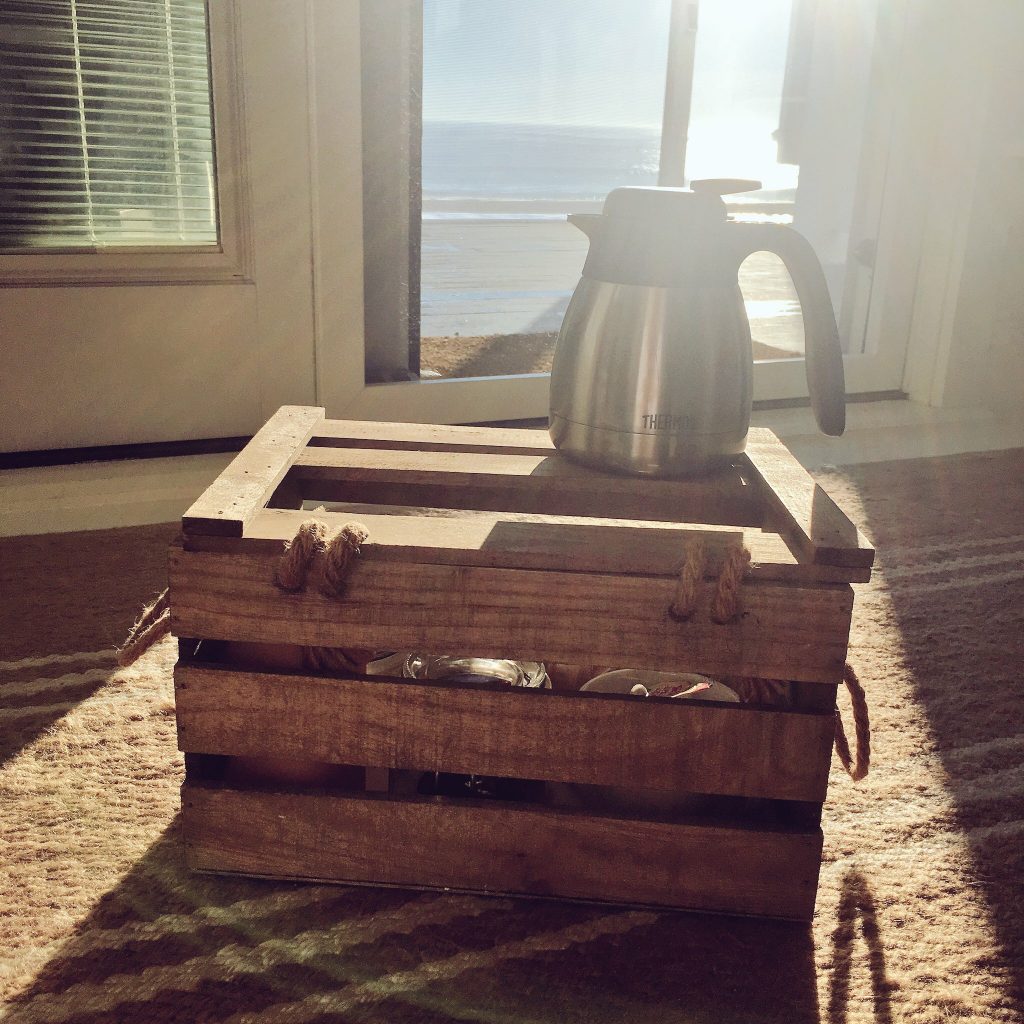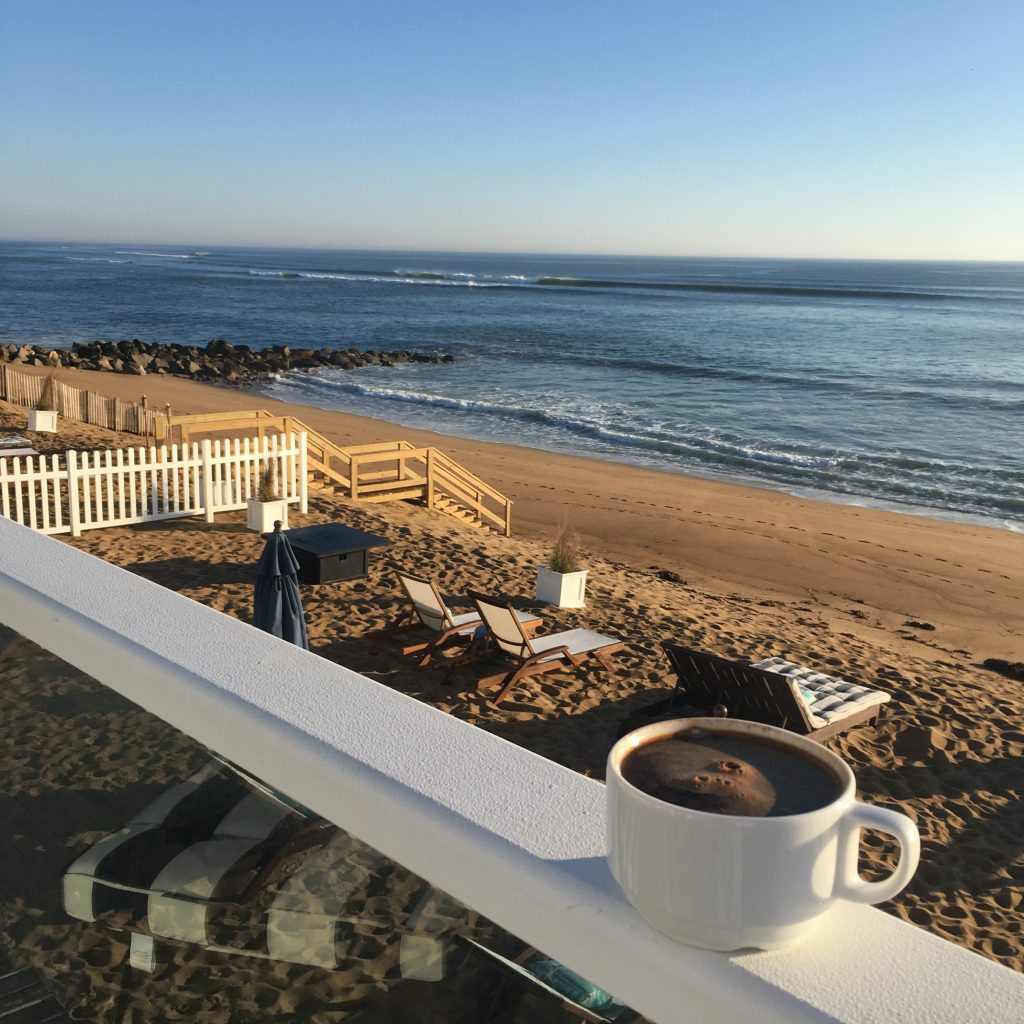 Gilded in Newport had a great breakfast option, so I was psyched when I saw on the Blue Inn website that they too offered breakfast. Our basket, which matched the hotel theme perfectly, came complete with creamers for the coffee, apple and bacon scones, butter, fruit, soft-boiled eggs over greens, and some very tasty OJ. Which, of course, I used to make mimosas. While enjoying our beverages, we alternated between lounging on the deck and the bed, soaking up every last minute we could of our stay prior to the 11AM checkout.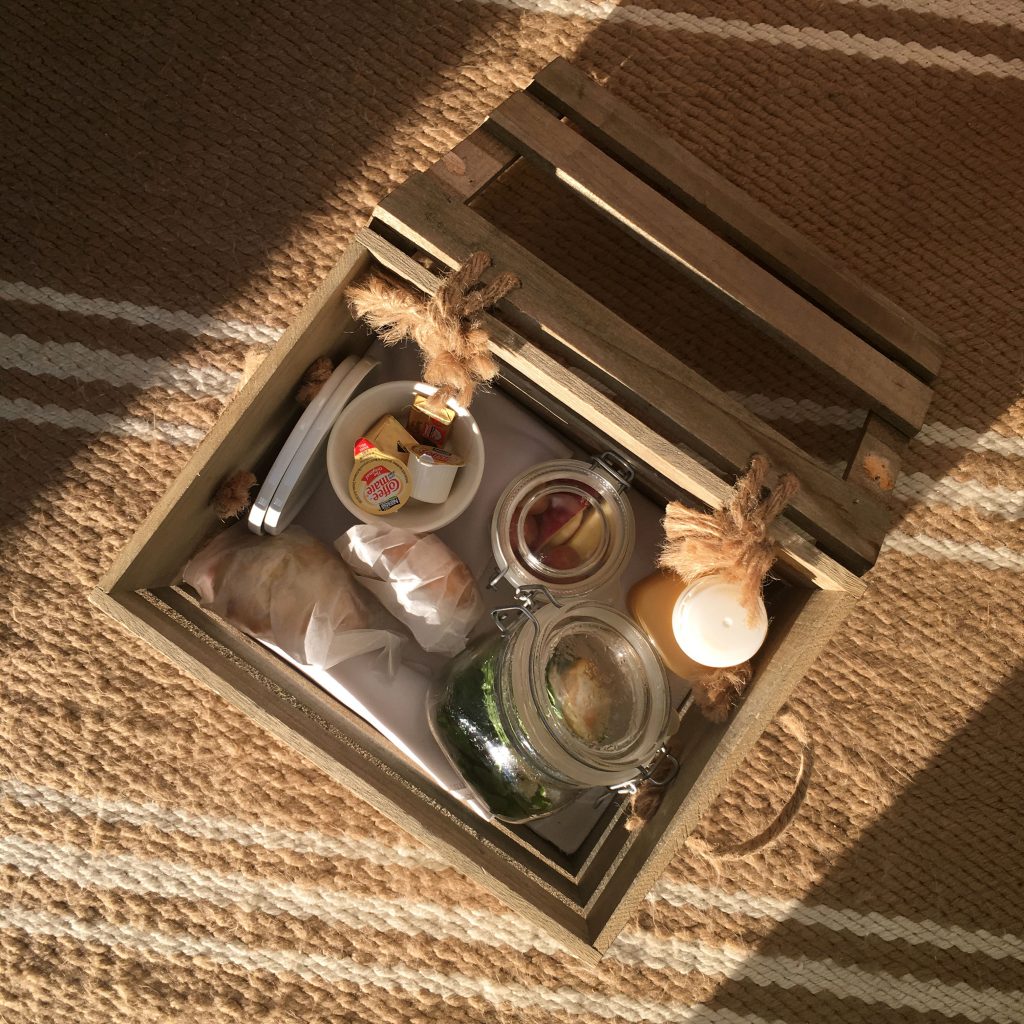 We had an incredible stay at Blue Inn, and I would love to plan a future trip for either the winter time or in the heat of the summer. Plum Island is a lovely spot, with plenty of good food and drink nearby (ranging from within walking distance to a ten minute drive away). The cottages at Blue are pet-friendly, too. (Be sure to check out the Plum Island Getaway Deal, offering 15% off mid-week cottage stays through the end of November!) I already can't wait for my next trip to a Lark Hotel…I've got my eye on Camden's Whitehall next, after having such a fantastic experience at their on-site restaurant, Pig + Poet, over Labor Day weekend.
Have you ever visited a beach-side hotel property in the fall?
What's your favorite kind of hotel breakfast?