Barcelona Meets Mendoza: Wine Dinner
Last week (Wednesday 3/13) I had the pleasure of attending Barcelona Wine Bar's latest wine dinner at their West Hartford location – La Vendimia de Mendoza. Funny enough, it fell on the same day that the new pope – from Argentina – was chosen! Fancy that.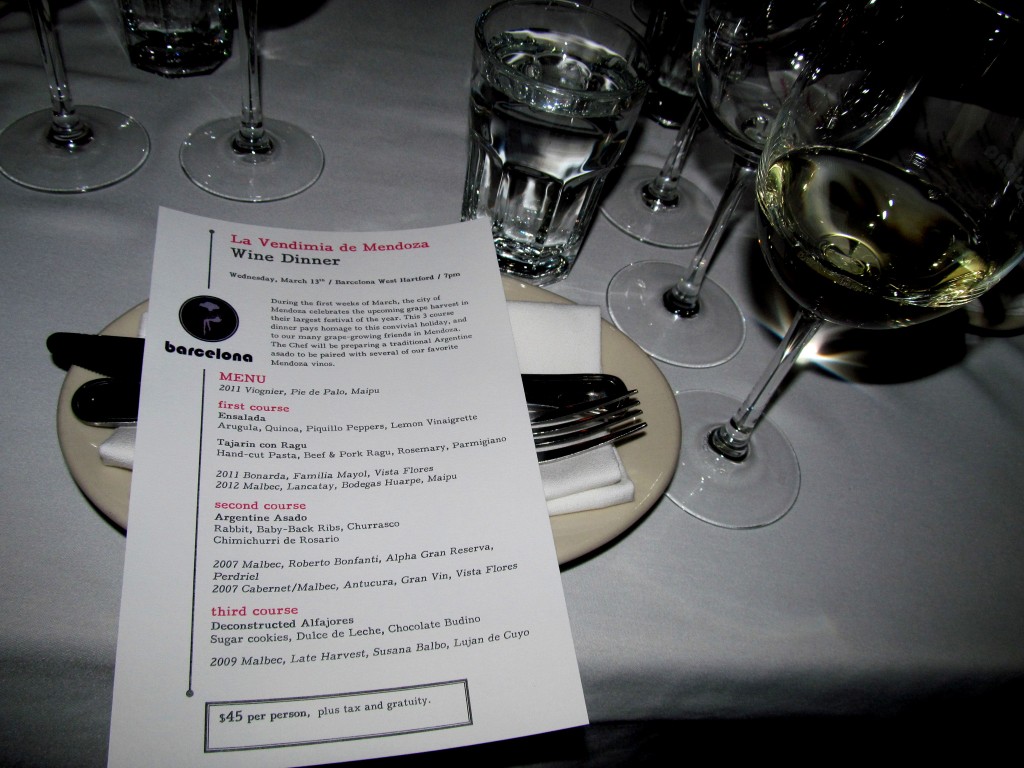 The moment I arrived I knew it'd be a wino's dream evening. The menu listed SIX different wines that we'd be sampling. Keep in mind the event came with food too, and only cost $45 per person (plus tax and gratuity)!
This wine dinner also doubled as a Internet-friend-meetup. Thanks to my blog and its Twitter account, I've met three lovely ladies who live in my area – Jill, Kaleigh, and Julianna. They were my dates for the night!
I was last of our group to arrive thanks to a pre-dinner gym trip, and as soon as I sat down I was poured the first wine, a 2011 Viognier (Pie de Palo, Maipu). Usually I find this variety of white to be too sweet, but it was quite perfect and Barcelona's "Wine Lady" Gretchen Thomas actually noted while explaining the wine that it was way less sweet than your typical Viognier. Score one for Caitlin's taste buds!
Gretchen was joined by Barcelona's new Executive Chef, Alexander Feldman. He prepared the tapas at the Love & Bitters cocktail class I attended at the end of last month, and since meeting him that evening I've actually had the chance to show him the wonder of my favorite restaurant, J. Gilbert's. He was impressed, but I have to admit he makes dishes just as tasty at Barcelona!
I love that Barcelona makes their events about not just about tastes, but education as well. As I already mentioned, Gretchen comes around to each table to share details like tasting notes and history for each wine. She makes trips to Spain to discover what the people of the country are drinking, be it wine or spirits, so every drink on Barcelona's wine and cocktail lists is truly authentic.
Of course the wine dinner was not Argentinean themed just because of the new pope…the theme was chosen weeks prior! That's because the city of Mendoza celebrates the upcoming grape harvest in the early weeks of March with a huge festival. This wine dinner served as Connecticut's own version!
The first course (two dishes) was paired with two reds, for which this red-lover was very grateful! They were a 2011 Bonarda (Familia Mayol, Vista Flores) and a 2012 Malbec (Lancatay, Bodegas Huarpe, Maipu) – holla Kelly!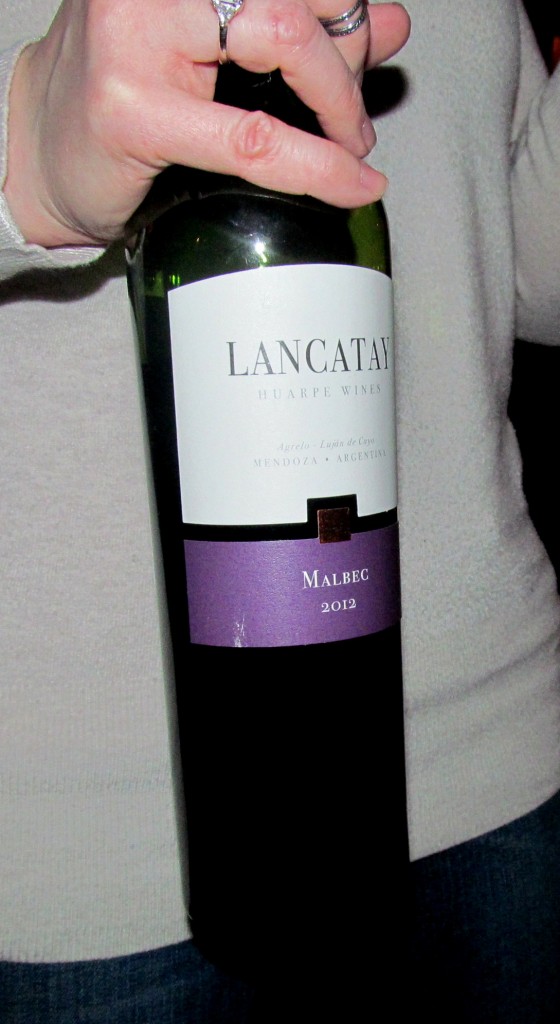 I seriously don't know if I've ever tasted a bad Argentinean wine! Or a bad dish from Barcelona…the first dish served (semi-family style AKA one plate for every two people) was the ensalada – arugula, quinoa, piquillo peppers, and lemon vinaigrette. I'm sure most of you are drooling right now because the blog world has a quinoa obsession. I am sadly not a member of that club, but I adored this dish. The pepper and lemon flavors provided a unique combination, which I appreciated because the reason I don't usually elect to eat quinoa is because it just seems so boring to me! Alex did a great job making it his own.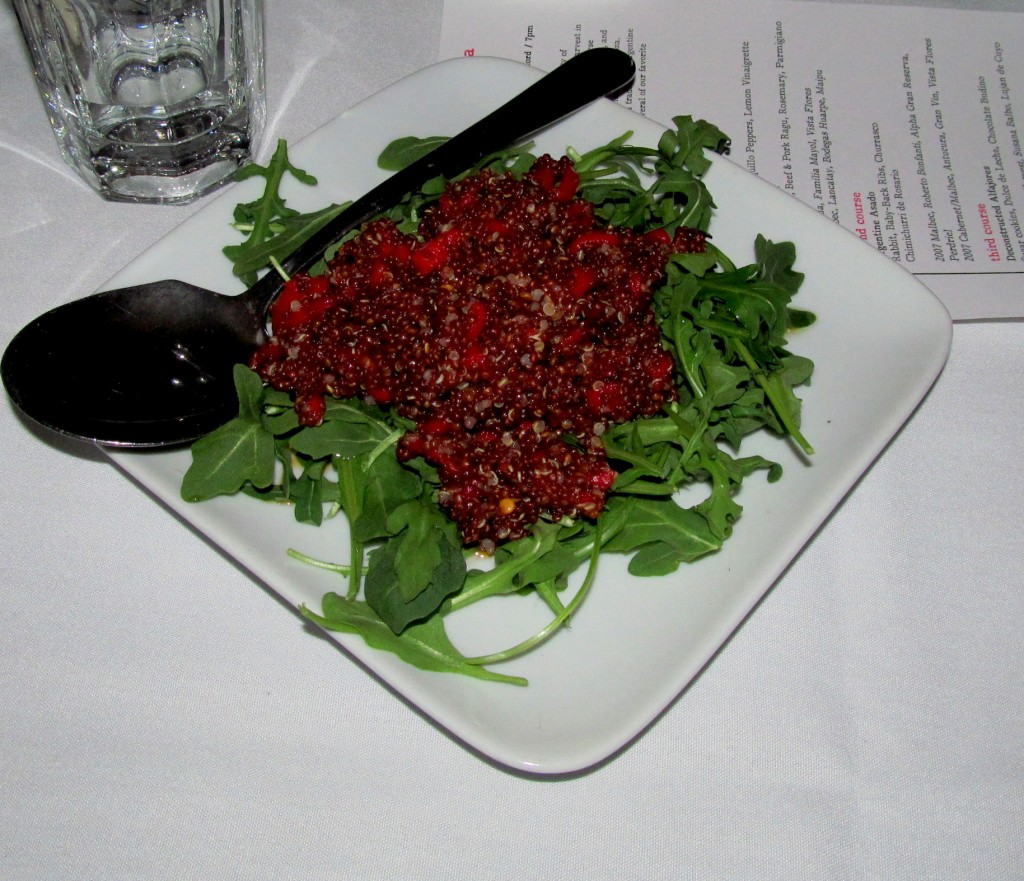 Next up in the first course we were served Tajarin con Ragu – hand-cust pasta, beef and pork ragu, rosemary, and freshly-shaved parmigiano. Along with not normally preferring quinoa, I also don't normally prefer pasta. It is just so…lame and plain! I don't remember the last time I ordered a pasta dish at a restaurant (and oddly enough it's all I used to ever eat). However, I appreciated the fantastic flavor provided by the rosemary and cheese, as well as the freshly prepared beef and pork. I only wished there was more meat involved in the dish, but the pasta was the star – a lot of hard work went into it. Alex explained to the dinner's patrons that in Argentina, it is customary to roll this pasta dough so thin before cutting it that one can see the wood of the cutting board THROUGH the pasta. I actually enjoyed the super-thin noodles more than traditionally thick varieties like fettucine.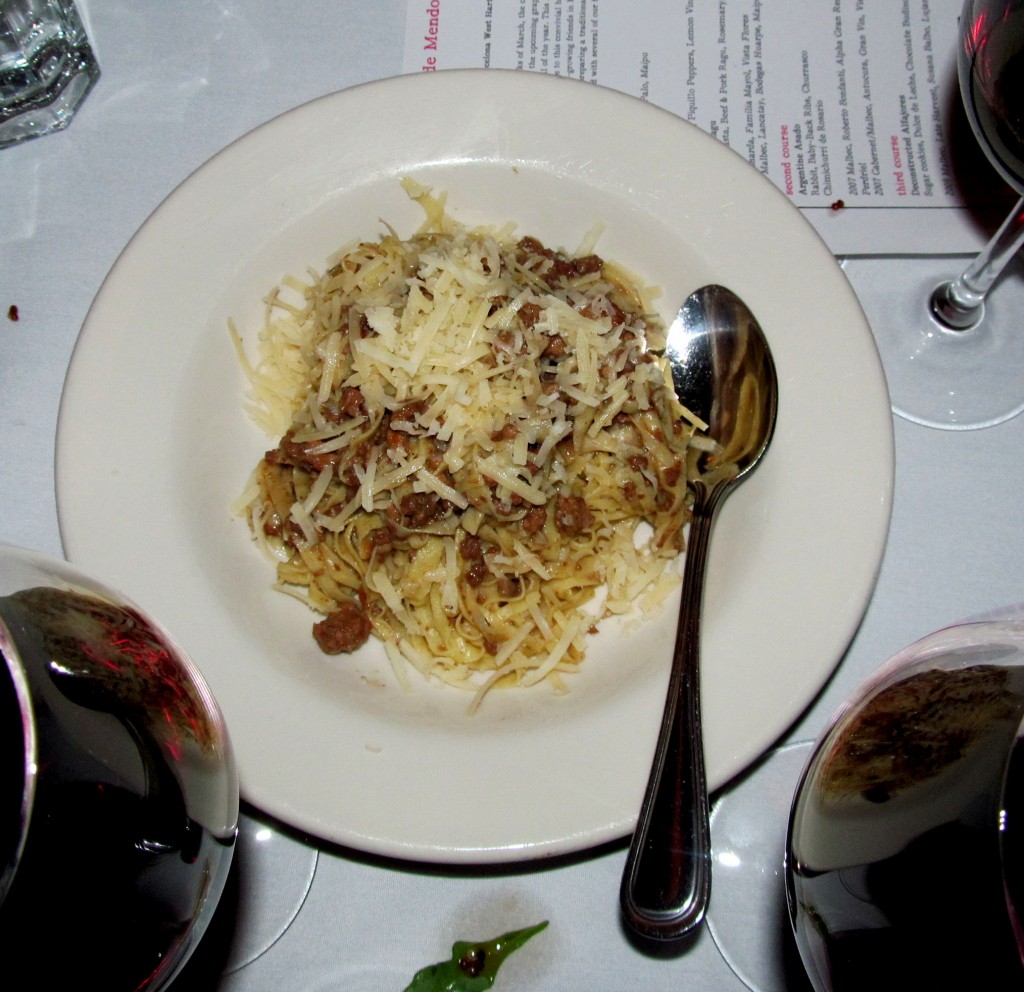 Jill is quite the pasta aficionado – it's her favorite dish to order out – and she was a HUGE fan of the Tajarin con Ragu!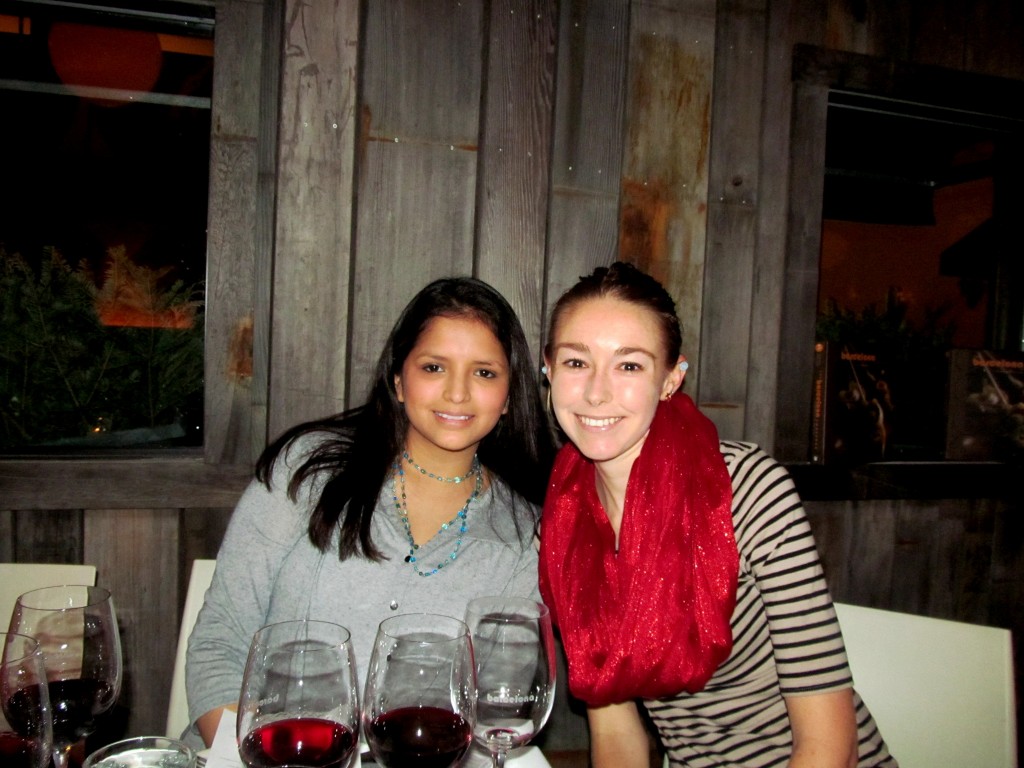 The main course took quite awhile to be served, because making Argentine Asado for that many people takes a lot of time and care! The waiters brought out plenty of Barcelona's fantastic crusty white bread and olive oil while we waited for our platter of meats.
Gretchen also poured the main course's wine pairings – 2007 Malbec (Roberto Bonfanti, Alpha Gran Reserva, Perdriel) and 2007 Cabernet/Malbec (Antucura, Gran Vin, Vista Flores).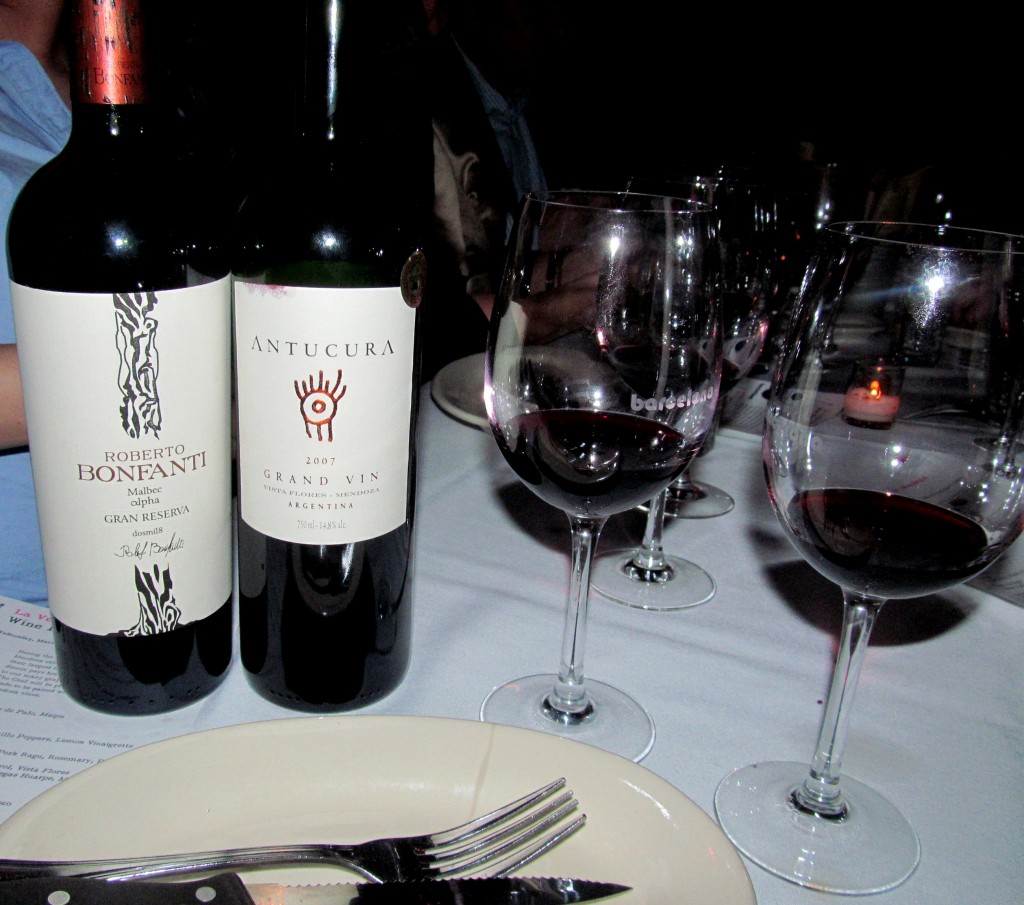 By FAR my fave out of the two was the Malbec/Cabernet blend, which did not surprise me because a) it's a red blend, and I love red blends for their unpredictability and b) it had seen time in oak, which I could certainly taste the moment the first drop hit my tongue.
Trust me, the main course was WELL worth the wait. Alex's Argentine Asado consisted of rabbit, baby-back ribs, and churrasco – all served with a chimichurri de rosario sauce. Firstly, the sauce was out of this world delicious and perfectly subtle so as not to overpower the meats. I think we were able to thank its olive oil base for that fact – so often I find that creamy sauces really overshadow the natural taste of the meat/fish/veggies/etc that they adorn.
I'm sure you can imagine a foodie like me was ecstatic to try rabbit…since I'd never had it before! Verdict? It tasted delish, but so much like chicken. The skirt steak tasted great and was not too chewy or tough to cut, but the standout on the above platter was the rack of ribs! Fall off the bone good is a cheesy and overused phrase but when the shoe fits…
Upon examining the evening's menu, I was disappointed to find the dessert course would not be paired with a port or sherry. I adore those dessert wines (even when it's not time to eat dessert) and Barcelona's selection of them is one of the best I've come across in the area. Don't judge a book by its cover though, or a wine by its name. I'm still learning and didn't realize the classification of the dessert course's 2008 Malbec as "Late Harvest" was literal, not a brand name! The red wine (Susana Balbo, Lujan de Cuyo) is harvested late when the grapes are especially ripe, and really tasted very similar to a port. I adored it!
Alex took a traditional Spanish sugar cookie, Alfajores, and made a deconstructed version for us. He paired the crunchy cylinders (the flavor/texture reminded me more of shortbread cookies than sugar cookies) with dulce de leche, chocolate budino, and pistachios. You guys know I'm a chocolate pudding-aholic, and that portion of the dish plus the pistachios totally reminded me of a yummy concoction I'd make at night for a snack!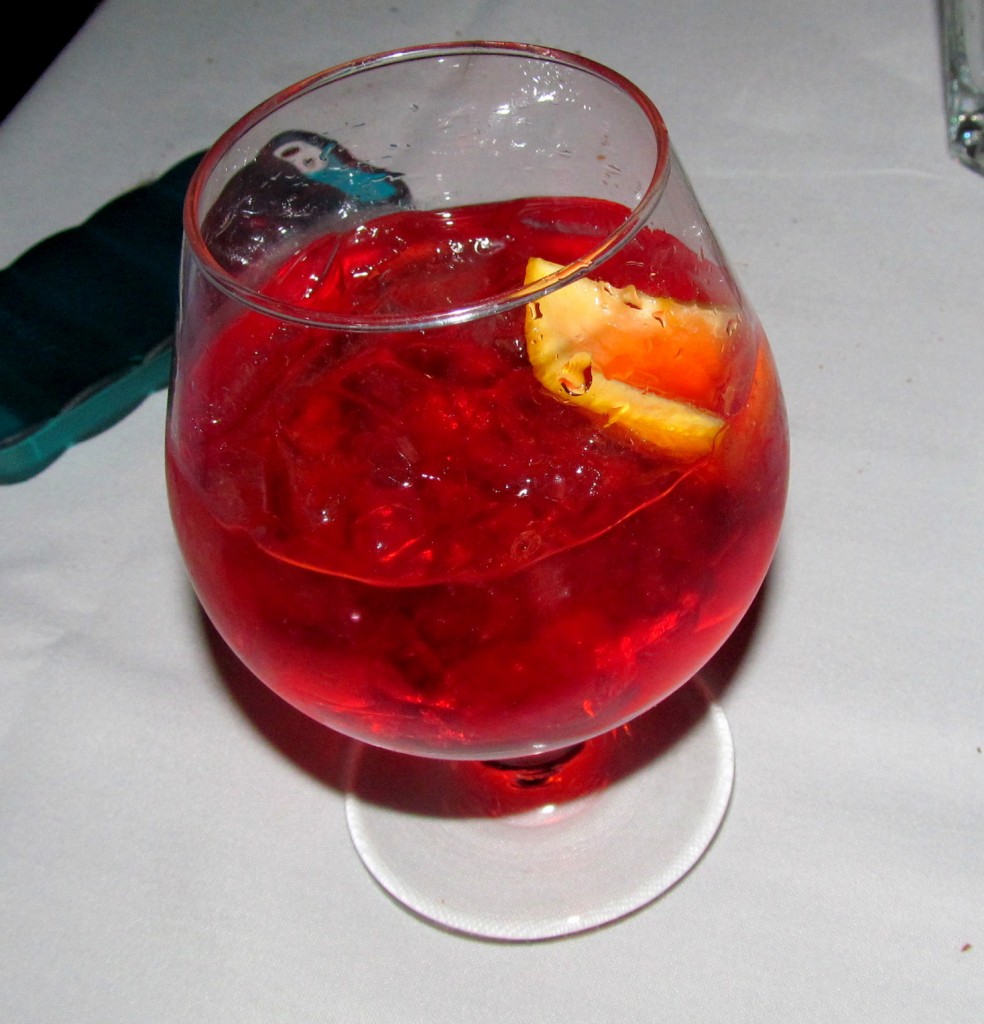 The party didn't stop after dessert – one of Barceona's awesome bartenders, Dan, made me one of his famous Negronis! I had missed it so since he made it for us at Barcelona's last event.
I shared sips of my Negroni with the other girls, and we all agreed it was time to go inside to hang at the bar so everyone could get a cocktail. Jill and Julianna went for another of my favorite Barcelona cocktails, the Brookline Sour (High West Silver Rye Whiskey, Thyme, Grapes, Lemon Juice, Boston Bittahs) while Kaleigh joined me and ordered a Negroni.
Alex even joined us after he finished up in the kitchen. I was having such a great time with my friends that I didn't even realize it was almost 11pm…on a Wednesday! WHO AM I?! I went to sleep around midnight that night, but didn't feel too tired that day and was proud of myself for stepping out of my box a bit.
I've already got my next event lined up with Gretchen…a Tequila 101 class with taco pairings from Chef Adam Greenberg at Bartaco (adjacent to Barcelona) in West Hartford! And you guys will hear allllll about it!
Are you a fan of Argentinian wine?
Which dish looks best to you?
Have you ever met up with "Internet friends" in person and if so, how'd it go?
Disclaimer: I received entry to this dinner (minus gratuity) free of charge, but all opinions are my own and I actually already had a reservation with plans to pay before my meal was comped. SO seriously, I would have paid.