Judging Crazy Concoctions at CHS Cookoff
I can't wait to attend Taste of the Nation Hartford tonight with my blends Kaitlin & Kelly! You can still get tickets at the door – general admission is $75, but I've been to this event before and it is WORTH IT. Best food tasting event I've ever experienced!
I'm so excited to share my experience judging the Connecticut Historical Society's first Community Cookoff! Held last Friday from 5:30-7:30pm (nice and early!), the event attracted a good crowd and had the work day craaaaawling by as I anxiously waited for the clock to hit 5 so I could hit the road for Hartford.
I walked into CHS and was greeted by the smiling, excited faces of Jenny Steadman and Ed Main. They are the ones who came up with this idea, included me, and even planned the event's timing around my vacation schedule. I couldn't have felt any more special thanks to them!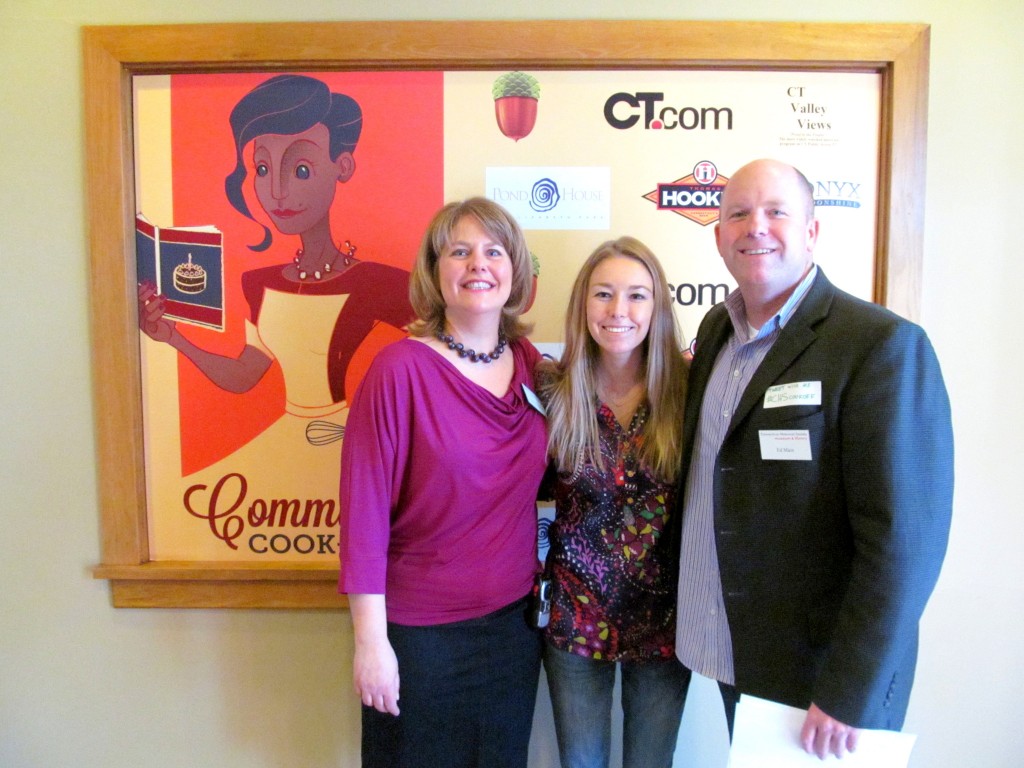 It seems like just yesterday that I announced I'd be the judge of the Not-So-Secret Ingredient (bacon, chocolate, poblano peppers) category, and visited the Cooking by the Book exhibit that paired, like a fine wine, with the event. Literally – tours were offered before and after the competition!
The entries slowly accumulated on each category's table, and watching the noms trickle in got my appetite ready and revved to go! I was feeling thirsty too…good thing Onyx Moonshine's own Signature David (you may have seen him on Fox CT) was pouring plenty of libations!
David is a blast and his drinks never fail to demonstrate the smooth taste of Onyx Moonshine. That stuff will sneak up on you – in a good way. At the Cookoff he was pouring the "Faithfully Yours" cocktail, which included not only Onyx but another favorite local product of mine, Ripe Craft Bar Juice's Spiced Passion Fruit mixer (100% natural, and you can't get that flavor in stores!)
Even my mom, who is "afraid" of most cocktails, really enjoyed it! I can't wait to take her to Rooftop120 soon so Andres can make her an Onyx cucumber martini like one he's made me before! David also poured me and the friends who came to watch me judge some samples of straight Onyx. Thanks David!
It was hard to tear myself away from David's table – I think we could chat about restaurants and drinks for hours – but I bid him adieu and headed off to explore the other drinks being poured at the competition (though Onyx was clearly the standout).
CHS members paid $10 for tickets to this shindig and non-members paid $15. Keep in mind there were drinks and food flowing throughout the entire two hours. WELL worth the money! CT Valley Views donated some excellent white and red wines, and Hooker Brewery had their Blonde Ale and XPA on tap. My mom is a huge IPA fan and adored the XPA! Even I had a few sips and I think I'd love the Blonde on a hot summer day (where are those?)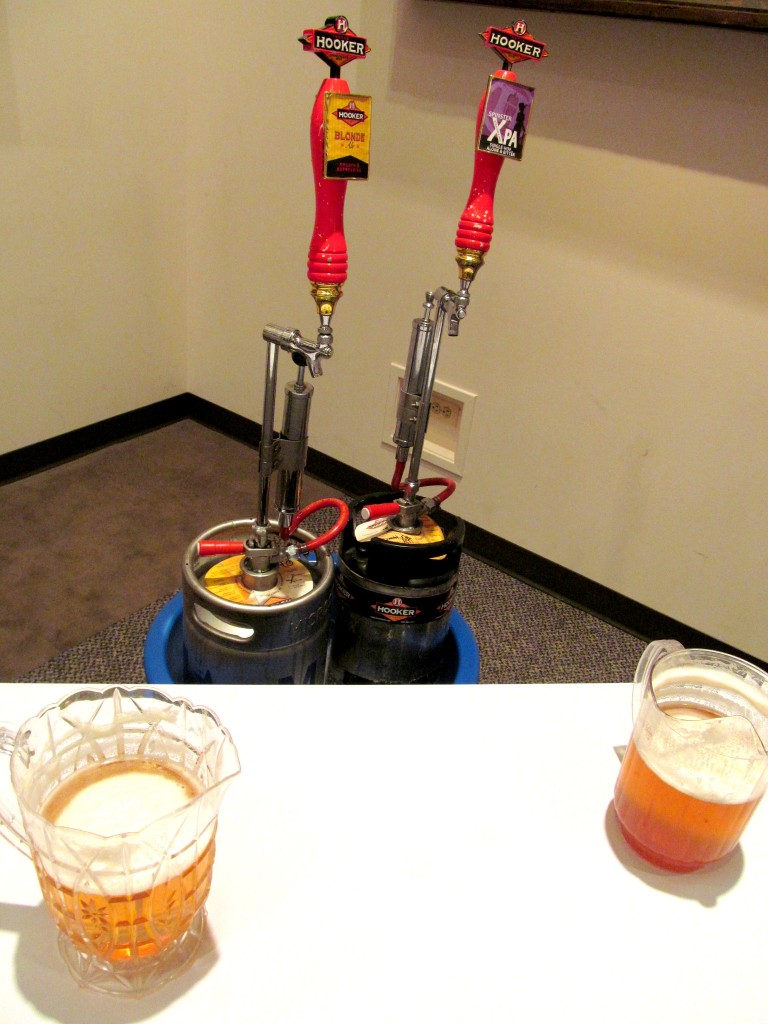 Glastonbury's Pond House Grille (Kaitlin and I had dinner there when she visited) was also present serving up small bites like duck confit nachos, chocolate covered bacon, lobster tarts, sweet potato turkey sandwiches, and chocolate mousse. They go for creativity in presentation – even down to the serving platters!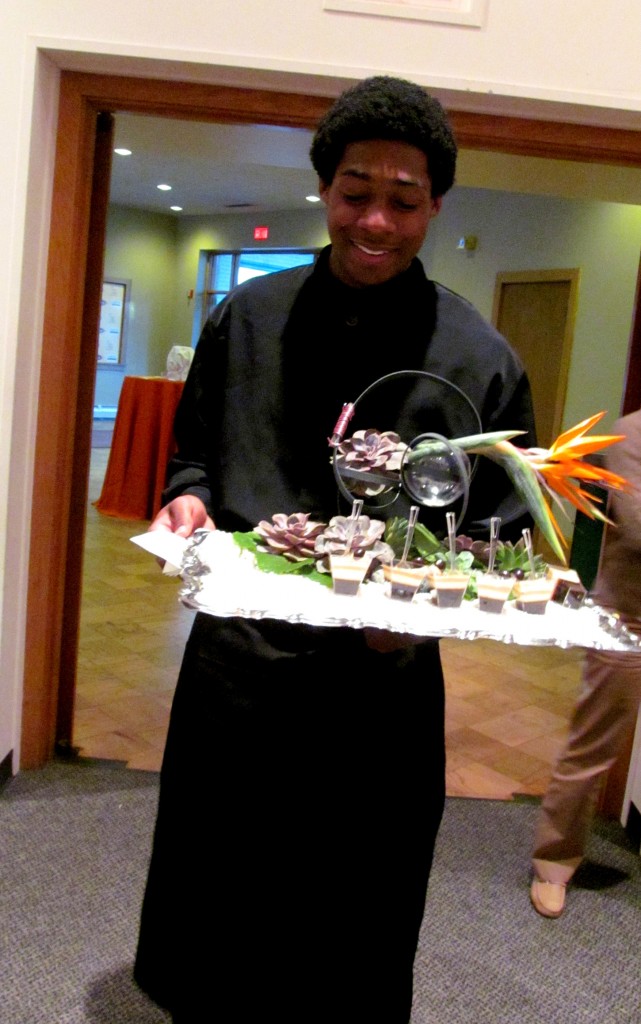 Oh yeah…this IS a cooking competition recap, right? I've got gratuitous food porn for you in the form of cookoff entries!
The most popular category by far was "From Grandma's Kitchen – Recipes from the Family Tree". So of course, LOTS of desserts were involved. In fact I think I only saw one savory entry – a creamy clam dip!
The most challenging category was "I Didn't Know You Could Do That With Jello". And I literally did end up saying that about the winner of this category – and the ENTIRE COOKOFF – a Tomato Aspic!
My ultimate girlcrush and WNPR personality Chion Wolf sat next to me at our judging table (unashamedly psyched) and took seriously her role as judge of the most fun category "What's In That Casserole Anyway?!"
I picked my category because I thought chocolate, bacon, and poblano peppers would combine to create some very unique creations. Not many of the dishes had a kick though – I give major props to those which had a pepper flavor I could actually detect!
Of course no pepper doesn't mean no flavor. I swooned over the chocolatey goodness of the other entries!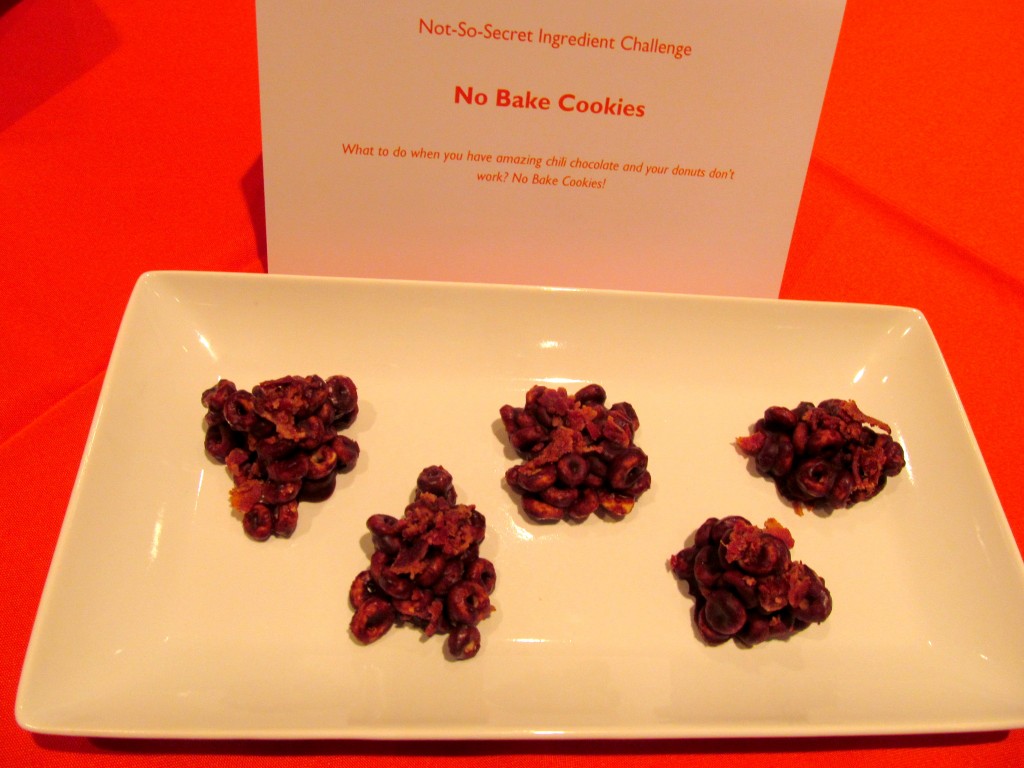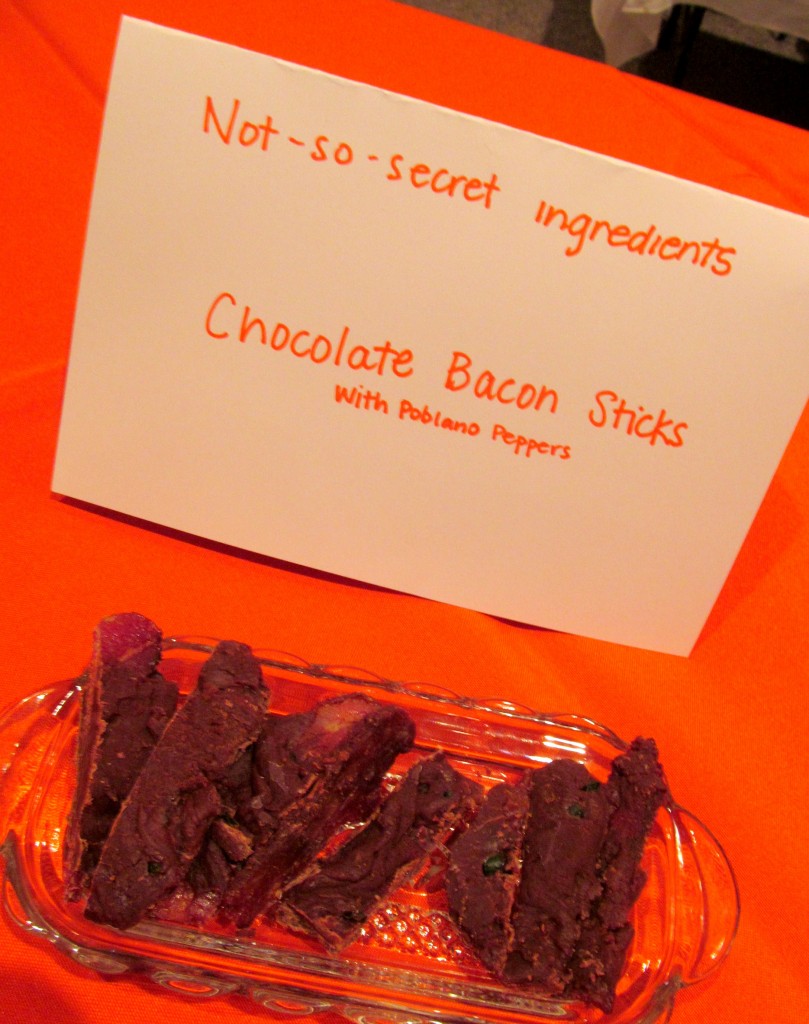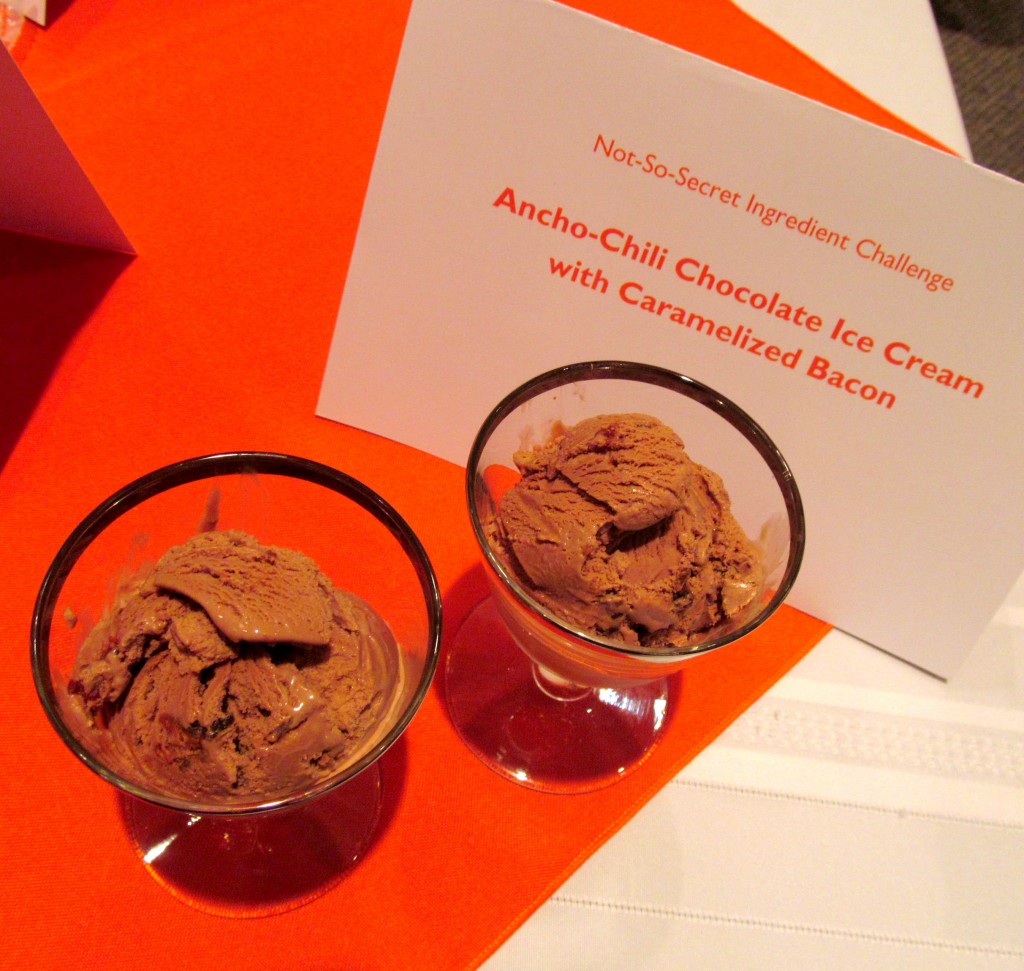 My plan of attack while judging was to compile a small portion of each dish on a plate. CHS actually provided us with "assistants" who brought us water, took trash away, and swapped out dishes once we were ready to try the next one. Pretty darn cool but I felt awkward asking someone to do something I can do myself! I'm not made to have an assistant!
As the winning dish I picked the only savory entry in my category – OBVIOUSLY.
The Lazy Chili Rellenos actually ended up being the entry of Jenny's husband, Tim! I had no clue, I swear!
I got a cute intro from Jenny and had the chance to share my foodie history – check out the video below, in case you missed it Monday!
During the announcement of the winners, Ed and Jenny got silly and took a giant MC + crowd selfie. As a proponent of selfie-taking, I was just upset I couldn't be in it.
Columnist MaryEllen Fillo crowned the Tomato Aspic the overall CHS Cookoff winner, and the judges assembled with the other category winners for a group shot.
I even made it into Wednesday's Hartford Courant write-up about the cookoff – in color too!
The Connecticut Historical Society gifted me with an adorable "I'm a history nut" mug, button, and bookmark! The button is displayed proudly on the Reebok backpack I use to tote my homework to/from Daybreak each weekend.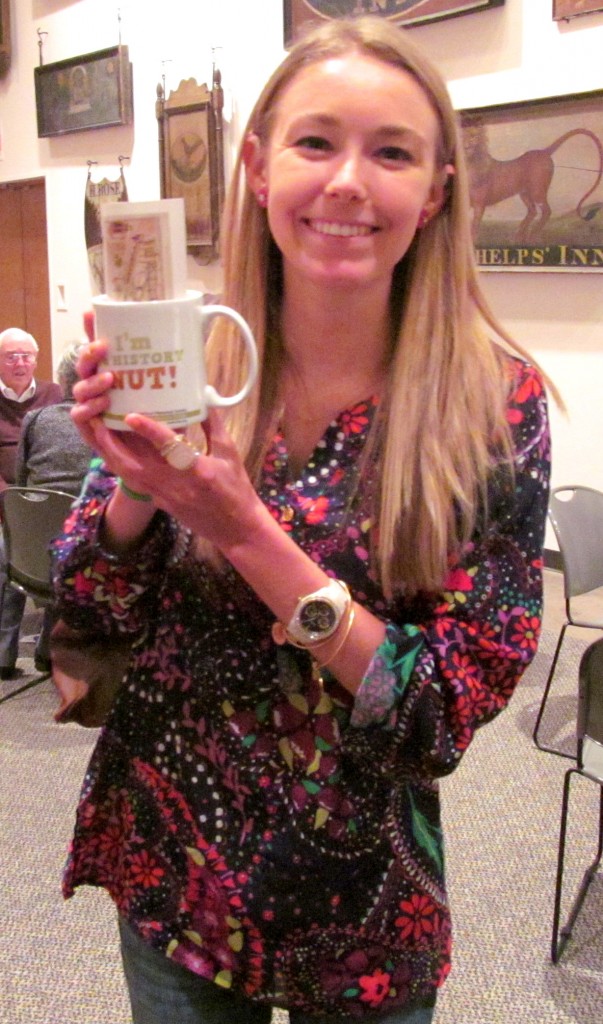 CT.com also gave each of the judges a $50 gift card to City Steam Brewery! Can't wait to go – I've only eaten there once before and it was a few years ago. The food was pretty good, but the vibe is what I enjoyed most. A great place to hang out!
This post was super long, but that's because I went into the event super passionate. After having a hard time with feeling anxiety and guilt over vacation food, I felt a little nervous that my ego would hold me back from enjoying myself and fulfilling my judging responsibilities. NOT SO! I remembered that I am in control, and that it's up to ME whether or not I have a good time! Like I said at the beginning of this post, Ed and Jenny made me feel super special just by asking me to judge. To be alongside TV and radio personalities, and accomplished journalists, was a HUGE honor. I shocked myself by having no problem at all getting up and talking with a mic to a room full of people. My friends and mom came to support me, and I got to see old friends like Chion and David.
I seriously left CHS Cookoff on cloud 9, and moved right back up to the cloud while writing this post, which is why I seemingly could not leave a single detail or photo out. So my apologies if your eyes glazed over, and props to you if you made it this far and read everything. But I wrote this post not only to share my experience with you all, but also to share with myself that I have made some amazing strides and accomplishments since starting this blog and my recovery. I saved this photo (by Roger of The Defining Photo) for last because it just totally captures my feelings about this event.
Thank you Roger, thank you Ed, Jenny, and the Connecticut Historical Society, and thank you everyone else who never stops supporting me!
Have you ever attended (or entered!) a cooking contest?
Which dish looks best to you?