TON of Fun at Taste of the Nation Hartford – Part 2
In case you missed it, my Taste of the Nation (Hartford) overall intro and libation recap post went up yesterday! I'm now going to move on to my two favorite parts of the event (and they'll probably be yours too) – the food and the PEOPLE!
The Food
Some restaurants go with simple white-tablecloth-covered booths, and others go all out. Mill Restaurant Group (responsible for one of my favorite cocktail spots, Market Grille in Manchester) was at the all-out end of the display spectrum!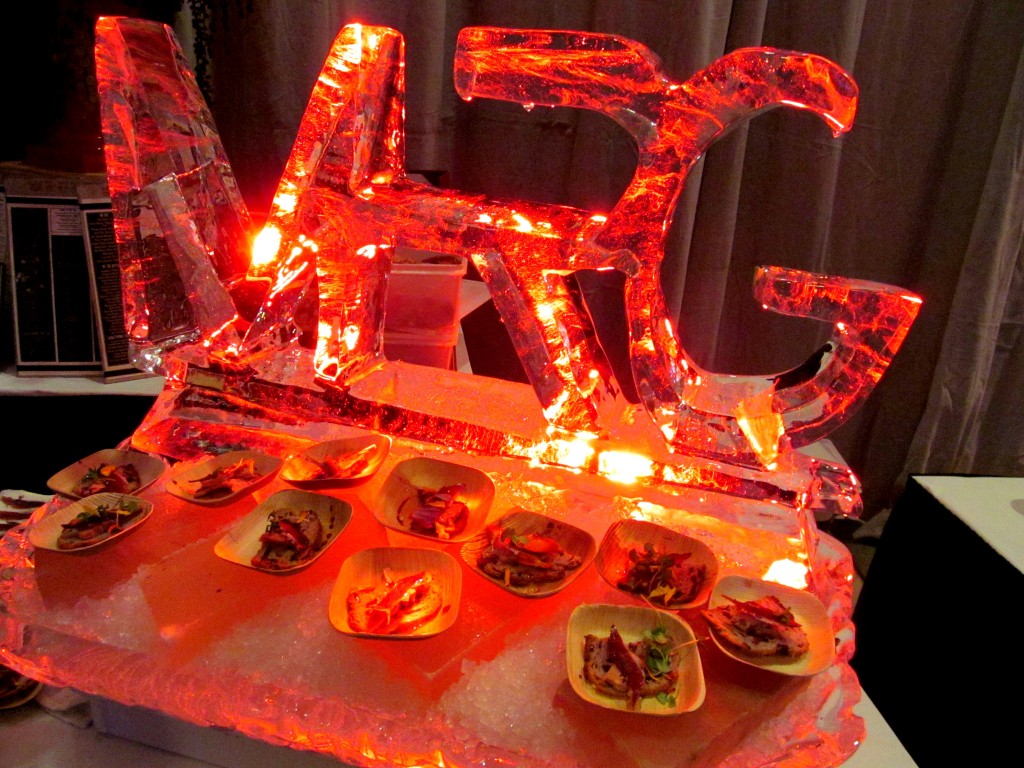 MRG's food quality was all-out as well in both aesthetics and taste! Check out these awesome chilled soup shooters served on slate…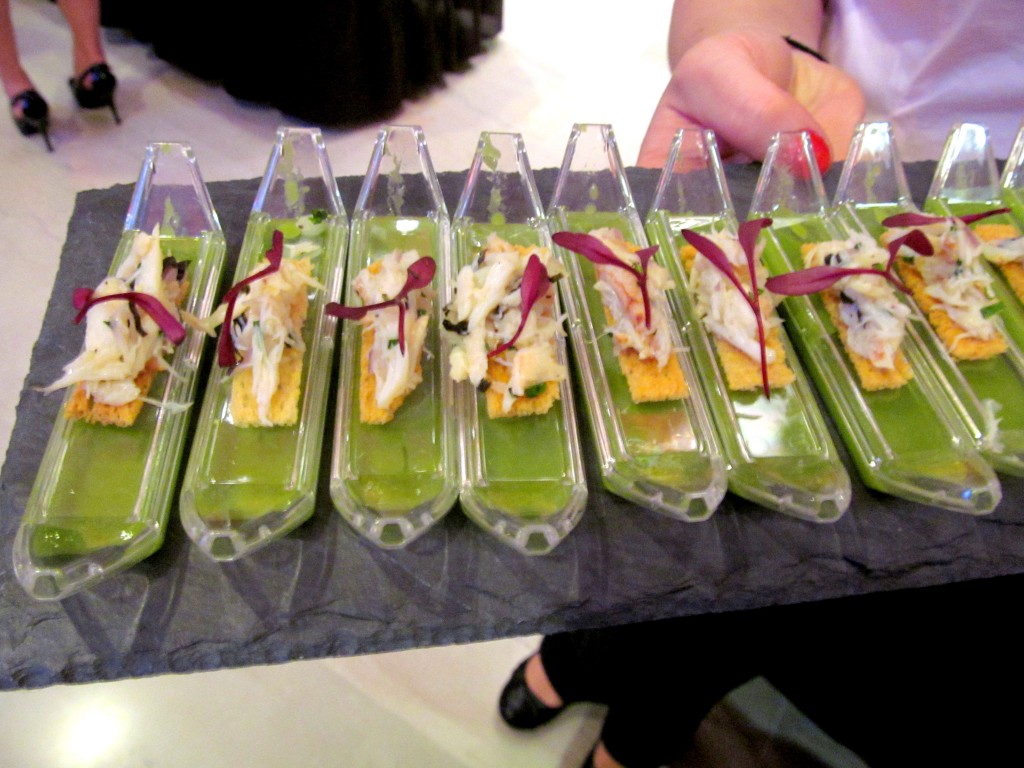 …and this freaking GORGEOUS and AMAZINGLY TASTY ahi tuna! I know Meg is dying right now. Just look at that giant tuna steak! Kelly, Kaitlin, and I were all oggling over it like it was Ryan Gosling (well not that bad).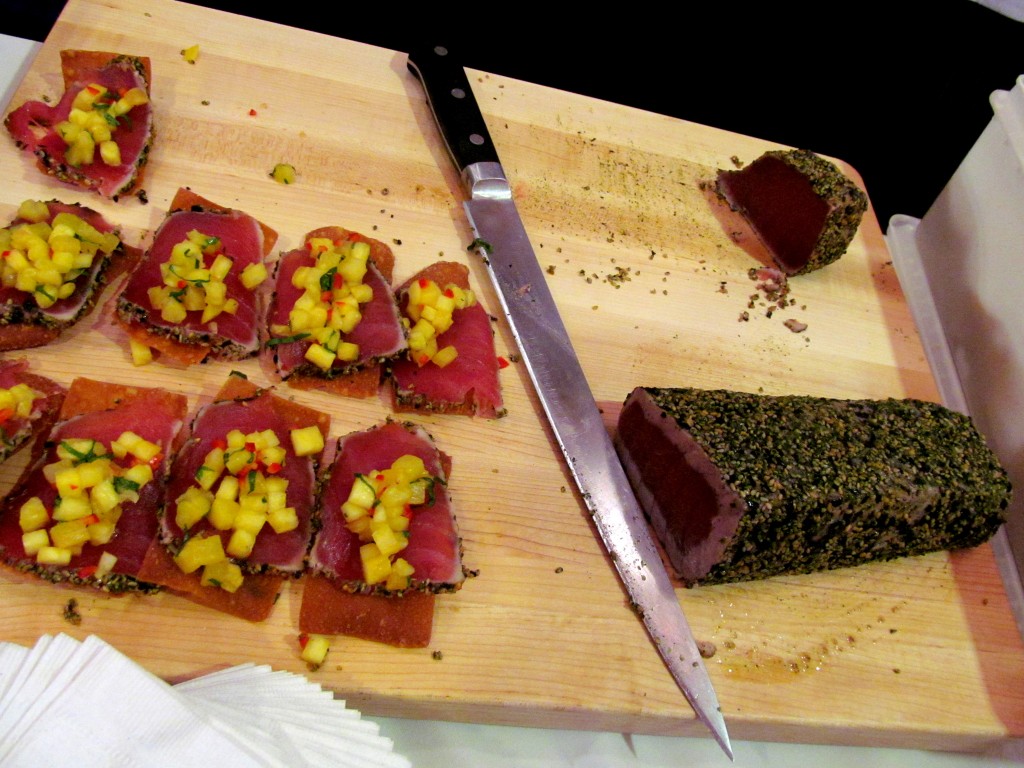 I am not exactly sure what the below beauties are on those plates. I believe cranberry bread and prosciutto were involved…talk about a unique combo! As yummy as it was unique.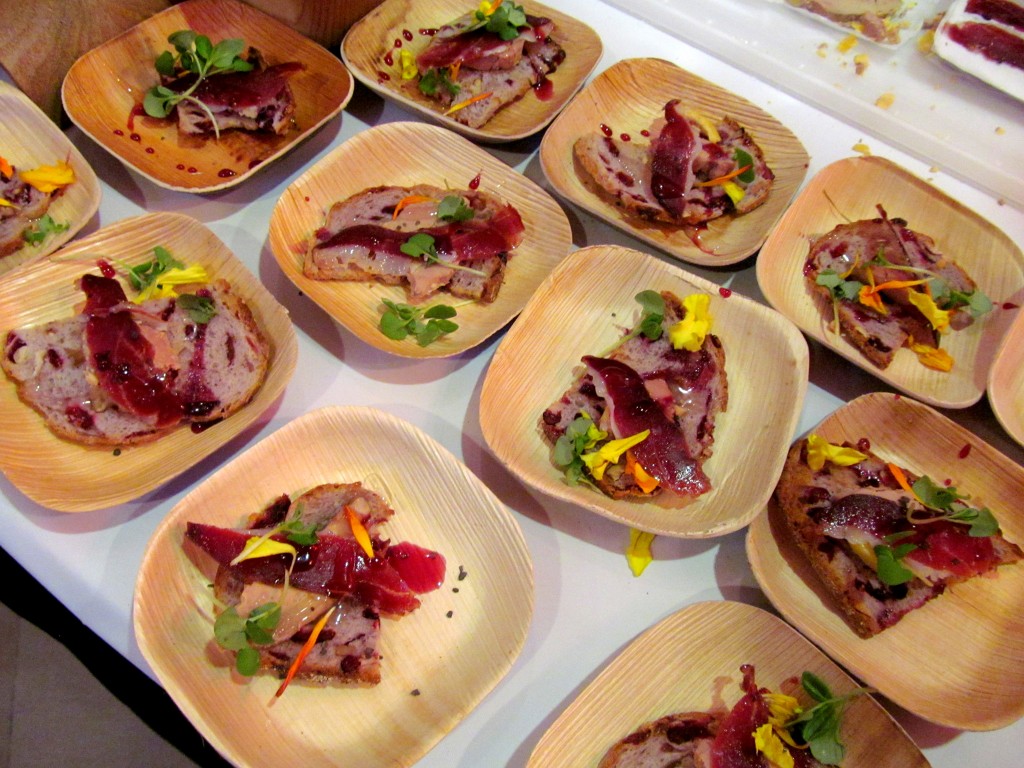 And another pretty display…I'm not much for oysters despite the many times I've tried to like them, but I really loved Oyster Club's display and I totally want to visit the restaurant in Mystic! Passed on these guys though to save room.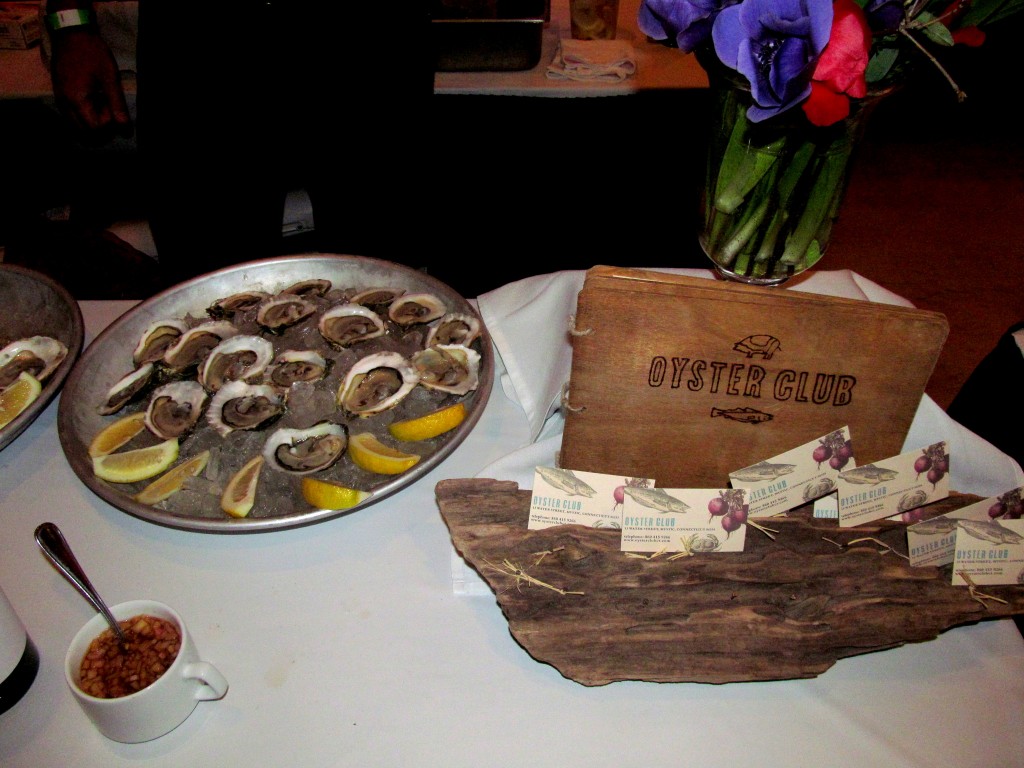 Another tummy-room-saving strategy I employ at these events is what my guy friends like to call "protein mode". I adore bread, but unless it's a unique carb, I'm not going to eat it at a big tasting because it will take up precious stomach space! Hence, I nommed this roasted porchetta right off the roll it came on and tossed the bread. I'm sorry, carbs! Forgive me!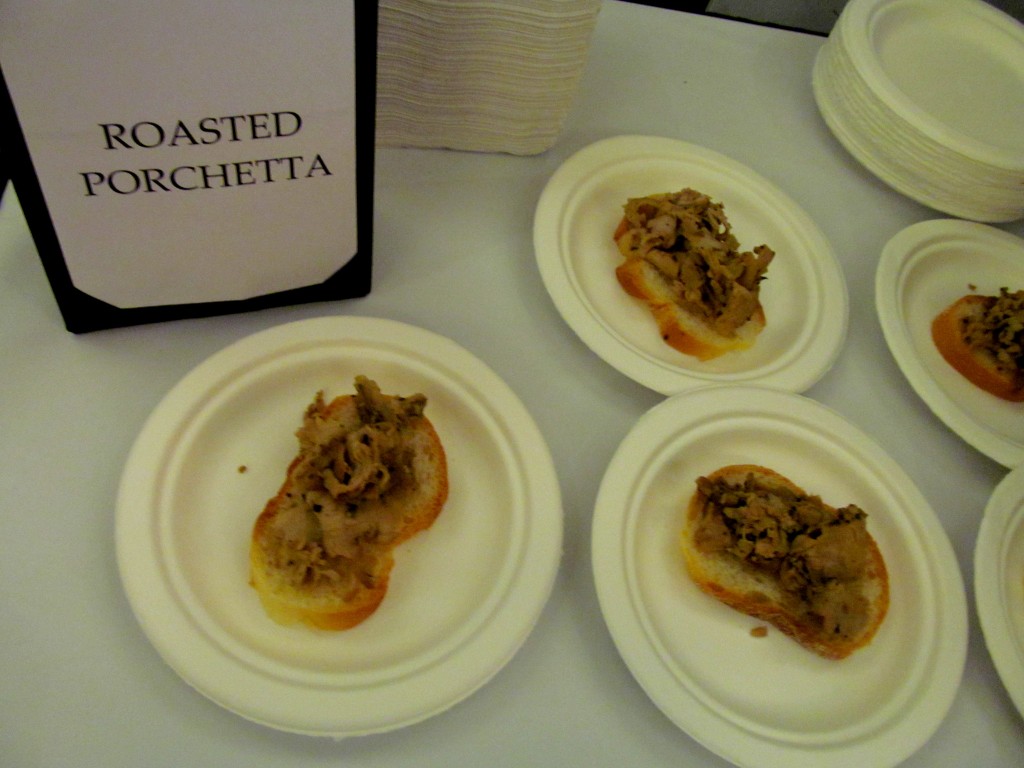 Agave Grill had already gotten my palate revved for their delicious food with the tasty marg listed in yesterday's post, and I was super excited to hear that particular food came in the form of street tacos on corn tortillas! Corn >>>>> flour in my opinion and I totally enjoyed this guy's kick! I split it with Kaitlin, who was not a big fan of the spice.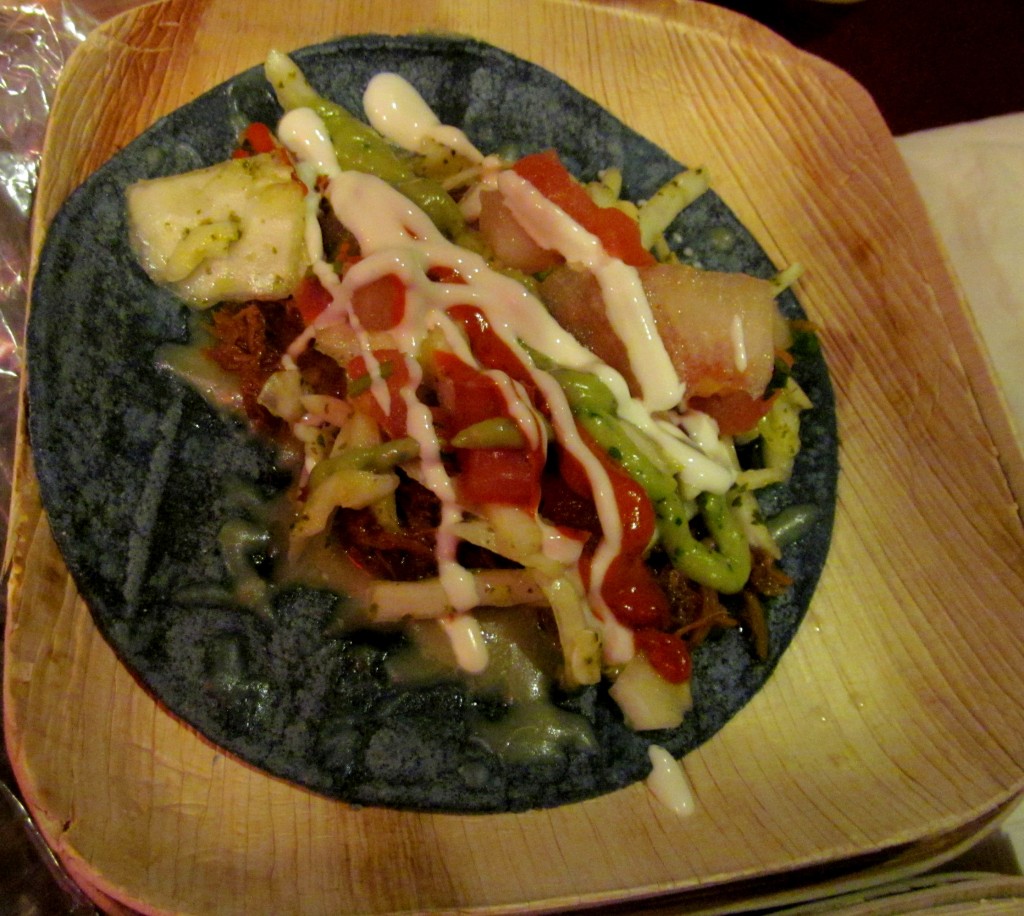 Hartford's Tisane is legendary for their creative cocktails made with tea…and the Euro-Asian cafe expanded that creativity to these fun Chinese takeout boxes that fit the Asian aspects of their cuisine perfectly! And the boxes' contents were great too – rare beef and noodles!
I ran into my good friend Kat while I was still working my way through drinks and she told us we HAD to get to Firebox for their fluke crudo. Did it matter that I didn't quite know what a crudo was? Nope, because I heard fluke and immediately filed Firebox away as a priority! Later I did get to the booth to try that dish and it lived up to the expectations Kat gave me. I immediately could see that crudo means raw (in Italian) and I am not always all over raw fish, but the fluke was so very fresh and flavorful that there's no way I couldn't have fallen in love. Definitely a top dish of the evening for me and I can't wait to hopefully get to Firebox next month for May's Frog Hollow Social Club, a VERY special foodie tasting dinner they've just started up. I've only dined there once but it's been WAY too long – how can I not go back after they served me one of the better Manhattans I've had? And we all know I've had a lot.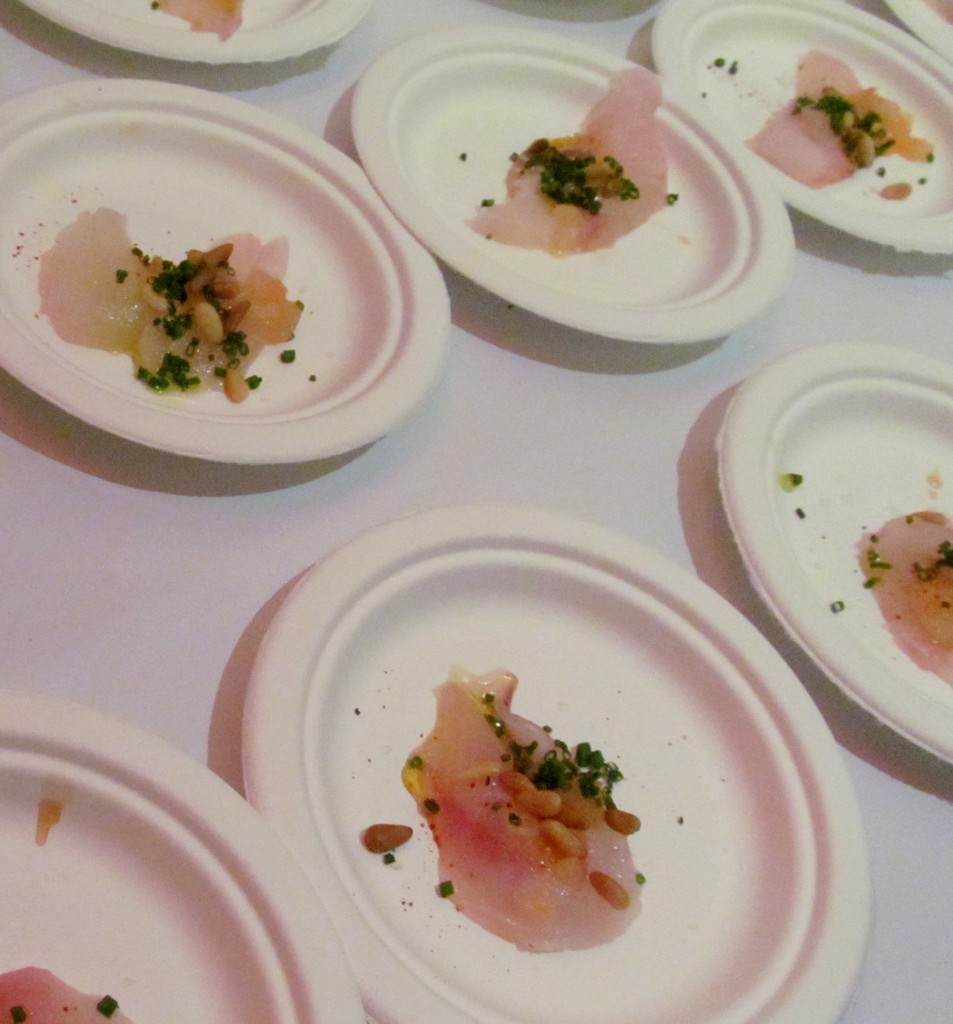 Another very, very, VERY favorite dish came from a restaurant that's very, very, VERY close to me…yet I still haven't been! What's up with that?! I need to make it a point to get to Manchester's Cavey's ASAP because they serve both French AND Italian cuisine and have been doing so for quite a long time…clearly the chefs (who I got to meet at the booth, so cool) know what they're doing. The below smoked trout blew my mind and that crunchy disc of bread was definitely a carb I did not forgo.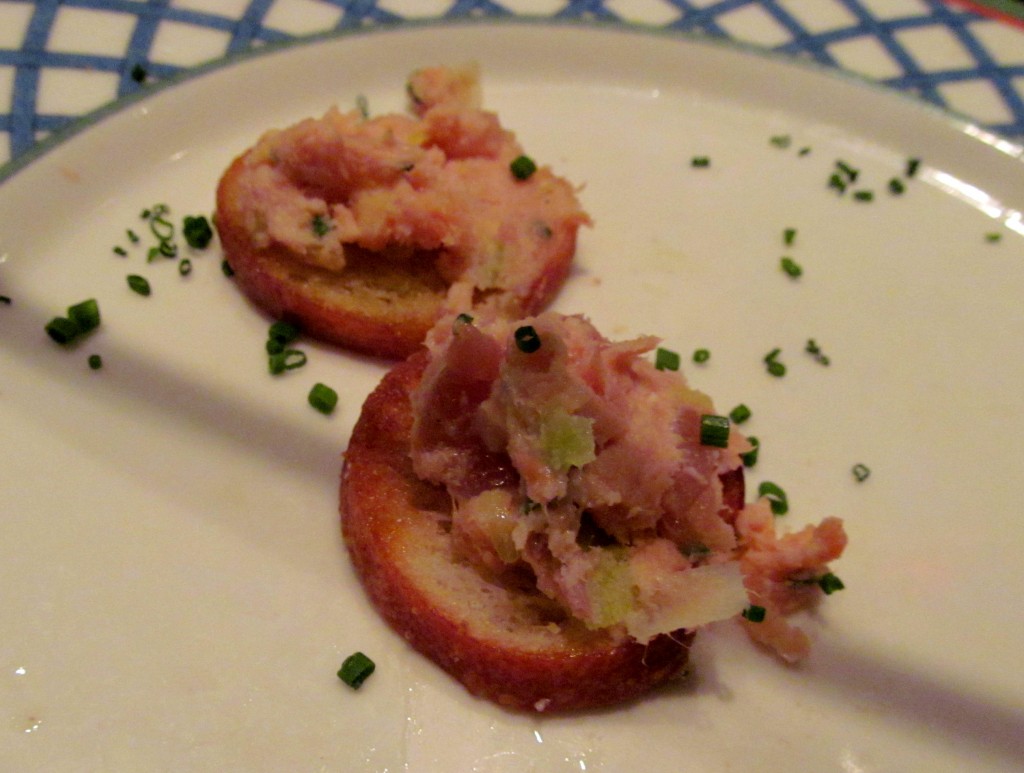 Given all the cheese and olives that Cavey's served, and the fact that they have wine dinners very frequently, I think we will get along JUST fine.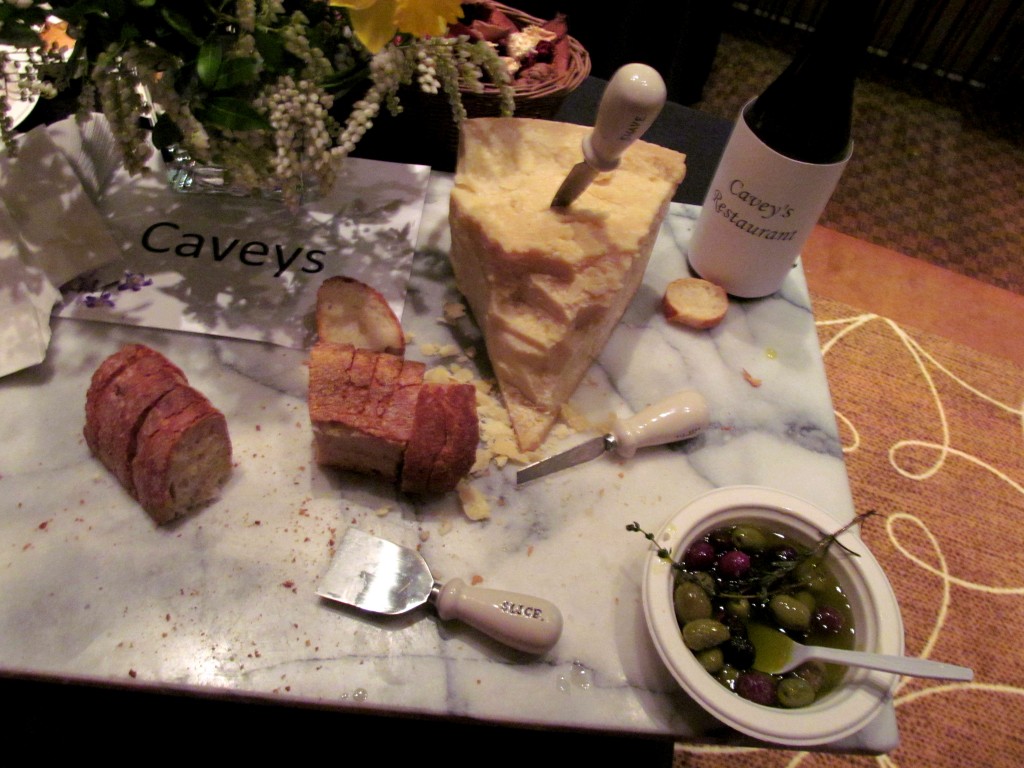 I did not include Barcelona West Hartford in my drink recap post since they ALSO served up amazing food (no surprise). Sangria in general isn't usually for me and while theirs was refreshing and tasted like it had ZERO fake addititives in it (which I know it doesn't), I prefer a stiffer cocktail. What else do I prefer? The juiciest of the juicy tomatoes, bread with EVOO, and cheese. Good thing Chef Alexander Feldman gave me all three on one plate – not a crumb left standing! Just look at the tomatoes in the pic below!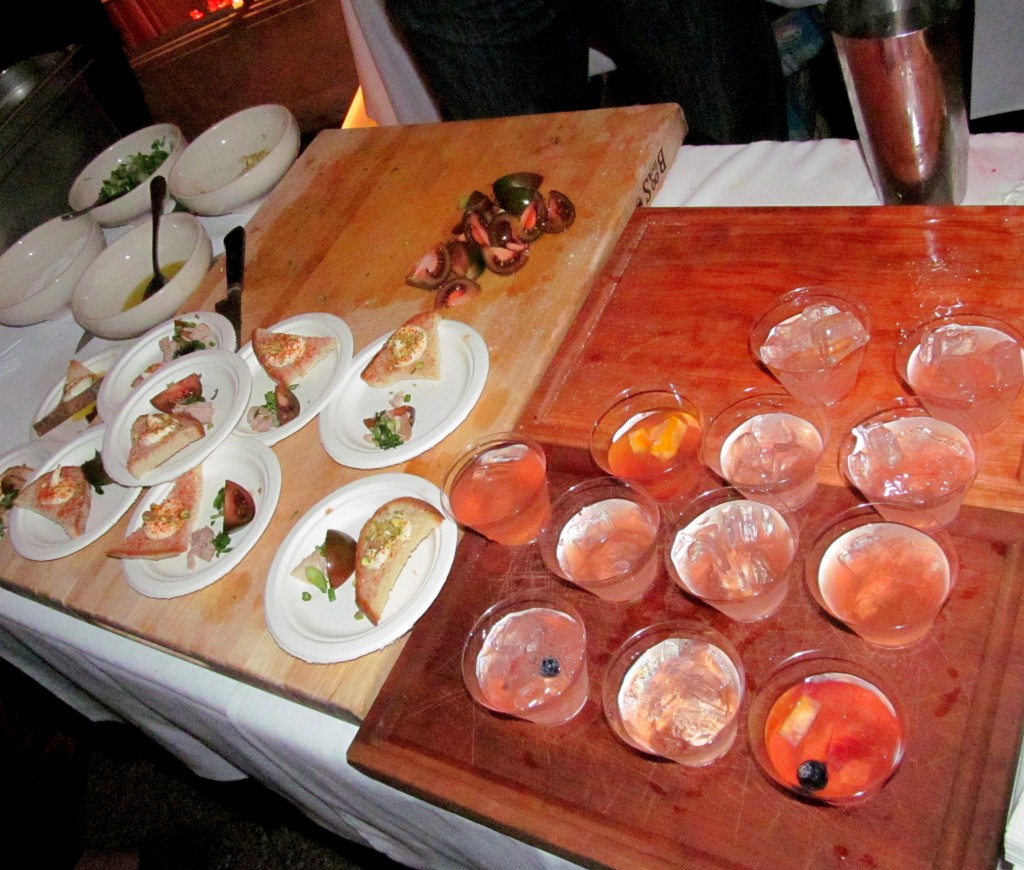 Posted up next to Barcelona was another favorite CT spot of mine, Millwright's! Of all the protein in dishes I've tried there I've been most impressed by their lamb and seafood so the below sign announcing chilled pea soup, smoked salmon rillettes, and shoots straight from the Millwright's farm (yes they now havet a farm – details to come!) had me even more excited than I already was to sample Chef Tyler Anderson's TON offering!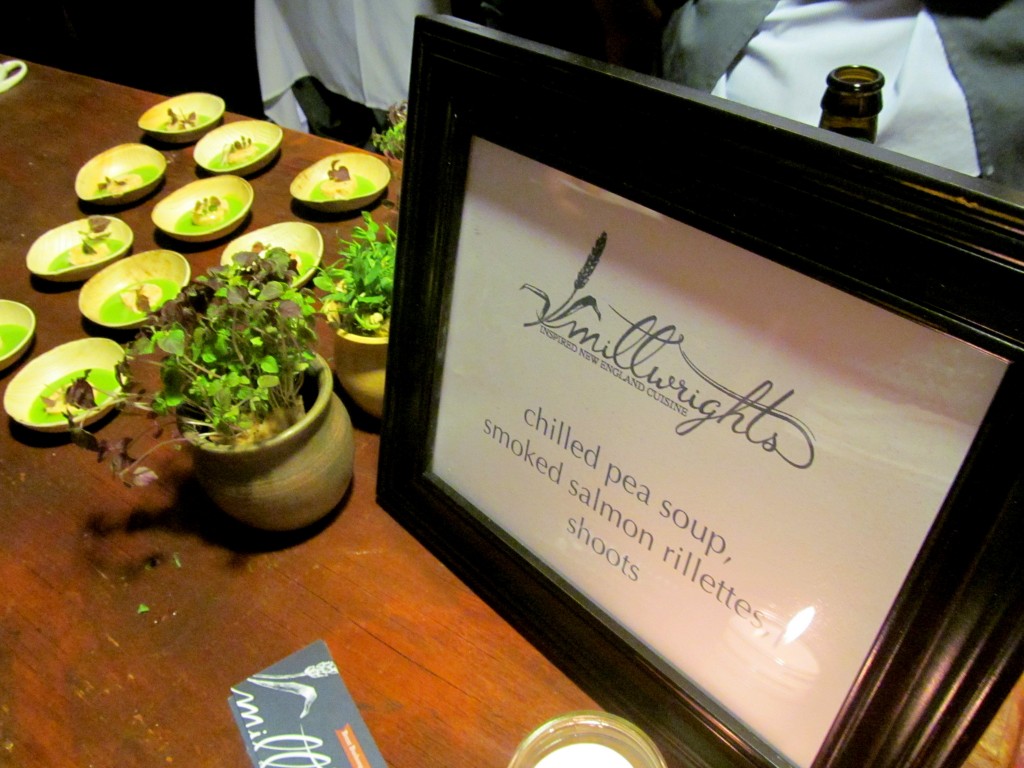 The chefs were pulling shoots directly from the soil! I got a kick out of the device used to pour the chilled soup over the salmon too. By the way, that smoked salmon…I've never tasted the smoked part of smoked salmon so vibrantly, and that's a GREAT thing. I said to Tyler, "How do you get this to taste so SMOKEY?!" And he replied with an obvious answer: "We…smoke it?" Well however Millwright's is smoking their food, I beg them to keep that flame going.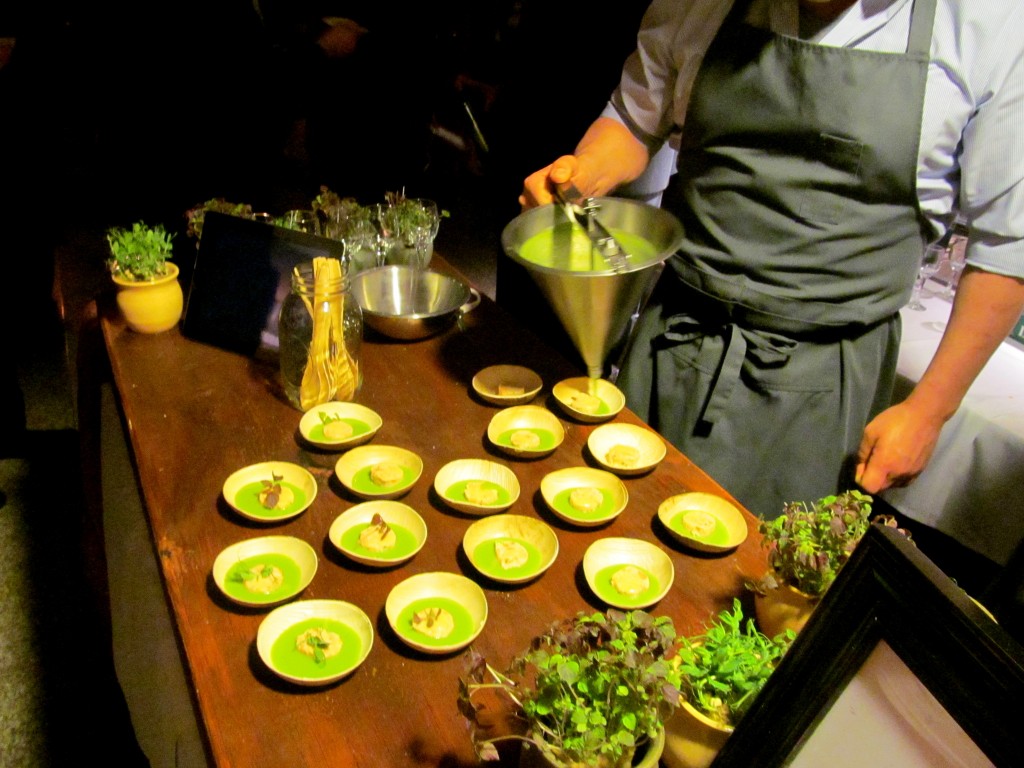 I should mention here that Kaitlin got good photos of a couple of my favorite dishes, which just so happened to produce my least favorite photos from my camera, so check out her recap for sure. Someone (and dammit I don't know who) gave out both lobster and edamame burger sliders that blew our minds and Backstage in Torrington gave me my first foodie bite of the evening – a GIANT scallop. I plan to eat there soon so I can do a blog post! They also served up the below tuna and bok choy. I loved the bok choy but couldn't really get past the tuna's color, which just seemed so…pale and sickly!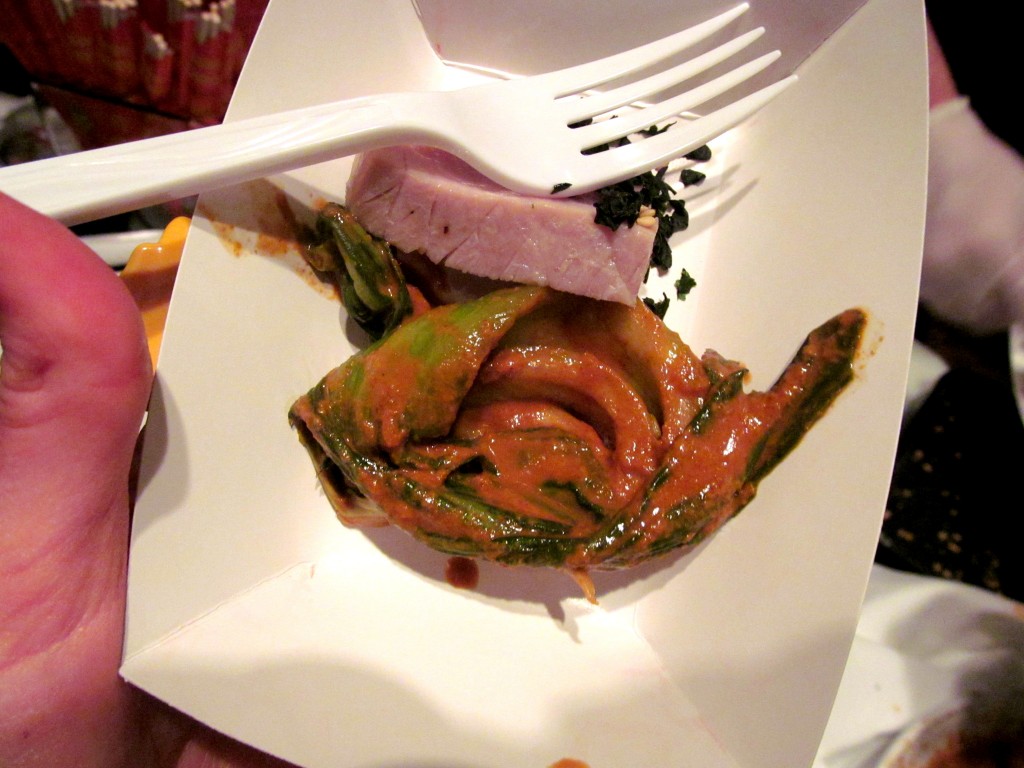 I was definitely too hyper-active and overwhelmed at TON given all the fun people I kept running into, so I didn't do the BEST job taking notes as you can probably tell by now. Therefore I do not know what the below sandwiches are or who made them, but damn they look good and I love the sprigs on the right as decoration!
EDIT: They're by Joey Garlic's, a spot I've been meaning to visit since pizza is my kryptonite. Thanks Kelly for the clue-in!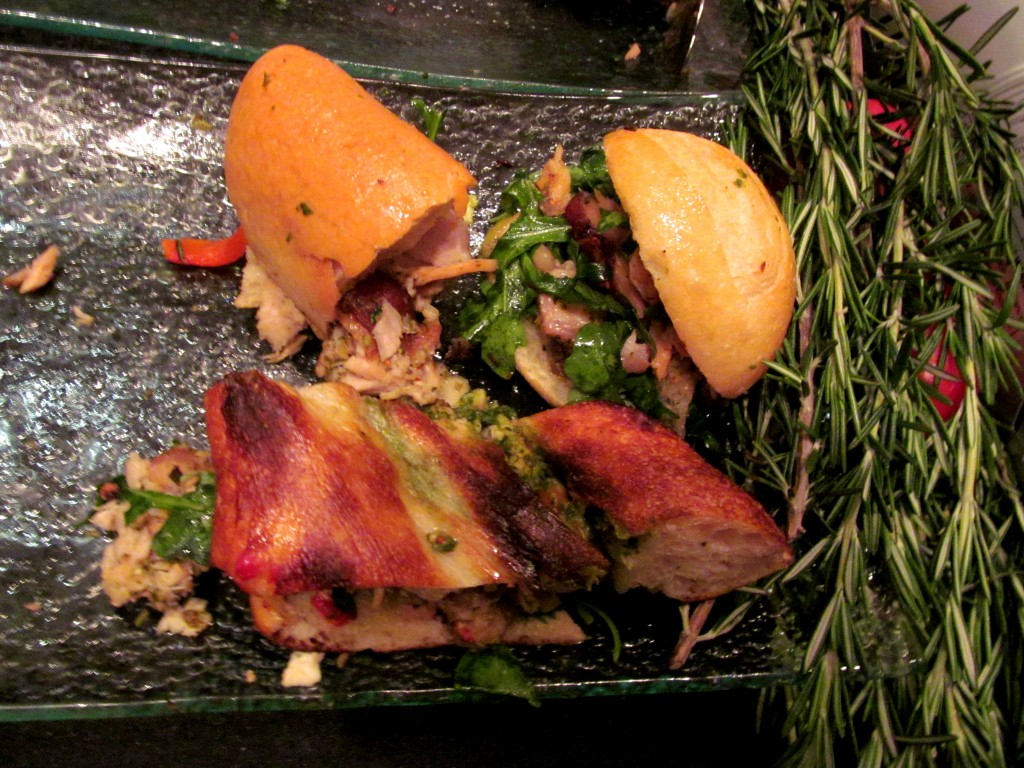 On our way into the tasting, we spotted Artisan Made Northeast posted up right by the entrance with MUCHO CHEESE. It was so hard to wait until after I'd had some drinks before starting on that particular food category but I made sure to have wine in my glass once I did!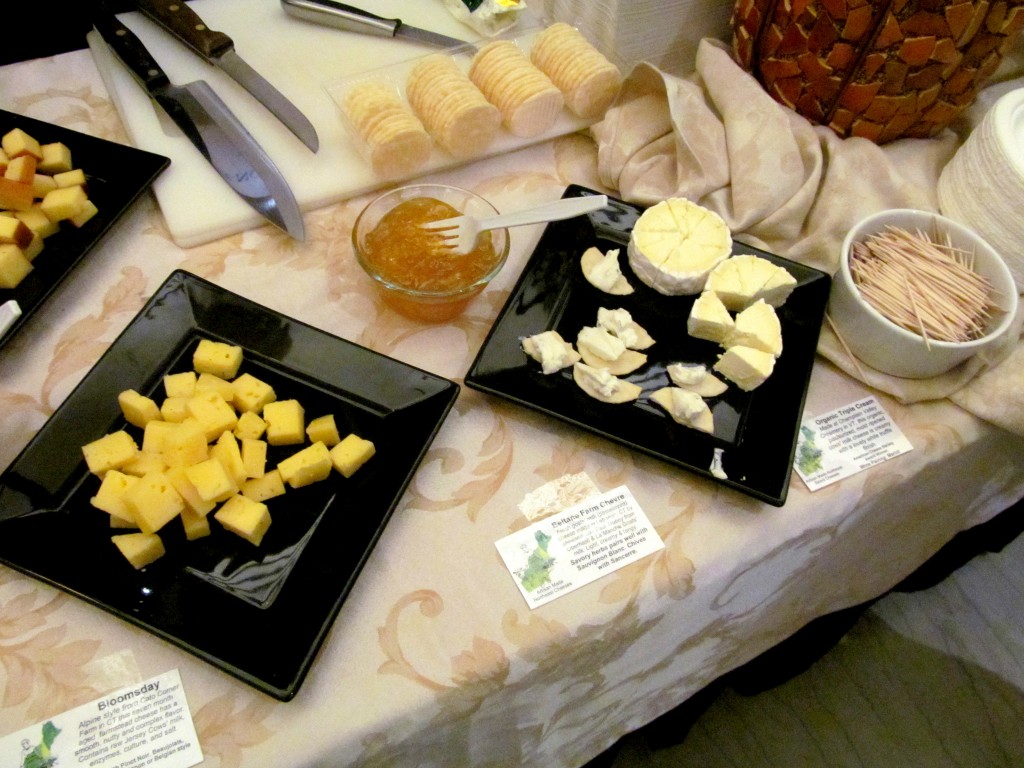 Boucher Blue's flavor was strongest and hence my fave!
The salmon-topped cucumber from Hot Tomatoes in Hartford reminded me I need to use the Restaurant.com gift cert I got there after doing the ALA Stair Climb! They've come under new management and I'm curious, plus the outdoor patio is cool.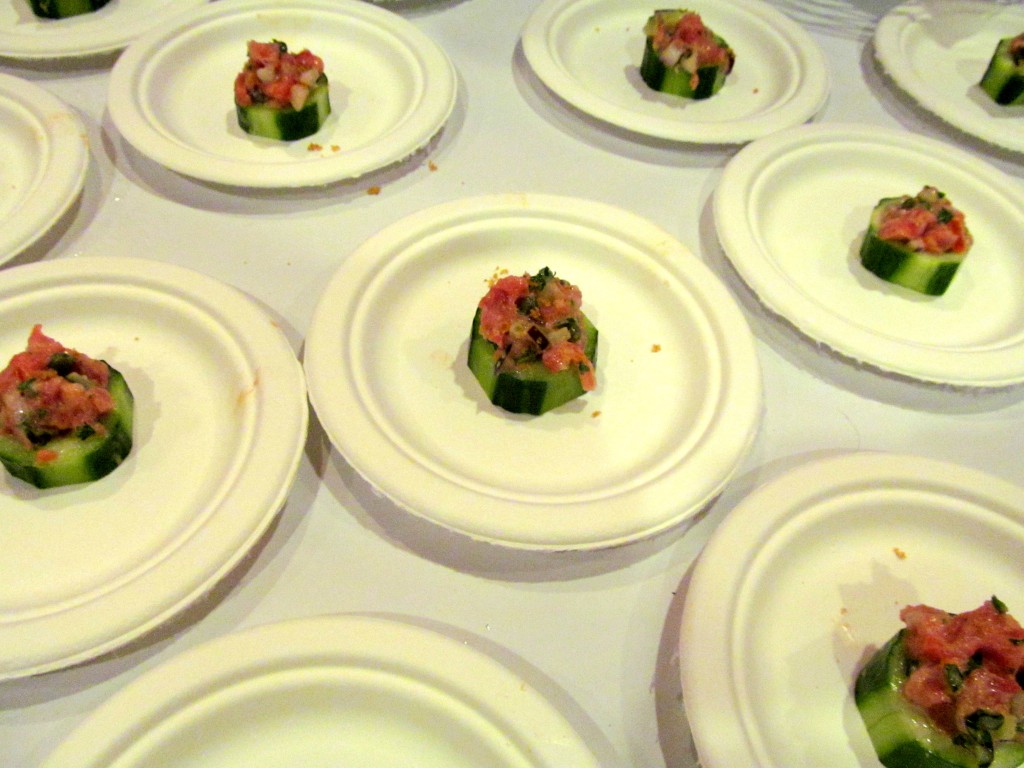 I saved the most epic of my savory food photos for last. I am still not a big fan of Plan B and think the restaurant is highly overrated, but I'm happy to see them gaining popularity and growing in the state, and my friend Kevin is mayor of the Glastonbury location so I can't hate too much. Especially after I totally DESTROYED the below loaded mini hotdog.
Looks so innocent right? So composed? Now let me be honest with you. I do not eat hot dogs because a) they cause me anxiety related to my ongoing eating disorder fight and b) they really do cause me to feel like I'm near death, much like Chinese food. But this mini hot dog was the perfect size. It was loaded. It didn't know what was about to hit it.
I enjoyed and savored every last bite of that hot dog and the happiness I felt after eating it outweighed any anxiety it could have caused me. And for that I am proud and was satisfied!
When I started realizing I was going to be full soon I decided to switch to dessert, especially since many savory food booths were running out of food at this point! I don't like lemon in my desserts too much but the meringues below intrigued me because they looked like dessert deviled eggs!
My favorite favorite FAVORITE dessert was the cannoli I split with Kaitlin – from Mozzicato's, constantly touted as of the best Italian bakeries in the state. I couldn't stop at half of a cannoli and went back for a couple of other pastries too. I looooove authentic Italian desserts! And Greek desserts (right Kelly?)
I'm classifying the below Bicerin Chocolate Liqueur as dessert because I tasted nothing alcoholic about it. Way too chocolatey for me and I wasn't very impressed. The Limoncello di Torino also being poured at that booth was a little better but still so syrupy.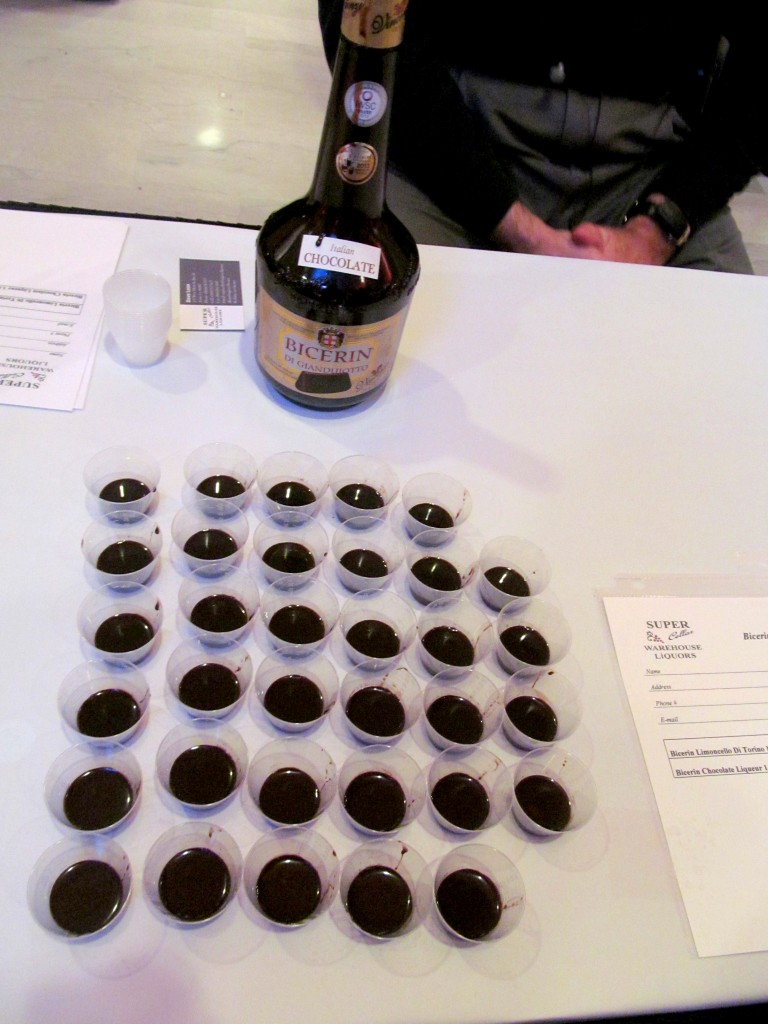 Costa del Sol (I have a SaveNowCT deal there expiring in early May, who's goin' with me?!) wins for most unique and beautiful dessert presentation! I feared I would not get to try one of their dark chocolate tarts between to paper-thin roasted (?) orange slices because I wanted to wait til the end of the evening to do desserts, but I snapped up this guy when there were just three left. Phew! Three IS the charm! Ahhh citrus and dark chocolate chocolate, there's something magical about it!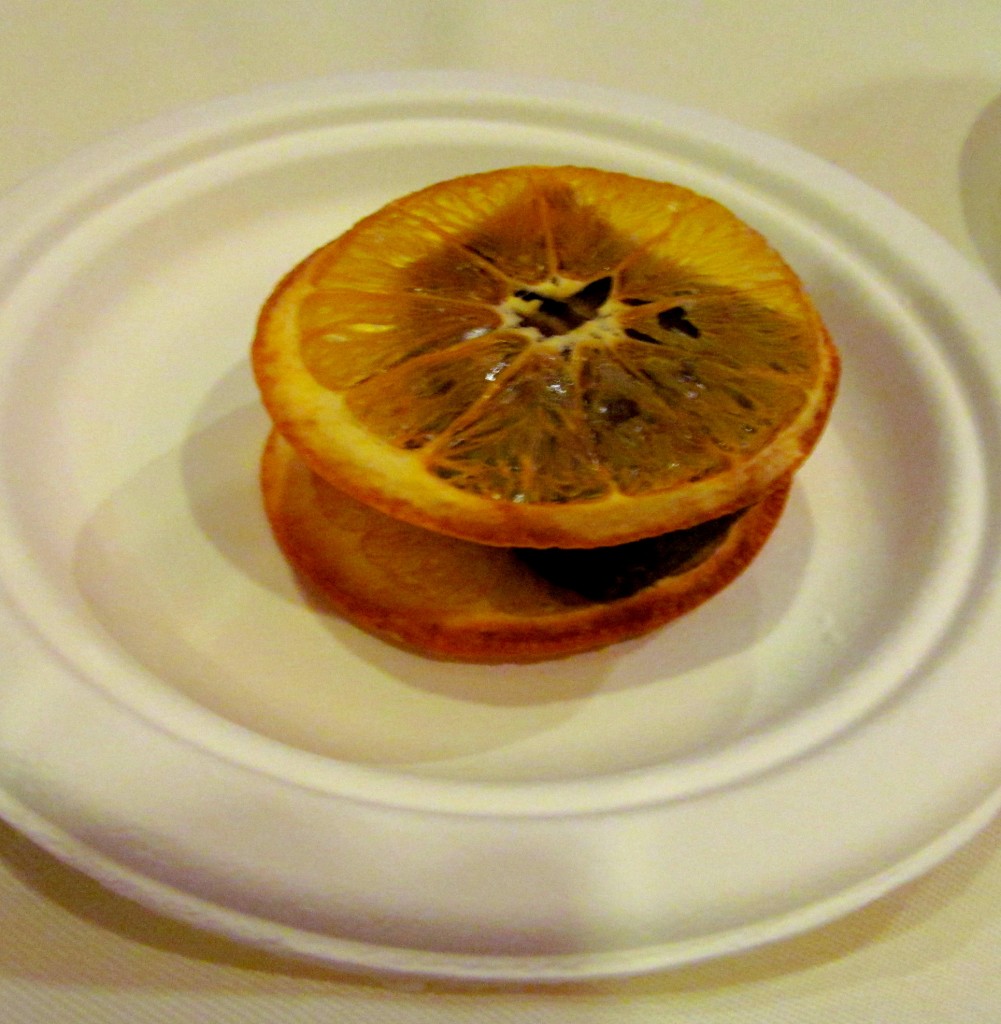 I've talked about drinks. I've talked about savory eats. I've talked about desserts. I can honestly and truly say though that the BEST part of the evening for me was sharing the drinks and food with both old and new friends! The special people in my life are the reason I have been able to take so many steps forward in my recovery and live out my passions with less guilt and fear. I'm a work in progress but two years ago, the thought of attending Taste of the Nation would have put me in a dark place and it would have been hard for me to get out without a panic.
So Here's To The Friends!
To my dear blend Kaitlin, who stayed over at my house after the event and spent the morning and afternoon with me the next day (I took a vacation day and it was well worth it!) going to a spin class, drinking coffee at Daybreak, and having lunch at It's Only Natural!
To another great blend Kelly and her hubby Nick for making the trip from MA to experience Taste of the Nation (and extra props to Kelly for driving). I love that I can hang out with these two AND their adorable son! I'm lucky to have connected with the very special Bonatsakis family – I like to think it all started with Kelly and I bonding over Greek food!
When I used to do Lindsay's Foodie Pen Pals program, I was matched in May with a fellow CT foodie, Michelle! We did our exchange in person and had a great time chatting it up about food, fitness, and the other typical blogger subjects of interest. She recognized me at Taste of the Nation and excitedly introduced me to her mom while saying, "I just knew you'd be here!" Thank you Michelle, it was awesome seeing you again and meeting your mom!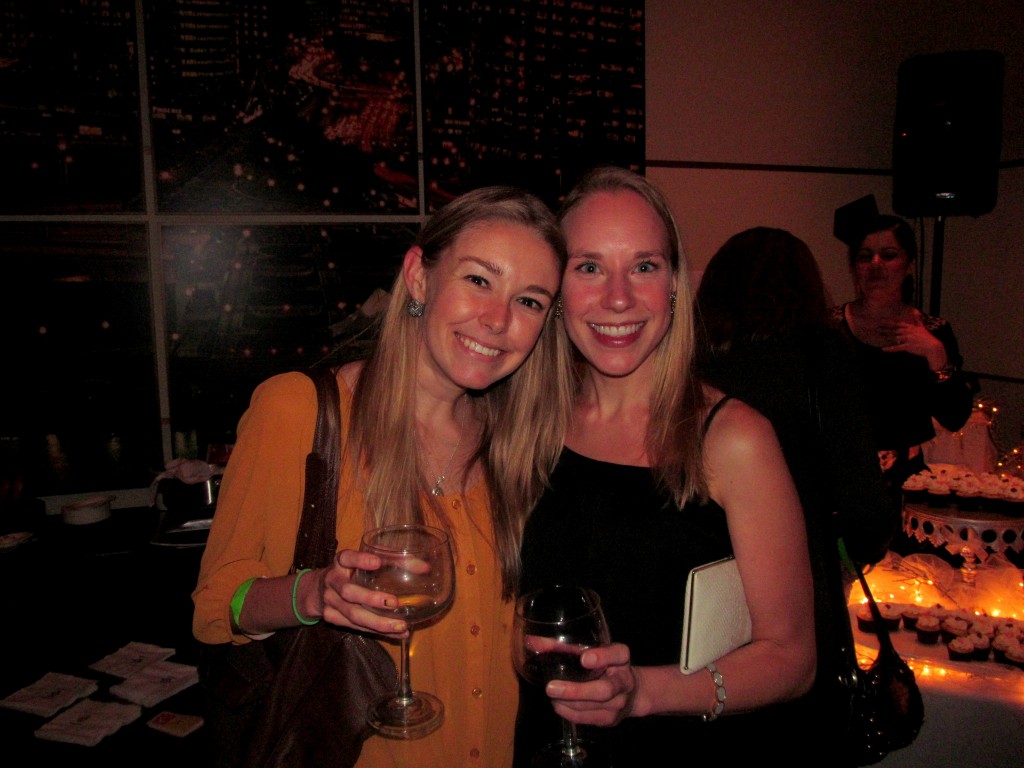 And to Adam Greenberg of Barcelona Wine Bar for always making me feel special, even though he's a big-shot newly-promoted super super SUPER talented chef!
To Barcelona West Hartford's new Exec Chef Alexander Feldman and their bartender extraordinaire and cocktail class teacher Anna for making me feel like my blog is a special part of the community, and for always being open to working with me – as both colleagues and FRIENDS!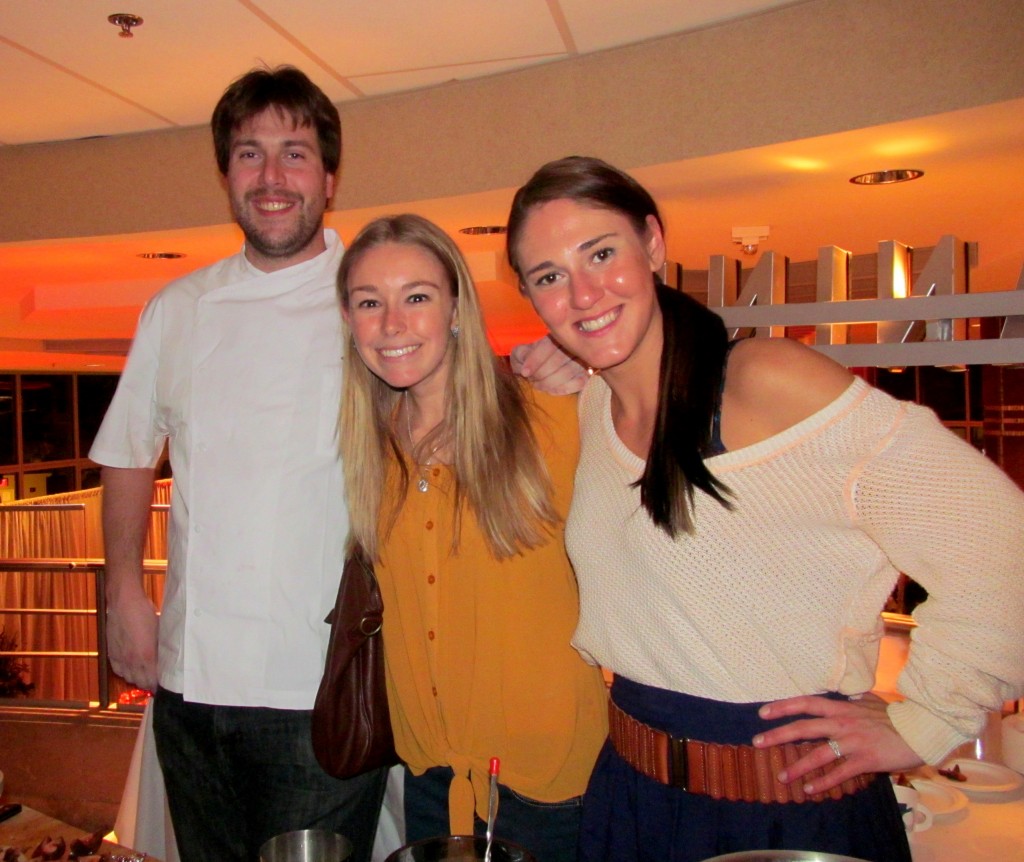 To Millwright's Maitre d' and Beverage Director Brent Bushong II and Chef Tyler Anderson for always keeping me clued in on the next amazing, innovative idea being implemented at their restaurant and taking the time to chat with my friends and I during the busy evening!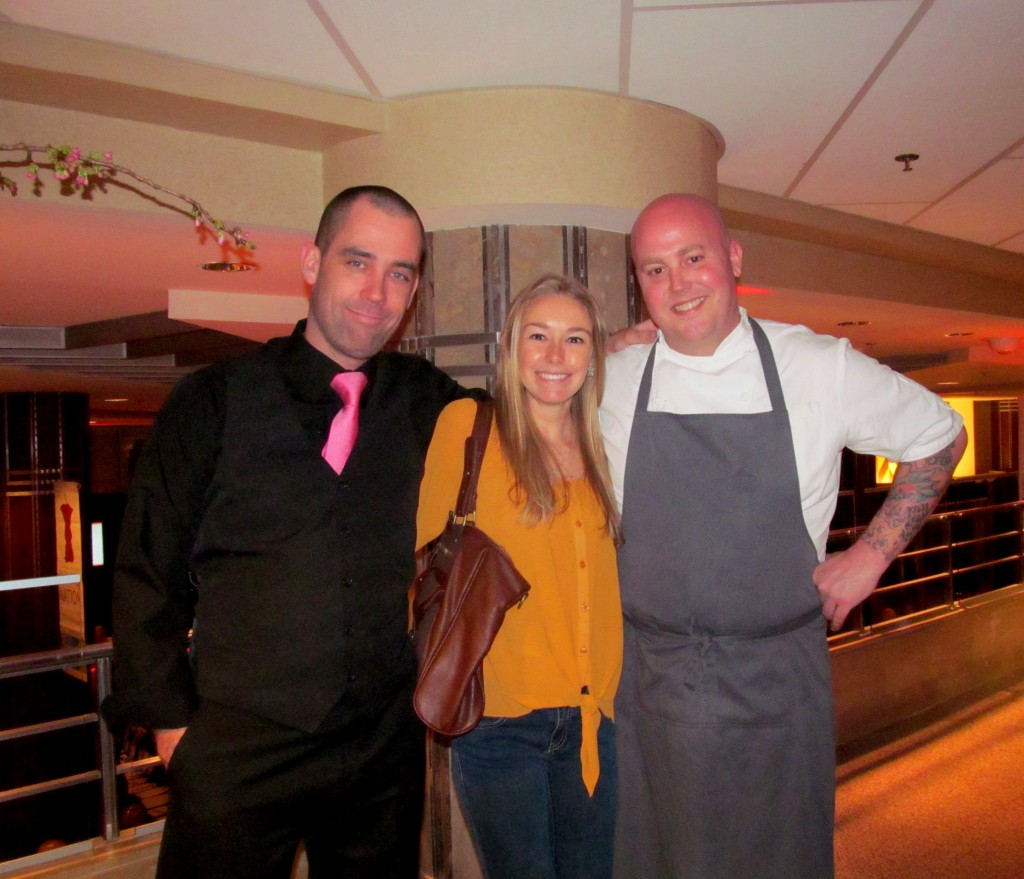 To Signature David for putting a huge smile on my face whenever we cross paths! Doesn't he look dapper?
To my amazing, wonderful friend Kat for getting me involved with helping to promote the event and showing up less than a week after having a freaking BABY. Damn girl, you looked amazing!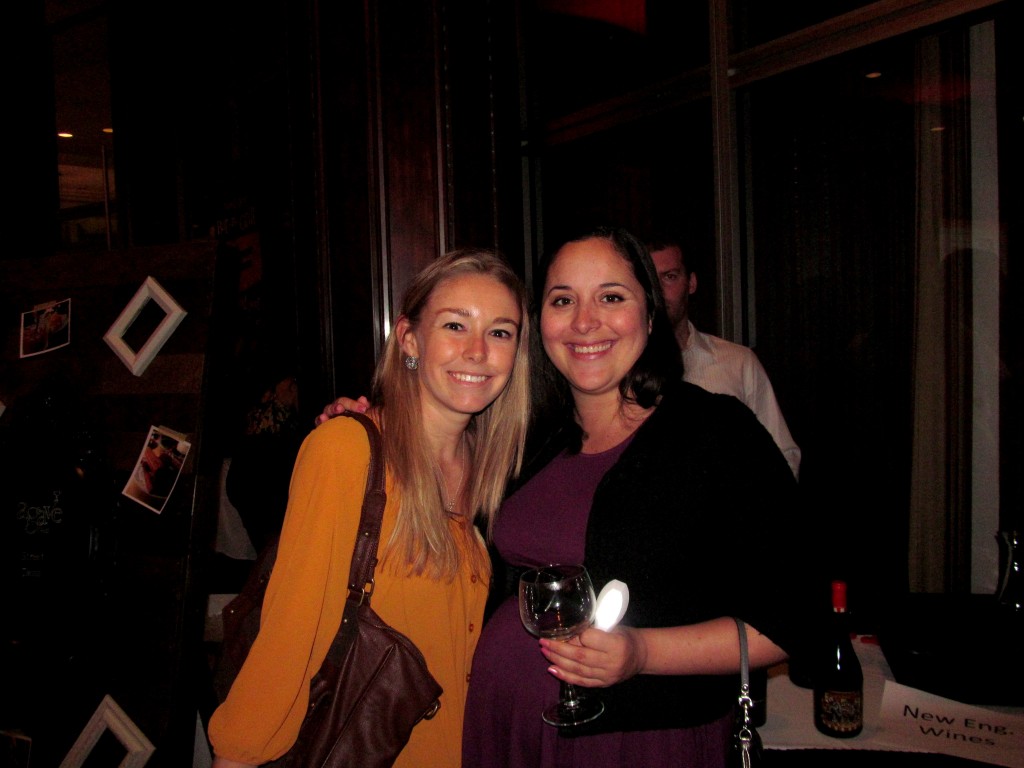 To Jonathan, Director of New Media & Special Events for Hartford Restaurant Group (Wood N Tap, Agave Grill, TD Homer's) for being willing at all times to dish with me about social media in restaurants and fashion.
To Cheyney Barrieau, an "Internet friend" only up until that night, for introducing herself (in person) and putting up with my awkwardly leaning into her when we took our necessary photo (this was clearly toward the end of the night).
To darling Jill for going so quickly from a Twitter friend to a good "in-person" friend! We have so much in common and I'm so thankful to have met her. Of COURSE she went to Taste of the Nation – she's always up for trying new things! We kept running into each other throughout the night and it was great fun. And each time we ran into each other my eyes definitely got more squinty.
And to Jill's friend Jeff (and Jill for introducing me to him), who is a fellow foodie. It's hard to find a guy that appreciates good wine and food events! We have already attended three together at this point (two of which have yet-to-come recaps).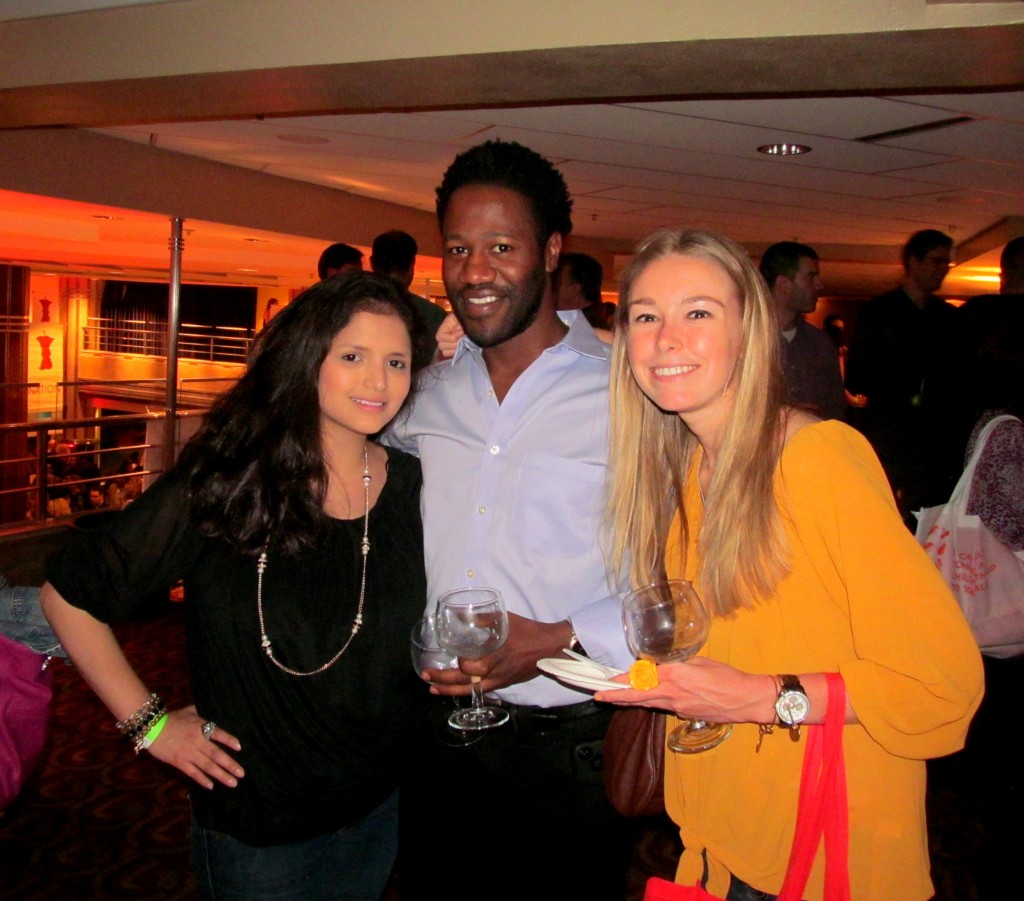 I always LOVE sharing my eats and drinks with you all, but the warm and fuzzies I get from sharing good times with my friends are the best part of blogging! You can go vomit now.
Thanks Taste of the Nation's Hartford committee for including me again this year! I had such a fantastic time and give many kudos to the organizers of this successful event! 
Which food item I tasted looks best to you?
If you live in or have visited CT, tell me – have you been to any of these restaurants before? What are your thoughts?
At a tasting would you prioritize the food from restaurants you've never tried, or food from restaurants you know you adore?