Tasting Tuesday: Whiskey With Dad!
Barcelona Wine Bar in West Hartford, my favorite restaurant for events lately, set my excitement at a whole new level when they added a whiskey tasting class to their calendar for Monday, April 8. I was subsequently devastated when the class was cancelled due to a staffing shortage (I understand the need to staff the bar for all customers above the class) but said devastation lasted but a few seconds because when Exec Chef Alex Feldman informed me of the cancellation, he followed up with an invitation to come in on the same night, sit at the bar, and engage in a private whiskey and tapas tasting with one of the restaurant's best bartenders, Emily!!! That way she could still work the bar AND I'd still get to do a tasting. Alex is a genius, both culinary and logistical!
My dad had never been to Barcelona (my mom still hasn't been) believe it or not, and I adore showing my parents new restaurants that I already know I love, so I asked him to join me. I got my love of whiskey (my favorite spirit) from him after all, so he seemed an appropriate dining companion!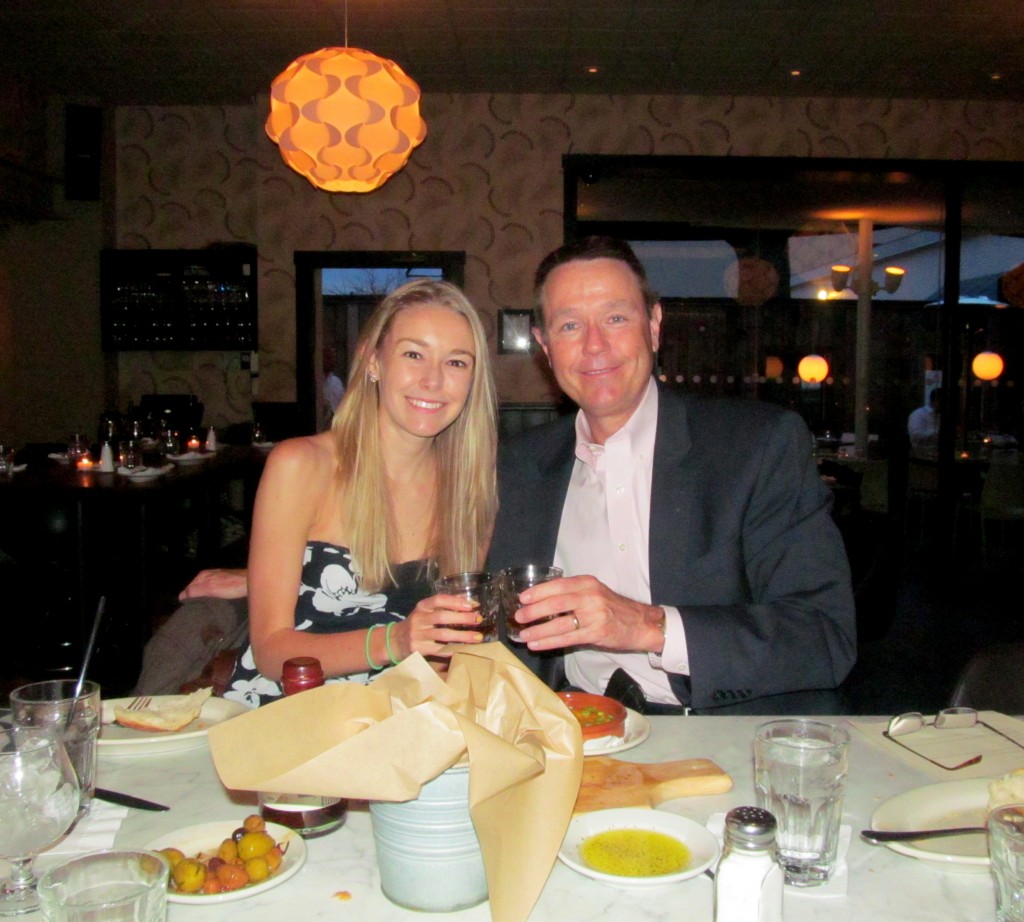 I immediately ordered up a basket of Barcelona's beloved hot, locally baked bread because a) I was starving and b) I wanted my dad, who isn't usually a bread person, to get a load of this loaf. No surprise, he fell in love at first CRUNCH and we both could not stop eating the bread all night long. Good thing it made a perfect sauce-soaking tool (and an edible one at that).
Emily was kind enough to print out a list of all the whiskies we'd be sampling, along with tasting notes, because she's seen from other events that I enjoy taking notes! She also provided a pen so I could jot down extra facts and details on the soon-to-come tapas. I was ready to go, especially once she set down our first taste of whiskey, (ri)1 Kentucky Straight Rye Whiskey.
(ri)1 is 94 proof, so Emily also poured Rittenhouse Rye 100 proof in a separate glass so we could do a side-by-side direct comparison. 6 "proof points" definitely still could be tasted…of course I preferred the taste of the 94 proof, which had less of that burn, but the 100 proof was still smooth. Emily also informed us of some of the requirements for a whiskey to be called a bourbon – including must be US-made, greater than or equal to 51% corn, and aged in new barrels for no less than two years. I'm a bit embarrassed to say I knew none of this, so it's nice to now be a more-informed bourbon lover.
In Florida I got to eat grilled octopus, and this time around my dad and I feasted on Alex's Pulpo Gallego – Galician-style octopus prepared with olive oil, garlic, and paprika. Definitely tasted more seafood-like than the grilled version, so I preferred this preparation style! Yum!
Next Emily poured Hudson Baby Bourbon, the first bourbon to be distilled in New York! My dad guessed correctly that the name came from the small batch distilling process – each bottle is hand-labeled with the year and batch. I really enjoyed this bourbon because of the vanilla and caramel tasting notes.
With the Hudson Baby Bourbon, Alex served English peas, sausage, mint, and onions in a tomato sauce with olive oil. My dad LOVES sausage so I was super happy that Alex ended up serving us a dish with that as a star ingredient. What an AMAZING sauce – the bread was the perfect vehicle for soaking up every last drop (this is my MO). FUN FACT – there is a name for bread used for sauce soaking – scarpetta! Thanks Alex for cluing me in and making me feel like my sauce soaking is completely legit!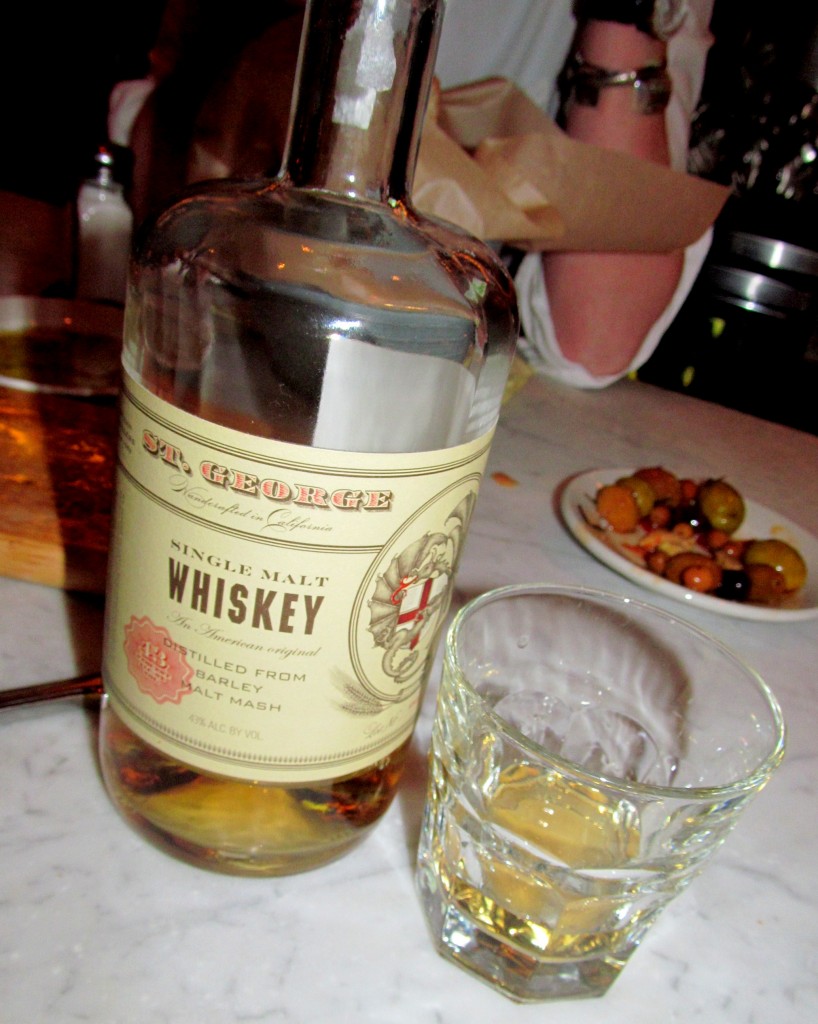 St. George Single Malt Whiskey is distilled in Almeda, California and I loved the unexpected pairing of cocoa and smokey tasting notes. Emily shared that each bottling varies due to different barrels used every time! Average age of St. George is about eight years – and its makers used to be beer brewers!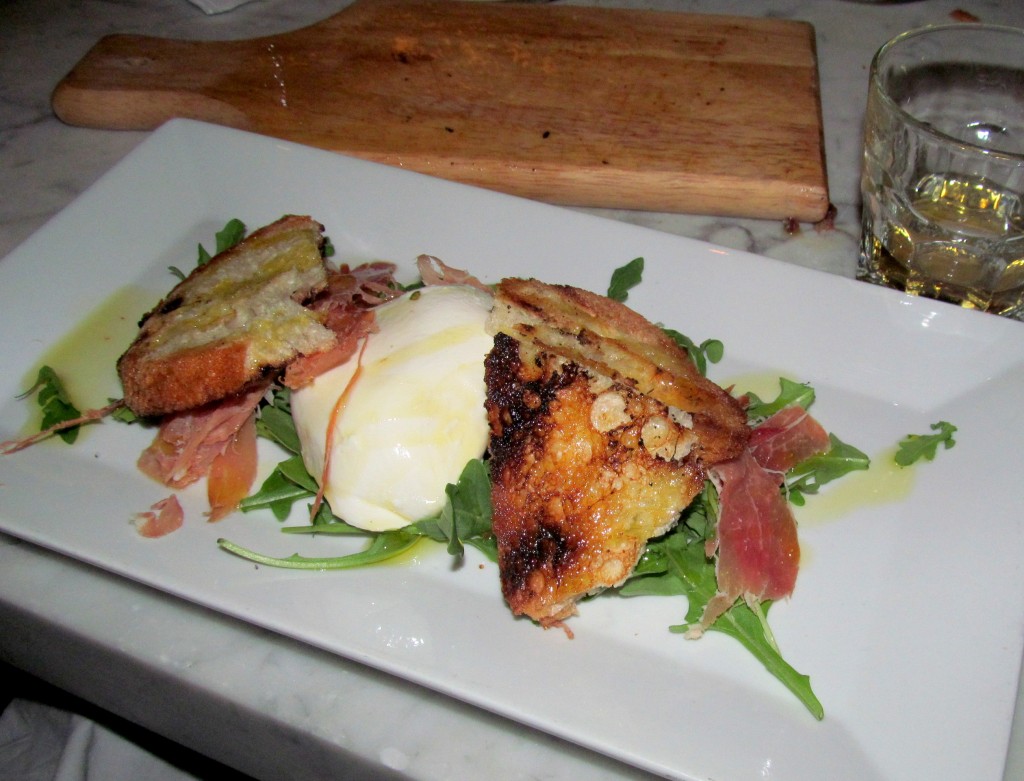 OH BABY! Alex has been rockin' the House-Made Buratta (with jamon serrano, arugula, toast) ever since his arrival at Barcelona and I cannot recommend enough that any visitor to the restaurant order this dish. The cheese alone is magic, but its accompaniments make for multi-faceted eyebrow-raising taste bud heaven!
The next dish just goes to show how simple the most special food can be – Pa Amb Tomaquet, which is simply tomato and olive oil rubbed toasted bread. And with charred touches just to my liking!
"Whiskey" doesn't often come to mind when Oregon is mentioned – typically one is more likely to think of wine, or hipsters. But I adored the Whipper Snapper Oregon Whiskey – in fact, it may have been my favorite of the evening. And okay, wine (more specifically Pinot Noir, which Oregon is known for producing well) still plays a role here – the whiskey is aged in French Pinot Noir barrels!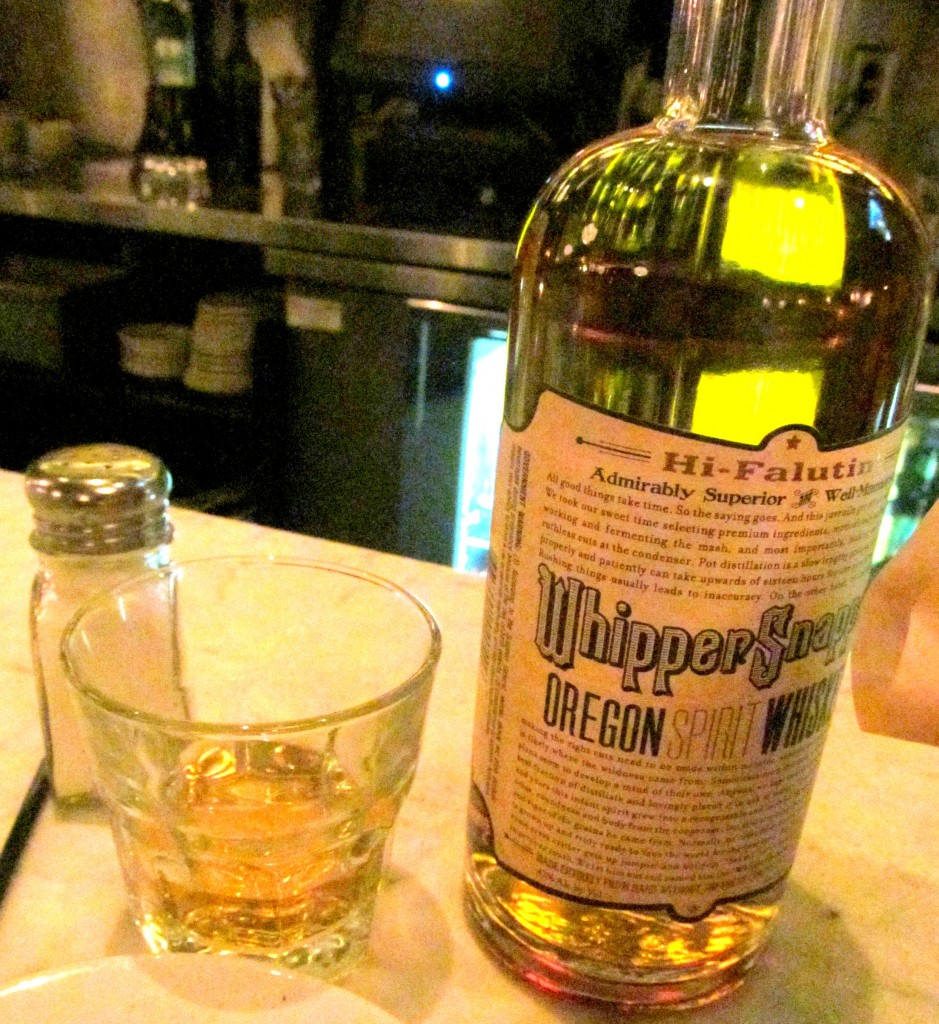 Alex did his thang and kept bringing out plates of my favorite things (cheese, seafood, bread, ya know). The dish he's proudly displaying below is fluke poached in broth and APPLE CIDER (!) with garlic, onion, paprika, and tomato. It came out piping-hot so the first bite burned a little, but I managed to stay patient enough to let it cool before I enjoyed the rest.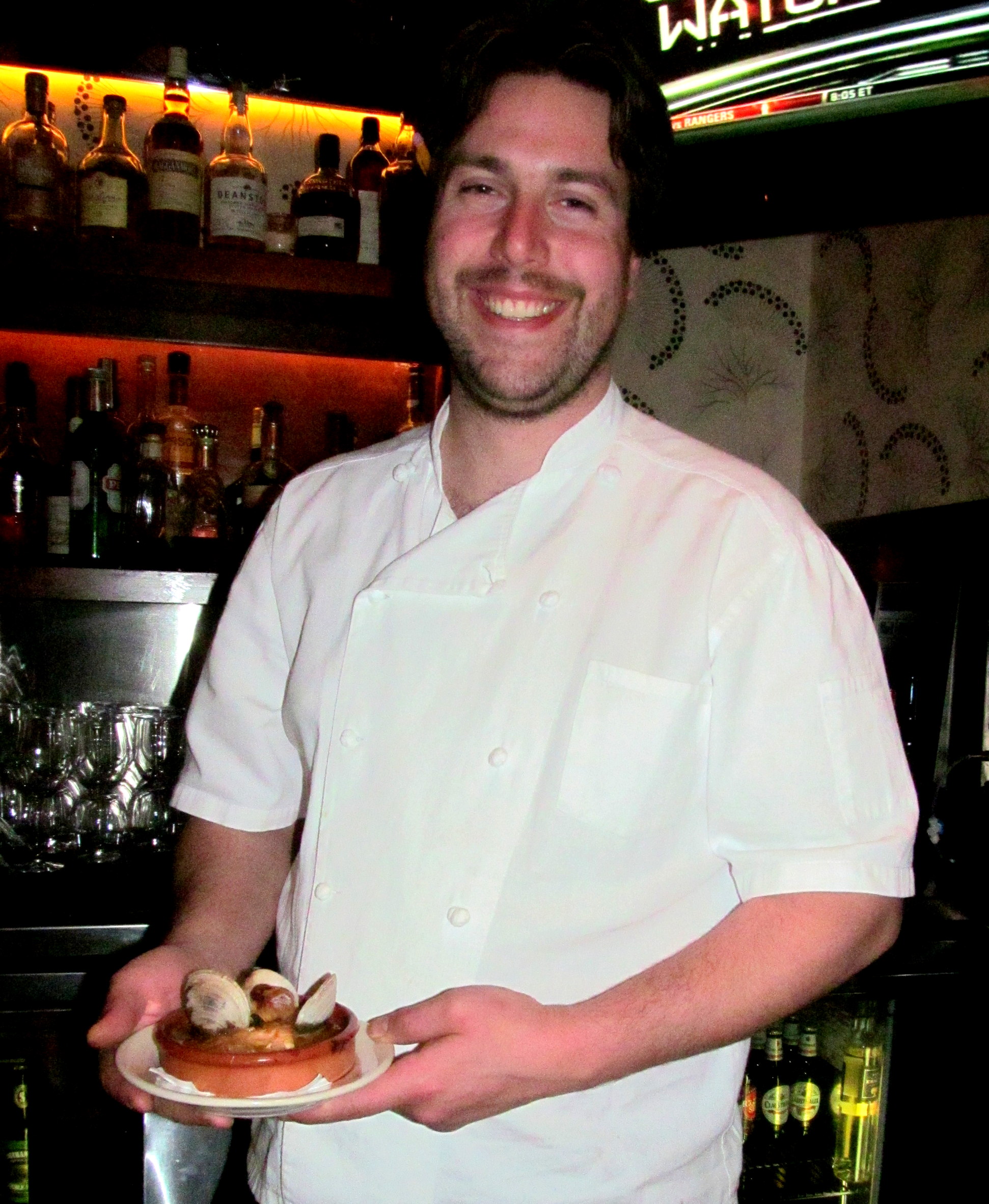 My dad asked Emily about Johnny Walker Blue and whether or not people order it frequently. This is why I love sitting at the bar – bartenders have the best insight and facts to share! She answered that it's not common at all for anyone to order it just to sip on, but when it is ordered, it's usually in shot form to celebrate something. I mentioned I'd never tried it and before I knew it, Emily was giving me a little taste. How exciting!!! I swear, it barely even burned. In fact I would say the flavor was a little too smooth for me in the sense that I didn't GET much flavor from it. I will not be ordering Johnny Walker Blue in the future (even if my wallet could stand it) but I owe many thanks to Emily for helping me cross it off my spirit-tasting bucket list!
Alex and my dad chatted briefly about our traditional Christmas Eve pig roast with our family friends, so to keep the pig party goin' he brought out a big chunk of it! The crispy skin was SOOOO delicious and the meat fell right off the bone. That sauce consisted of parsley, scallions, cilantro, garlic, and olive oil. The pig meat was already nice and moist (sorry for making your mind read that word) but dipping it in the sauce added just the right amount of herb flavor.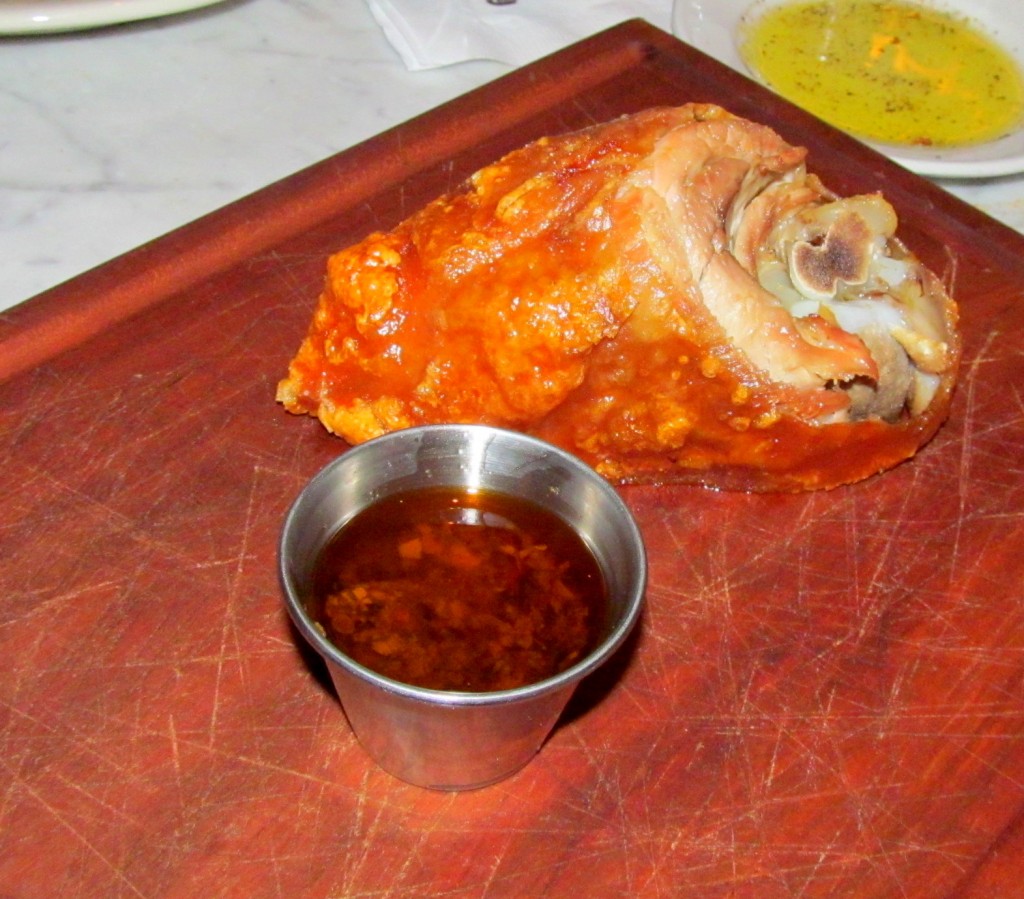 Ah yes, the grand finale I teased in the very beginning of this post! Alex knows I love Manhattans – I even brought him to J. Gilbert's once to try theirs (one of my faves). So I wasn't too surprised that the last taste of whiskey came paired with vermouth and bitters (Barcelona's OWN to be exact) in the form of a Manhattan on the rocks. I was surprised however to find it contained brandied cherries – which are a huge part of why I love the Manhattan from J. Gilbert's. I could eat buckets of those things. So happy that Barcelona included them in mine!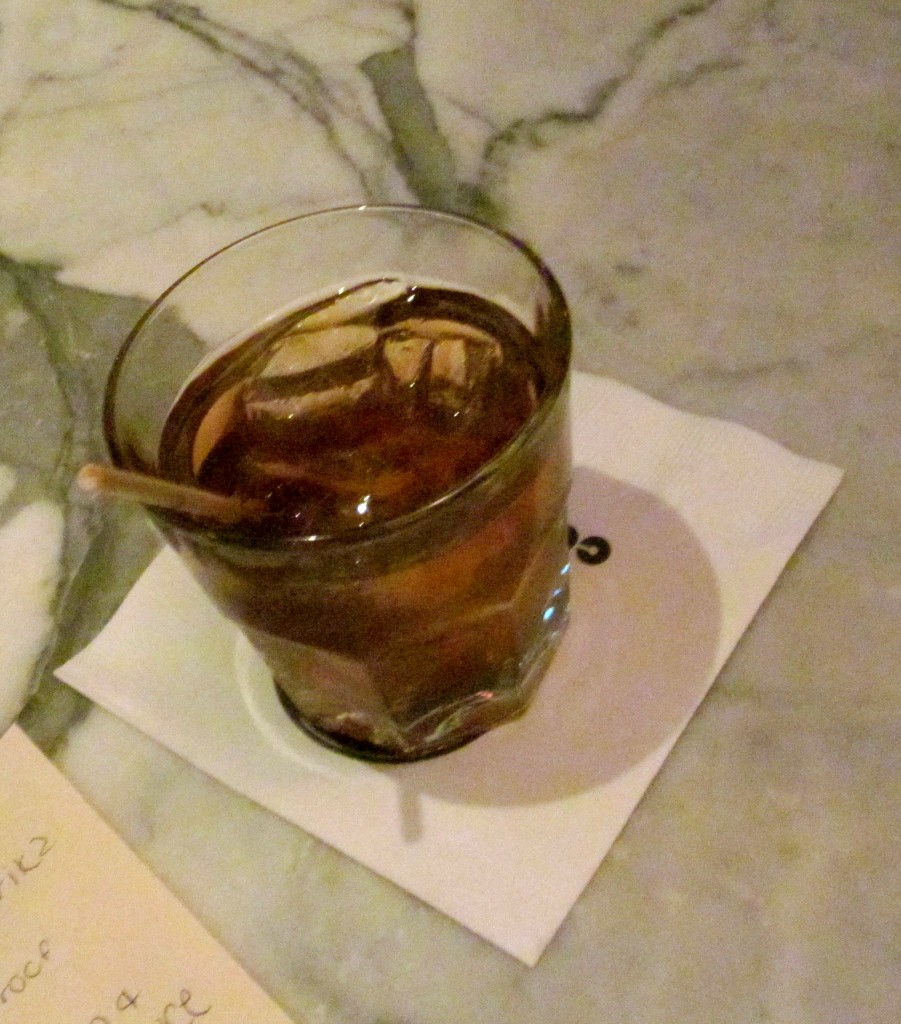 The house-made orange bitters also added something very special to the cocktail. I don't usually enjoy my Manhattans on the rocks and probably would have preferred this one to be served up, but damn it was still smooth (made with Basil Hayden's Kentucky bourbon) and the orange flavor was the cherry on top (or maybe those were the brandied cherries 😉 ha) that made the drink unique to Barcelona. This bourbon has yet another fun fact – it was the first to use a spicy rye with a sweet corn. Spicy and sweet, that's what I'm talkin' about!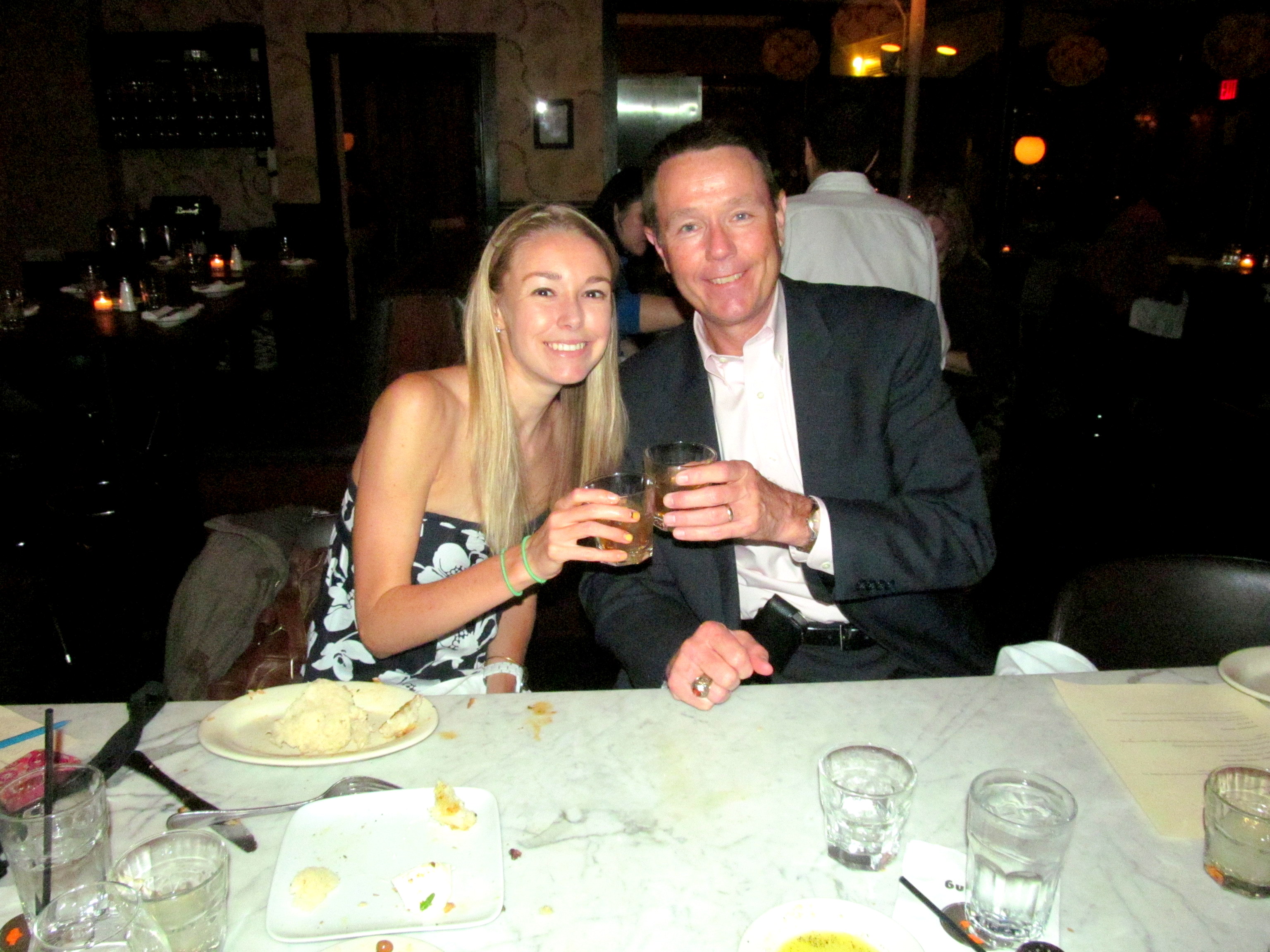 To go with our Manhattans, Alex brought out Barcelona's latest dessert special, Lavender Goat Cheesecake! Um, cheesecake + goat cheese = PARTY. Cheesecake is one of my fave desserts (fun fact: after every calc exam in college I used to treat myself to a huge-ass piece from our Student Union's cafe) and the little taste was the perfect portion to give my dad and I a sweet something to finish up our dinner.
I'm SO thankful to Alex, Emily, and everyone at Barcelona for making sure my dad and I still had our special night out together! He raved to my mom about the food (especially the bread) when we got home so I see a trip there with her in our near future. Maybe she will even go outside her box and venture with me to the grilled pizza class they are having in June…just like my love of whiskey from my dad, I got my love of pizza from her!
CT.com just posted an edition of their Ask the Chef column with Alex, and it also includes some video, so be sure to check it out! You'll be seeing more of him on the blog soon!
I received my drinks and food from this tasting free of charge from Barcelona, but all opinions on its quality and the service are my own. This is not a compensated post. My dad paid for his stuff and had an absolute blast and was more than satisfied with the value, if anyone is looking for a paying customer's opinion!
Which of the tapas looks best to you?
When was your last special outing with one or both of your parents?
Are you a whiskey person? If so, what is your favorite?
Has anyone else ever tried Johnny Walker Blue?