Marvelously Wiped From The Weekend
In case you missed it, I published my latest Taste of New Haven food tour recap on Friday!
Holyyyy moly. What a weekend. It absolutely wiped me out. To be honest, it was mostly Sunday that wiped me out, because the rest was not that out of the ordinary. Morning workouts and coffee…restaurant dinners…a salad beast…yup, sounds pretty typical. But throw in an all-day pool party at a casino and you have one exhausted me – for all the right, marvelous reasons!
Marvelous is…Katie, this movement's creator, giving birth to a healthy baby boy! I couldn't do a MIMM post without mentioning little Rocco…cute name, for a cute baby!
Marvelous is…Friday night dinner & drinks in Hartford for my friend's birthday! It's Kaleigh's 25th today and she celebrated all weekend long in true Kaleigh fashion. I hadn't seen her since Jill's grad party and I hadn't seen Jill since she left for a long trip abroad, so it was great to reunite with so many favorites!
We dined at Feng Asian Bistro in Downtown Hartford and had a really good experience. I started with a cocktail of vodka, sake, St. Germain, and ruby red grapefruit juice.
That thing on the left is NOT a mini Bloody Mary…it's a sea urchin uni shooter! Our waiter shared sea urchin as the special shooter of the night and I ordered one immediately, since I'd never had sea urchin before.
The shooter also contained sake, quail egg, chives, tobiko, horseradish cocktail sauce, and a cucumber for post-shooter palate cleansing. The play-by-play was (obviously) captured.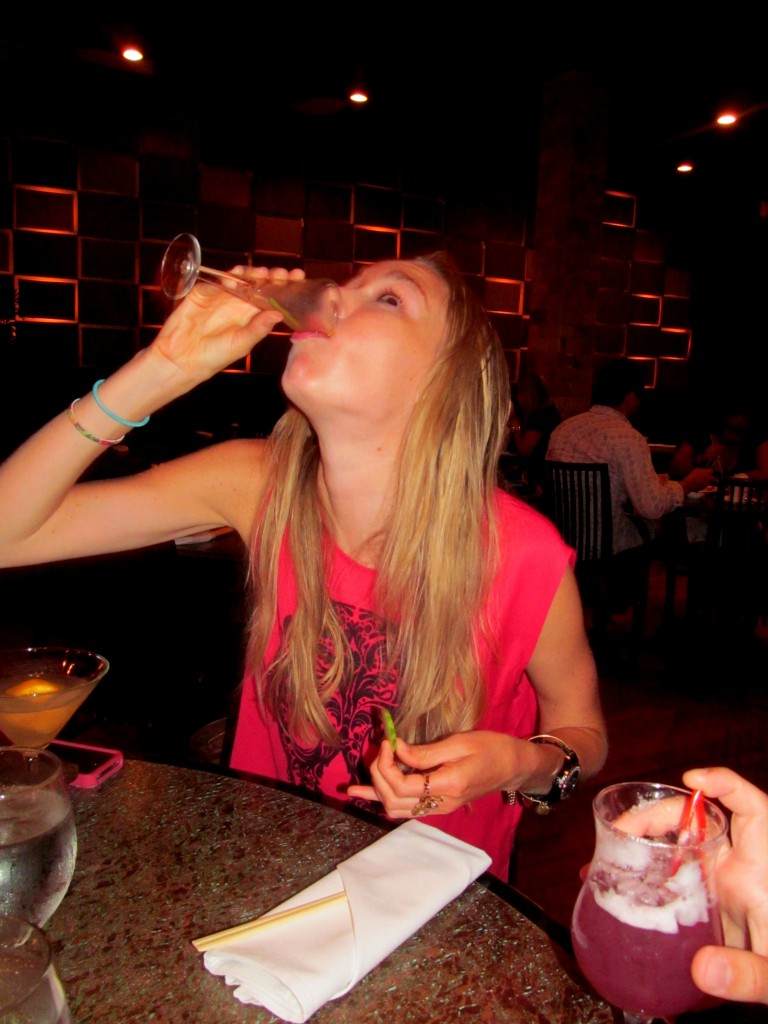 The two Jeffs and I shared the special appetizer roll, which attracted me immediately with its description as "rice-less" – instead it was wrapped in cucumber! The roll was stuffed with lump crab, tuna, salmon, and avocado.
For my entree I went for more seafood because that's what you do at a sushi place, and got the ginger yellowtail with broccoli rabe, ginger scallion sauce, and a crispy umi plum shiso maki roll. I'm not sure what was in the roll but it was indeed crispy and of course fantastic. I'm still not a big sushi fan but given that we were at a sushi place it was nice to be able to order an entree that gave me one roll as a side so I could get a little taste.
Our waiter overheard me say it was Kaleigh's birthday and brought out complimentary tempura fried ice cream – on fire! It was delicious and we all shared.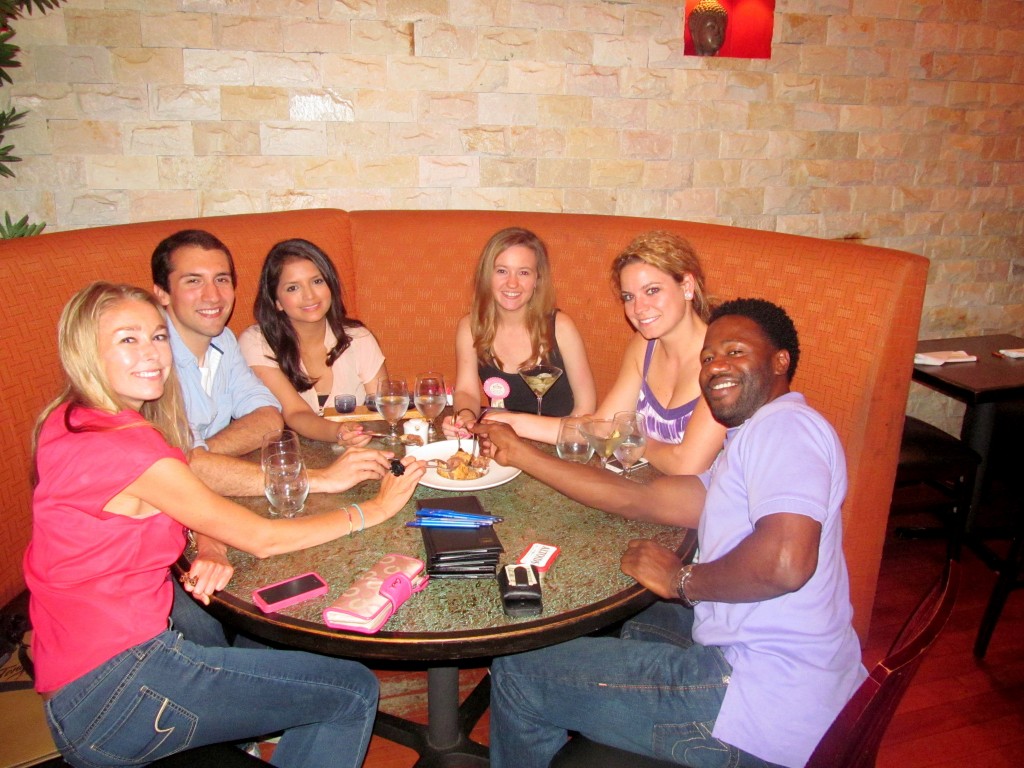 After dinner wrapped up we went a few doors down to another Japanese place called Koji. I had Ciroc Coconut on the rocks – holy I forgot how delicious that stuff is! The music was great and we all stayed for one drink and took some fun pictures! After Koji the rest of the crew went to the outdoor block party that's held on Fridays in Hartford during the summer. I did want to go but was feeling nervous about sleeping in too late the next morning and missing a class at the gym. The next morning I was so angry at myself for not staying out for a reason like that. I need to take advantage of these warm summer nights! Hopefully in the future I will remember the regret and not make the same mistake again.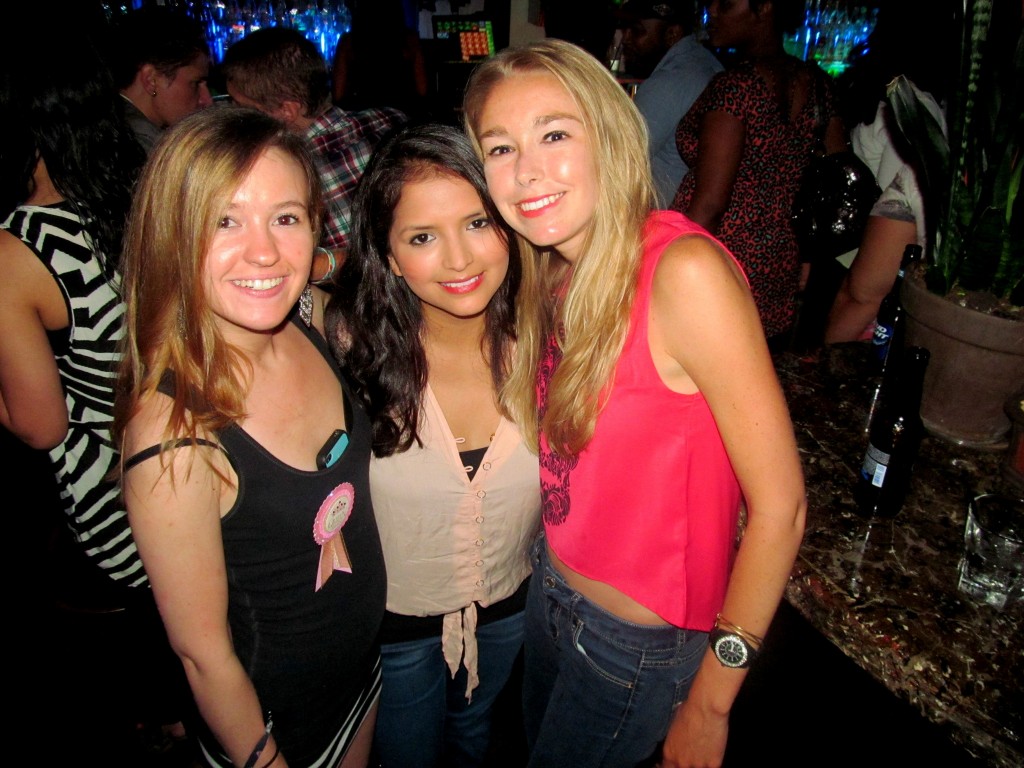 Marvelous is…some great weekend workouts! I woke up Saturday morning and wanted to go back to sleep but I had just enough time to make it to Group Power, and was so in the mood for a lift. I hadn't done strength training since Monday! My muscles were rested and ready to go and I had a great class that left me feeling super strong and satisfied; I felt ZERO need to do any cardio afterwards. Yesterday morning I got in 45 minutes of the Sunday morning spin class taught by a teacher with the most fabulous music. She kicks my ass EVERY class and is relentless! She also played "Spice Up Your Life" and for that I applaud her.
Marvelous is…trying out Glastonbury's newest coffee shop! While Daybreak remains my favorite, I did enjoy the medium roast black coffee I ordered at Down to Earth Coffee House. My friend Jonathan joined me there on Saturday morning and we chatted about all things Connecticut (events, restaurants, etc). It was great to catch up!
Marvelous is…getting a haircut and highlights on Saturday – with an extra fancy hairdo! My hairdresser Jen, of K&S Hair Affair in Vernon, never fails me. She usually gives me a fun braid after I get my hair done since I'm so helpless with doing my own hair, but I was headed to a fancy dinner so she gave me a beautiful low side bun!
Marvelous is…showing my dad the Millwright's magic for a special dinner on Saturday night! As you know I love taking my parents to special restaurants and Millwright's (in Simsbury) definitely falls in that category.
We sat downstairs in the tavern so that we could take advantage of Cocktail Director Chris Parrot's skills with a shaker. I recommended for my dad the Millwright's Old Fashioned (Bulliet Rye, Demerera, Orange, Peychaud's Bitters) and I selected the Final Ward (Rye, Yellow Chartreuse, Maraschino, Lime). 
I immediately asked for a basket of the beloved freshly-baked biscuits with sesame & honey butter. My dad and I demolished the basket, no problem.
I (somewhat selfishly) convinced my dad to order the infamous Tavern Burger (with duck fat fries!) because I've always wanted to try it but have also seen others order it and know it'd be too big for me to be okay with ordering for myself. Thankfully my dad is a sucker for a good burger and said this one was one of the best he'd ever had! I agreed, plus those fries were fabulous, so crispy just the way we like them. I decided to order a few small plates so I could try different things.
I also ordered asparagus with a mushroom mousse…I wish I'd had more room for all I ordered because I got to the restaurant very hungry, but filled up on those biscuits! Everything tasted incredible and my dad and I took home my asparagus (they are in today's salad, YAY) and some fries. Chris also made me a special cocktail – not on the menu – with St Germaine, vodka, orange juice, and a few other things that I can't recall. Bottom line – refreshing and summery and perfect. All his cocktails are!
Marvelous is…an epic Sunday Funday – Liquid Sunday to be exact – at MGM Grand Foxwoods! Long-time readers may recall my special trip last summer with my parents to the Liquid Sunday pool party. This time I hit up the event with my good friend/blog namer Rachel, her boyfriend Steve, and his roomie Rob. We've all hung out together previously, at Krust!
I ran into many good friends at the pool party, both expected and unexpected. Such a fun day with everyone!
I'm actually really proud of the way I handled the event and its day drinking. I didn't beat myself up before, during, or afterwards for acting my age and having a blast poolside with several adult beverages because what really mattered? The people I was there with.
And who cares that I lost $20 on the craps table? Or that it took me all of 2 minutes to do so?
After all, I kept it balanced by sneaking in some healthy snacks…yes, The Good Bean chickpea snacks made an appearance at the casino!
I was soooo tired when I got home last night though. I swear I do not know how people party all weekend, or even like that every weekend. Though I guess I did in college!
Rachel even won tickets to a Dierks Bentley concert in NY! Well actually, Rob won them first. But he was busy eating dinner with me in Alta Strada (oops) so he missed them and they went to Rachel instead. As Steve said, at least they stayed in our "group"! The show is part of the Bud Light 50/50/1 music event – 50 artists performing at the same time in 50 states, in 1 day!
I went to bed at about 8:30PM and could barely wake up this morning at 7AM when my alarm went off. Oh what a life 😛 certainly am ready for a night in tonight! And another Group Power class after work!
Which part of my marvelous weekend looks best to you?
What was the most marvelous part of your weekend?
Do you have any days off this week for the the July 4th holiday? I only have the 4th off but am excited about how quickly today through Wednesday will likely go by!