Rizzuto's at the March of Dimes Gala
I (unexpectedly) received the food and drinks in this post free of charge. All opinions of the experience are my own.
Next month (on Thursday 10/17), the Connecticut chapter of March of Dimes will host the 75th Anniversary Signature Chefs Auction Gala at The Riverview in Simsbury in celebration of 75 years of the organization fighting for stronger, healthier babies. Guests will have the opportunity to dine on food prepared by the chefs of some of the area's best (and some of my favorite) restaurants such as Barcelona Wine Bar, Pond House Grille, Rizzuto's, and more. Locally produced libations will be poured by Jonathan Edwards Winery, Peel, and Olde Burnside Brewing. One of the hosts, Scot Haney, is definitely someone I'd consider a CT celeb!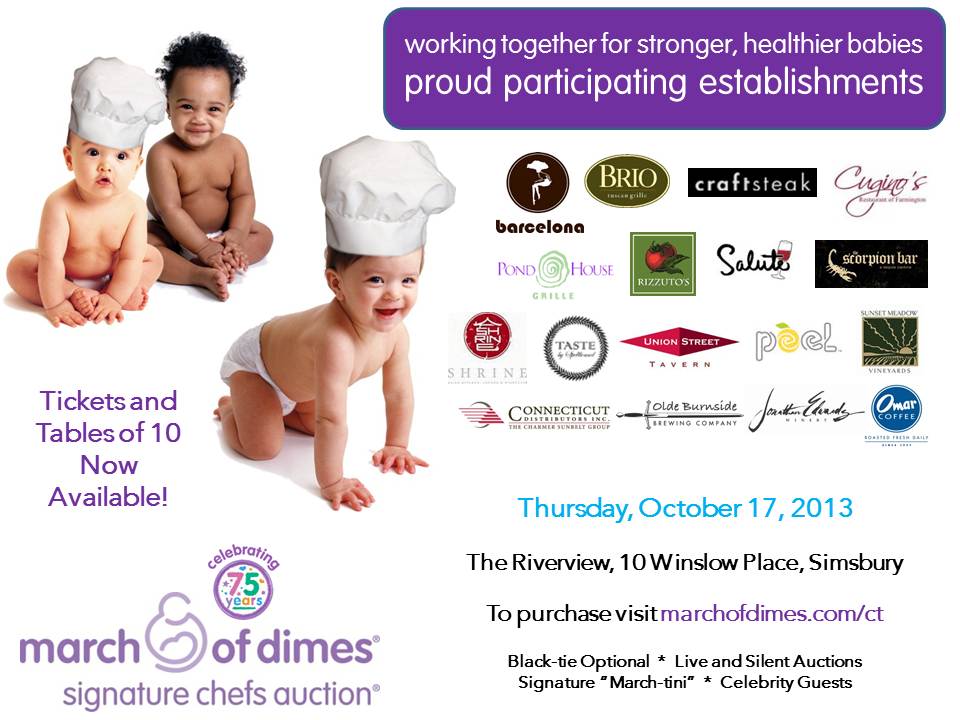 Individual tickets are $175 each and tables of 10 are up for grabs at $1,750. Though the price may seem steep and perhaps is not realistic for some, those who are able to spend the funds can be assured that a) they won't walk away hungry and b) their money is going to a great cause. The money raised by the gala will benefit research and programs like CenteringPregnancy, Healthy Babies Are Worth The Wait, and NICU Family Support. 1 in 10 babies born in CT are born premature, and the March of Dimes needs fundraisers like these to take steps to both improve that number and support affected preemies and their families. If you can't make it to the event but are able to make a donation, I highly encourage you to visit the event page and do so. Attendees will also have the chance to contribute outside of ticket costs, via both live and silent auctions featuring fabulous items.
The gala's lead chef, Tony Camilleri, is the Executive Chef at the West Hartford and Westport locations of one of the restaurants both serving at and sponsoring the event – Rizzuto's. This past Friday I had the chance to meet up for dinner with an old high school friend Kristen (I last saw her during my April trip to Boston, but also ended up seeing her the next day at the UConn football game), so I suggested we visit Rizzuto's so that I could chat with Tony about his involvement with March of Dimes, as well as try out his restaurant so I could fill folks in on the culinary experience they are in for if they purchase a ticket to the event. My first and last visit to Rizzuto's took place right after I finished college (May 2011) so I essentially considered this to be my first "foodie" visit.
I visited the Rizzuto's is located in West Hartford Center's Blueback Square, but the restaurant also has locations in Westport, Bethel, and Stamford. I know my blends Kaitlin and Maria would enjoy visiting those – this place is right up their allies AND in their area (the 203). In fact, March of Dimes is hosting a Fairfield County Signature Chefs Auction on 10/2, and Kaitlin will be covering that one (along with the Simsbury gala with me!)
I'd made reservations and am glad I did because there was a wait for tables inside (and no matter how nice out it was, I knew I'd be cold outside). However I spotted two open seats at the bar, so we snagged them. Both the cocktail and wine menus were very extensive, so Kristen and I had some trouble deciding! Later in the evening, Chef Tony let me in on the fact that this fall the menu will transform to offer more bourbon drinks (yes please) plus a special cocktail containing of house-infused fig vodka and garnished with bacon wrap figs. IT'S ON.
Our waitress was patient with my questions about the house-infused coconut rum, and let me try a sample. It tasted of dessert! I ordered it up straight and chilled in a martini glass. Kristen went with her dad's favorite cocktail, the Organic Lemon Drop (Meyer lemon vodka, house-made limoncello, freshly squeezed lemon juice, sugared rim, lemon twist). Based on the description I never thought I'd like it but it was surprisingly not too sweet! I'm guessing I owe that to both the use of house-made limoncello (not bottled) and freshly squeezed lemon juice (not lemonade).
The Rizzuto's bread basket came with both an Italian loaf and some herbed flatbread! We also received homemade marinara sauce, as opposed to the usual butter or olive oil. I loved that! The sauce was wonderful, and not too sweet.
At A Taste in Simsbury (where Tony was cooking and serving!) I'd (obviously) snagged one of the coupons Rizzuto's was giving out for a free app with entree purchase. We were able to use it on either an app or a cheese + meat selection from the antipasti section, so Kristen and I went for the latter (she's Italian and enjoys her antipasti!) – Black Ledge Blue Cheese from Cato Corner Farm in CT and Wild Boar Sopressata from NY. I enjoyed the thick wooden cutting board presentation and both selections were delicious, though the portion way smaller than I'd expected!
Not that I'm one to argue with a free app – the only food left standing on the board was some of the pickled cherry mostarda (which ended up on some of my bread!)
While we worked on our cheese, meat, and bread a special surprise came out from Tony – two small portions of his house-made Cavatelli pasta with duck confit, local braised greens, white greens, and more Cato Corner cheese! This girl, who isn't crazy for pasta, adored Tony's Cavatelli at A Taste in Simsbury and Friday night was no different. The duck was wonderful and Kristen didn't hear the manager tell us the meat was duck, so she was a bit shocked when I informed her of that…and didn't finish the rest of her bowl. At least she tried it AND I got to finish hers for her. Tony revealed that he'd be making Cavatelli Bolognase for the Signature Chefs Auction, as well (wait for it) pumpkin tortellini with lobster. I CAN'T WAIT!
We ended up getting almost-full before our dinners arrived, because Tony also sent out for each of us a local diver sea scallop with pea shoots, a corn puree, and a grilled artichoke. Again Kristen's taste (or distaste) for a food benefited me because she isn't an artichoke fan so I got hers. 😀 I love giant scallops! Fun fact: I never knew where diver scallops got their name until just now when I looked it up. They are hand-harvested from the ocean floor by scuba divers and are considered more ecologically friendly.
Kristen and I both selected salads with seafood for dinner. She chose the organic baby arugula salad (goat cheese, toasted tomato pecans, grape tomato, pear, balsamic) with pan-seared shrimp. It came out instead with a nice-sized portion of oak-grilled chicken breast, but instead of taking the salad away to correct the protein mix-up, the bartender just assured Kristen she could keep the salad as-is and dive in while they prepared some shrimp for her. She was already almost-full as it was so had a lot of leftovers to take home.
Fellow CHS Cookoff judge and Hartford Magazine lifestyle writer Krystian von Speidel tweeted to me recently that the Rizzuto's kale salad rivaled the one I ordered/loved recently at Max's Oyster Bar, so I had to give it a shot! While I preferred the braised kale used in the Max version (Rizzuto's used baby kale and it wasn't "kale enough" for me if that makes any sense), I still enjoyed the salad and the leftovers tasted great for lunch the next day (except I froze the scallops for another evening's dinner). Along with the baby kale and wild arugula, it also had shaved asparagus, mushrooms, radish, carrot, farmer's cheese, and a crostini. The dressing consisted solely of lemon juice and EVOO – love that!
To finish Kristen and I shared a glass of a blueberry port (Rizzuto's has a great dessert wine selection) and chatted with Chef Tony's Uncle Rick, who happened to be sitting right next to us at the bar! Love that this nice West Hartford Center restaurant is still keepin' it all in the family. It was about this time that the bartender came over to tell us that Tony and GM John Mariano were taking care of our whole bill! Thankfully Tony himself came by soon after so that we could thank him in person.
Tony has been a chef for over ten years, at various restaurants (fun fact: he never went to culinary school!). He has been participating in the Signature Chefs Auction for awhile and has known Marc Spencer, Senior Community Director of the March of Dimes CT chapter, for years now. Marc's wife works at Thompson Brook School in Avon, where Tony has recently been working to help revamp the lunch program for 5th and 6th graders! As Lead Chef at the gala, Tony's job will be to not only cook, but also help coordinate the restaurants and the dishes they will be serving. He will say some words about the charity and his history of involvement, and what March of Dimes means to him. I hope you can join me and Chef Tony on October 17th for a wonderful Signature Chefs Auction!
Have you ever been to any sort of benefit or gala?
Are you aware of the March of Dimes and the the organization's mission? You can read more here!