March of Dimes CT Signature Chefs Auction
I attended this event free of charge as a media volunteer. All opinions of the evening are my own.
You've heard me talk about the 75th Anniversary March of Dimes Signature Chefs Auction Gala a few times now. The event seemed so far away when I first connected with Leigh-Anne Lefurge, State Director of Communications for the Connecticut chapter. She, Marc Spencer (Senior Community Director), Kaitlin, and I worked together to spread the word via social media and get more restaurants involved. I could hardly believe it when I woke up this past Thursday morning knowing the event was already here!
Just like during A Taste in Simsbury, The Riverview served as a beautiful venue and the staff did an excellent job passing out hors d'oeuvre and clearing tables. It's hard to get pretty pictures of half-empty/still-moving trays of food, but I can tell you that I sampled spanakopita, fried goat cheese, and chicken satay.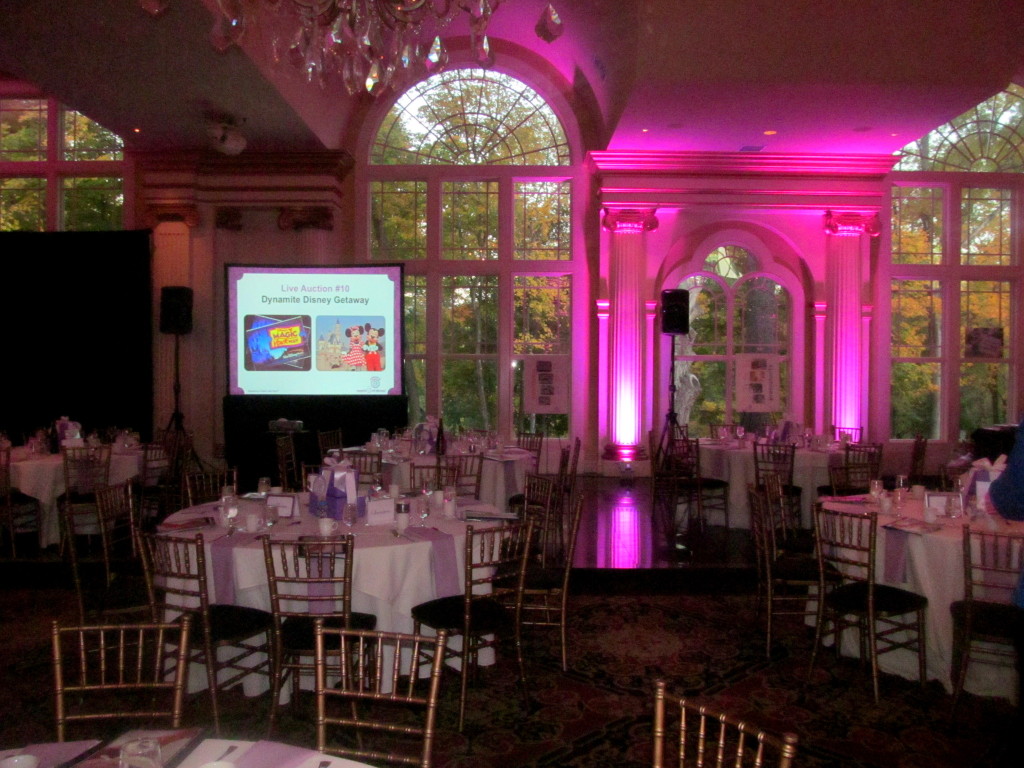 I immediately knew I was in trouble when I saw the credit card pre-swipe option at check-in. But I swiped mine because I knew I wanted to go for a silent auction item and contribute! And what a silent auction it was.
Along with the spirits offered at booths around the ballroom, the bar was open for business and The Riverview even created a signature cocktail – the March-tini. All $10 paid for each drink went to March of Dimes and came with entry into a raffle for a diamond necklace!
And if you wanted to donate/enter the raffle but get a different cocktail because the March-tini seemed too sweet for you, that was okay! I clearly know this because I asked and chose a Maker's Mark Manhattan instead.
Poor Kaitlin got stuck in awful traffic on I-95 (because construction during rush hour is a GREAT idea) and was running late, so I paid visits to some of my restaurant friends and scoped out the scene so we'd be ready with a plan of attack. Tasting was only running until 7:45PM and we didn't want to miss anything!
The silent auction quickly became crowded and remained so up until close.
I did end up winning a silent auction item – a package including a Friday or Saturday at the Farmington Courtyard Marriott and $60 to Dolce Vita Day Spa in Plainville! Not quite sure yet when I will redeem either but I'm so excited and have several different ideas for use of the hotel room. I'm sure I'll use the spa funds for a massage.
On to the food and drink (some of which I just had to "sample" prior to Kaitlin's arrival 😉 of course). Aside from the cash bar, spirits were being poured by Peel, Johnathan Edwards Winery, Connecticut Distributors, and Olde Burnside Brewing Company. Kaitlin and I both sampled everything except the beer because she isn't a fan of beer in general – but I did try it!
I made a beeline for the Johnathan Edwards booth because I am obsessed with their Cabernet Franc. None to be found but I do love their Stone Table Red so I enjoyed a good amount of that, plus one sampling of CT Chardonnay just to try it.
Kaitlin and I both shared the same opinion of Peel, which I've tried at other events. The Limoncello was good, the Bananacello way too sweet.
I love when affordable wines are poured at these events; I actually have a chance of enjoying them at home at a later date! I'd definitely buy the red poured by Connecticut Distributors – a blend which contained one of my favorite grapes, Montepulciano. It goes for around $10.99/bottle!
Yes we ate food to soak up this alcohol! The winner of the night for both of us came from Craftsteak of MGM Grand Foxwoods: Wagyu beef short rib served over farrot, and topped with pumpkin and DRIED CHICKPEAS! Oh yes oh yes you guys know I love those!
Wilson's Pub (which I'd never even heard of) from Collinsville, CT served two dishes: pub mac n' cheese (five-cheese fondue, crispy bacon, asparagus, mushrooms, frizzled onions) and steak & ale sliders (Guiness-roasted beef topped with horseradish sauce and sliced cheddar). The lighting at the event was very dim and very purple so half of my pictures unfortunately are too ugly to even post here. But neither of these dishes were my favorites. I couldn't find any of the mentioned asparagus or mushrooms in the mac n' cheese (not that it wasn't good…I mean, it's mac n' cheese!) and while the beef in the sliders was tasty, I had it after the Crafsteak Wagyu so it really couldn't compare. However this is a pub, not a steakhouse, and for pub fare I enjoyed the offerings. My favorite offering from Wilson's though was some fall-festive apple pie moonshine!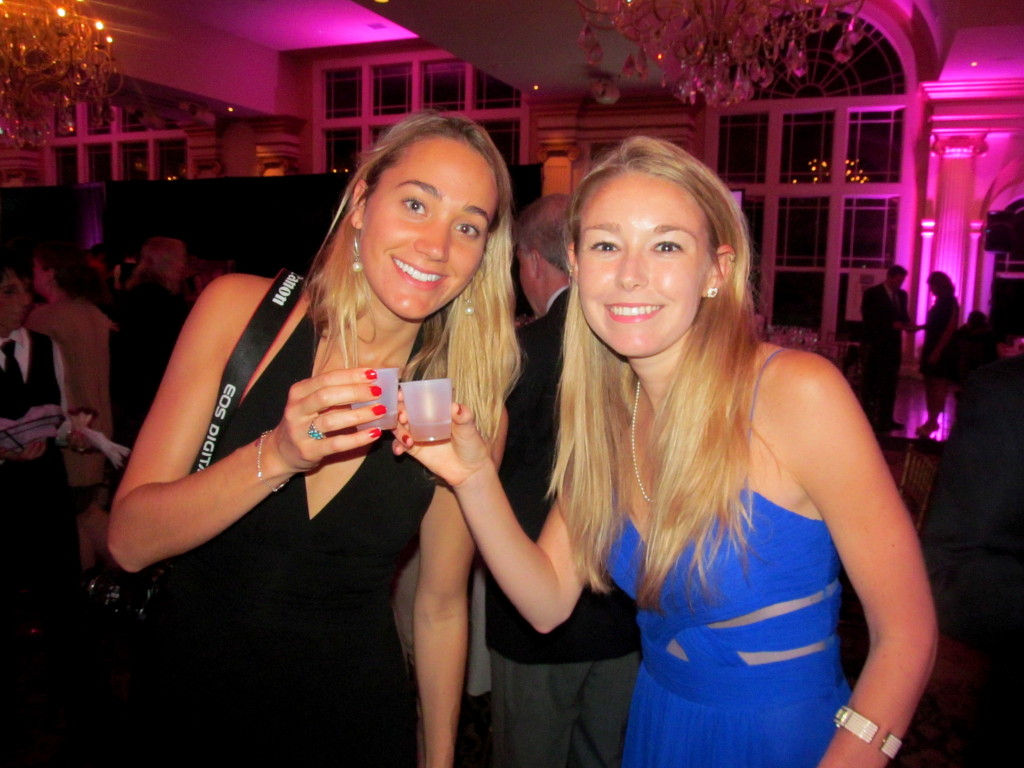 Pond House Grille served "Scallops & Sticks" (Stonington harvested Scallops, house-made potato sticks, roasted Serrano tartar sauce, and jicama slaw) which I sampled previously at this past summer's Strawberry Moon Festival in Glastonbury. I loved the dish then and I loved it at this event too, but Kaitlin was truly head over heels! It was a repeat dish for her.
I found it interesting that Brio Tuscan Grille, a chain located in Farmington's Westfarms Mall, had a booth at the gala. More power to any restaurant, chain or not, for supporting a great cause! I've never eaten there because in any mall if I'm having dinner, I tend to lean toward my beloved Ruby Tuesday's and their salad bar 😉 but I was pleasantly surprised by Brio's dish! The classic Penne Alla Vodka was prepared skillfully, complete with Ricotta-filled pasta, pancetta, garlic, and basil in Parmesan cream sauce. A rich dish in a small portion – just my style.
In the above photo we are holding offerings from two more Foxwoods establishments, Scorpion Bar and Red Lantern. Red Lantern is the new name for what used to be the fancy Japanese restaurant (I ate there a few years ago!) above Shrine nightclub in MGM Grand, but they just re-branded and now Shrine is just the nightclub portion while Red Lantern the restaurant. Scorpion Bar is located in the main Foxwoods casino and I ate there once a couple years and was VERY disappointed.
I wasn't too overwhelmed by their offering this time either – Carne Asada "Philly" Rolls, which were actually mini white wraps filled with Carne Asada steak, pepper salad, balsamic ranch, and cream cheese. They tasted like mini deli wraps to me. Kaitlin loved Red Lantern's Salmon Maki Bites (filled with cucumber, salmon salad, sesame ponzu, and chili) and while I liked them I'm not a big sushi fan in general so I gave her the rest of mine.
My beloved Barcelona served one of the "classics" on their tapas menu, the Chorizo with Sweet & Sour Figs (prepared in balsamic, sherry, and spices). I ordered this during my first EVER visit!
I also had the chance to meet Barcelona's sous chef George Burke, who posed for this totally staged photo with me. What a good sport!
I enjoyed watching Barcelona and Red Lantern/Scorpion Bar chefs exchange bites and compliment each other on the food. This event was certainly not about competition between restaurants, but about restaurants coming together to support the March of Dimes.
Salute's braised pork cheek with butternut squash risotto really impressed me! Reminds me that I 'd like to go try a full meal at Salute soon (I've only been to happy hour). The pork was excellent and paired so well with the butternut squash risotto, which wasn't too creamy. Kaitlin doesn't eat pork but she adored the risotto by itself.
Union Street Tavern used mugs for their butternut bisque which Kaitlin and I both thought was a bit awkward. We would have preferred spoons! I kept getting a bisque mustache. I sampled the ravioli and it was pretty good.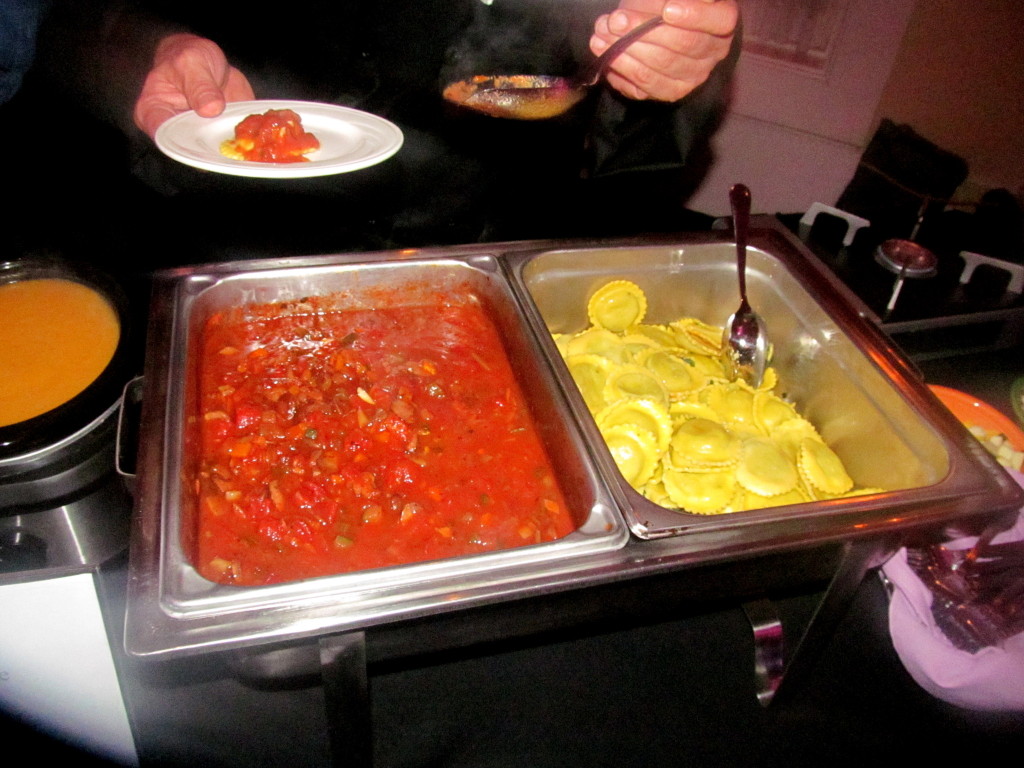 We saved Rizzuto's as our last savory food since our table was right next to that booth! Makes sense since Lead Chef Tony himself was seated at our table – and his fantastic Uncle Rich!
I was super excited after chatting with Chef Tony a few weeks ago to try the pumpkin tortellini with crushed pistachio biscotti. Unfortunately, Kaitlin and I were both underwhelmed by the dish. The flavors were very inconsistent – her serving was too sweet and mine too salty.
However just as I did during A Taste in Simsbury, I adored the homemade Cavatelli Bolognese with a literal pile of fresh Ricotta cheese. I like that the cheese was self-serve so that each patron could decide how much he or she wanted with the dish.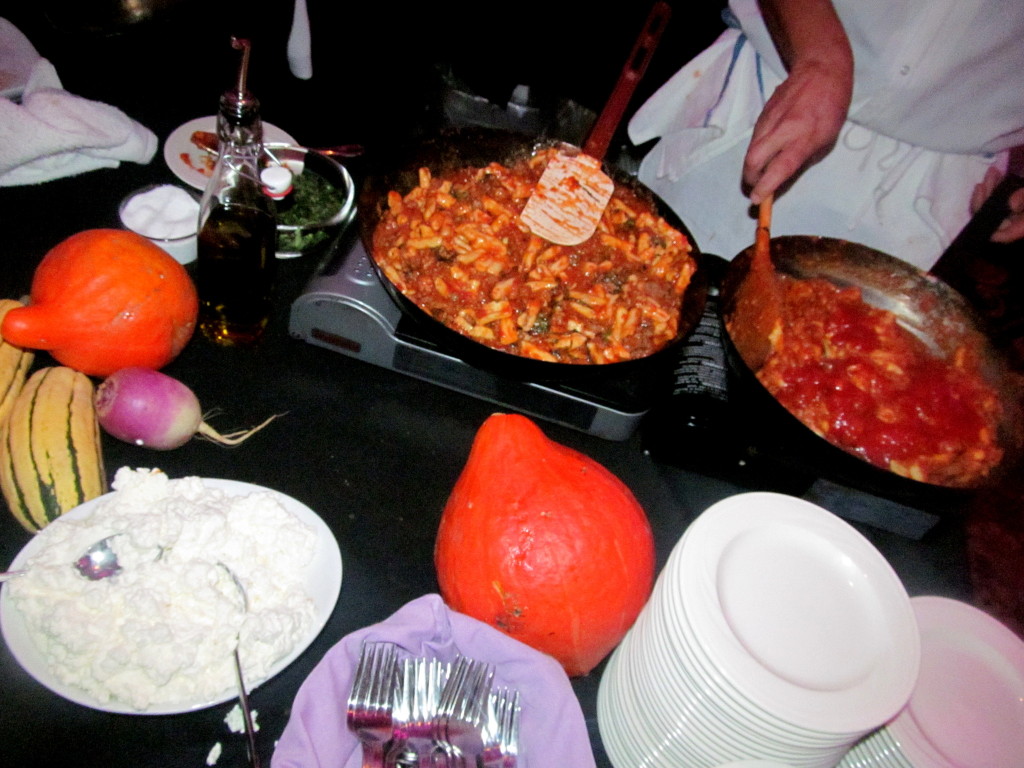 We thought we'd covered all our bases but later discovered we somehow missed Cugino's scallops and risotto Milanese! Too bad because we were eyeballing others that had some on their plates. By the time we found the booth, they were out of scallops and we agreed that we'd only want to try the dish if we could try those. After all we had PLENTY of mini desserts to save room for.
This is the point in the evening during which I got very full. I tried to take just one bite of each mini dessert on my plate but some bites were just too good not to follow up with a second..or third. Taste by Spellbound in Avon did an excellent job. So cool that this business's owner is younger than me!
Kaitlin and I were smart enough to grab our desserts and put them on our table before we'd even finished eating the savory food, because by the time the food booths started closing up, Spellbound was already out of lots of desserts! In fact they were out of a few when we visited them earlier on. We enjoyed our desserts and both skipped the cake that was being passed around because we were quite stuffed.
The evening's hosts, WFSB Channel 3's Scot Haney and Irene O'Connor, opened the evening's remarks with a couple of jokes at Scot Haney's expense…of course. Have you heard about the weather man who accidentally ate cat puke on the air? That was him!
The evening proceeded with a live auction, which I found very exciting! Chef Jordan's offering, a dessert and wine pairing party for up to 25 people, even fetched $1000! We also heard some touching stories from those the March of Dimes has helped, and Chef Tony made a speech (which I unfortunately missed because I was walking Kaitlin to her car).
Overall the evening's gala raised $81,000 – with special help from the event's chairperson, who matched every dollar donated up to $10,000! The funds raised will benefit research and educational programs in CT as the March of Dimes strives to decrease the rate of premature births in the state – an astounding one in ten babies. If you want to help the cause, please consider making a donation here. You can also follow March of Dimes CT on Twitter and Facebook to stay up-to-date on events, spread awareness through social shares, and increase your own education about the fight for healthy babies. Remember it's never too early to register and start raising money for the 2014 Greater Hartford March for Babies!
I am so grateful that Leigh-Anne and Marc reached out to me to help promote and cover the event. I love using my blog to spread the word about excellent causes and also to give props to the area restaurants that take time to participate in these kinds of charity functions. Your area likely has a March of Dimes chapter so please be sure to check out the organization's website to find that chapter and check out events going on in your area!
Do you have a personal experience that relates to the March of Dimes mission?
Which dish and/or drink looks best to you?