WIAW: I Cooked!
Whenever I do a What I Ate Wednesday post (thanks Jenn!) that features at-home meals, it shows off my mom's amazing healthy dishes. Truth (though I've never been secretive about this): pretty much every one of my recipes was created by her. Well today I've got something new cooking…two dishes THAT I MADE. They may not be recipes I created (I'll be sharing one of those later!) but they are recipes I took from my Recipes I'd Actually Make Pinterest board. And now I'm able to take a cue from Sam and move those two recipes to a board titled I MADE THIS. Yes in all caps, because I"m that excited about it.
The reason I don't have much experience with cooking is because I live at home to save money (I always feel the need to throw the reasoning in there…I'm not a 30 year old living it up in my parent's basement – although my room IS in the basement). My mom is an awesome cook and she always makes super-healthy dinners for me. Believe me it's come in handy especially given the fact that I do the gym after work, and when I get home I am just hungry and ready to chow down after my shower. But I won't be living at home forever and
I definitely have been fearing getting too content
with my mom's cooking and too dependent upon restaurants, take-out, and the
Whole Foods
salad bar. My parents have been spending more time than ever in our FL condo so I decided it was the perfect time to practice my cooking!
The first recipe I chose was, appropriately enough, the first I ever pinned to my collection of recipes for me to realistically make. I didn't have a lot of the spices on hand and I am rather cheap, but luckily Molly's mom is a master chef and loaned me some from her well-stocked kitchen. Thanks for saving me some money, Mrs. Anderson! With text help from my mom and some friends (you know who you are!) I improvised, made some swaps, and came out with an ugly but delicious batch of Indian Chickpeas.
I used minced garlic instead of cloves, half the amount of olive oil, less onion (because I only had one to use for a few dishes), dill weed instead of dill leaves/stalks, and no sugar. I also had a fun wrestling match with my mom's electric can opener, which I now hate. I plan to go out and get an old-fashioned hand-crank one ASAP. Anyway, the chickpeas have made the perfect protein-packed flavorful topping to my salads this week!
This one I switched up a bit more but it was once again due to the fact that I'm cheap. Grapes are so expensive so instead of using the grapes the recipe called for, I kept the Thanksgiving vibe going strong and used cranberries. It took a lot of patience to cut those little guys in half but I think using halves instead of whole berries made the dish better. I also skipped the green onion topping and instead included vidalia onion mixed in throughout.
I'm sooo glad I had local honey on hand because I think it made the dish turn out extra fantastic. I love the salty feta with the sweet honey! I wasn't patient enough to do a super good job of shredding the chicken…it kinda ended up in chunks.
I had to go to Whole Foods to get the wheat berries from the bulk bins and could not believe how cheap 2/3 of a cup (uncooked) cost…35 cents! They were so easy to cook and also added the most wonderful chewy texture to the chicken salad. I will surely be cooking with them again (Linz actually mentioned them in her WIAW post today too!)
I once again used half the amount of oil the recipe called for, and also used lemon juice instead of lemon dressing. I needed to buy more lemon juice anyway and it comes in hand for a lot of other uses (like baby cabbage roasting). I mixed everything up in a bowl and put it in a container to have on hand for dinners this week. Or just last night, because I ended up finishing almost all of it (mixed with those baby cabbages). SO GOOD! I want to try this dish with blueberries and goat cheese next!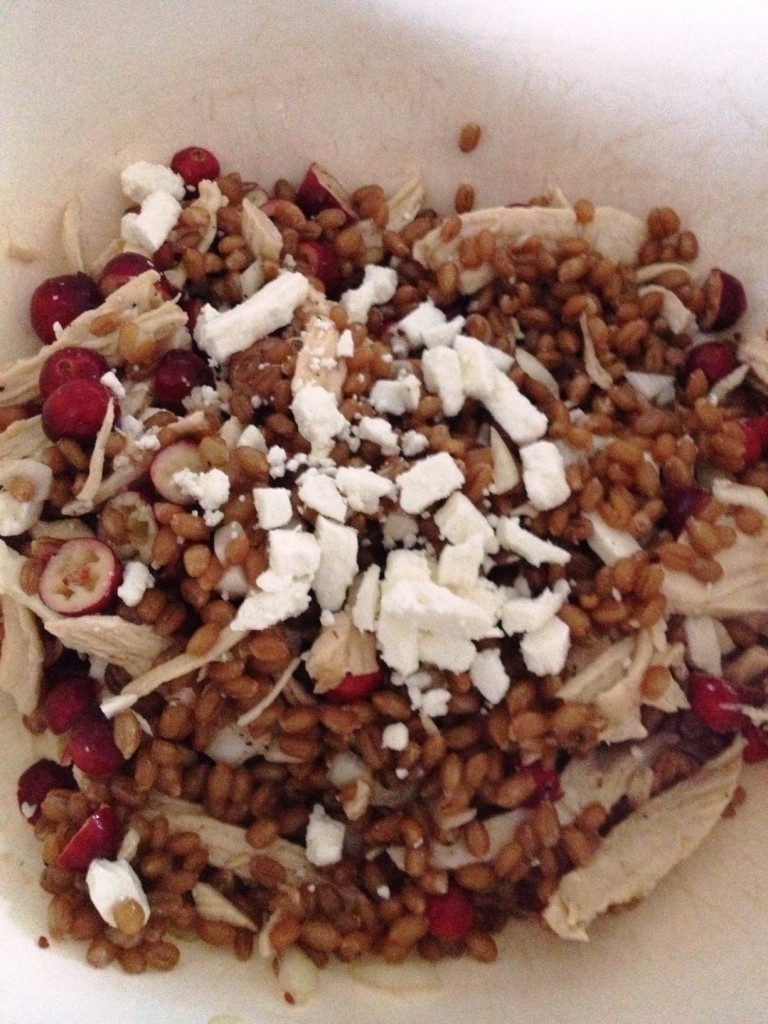 So I'm feeling very proud because I've not only proven to myself that I can cook and meal plan like the rest of you responsible bloggers out there, but I also have definitely been bitten by the cooking bug! This won't be a one-time thing…I plan to do more meal prepping on the weekends. There are a lot more recipes on Pinterest that I need to try! And maybe some to create… What was the first Pinterest recipe you ever made…do you remember? Do you keep track of which Pinterest recipes you make? Do you do more recipe creating or recipe adapting/tweaking?