Marvelous Mexico!
Here I am, back after the longest blogging break I have ever taken, and another year older as well! This is my first blog post published since my vacation to Cancun and also my first as a 25 year old. But instead of separate birthday (it was this past Saturday 3/22) and vacation (it ended on my birthday) posts, I'm just going to roll them into one, because vacations and birthdays are BOTH marvelous.
Marvelous was…waking up in Mexico on my birthday. Though that was the last day of our trip, I'm going to start with it because birthdays are always exciting. I'd planned to wake up before our flight back to CT and work out, but upon waking I decided to instead take advantage of my last moments of warmth and go walk on the beach. That in itself says a lot about my personal growth over the last year. I definitely had time to work out, and had plans to go out to eat that night too, but instead of doing so I really just wanted to soak up a little more sun, sand, and blue skies before boarding a plane to the land where spring will never seemingly come.
Marvelous was…feeling better fairly quickly. When we touched down in Cancun I felt miserably sick, but once I turned my attitude around and decided to just allow myself to relax and heal, I swear I got better a whole lot faster. I also realized it was silly to be worrying so much about not being able to work out when, as a result of being sick, I consumed a lot less food and drink than I would have had I been feeling 100%. The body has a way of sorting itself out and is a lot smarter than my mind lets me think it is.
Marvelous is…the way I feel after this vacation. Whenever I return from one of my Florida trips, I tend to bring back with me a bloated and dehydrated feeling that comes with the abundance of meals out and alcohol that come with the vacation territory. And that feeling always makes me feel like I "overdid it", and gives me ED-related anxiety. Feeling gross tends to make me think I LOOK gross. But I came back from this trip feeling quite relaxed and not at all bloated or dehydrated. For the most part I ate very fresh meals (though not a ton of greens) and I definitely didn't have as many libations as I do on other vacations. That's because the drinks in Mexico are NOT GOOD. I mean yes it's fun to drink in Mexico but I have a new appreciation for the cocktails, beers, and wines I enjoy in the US. There seemed to be not a mixologist to be found and out of about ten different wines I tried, I'd only drink one ever again, and that'd just be if it were the only option. OK, end snob moment.
Marvelous was…being the most laid back about food and exercise than I've ever been on a vacation (since starting recovery). I'm not claiming I was 100% in vacation mode, but certainly allowed myself to be in the most vacation-like mode I've experienced in awhile. I had at least one drink with lunch each day. And most of my lunches did NOT involve a salad, because I realized there were other options on the hotel menu I'd rather try, and most days ordering a salad would have left me feeling unsatisfied and regretful that I hadn't ordered something else. I tried to tell myself just because it wasn't green didn't mean it wasn't healthy.
After taking two days off at the start of the trip to get over my illness, I thought I'd feel the need to go hard at the hotel gym for the remainder of my vacation. But that didn't prove to be true. I already mentioned my beach walk on my last morning, and a couple of other days I said screw it after thirty minutes and left the gym, without doing any cardio. On those days I just wasn't feeling like working out at all and was anxious instead to get the heck to the pool/beach. One morning I ran a 5K, but after that I could NOT find the willpower in me to run more than a mile at a time on the treadmill. So I did a lot of alternating treadmill running with weights/abs, and it worked out fine. I look the same as I did when I left. Yes I'm feeling nervous that this "lack of caring" as my mind calls it will spill over into my home routine, but hopefully by the end of this week I'll be well back into it and will be able to tell myself it was silly to worry about that.
Marvelous was…being with my whole family for a week. I've gotta admit, after finally moving out and into my own place, I had been missing my parents! Regular readers will know how close we are. It was nice to spend time with my younger brother, even if he usually wasn't as into that as I was. And of course my sister is one of my best friends, so I was very happy our trip was planned to coincide with her college spring break. Luckily she feels the same way I always have – why spend a bunch of your own money to go on a crazy trip with friends when you can go on a nice, relaxing trip with your family that most likely will come with better food/accommodations…at no cost to you!
Marvelous was…my favorite night of the trip, at Senor Frogs. My parents, Hannah, and I got there around 6:30PM and though the night was young, the staff had us literally standing on our seats by 7PM. I loved that the party started early (hi grandma) and it was also too early for the psycho spring breakers to be out, so the restaurant wasn't too packed. I even found Maker's Mark! I also partook in a congo line that involved someone pouring a shots in my mouth. However I could only do one or two before I started declining the rest. The night involved fantastic music, lots of white people dance moves, a pretty good dinner, and all the balloon hats.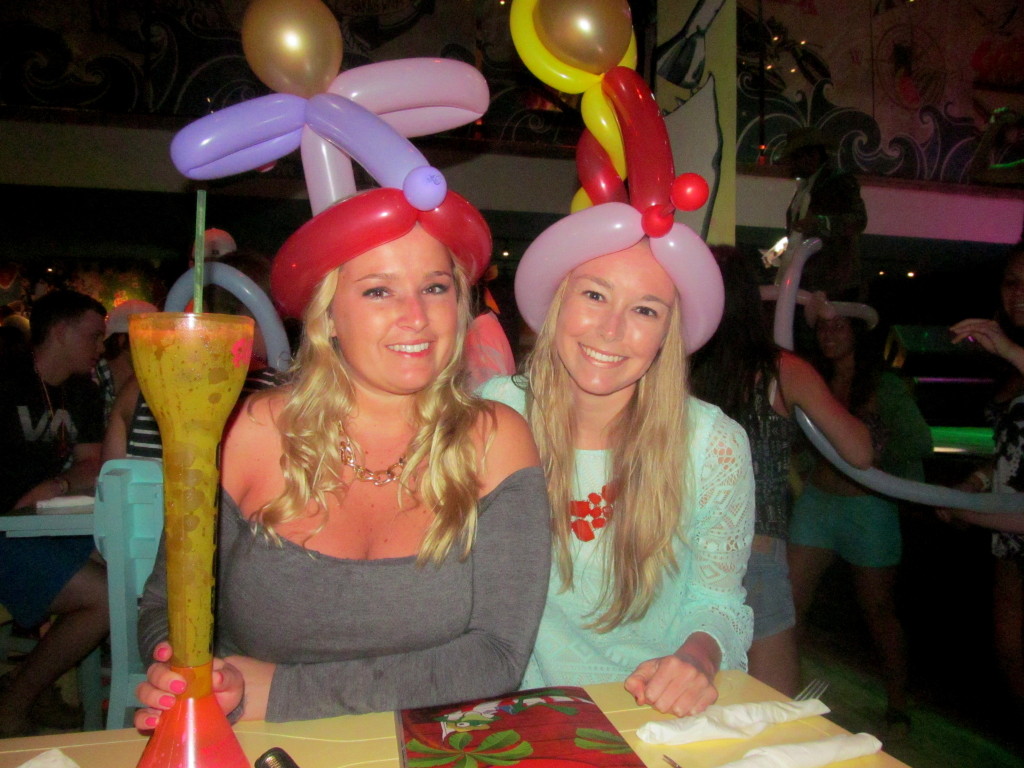 Marvelous was…BEING WARM! Spring weather STILL has yet to hit New England and it felt great to walk around in dresses and tank tops, even at night. All I wanted to do each day was lay out. Of course that came with an unwanted side effect of sun burn; no matter how hard I try to be good about applying and re-applying sunscreen, I always seem to miss a spot each day. TMI, but I'm currently a peeling mess. At least the worst of the peeling is happening now, when I have a need to bundle up and cover myself.
Marvelous was…the swim-up bar. This vacation marked my first hotel experience that involved a swim-up bar and I don't know if I can ever go on vacation without one again. Almost each day we had lunch there and it was just fabulous. Plus conversing with strangers there was always fun. We met all kinds of colorful characters!
Marvelous was…relaxing my hyper-vacation-restaurant-planning a bit. Though my family loves going out to eat they aren't nearly as into the intense restaurant research as me, and I also wasn't itching to be on my laptop a ton on this trip either (as you could probably tell by the lack of blogging). So instead of going into the vacation armed with a list of must-visit places, I went in blind and mostly stayed that way. Plus our desire to watch University of Tennessee play in the men's NCAA basketball tournament was often a top priority, which meant several trips to the hotel sports bar, Hooter's, and Outback Steakhouse. But it was fine! And it was fun. In Florida, Newport, and my other frequently-vacationed spots I have a plethora of foodie and mixology destinations awaiting me. In Mexico it wasn't completely about the food and it DEFINITELY wasn't about the drinks. So I just rolled with it. I didn't have any amaaaazing meals, but I also didn't have many bad ones.
Marvelous was…my birthday burger. In my mind, hamburgers have a stigma. They scream "unhealthy", "too much food", and "grease". Now I know this isn't necessarily true and one hamburger does not equal the other, but ordering a hamburger at a restaurant is a big deal to me. it means that I chose, over other healthier options, to get a hamburger. But each year around my birthday I try to psyche myself up to get one. I talked about it all week (which got pretty annoying to Hannah). Finally our last night in town, we had dinner at Chili's (in high school this was the spot where I'd order my favorite burger several times a week) and I ordered a Mushroom & Swiss burger. It was absolutely incredible. I ordered beans instead of fries…and then ended up finishing most of my brother's fries and not eating most of the beans. Funny how that happens. But damn, that burger was good.
I hope you can see why I chose to combine a birthday post with a vacation post. I think the way this vacation ended up going for me really says a lot about the journey I made during my 24th year, as well as how my 25th year will go for me. The whole thing may not end up being full of swim-up bars and white sandy beaches, but I think there's a good chance it will end up with more great times with family, at least another hamburger or two, and continued easing of my mindset around food and fitness. Screw "I don't know about you, but I'm feeling 22"…I'm 25, and feeling alive!
Has your birthday ever coincided with a vacation?
I've been MIA for a week, so instead of asking what was the most marvelous part of your weekend I'll ask: what the most marvelous part of your WEEK?