WIAW: Taste of Nature Bar Giveaway!
I received complimentary samples of Taste of Nature bars to review. This is not a sponsored post and my opinions are my own.
This post is not about the type of bar folks usually associate me with. No cocktails here, just what cocktails usually lead to – snacks! Taste of Nature reached out to me to ask if I'd be interested in doing a blog post about their bars, and once I checked out the flavor variety and the nutrition facts, I was 100% on board. Plus they're up for doing a giveaway with five winners, which is rare to find in the blog world and something I didn't want you guys to miss out on!
Regular readers probably already know this: I'm not that into bars as a daytime snack. But night time? Let me at 'em! I love crumbling all manner of goodies into my sugar-free chemical-laden vice (Jello Chocolate Pudding) and enjoying my snack after dinner, in bed, with a book. The Taste of Nature bars made for a nice evening snack because they're full of a nice balance of healthy fats, fiber, and protein – plus not too much sugar. That's the number one thing I look for in a bar, even before I look at its calorie count (not that I want to be focused on that…)
I received one each of six flavors, which was awesome because I can give a more full and complete report! I like the variety of flavors and the fact that some (Canadian Maple Forest) are definitely more fitting for dessert (I mixed that one in plain Greek yogurt instead of the pudding because it already tasted sweet enough) while others are quite savory (California Almond Valley) and definitely would fit into any time of day. I wasn't the biggest fan of the Himalayan Goji Summit or Persian Pomegranate Garden, but that's because those had a lot more dried berry flavor, which I don't prefer much of.  A favorite of mine was the more nutty Brazilian Nut Fiesta.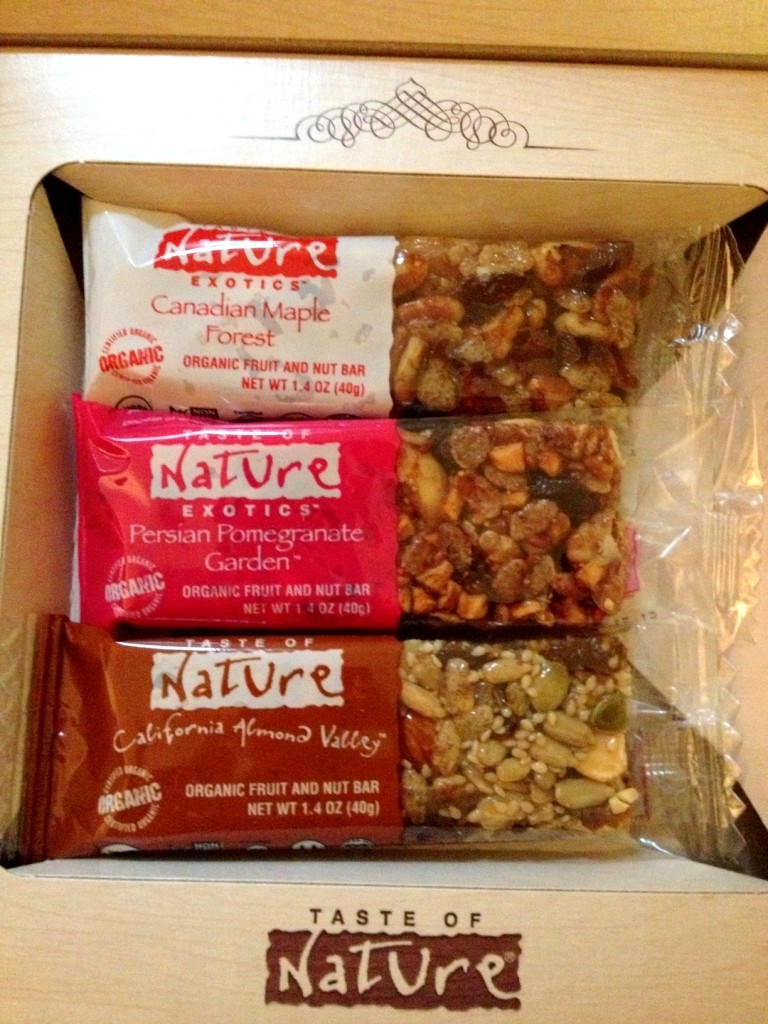 After checking out the website I was surprised to find that Taste of Nature (a Canadian company that is now launching in the US) has even MORE flavors to offer, and some are right up there at the top of my to-try list. Namely, Mediterranean Pistachio Passion and Polynesian Coconut Breeze (!!!!) They aren't yet available here in America, but hopefully will be soon. Whether you live in Canada or the US, you can use this nifty locator to find out where you can purchase Taste of Nature bars…hopefully near you. Oh, and these are certified vegan and gluten-free, so everyone can enjoy! (Well, except those allergic to nuts…I don't recommend in that case.)
Taste of Nature is giving five winners a package of bars and I definitely recommend you guys enter this giveaway! It's always nifty to have healthy bars like this around as a well-balanced snack. This giveaway will remain open until this Friday 5/2 at 11:59PM EST and is open to continental US entrants only. You must leave a comment for EACH entry method or multiples won't count!
Comment on this post and tell me which flavor you'd want to try most. (mandatory)
Follow @CaitPlusAte on Twitter and comment saying you did.
Follow @taste_of_nature on Twitter and comment saying you did.
Tweet "I entered to win @taste_of_nature bars from @CaitPlusAte! http://caitplusate.com/?p=12684" and comment with the link to the tweet.
Like Cait Plus Ate on Facebook and comment saying you did.
Like Taste of Nature on Facebook and comment saying you did.
Follow @CaitPlusAte on Instagram and comment saying you did.
Follow @tasteofnature on Instagram and comment saying you did.
A zillion ways to enter. Five will win. GOOD LUCK!
(No purchase necessary. Must leave an email address with each entry comment. Winner will have 72 hours to respond to winner notification email before another winner is picked.)