My First Nantucket Weekend!
This past weekend I had the opportunity to travel to Nantucket for the island's annual Wine Festival! I worked the Saturday afternoon Grand Tasting pouring 90+ Cellars and Ironside Cellars, but the rest of the weekend was spent tasting wine and food, exploring Nantucket's shops and restaurants, and drinking champagne. Lots of champagne.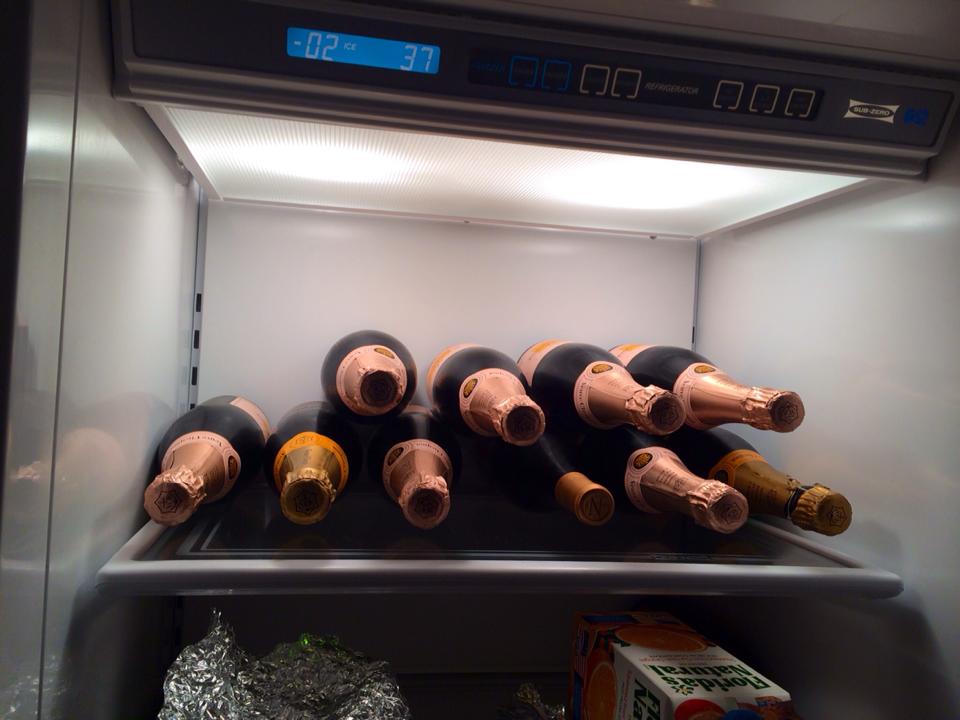 Jeannie and I hit the road Friday morning and JUST missed our high-speed ferry, but luckily we were able to walk onto a freight (aka slow) ferry so that we could get onto the island ASAP. Our next high-speed ferry option wouldn't have had us on the island until about 6PM! The crew of the ship got a kick out of us for some reason and invited us up to steer the ship. Okay not actually steer, but I did get to sit in the captain's chair and use binoculars!
A nice guy I met on the ferry gave us a ride to/from our rented house so we could drop off our stuff and hightail it straight back out to meet our coworkers for beverages. We went to Cru, which ended up being my favorite restaurant of the trip. Everything there just screamed Caitlin. Gorgeous decor, beautiful people in fashionably preppy ensembles, fancy cocktails, and delicious food!
After going back to the house to regroup we started the evening with drinks at a restaurant recommended by our CEO's wife – Proprietors. A stellar recommendation indeed! My second favorite restaurant of the trip, mostly due to its fabulous cocktail selection. I didn't have ANY bourbon all weekend (what is going on???) which is largely a result of my efforts to (mostly) stay away from hard alcohol and pace myself. You've gotta pace yourself during Nantucket Wine Fest weekend.
However I was the first one "down" (thankfully not literally) both nights we went out, so I guess I still can't hang, even when I take hard alcohol out of the picture…
We pretty much grazed all evening but I didn't get many pictures of my food – just pictures with my coworkers, and of drinks. My night ended with a cab back to the house and a pit stop for chocolate ice cream.
The next morning Jeannie and I took a mini-jog and grabbed INCREDIBLE iced coffee from The Bean. I took a bit of a longer/faster run yesterday morning too. Such a great way to explore and the scenery was NOT bad at all.
Jeannie, my coworker Brett, his wife, and I had lunch at a fun place I found online called Met on Main. I couldn't believe how much the weather cleared up. It was pouring when I woke up, drizzling when I was jogging, and by the time we walked to lunch it was patio dining weather!
I really wanted to order a light lunch because I knew a lot more food would come at me, and the day before hadn't exactly been the healthiest, so I selected the Green Guru salad with grilled shrimp, romaine, kale, broccoli, snap peas, carrot, citrus, candied pumpkin seeds, avocado, and a jalapeno dressing on the side. Oh, and a cucumber vodka cocktail because well, it is Nantucket.
We walked over to the White Elephant to walk around and work the Grand Tasting, but that's something I plan to blog about for 90+ so I won't go into detail here (and will be sure to share that blog post when it's live). But this photo probably won't be going into that post, so I'll share it here:
After we wrapped up work it was time for more play. Our connections with Veuve Clicquot got us into their champagne hour, held on the top floor and deck of Nantucket's Dreamland Film & Performing Arts Center. Dreamland was a VERY appropriate venue name for this party.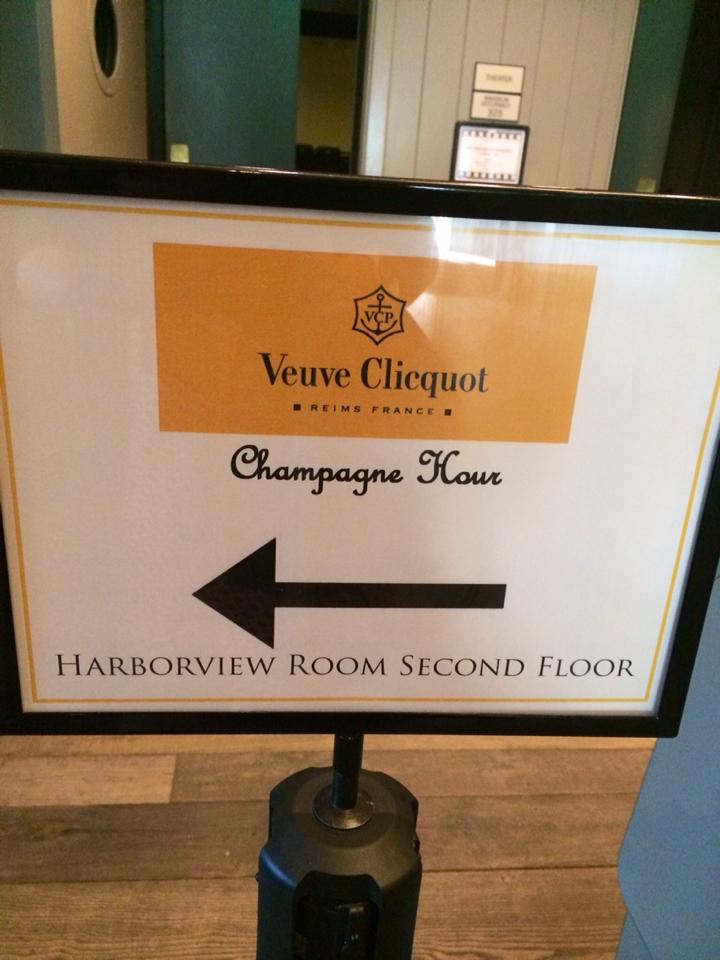 The champagne hour came equipped with plenty of bubbles (traditional and rose), a BOSS snack table, passed apps, glamorous lounging areas, and amazing harbor views. I just kept asking everyone to please pinch me. It really hit me at that moment that yes I am a VERY lucky girl.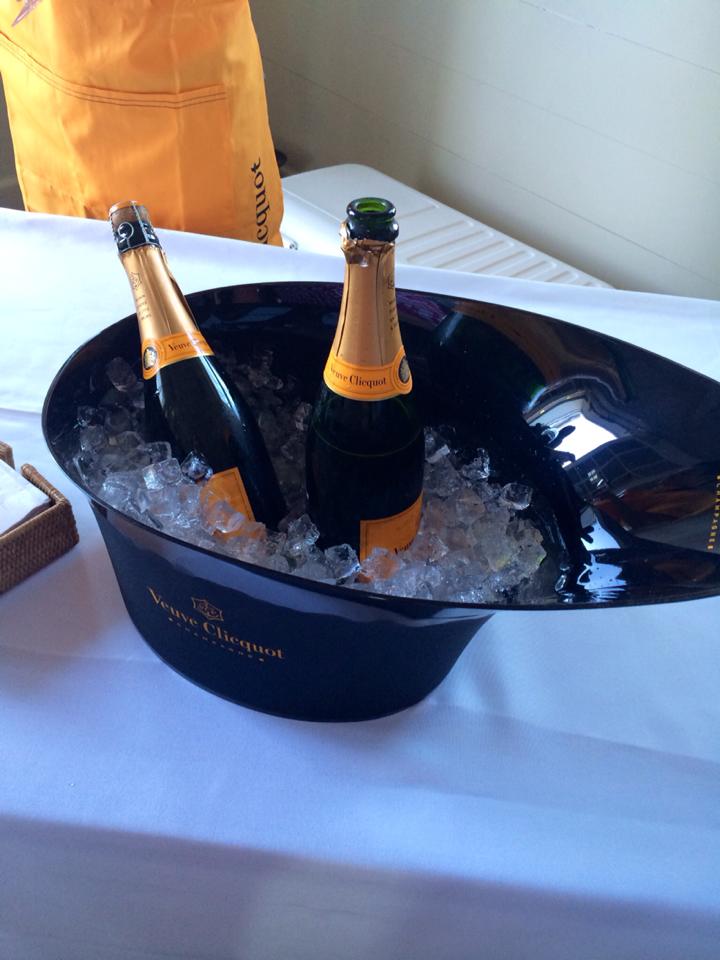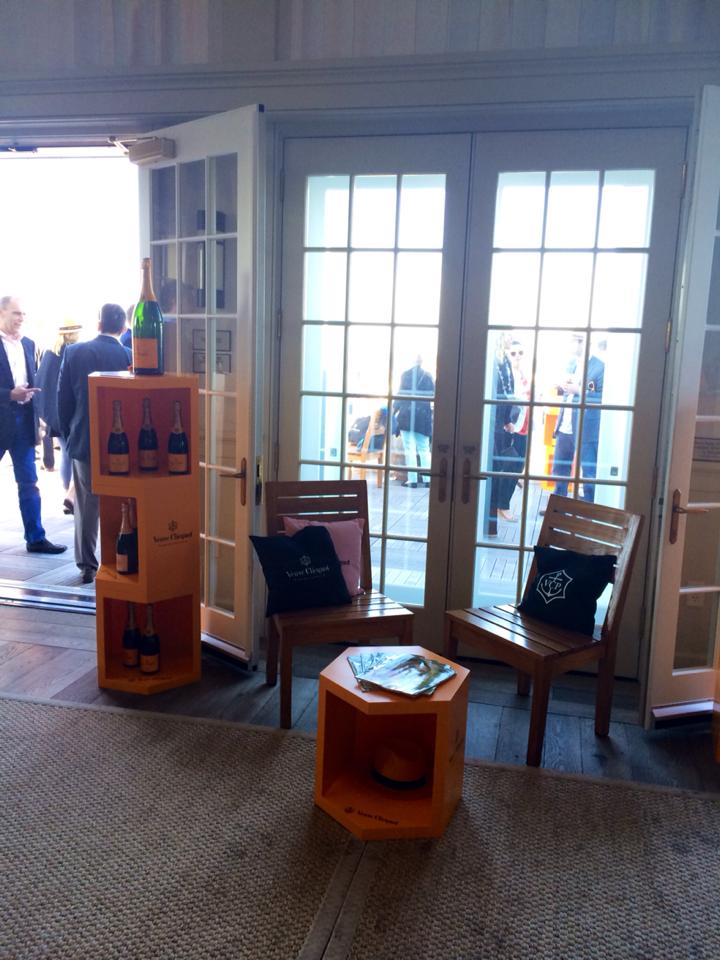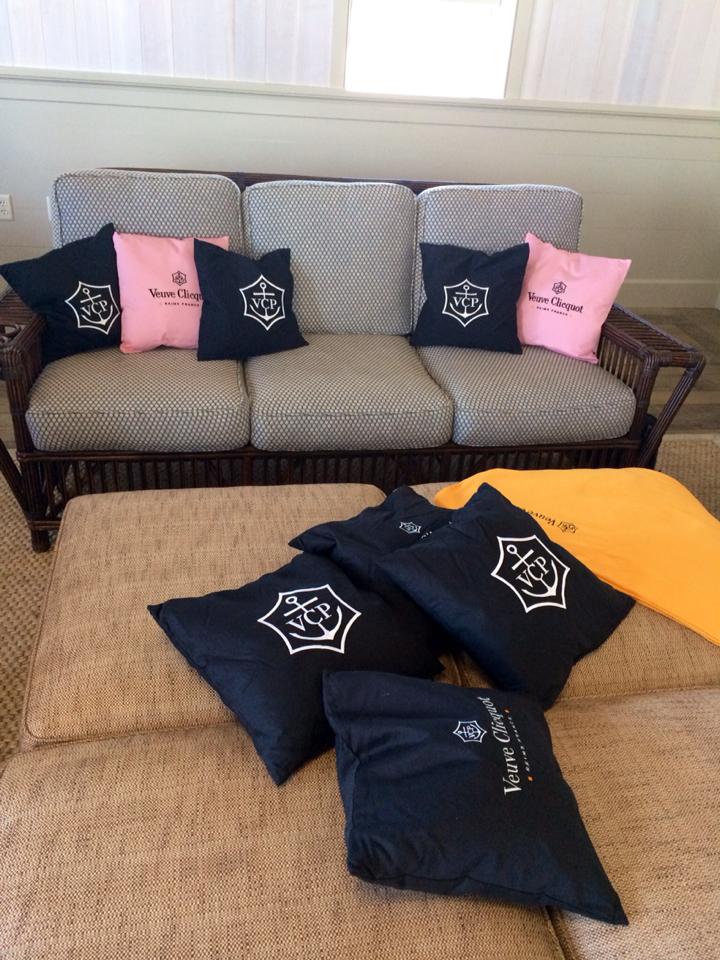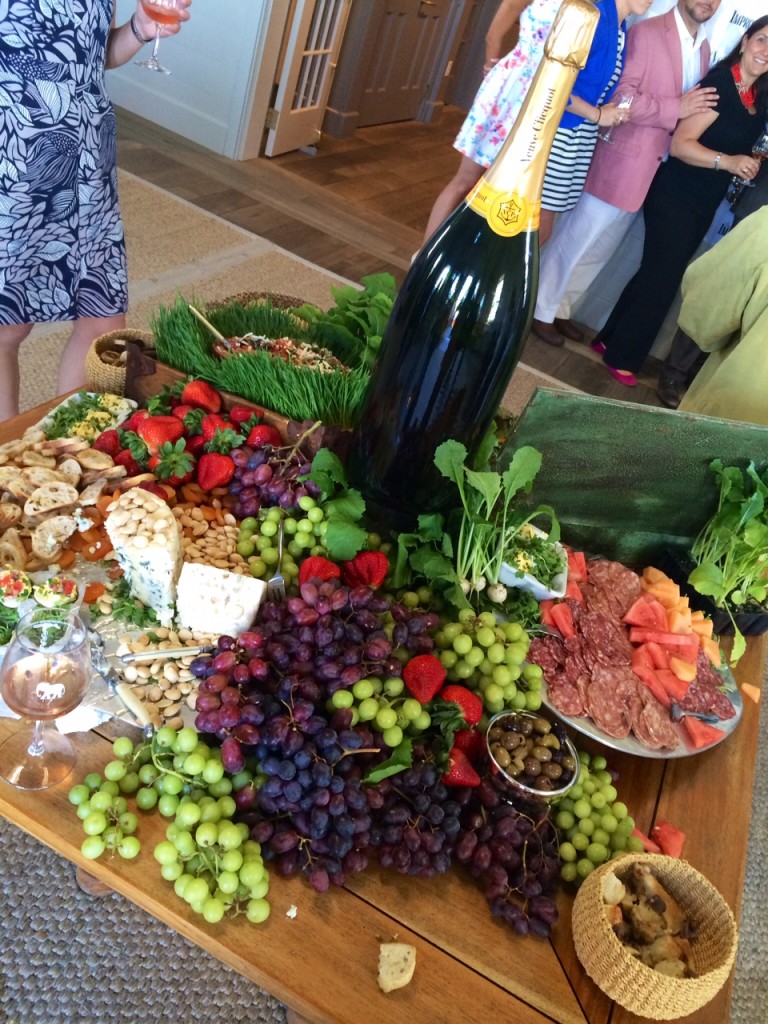 Aaaaand after the champagne hour wrapped up, we headed to the home of the guy who got us into that party, to keep the same party going in a new location. Said party involved more champagne, and pizza.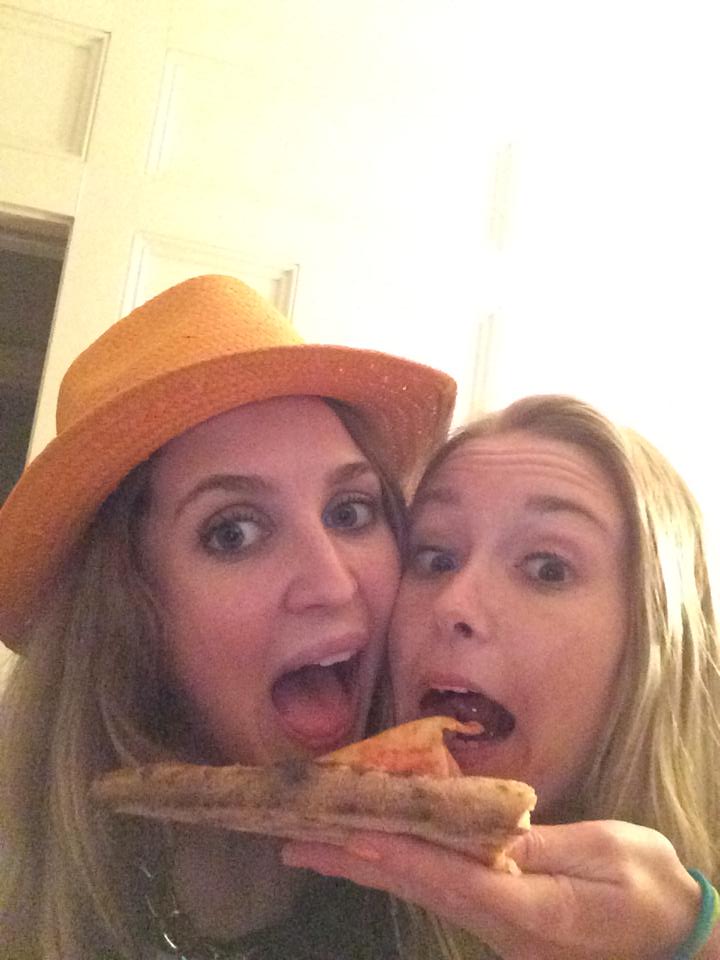 Eventually we walked back to Proprietor's but I knew almost immediately upon getting there that I was done. I took a cab back to the house – but not before asking the cab to wait outside a Mexican restaurant while I ran inside to grab a taco salad. Oof.
I woke up yesterday morning a) ready to run (which I did, not for long but I did) and b) not feeling so hot mentally. I actually felt fine physically and felt good on my run. But man oh man, the last few days have probably been the longest I've partied and the least I've exercised, combined, since I started my recovery. Or at least it sure feels that way. Thursday I did no cardio, Friday I took off completely, Saturday I jogged about a mile, and I'd say yesterday's run was probably only a little over two miles. Weekends like this are amazing. Weekends like this don't happen often. But the thing is, I feel like they do. I feel like now that I live in Boston and am part of such a fun company and group of coworkers, I just go out a lot more and work out less. I'm not saying this is true. I'm saying it's how I feel. And I'm not so okay with how my body looks. ESPECIALLY when I compare it to how it looked a year ago or even before I moved to Boston. Maybe those differences are in my head. Maybe some are in my head and some aren't. But I cannot WAIT to get back to my routine food today, to take Danielle's killer spin class, and to perhaps abstain from wine with dinner tonight. I can't tell which parts of me can't wait for all that because I'm desperate for self hating thoughts to stop, and which part of me TRULY wants that.
What I do know is that I lived this weekend to the fullest. I did exactly what I wanted to do. I didn't miss out on anything. I know how lucky I am. I've just got to figure out how I can stop "paying" for the fun moments like this with hateful thoughts toward myself, and self-doubt in my ability to get back to a healthy routine.
Have you ever been to Nantucket?
How do you handle long weekends of parties?
Which part of my trip do you think would have been your favorite?