Marvelously Overwhelmed
I had a marvelous weekend, but it was busy, and left me extremely overwhelmed. Like to the point of sobbing on the phone to my mom and not being able to follow through on Sunday's plans because I worked myself up to the point of mental and physical exhaustion. I seem to always need to re-learn the same lesson, every few months, about over-exerting myself. This summer has been so fun and as much as I'm dreading the colder weather, I think I need fall to get here so that I'll start slowing down. (Oh but I'm travelling three weekends in September, I'll try not to think about that for now.)
Still, there is plenty of marvelous about this past weekend in CT (yes, another one) to be thankful for.
Marvelous is…meeting my parents at Mohegan Sun for another overnight stay. The fam can't seem to get enough of the casino lately and I'm not complaining about it one bit!
I have been loving the cocktails at Bar American my last few visits so we went back twice, and even made some new friends from NJ who had just dropped their son off at UConn. Drinks from the evening included an Eagle Rare Manhattan and a classic Champagne Cocktail (champagne, bitters, sugar cube).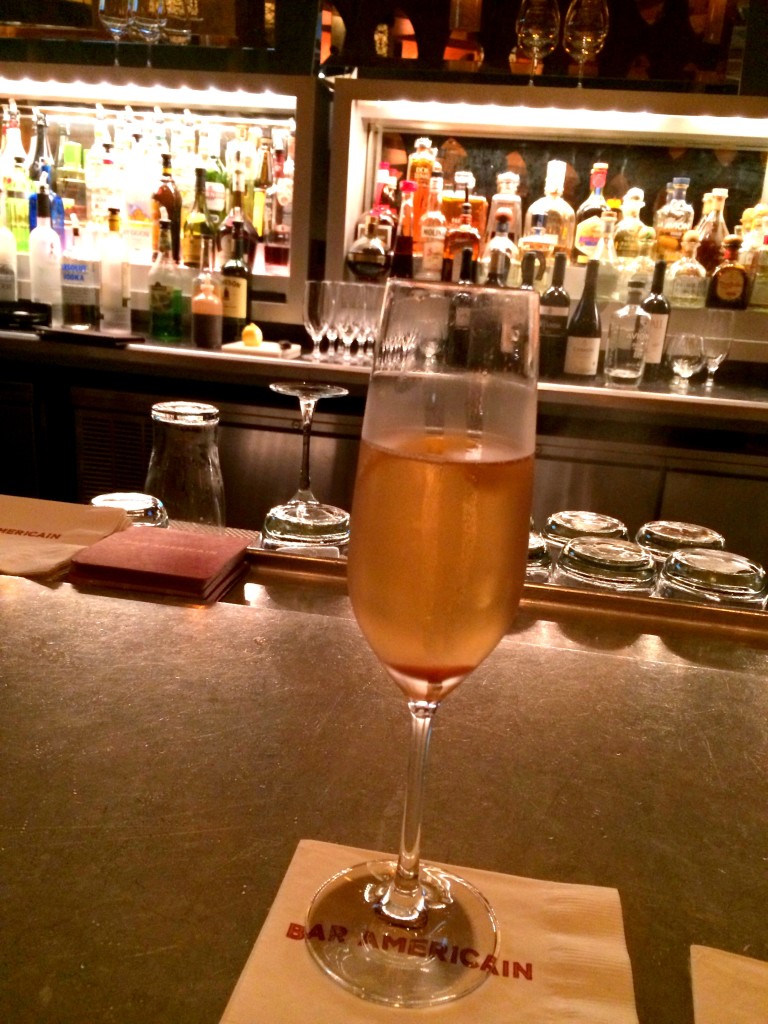 But before that, Mom and I visited Ballo for their legendary Brussels sprouts as a snack – and I had a lovely Aperol Spritz.
For dinner we went to the always wonderful Summer Shack. Mom and I had the same entree, a perfect basil pesto wild sockeye salmon special served over swiss chard and a white bean & corn succotash.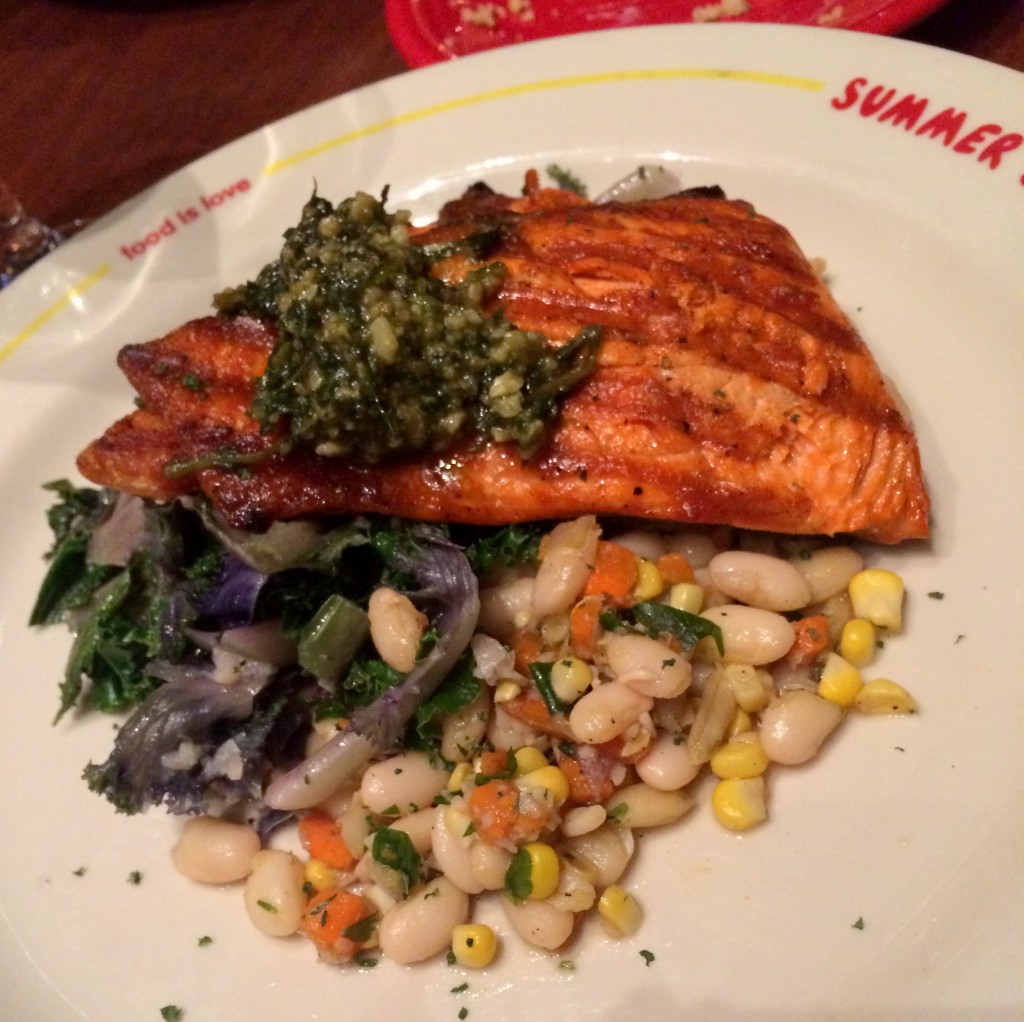 But I also ODed on bread, and went to bed feeling pretty darn awful about myself. And woke up all night feeling that way. And the next morning. See how this keeps happening?  my mind told me. You will keep overeating and it will catch up with you. That was mental hit #1 of the weekend.
Marvelous is…a 3 mile run and weights workout on Saturday morning. Though a workout didn't do much to make me feel better, I still am glad I have been getting miles in where I can as I continue to train for the Zooma Cape Cod half marathon. Plus I managed to finish at a 9:05 pace, with a 1% incline on the treadmill. I definitely am aiming to get in a longer run (at least 5 or 6 miles) this week.
Marvelous is…attending Kat's birthday party. Just like last year she celebrated at the beautiful Lost Acres Vineyards in North Granby, CT and I'm so glad I happened to be in CT and was able to attend. I brought a very special party favor – unicorn horns! Because thankfully Urban Outfitters realizes that every party needs unicorns.
Yes, that is Penelope. I can't believe how much she's grown in a year.
Not only did I see Kat and Penelope, but also her wonderful family members and fellow CT event circuit pals Rachael (of Onyx Moonshine), Kerri, and Allison!
Marvelous is…running into my favorite NPR guy John Dankosky at the vineyard. Because as Kat said, the event was quintessentially Connecticut, with children playing croquet and "NPR personalities flitting about".
Marvelous is…a successful engagement party for Rachel and Steve. As maid of honor I wanted to throw a get together for friends and family of the happy couple, especially once I remembered how much Kaitlin and her fiance (GETTING MARRIED THIS SUNDAY!) enjoyed their engagement party.
Rachel's family and Steve's mom were a HUGE help when it came to decorations, food, and party games!
The food spread was pretty incredible. But I ate a lot more than I would have liked, and felt very full when I left the party.
So my post-party experience did involve sobbing on the phone to my mom about how terrible I felt about getting really full two nights in a row. The thought of the extra calories in my drinks didn't help things. BUT I did rally.
Marvelous is…seeing Kim! One person who can always make me more chill and relaxed is Kim. We had plans to meet up after the party and despite my super-high anxiety levels, I knew that seeing her would do more for them than going home and wallowing in my own guilt ever would. So I kept our plans and am so glad I did. It was great to catch up.
Marvelous is…spin class. OK, not super marvelous since it was 80's themed. And because all the anxiety had my stomach in absolute knots and I felt nauseous all day yesterday. But the instructor's side ponytail certainly was entertaining!
Marvelous is…doing nothing on Sunday but readying for the week, unpacking, and hanging out with my good friend Greg. Oh, and writing this blog post. I am considering yesterday day #1 of a two or three day I-am-doing-nothing period. I say two or three day because by tomorrow evening I may get the itch to do something. But my only definite plans all week are a Wednesday night low-key dinner out somewhere nearby. Other than that, this girl is making no concrete arrangements to do anything except go to work and the gym.
Did your weekend leave you feeling relaxed or exhausted?
Have you ever thrown anyone a party?
When is the last time you pushed through negative thoughts and rallied?