Christmas Eve: Not So Kind
Thanks to all who entered my Mews Boutique giveaway for the same necklace and earring set I received to review!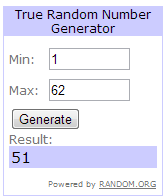 The winner is Keri! Thank you for entering and I will be contacting you for shipping info!

Merry Christmas! I can't believe the big day is here already, and I actually feel like it's been over because not only did my family already open our presents on Saturday the 22nd (because of our travel plans – I'm writing this from FLORIDA) but I also have already spent most of the Christmas money I got (more on that later when I write about my Christmas Eve trip to Boston, hopefully tomorrow).
Due to our Florida trip, our traditional family friend Christmas Eve pig roast got moved to this past Saturday, which I was glad about because I'd originally thought we would miss it this year! Thankfully the Peredas moved the celebration to the 22nd so that as many families in our Floridians-displaced-to-Connecticut group could attend as possible.
But first I had to pre-game the party (HAD to) because one of my favorite local companies, Onyx Moonshine, was doing a featured cocktail at Plan B in Glastonbury, right near me. The Onyx guys never cease to amaze me with their unique and fun marketing ideas, and the featured cocktail was part of their 12 Days of Onyx bar crawl – a different CT restaurant featured its own Onyx Moonshine cocktail creation for 12 days. The Plan B drink, About Figgin' Thyme, was at the top of my to-try list after I read up on the drink each restaurant would be offering.
Plan B bartender Kim Wessel designed the above refreshing beverage: fig-infused (YES) Onyx Moonshine, thyme-infused simple syrup, and Bitterman's Hiver Amer, shaken up and served on crushed ice. It shouldn't surprise anyone who knows my taste in drinks that I would go for this beverage. Simple, unique, not too sweet. It actually ended up being a bit sweeter than I expected, and the bartender who made it shared with me that he and others behind the bar had actually been using a little bit less thyme-infused simple syrup than the recipe called for. I wonder how sweet it might have tasted if he followed the recipe to a T! I always appreciate when a bartender tweaks a drink recipe to make it better. I trust them – they're the experts, right?
I also ran into Adam, an Onyx co-founder, and the fabulous Signature David (the last time I hung out with both of them was at the cocktail competition I judged). AND I spotted my favorite bartender EVER, Andres of Rooftop 120! So I was certainly glad that I'd decided to stop by Plan B before my Christmas Eve shindig.
Ah yes, the shindig. Typical me, I've already written enough on a single cocktail for one post, and I haven't even gotten to the party yet. Let's get to it. At Christmas time, I'm still over Thanksgiving food. Heck, I'm kinda over Thanksgiving food ON Thanksgiving. Not really any of that to be found here. The famous Pereda pig, roasted on the back porch, made its usual appearance…before it ended up in my belly. I went for some dark and white pork, but skipped the white rice – I find that to be a snoozer.
I made sure to try a bit of everything else though – both salads, sweet potatoes with a pecan topping, black beans, green beans with bacon, and also some apps including an amazing crab dip my mom made and some good old fashioned pigs-in-a-blankets, because let's not lie, they taste wonderful.
There was also lots and lots of alcohol. I have never seen such a spread at one of our parties. Like the man I am, I sipped on 12 Year McCallam scotch, followed by some whiskey, followed by some Disaronno (gifted to me by Joe), followed by some of a really unique and wonderful beer recommended to me by my friend Elliot. The Bourbon County Stout is a dark, creamy coffee-like beer aged in bourbon barrels (PERFECTION) and is produced by Goose Island. It's tough to find but I got my hands on a bottle from One-Stop Spirit Shop in Glastonbury and shared it with several others at the party.
As you can imagine with so many libations consumed, things got a little craaaaay.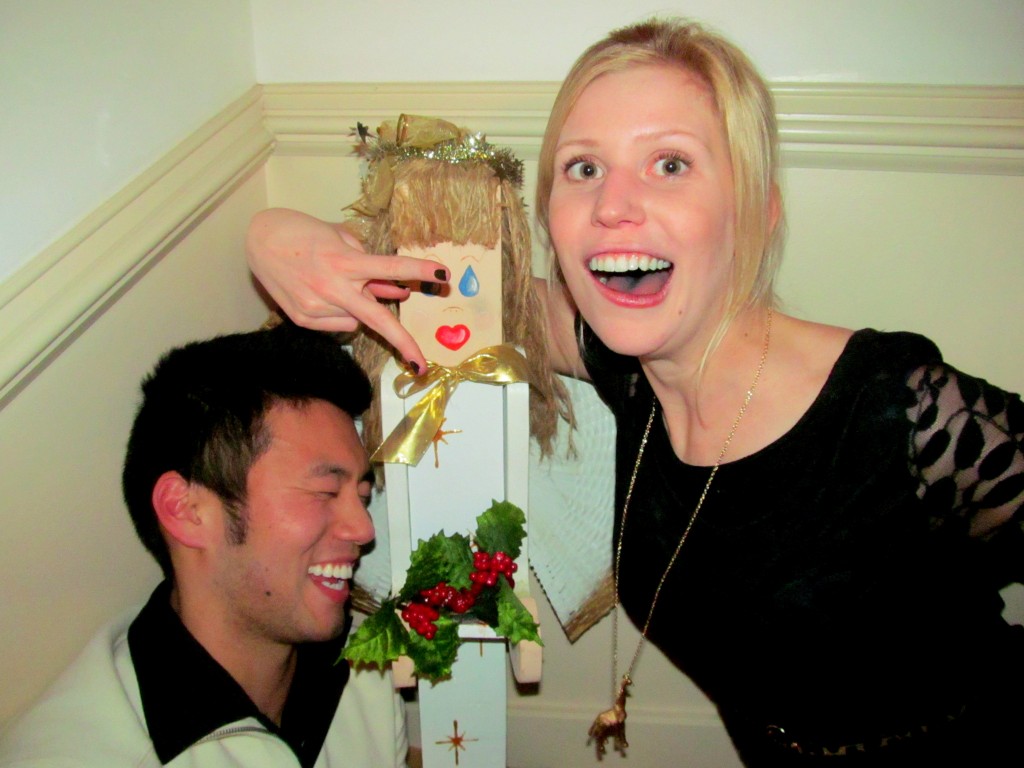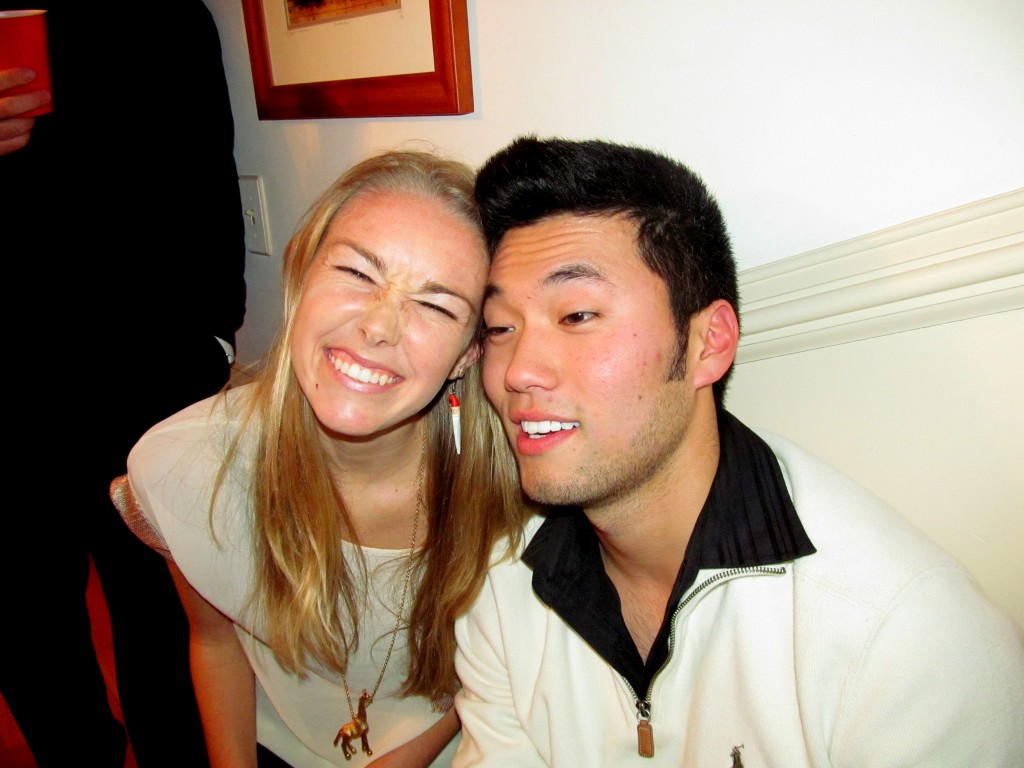 Yes, Joe showed up at the family Christmas Eve party. Obviously?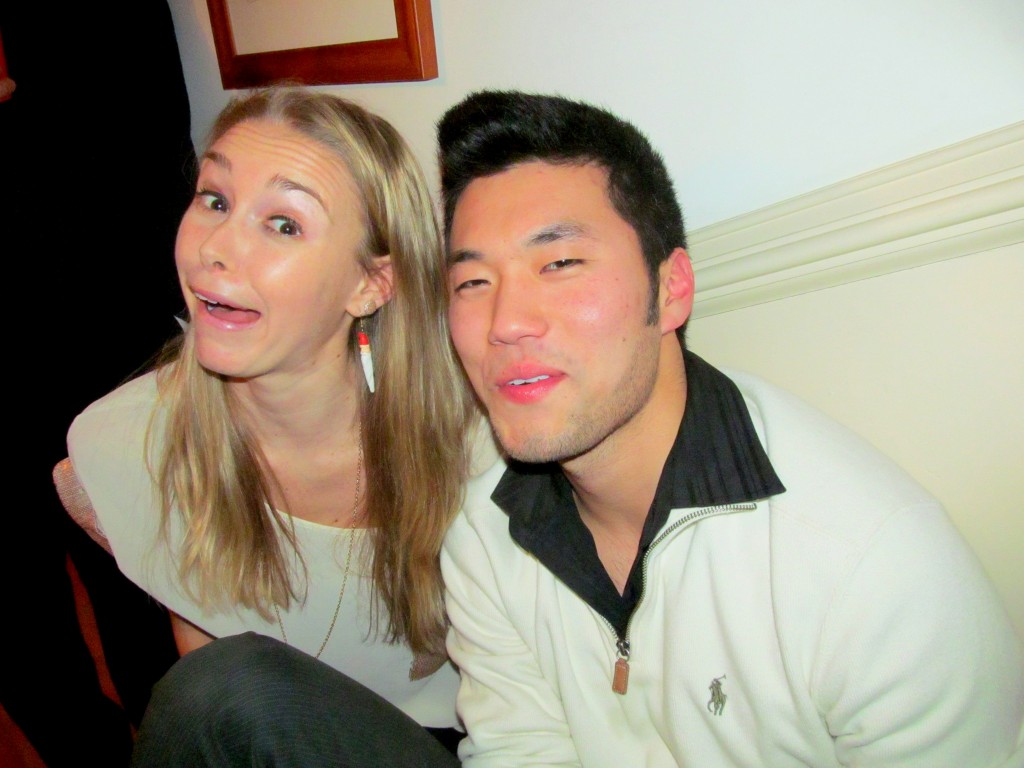 One of the girls in the Pereda family, Vivian, was nice enough to give the ladies at the party some jewelry she crafted. I was seriously impressed – the necklaces looked like something out of Forever 21! She painted some little rubber toy animals gold, and put them on gold chains. I picked out a giraffe. I legitimately cannot wait to wear this necklace out and about! I wish I'd gotten a more close-up photo of it but I'm sure it'll be popping up on Instagram very soon.
By this point in the party I was obviously having quite a good time, and then the dessert came out. I loaded up my plate with a little bit of everything and finished it all, and went back for a little bit more too.
And then…I felt really full. That and the combination of "sobering up" got me feeling really, really down on myself. I wish I could say that I handled feeling full at a holiday gathering the same way I handled it on Thanksgiving, but I had a hard time focusing on the family and friends around me. I feel like I retreated into myself and just wanted to get out of there. Around that time we did leave the party and go back to my house to open presents.
Even then, I could not get the feelings of shame over eating all the dessert out of my head. It didn't help that I kept remembering what one parent said as they saw me loading up my dessert plate ("Is that all for you?!") – trigger city. I just wanted to stop feeling full so I could stop being so mean to myself. And here I was getting these presents from my generous family, and watching their faces light up as they opened gifts I picked out that were perfect or just what they wanted, and I couldn't experience that love right in front of me! Or for that matter, I wouldn't, because I know in the end it IS up to me. As soon as we were done opening presents, I went to my room and shut the door so I could be alone with my coloring book and NPR. I was grateful when I finally fell asleep.
I have been working on forgiving myself for letting guilt get in the way of my quality time with family and friends. I still had a really good time at the party but know I could have truly experienced and lived in the moments of the evening if I had been kinder to myself. After all, I would never judge anyone else for eating seconds of dessert as much as I was judging myself. So why do I have to put such high standards on Caitlin, and only Caitlin?
I can only hope that during my trip to Florida this week, I can enjoy the vacation to its fullest. I know I am completely capable of doing so – I just have to make the choice and be strong!
Do you have any Christmas Eve traditions?
Has anyone else already opened presents?
How do you deal with the pressure you may place on yourself to "behave" food-wise during the holidays?