Father-Daughter Boston Trip
Thank you so very much for your kind words in response to yesterday's post (no worries if you didn't read, after all I'm the weirdo publishing on Christmas :-P) and my confessions about being NOT so kind to myself. I'm happy to report that so far since that night this past Saturday, I have been doing a much better job of enjoying this special time of year. After all, it's not like I'm travelling and attending holiday events every day!
Each year, my family exercises a special holiday tradition (yup, another one!): my sister Hannah, my dad, and I travel to New York City from December 23rd to 24th for fabulous meals, shopping, and the Today Show (we get on TV every year!). But this year Hannah had to work, so my dad had the great idea to keep the tradition alive, just on a smaller scale. He and I set off for Boston this past Sunday morning to brunch, shop, cocktail-it, and stay in a fancy Marriott!
I did my usual restaurant-itinerary-making that I do on every family trip. I honestly would love to just pick out restaurants for people for a living – I'm sure there are some rich folks out there too lazy to choose where to dine on their many vacations. Seriously, I'm envisioning having people fill out a survey about preferences and what they are interested in, and then I can just plan everything they eat on their trips. I'm putting the business idea in my back pocket.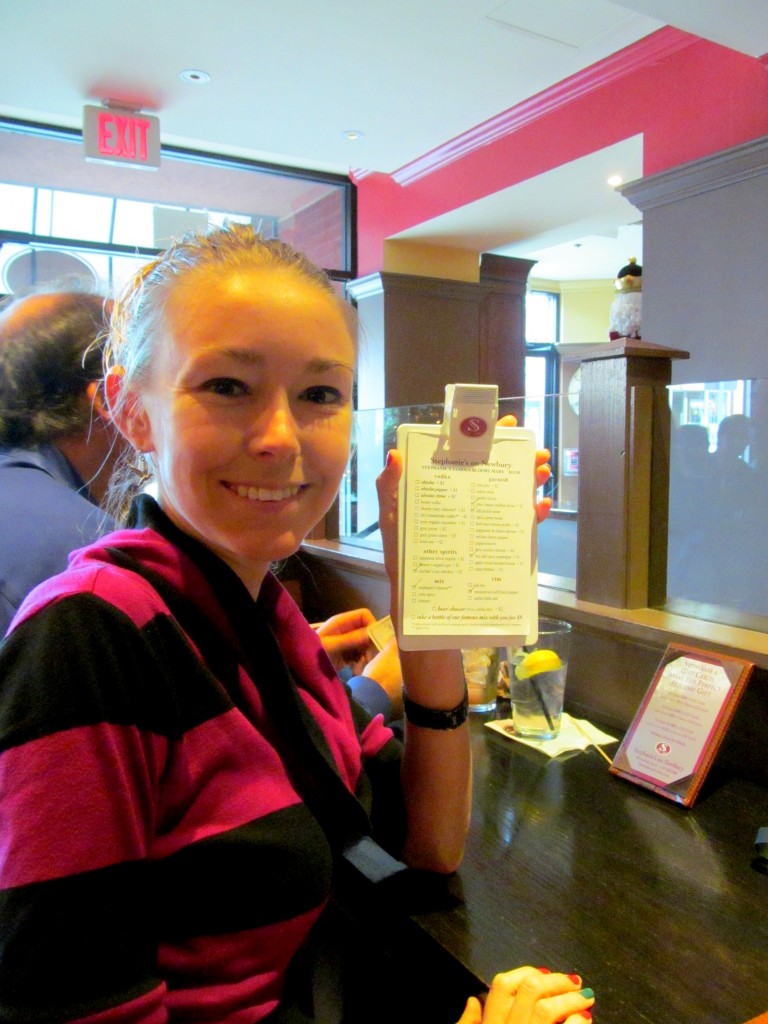 I've been to Stephanie's on Newbury once before, but never had a chance to do their famous build-your-own Bloody Mary, so I knew we had to go back! Of course I went for whiskey instead of vodka (who even knew that was an option?!) and selected the famous Stephanie's Bloody Mary mix and a black pepper and sea salt rim. I added so many yummy snacks to the beverage that it was essentially an appetizer – holla! Bleu-cheese stuffed olives, spicy asparagus spears, and a pickle (obviously). The resulting concoction was incredible, despite the fact that it took the bar a couple of times to deliver me the correct beverage as I had ordered it.
This trip took place the day after that guilt-ridden evening after having extra dessert at our Christmas Eve party, and I contemplated and was tempted to skip the Bloody Mary at brunch and stick with water. Not because I wanted to, but because I felt I should. Then I had to give myself a mental slap. How often am I at a place with famous build-your-own Bloody Marys? Not often. So I ordered it and loved it.
I also am proud to have ordered what I really wanted. I was debating between the grilled tenderloin salad and ahi tuna tartare; I felt the latter was a more "appropriate" option, but the combination of the salad's steak, gorgonzola, and walnuts just sounded so yummy. I went for it and ordered the salad and am so glad I did! The steak was cooked to medium just as I'd asked for and there was actually a nice amount of tomato and cucumber! Not too much cheese either – I asked for the potato straws on the side, and shared them with my dad.
The only thing that bothered me was the fact that our food literally came out in five minutes. I like to take my time and savor my beverage before the meal, because once my dish arrives I tend to abandon my drink in favor of getting my nom on. The speed with which the food came out also makes me wonder – how fresh was it all? Do they do a bunch of prep in the morning and then just heat stuff up? It's completely possible because Stephanie's does a huge business and is always packed, but still bothered me and took away from my experience a bit. Still my dad encouraged me to just take my time because we were in no hurry, so that's what I did. And the salad really was delicious.
The brunch fueled me through some VERY successful shopping, which I will be recapping for you all during this week's FASHION FRIDAY, so stay tuned 😀 you'll find out how I managed to already spend my Christmas money the day after I received it…
After shopping we went back to the hotel to change – I had to put on a festive holiday outfit! We also got a picture by the beautiful tree in the lobby, which is always a tradition on our traditional trip (traditions on traditions on traditions…)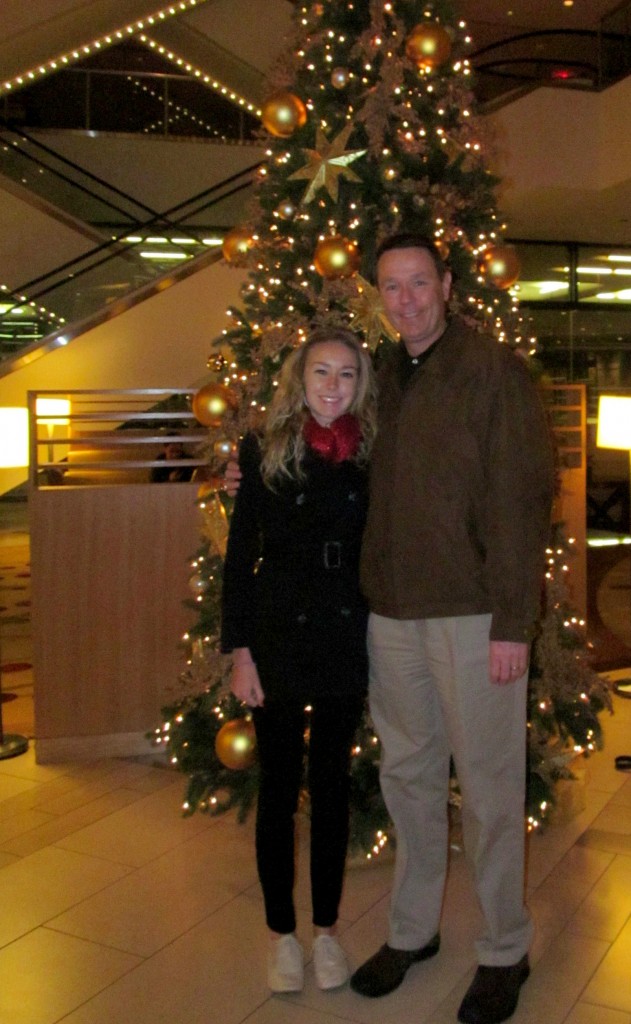 I picked out a dinner spot a whole three minute walk from the hotel – City Table! The menu looked diverse, the cocktails to die for and creative. Plus, my pal Vijay pointed out to me that I'd get a $10-off coupon if I joined their email list – sign me up, literally! Who says you can't save money on vacation?
I don't mean to be smug, but I mean to be smug. Cait Plus Ate does it again – I picked out another winning restaurant. The hostess was kind enough to bring my dad a couple choices of reading glasses (or as he called them, "cheaters") when he realized he'd forgotten his. I tried to get him to consider purchasing glasses like the below to wear on a permanent hipster-basis, but he wasn't down.
How about me? Librarian much?
For my first cocktail, I selected the McGuire (Buillet Bourbon, Guiseppe Carpano Antica Formula, bitters). Pretty sure this had "Caitlin" written all over it. It was fantastic! So smooth and the Formula, which our waiter said was a vermouth, gave it a unique subtle taste.
Later on in the meal I ordered the Kentucky Flu (Maker's Mark, Licor 43, citrus juices) upon the recommendation of our waiter, a fellow bourbon drinker. I'm glad I got this cocktail second because it was a little more fruity, whereas the McGuire was a nice pre-dinner drink. I was not able to finish my second drink but my dad helped me out (good man).
Yes, those are BRUSSELS! I ordered them on the side (simply steamed) because I had a hankering for them and I was not sure if my entrée would be enough food. I was tempted to order seafood but I knew I'd be gettin' my seafood on like a mad woman in Florida, and a super unique dish kept catching my eye – Venison Stew! I've never had venison and the stew was served with hearty ingredients like Granny Smith apples, turnips, rutabaga, parsnips, and cippolini onions.
The soup was incredible and the broth was just BEGGING to have Brussels dipped into it, as well as some of the crusty white rolls we received before our food came. I loved the venison – I guess it was a red meat kind of day for me! I honestly could not "find" the apples in the stew though – maybe they simply soaked in the broth earlier, instead of being included whole? I never bit into a piece of apple! Oh well, still so happy I ordered the stew and the citrus salad that came on the side was such an interesting yet appropriate pairing. No dinky mandarin oranges here – this vinaigrette coleslaw-like mix even had grapefruit.
Dad and I hung out and chatted a bit longer while we finished my Kentucky Flu, and were thankful we had a super-short walk back to the hotel to get cozy.
The next morning I woke up later than I thought I would (8:15am GASP) and took a nice walk to the closest "unique" Boston café I could find. Our hotel had a Starbucks but come on, I was in Boston! I found a place called Render Coffee on Yelp, and the pour-over coffee I purchased tasted absolutely incredible even after it cooled down during the ride home to room temperature. That's how you know it's the good stuff! So glad I took the time to enjoy the Boston walk too…but I didn't bring my camera and I'm kicking myself, because I saw so many cool photo opps!
Another wonderful December 23-24 family trip! We missed Hannah but I'm so thankful to have a wonderful father who will take me on these kinds of outings and literally is just all about relaxing, having fun, and savoring LIFE. I did a better job than I did on Christmas Eve at telling myself that I deserved this trip and the food and drink that came with it, and lived in (most of) the moments. How can I not, after all, when I'm surrounded by so much love?
I'll be back tomorrow to finally start sharing how my Florida trip has been going. I always seem to fall so behind on recaps when I go on these trips. Too busy having fun to talk about it! I'm not complaining. Just living! 🙂
Do you put a lot of thought into choosing restaurants when on vacation?
What's your favorite brunch dish and/or cocktail?
Which of the drinks and food I tried in Boston sound best to you?