R and R: Rest and Regret
I loved reading the comments on Friday's post about Instagram media literacy! I figured many of you would be able to relate and I will be replying to the comments and continuing the discussion as soon as I can.
Major thanks again to everyone who was so supportive of my planned rest day this past Friday, from those who had tweets waiting for me before I even woke up, to those who checked in the day after. Whenever I wasn't THINKING about not waking up to work out before or not driving to the gym after work, I felt okay. In fact (I will never not ask you guys to support me so please don't take this the wrong way), sometimes I'd be good and not thinking about missing a workout and then I'd get a tweet or text asking me how the rest day was going, which unfortunately reminded me that I was taking one and made me feel guilty again. Catch-22!
My co-worker convinced me to pop into a Friday happy hour at a dive bar down the street from the office, because I always miss co-worker gatherings since I hit the gym after work. I figured since I wasn't going to the gym that day, I should take advantage and stop by before I went to meet my college friends (above) for dinner and a night out. Ravi and Kelly were visiting from Long Island and Redding, CT (respectively) so that's why I felt missing the gym and spending more time with them was important.
After enjoying half a beer with co-workers, I set off for Glastonbury and started the Uconn reunion with dinner at Chili's. Yes, I selfishly picked that restaurant (one of my favorite chains to tell you the truth) because I had a $15 gift card to spend from a Klout Perk. We enjoyed beverages and a tasty meal. I munched on chips + salsa, and ordered the Lighter Choice Mango-Chile Tilapia with sides of broc and black beans. For my second drink, I got a chilled sipping tequila (Tres Generaciones Añejo) served neat. Everything was delicious, but I purposefully did not finish my entree or eat many chips because I was "plotting" to get a late night snack later. Basically I figured whether I finished my dinner or not I'd end up drunk-snacking, so I should just plan ahead and not finish it. First bad call of the evening.
After dinner we headed to Rooftop120 because I was quite excited to try and re-create the marvelous that was the previous Friday. I won't go into a ton of detail here but I did manage to re-create some of that night. Ran into tons of friends…
Popped some more champagne bottles…
Did some dancing and fun photo taking…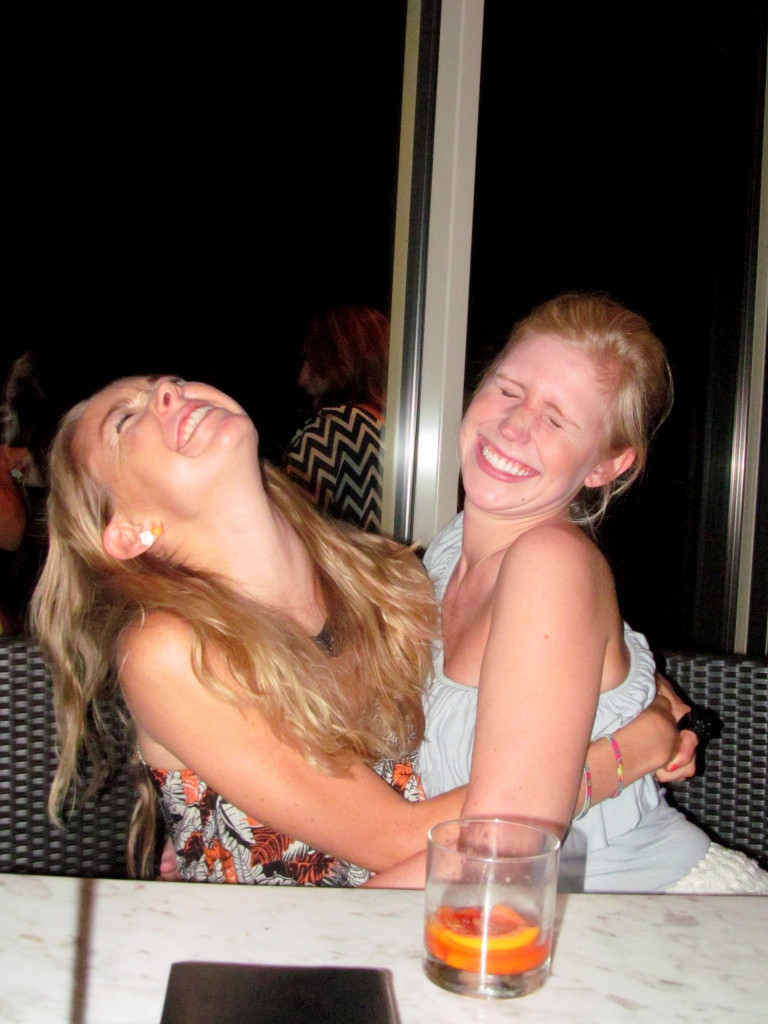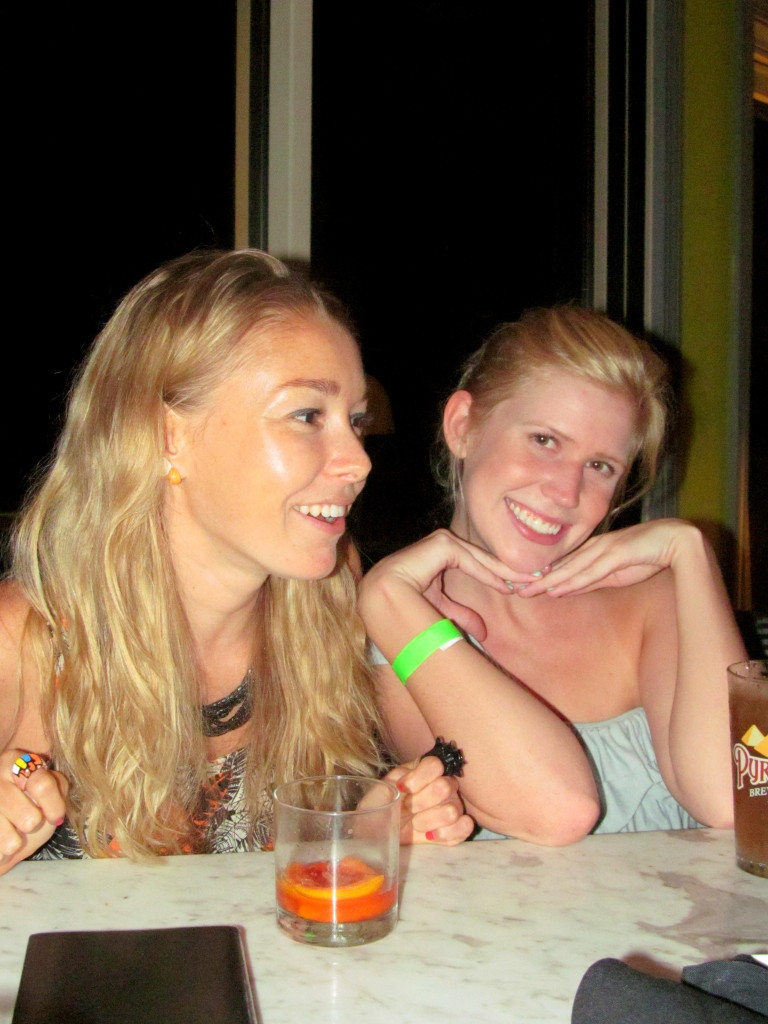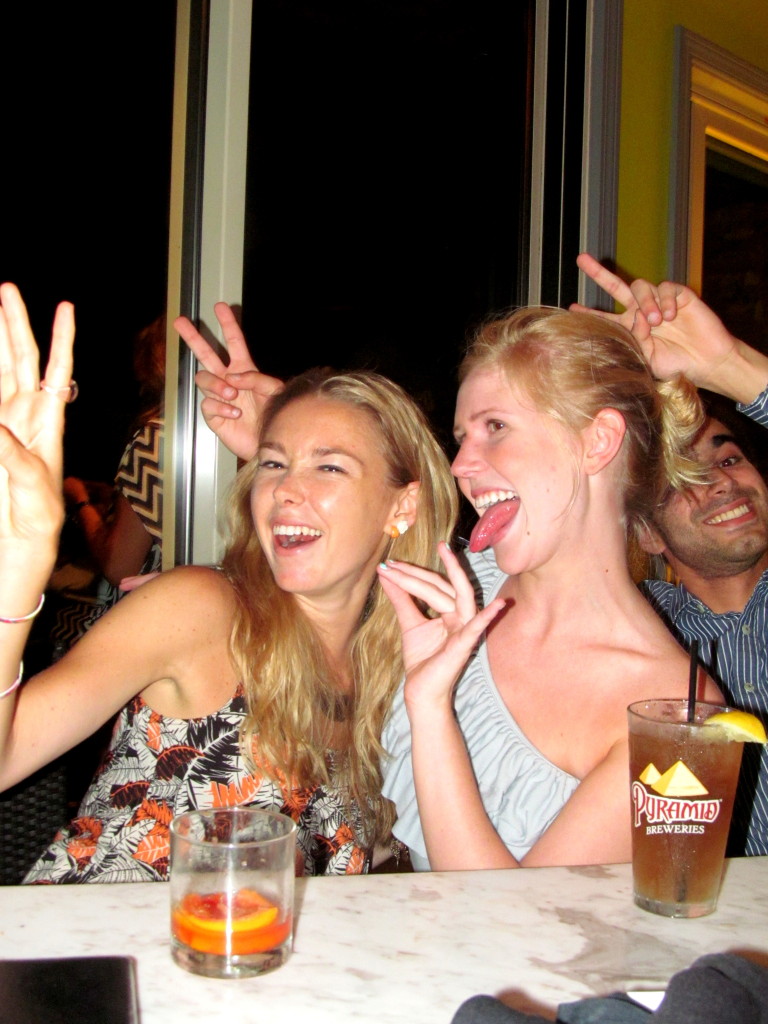 And hit up some late night snacks…
I got home around 2am and crashed, HARD. But not before I started to feel an evil little feeling creep in. The second "R" of this post…regret.
I woke up around 6am and could not fall back asleep. Believe me I tried, but my mind was playing a constant soundtrack in my head, which consisted a list of all the "bad" things I'd done the night before. Please note that I don't take these thoughts to be truths, but this is what they were, verbatim:
My late night snack consisted of chips and lots of creamy dips (crab and spinach & artichoke) from Rooftop120's late night menu.
I drank a LOT. I was essentially drinking from 5:30pm to 1:30am!
I didn't drink enough water. Clearly that meant anything else I'd drank, as well as the food I ate, would be more likely to be "hoarded" in my body.
I acted like a college student. I am not in college. I'm an adult and should act like one.
I spent so much money. Like, a ridiculous amount. I got way too carried away with buying friends drinks.
The list didn't stop there, but I won't keep recapping it because I prefer not to re-live the regret. I just honestly, truly HATED myself. I hated that I'd taken a rest day because if I'd gone to the gym, that would have meant less time to be out drinking. I also felt a gym trip would have put me in a "healthier" mindset for the day. I wanted to go back in time and do everything over. I wanted to wake up before work and fit in a basement workout, go to work, meet up with my friends, and cut what I drank in half. And what I spent! I wanted to go back to Chili's and finish my dinner so that I wouldn't have gotten hungry at Rooftop120 when only the late night menu (aka no healthier apps) was available. I regretted everything…even the smiles you see in the photos above.
I had to go upstairs and crawl into bed with my mom. My regret, self-hate, anxiety, whatever you may call it, hasn't been that bad since the day I wrote my Amazing Me list. And I really did try to replay the positives of the night in my mind. I tried to focus on the smiles in my photos, to believe the supportive texts I got from the friends I reached out to for help, to take to heart the words in the hand-written note my mom left for me when she got out of bed to go to the gym. I attempted to give myself all the props in the world for making it to – and killing it in – the 9:15am Saturday spin class…after sleeping just 4 hours.
But goddammit, it wasn't working. The regret was sticking and the rest day only turned its stickiness to Super-Glue. I made every effort to surround myself with positive energy. I went to Daybreak and chatted with friends over iced coffee. I hugged my mom. I ate LOTS of vegetables (all I truly craved). I chugged water.
I had my first-ever stand-up paddleboard (SUP) yoga experience. I engaged in a bit of retail therapy (so much for regret over money spent?). But the only thing that would really help my regret – and I knew this from experience – was time. Enough time to pass to make me forget what I'd "done wrong" on Friday night. Enough time to absorb enough positive energy to push out the negativity. Enough time to "accumulate" enough accomplishments to balance out what my mind saw as the wrongdoings of a weak, unhealthy person.
Do I realize that I have plenty to be thankful for? Yes. Do I realize that it was a big accomplishment for me to take Friday's rest day and still go out and even DO all that I did? Yes. But does that make it easy to accept the evening and move on from regret? No. It almost makes it harder. It is so damn difficult for me to cut myself any slack. It is so hard to give up the quest for perfection and put in the real effort needed to love myself. I do feel a lot better on this Monday morning as I write this. I do feel less regret, because time is helping to wash it away. But even just writing this post bothered me. Even editing the evening's photos irked me. And even hearing the song I danced to in the middle of Rooftop120, "Blurred Lines", about a million times on the radio throughout this weekend…well, I had to change the station because it made me want to cry out of the shame I felt.
I'm really trying here. I'm really working on forgetting, and eliminating regret from my emotional "repertoire", because it really is such a USELESS feeling. But I'm also just waiting it out, until enough time has passed for me to move on and remember that I'm human and that I really did not do anything as terrible as my mind is making it out to be.
Have you ever had a night out that you really regret?
How do you stop yourself from feeling regret over something from the past?