2013 A Taste in Simsbury
I received complimentary entry into this event to cover it for this blog. All opinions of my experience are my own!
I'd call this past Thursday's A Taste in Simsbury the best value tasting event I have ever encountered! For just $50, attendees got to taste food, beer, wine, and cocktails from at least 25 restaurants and vendors. Sponsored by Simsbury Bank, the Simsbury Main Street Partnership fundraiser pulled in money to help them continue to support downtown Simsbury's social environment.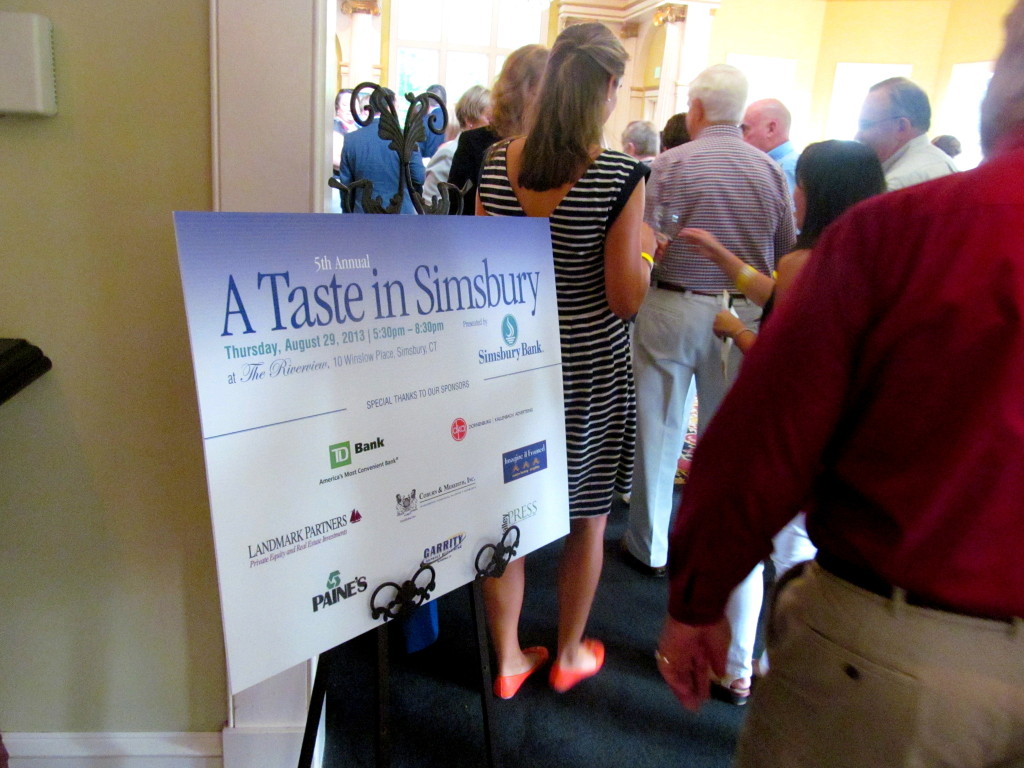 I snagged a wine glass and embarked on a tasting adventure that would end up lasting almost three hours. Thankfully tables and high-tops were set up throughout The Riverview's ballroom so that attendees would have spots to stop, take a seat, and have a place to rest plates and glasses.
I followed my usual tasting event MO…all savory, then dessert. I also started with a few drink samples…namely, Plan B's, since they were (of course) serving bourbon!
The fabulous gents of Ripe Craft Bar Juice were pouring every single flavor – agh, decisions! – with Onyx Moonshine. Love how involved Ripe always is in local events – and adore their loyalty to other CT-based companies too.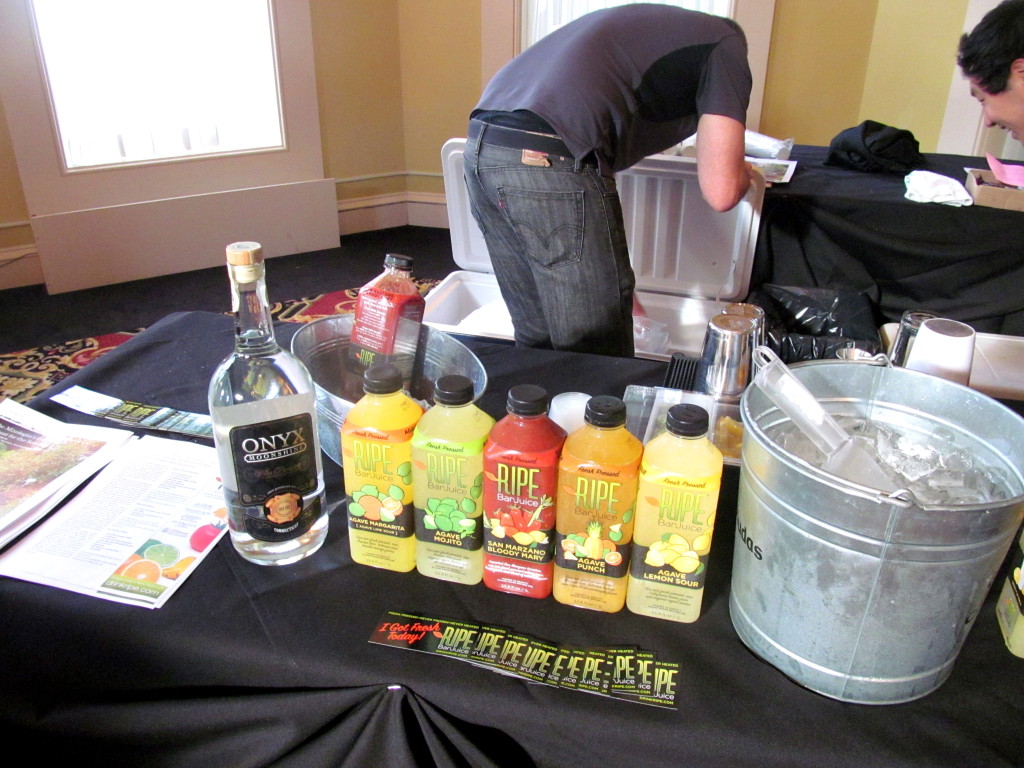 Carbone's Kitchen also served Onyx in what was undoubtedly the most impressive drink option of the evening – a smoked peach and crab shooter with lime & cilantro infused moonshine. Kat and I knocked these back together and could not get over how delicious this unique creation was! It made me all the more excited to make my way over to Bloomfield soon to try this new restaurant.
I've worked with Onyx multiple times, and another spirits brand I've worked with, Tanduay Rum, was also pouring a cocktail. Three simple ingredients – rum, vanilla simple syrup, and Pom Lychee Green Tea – combined to create a drink that was sweeter than what I usually prefer, but super refreshing and delish.
Tapas had both red and white sangria, but Kat and I agreed that it wasn't that great. The staff however was super fun and I enjoyed the clam chowder!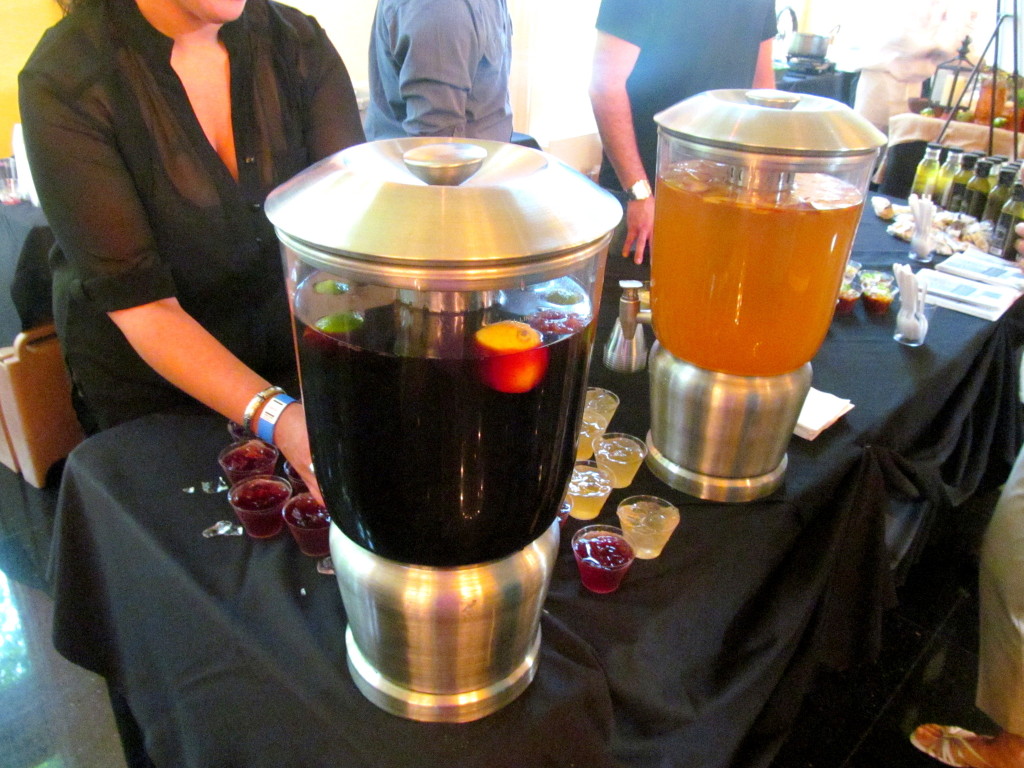 Seasons Restaurant at Avon Old Farms Hotel also served clam chowder! I didn't try theirs, but I did try the braised beef shank with English pea and carrot ragout. Um, AMAZING! The beef was so tender! I drive by this place several times a week on my way home from the gym, so I'll have to stop in.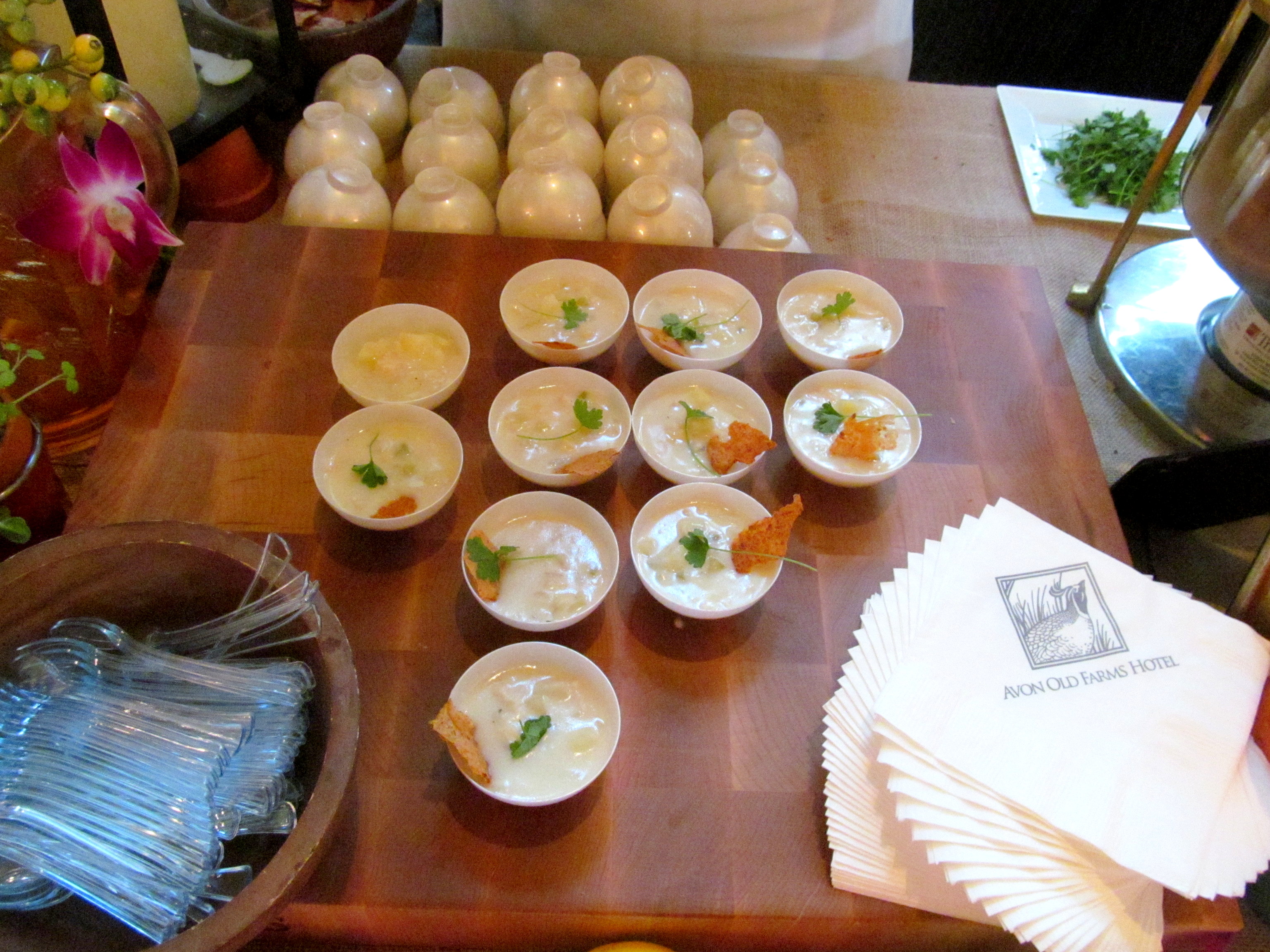 Back to beverages…I visited the Back East table to pick up an IPA for pairing with some of Little India's food. Perfect combo!
I also paired some beer poured by Red Stone Pub with one of their BBQ wings, though I wish I'd been a bit more daring and gone for the buffalo!
A couple of different tables had wine. Super Cellars (Route 44 in Avon) poured a fun and affordable brand called Bourgeois Pig.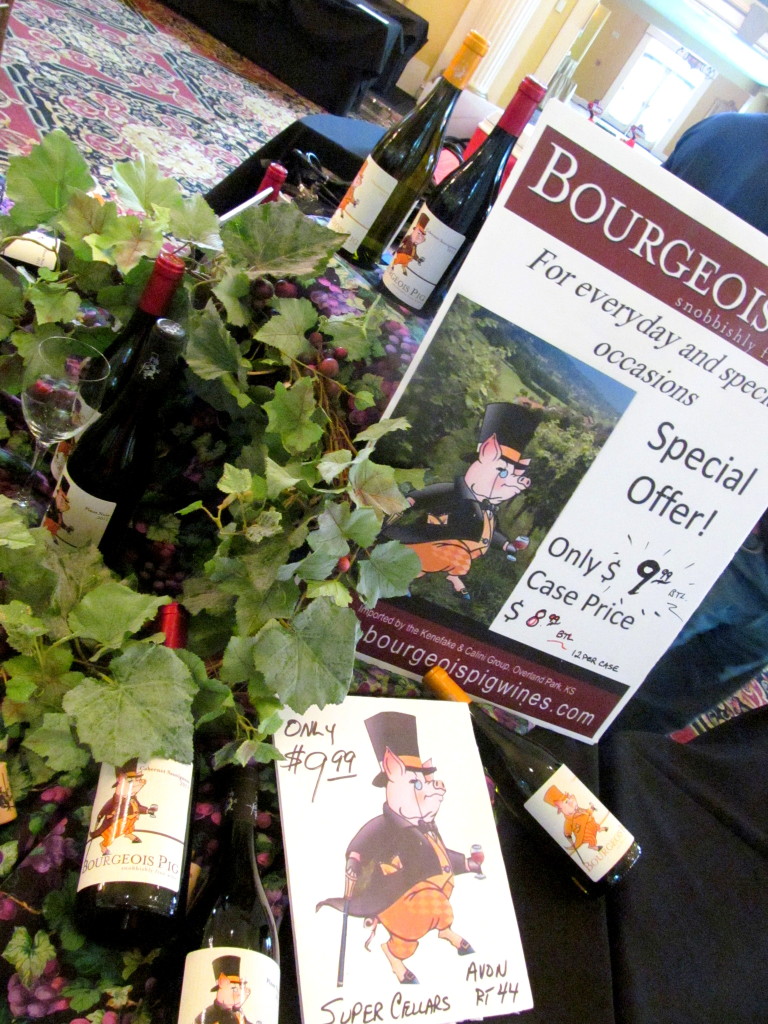 RJ's Spirit Shop of Simsbury offered some of my favorite affordable reds to drink at home, like Diseno Malbec and Josh Cabernet. Not so special, but I did get the chance to try a very special red. I noticed the guy from RJ's sipping on wine from his own bottle, so I asked him about it. He thought I was playing dumb, but I was actually just being dumb…I didn't realize the wine was Opus One 2002 Vintage! He kindly poured a COUPLE of tastes and I don't think this wine's excellence was all in my head just because I knew its price…it definitely tasted amazing because it just WAS.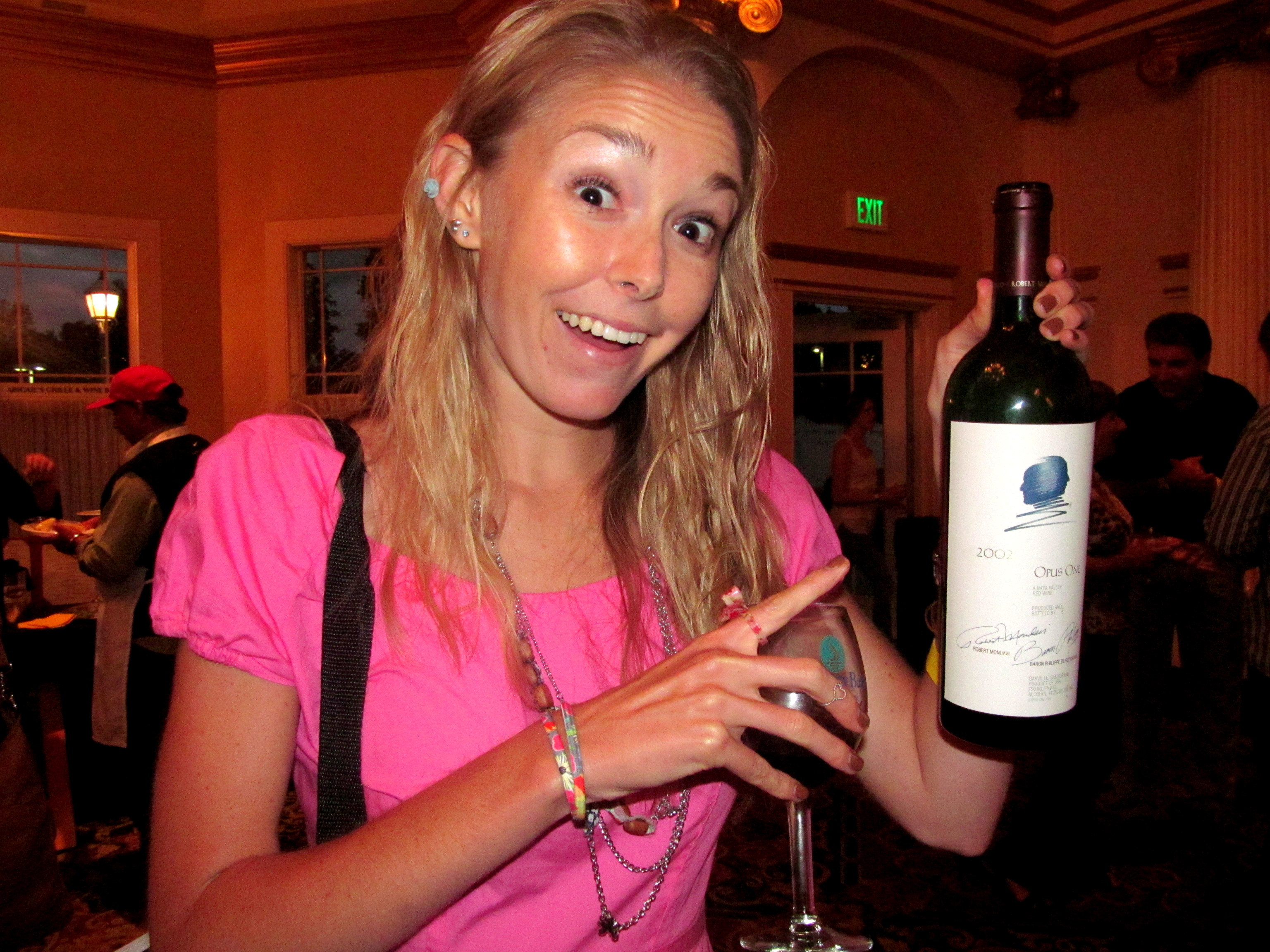 I had my first taste of local Hooker Brewery's Octoberfest (thanks Curt for the correction!), and appreciated its subtlety. Unlike most, I don't like pumpkin beers that really taste like pumpkin. Oops, because it wasn't pumpkin! Blogger error, sorry guys, too many booths to visit without writing everything down!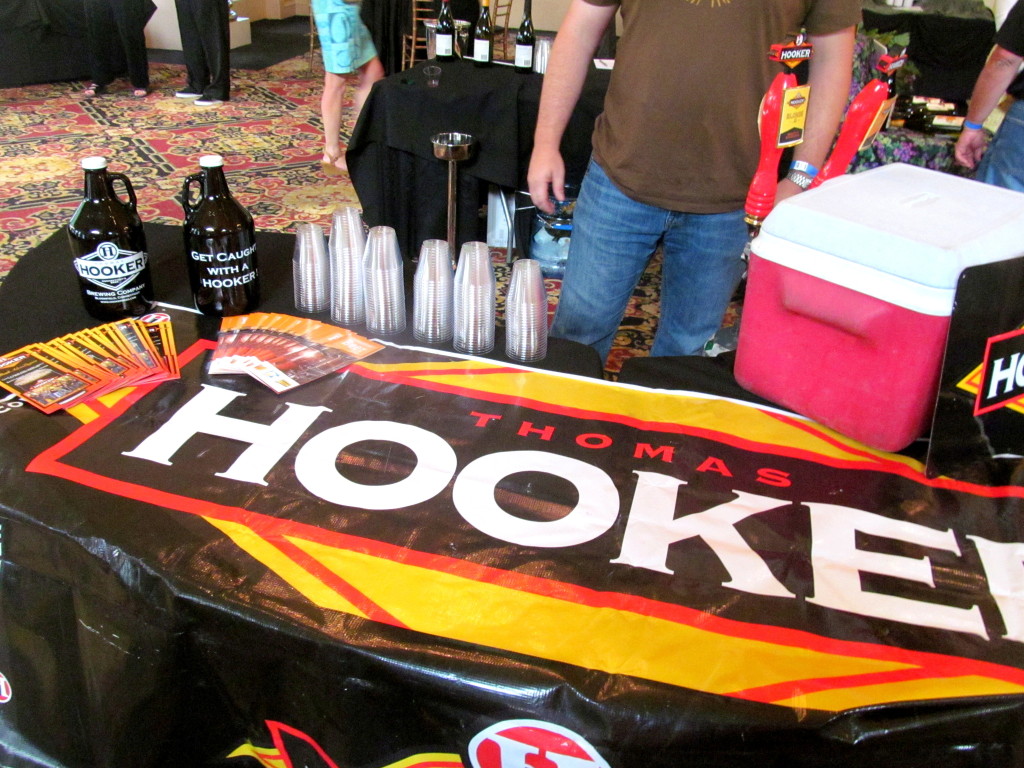 I paired that beer with a Plan B slider, which I hadn't originally planned to eat since I've had them a couple times before, but they were being brought around by the Plan B folks and I'm not one to say no to a real beef slider! They had the same awesome setup they always have…and some vegetables, which I never got around to trying…ha.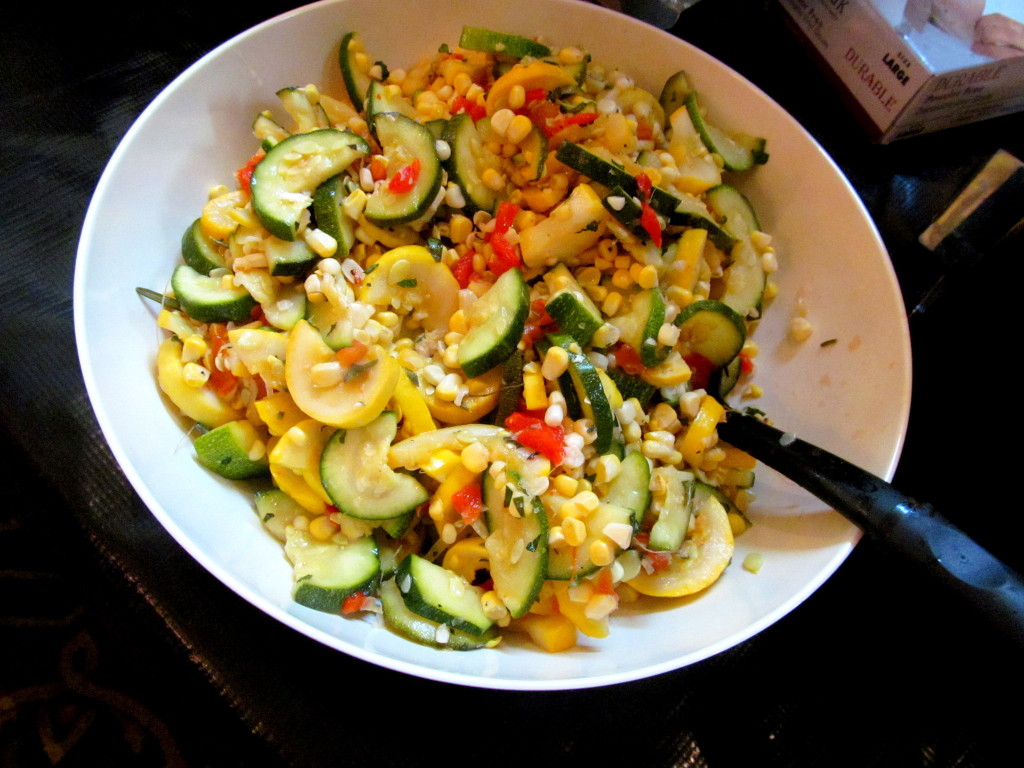 Max Restaurant Group had two reps at the event, Max A Mia and Max Downtown. The super-nice Chef Stickney of Max A Mia prepared some AMAZING lobster meatballs.
I watched Max Downtown assemble the first batch of its offering – roasted pork belly served over a watermelon & shrimp salad, pea tendrils, and lime-cilantro vinaigrette.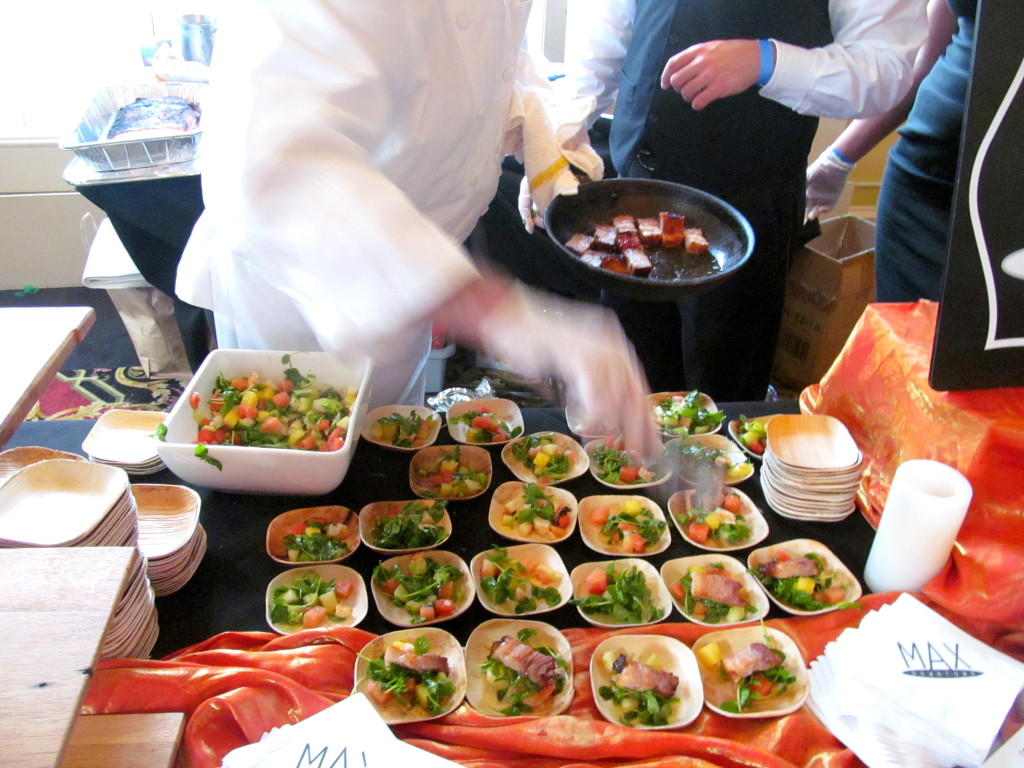 Awesome photographer Laura Mahon snapped a great pic of Kat and I pairing red wine with the Max Downtown dish!
Later I also paired red wine with the other Max Downtown offering, chocolate peanut butter sea salt truffles. Oh yes.
Next door, Rizzuto's of West Hartford was making homemade pasta topped with Liuzzi Ricotta. I rarely eat pasta, but I love doing so at these tastings because it is often authentic like this, and in nice small portions.
I enjoyed this dish so much that I took the time to set it down on a high-top and slowly savor each bite.
Rizzuto's also prepared pan-seared diver scallops with Maitake mushroom, truffle corn sauce, and micro basil. Unfortunately this is one of the few dishes of the event that I didn't get to try.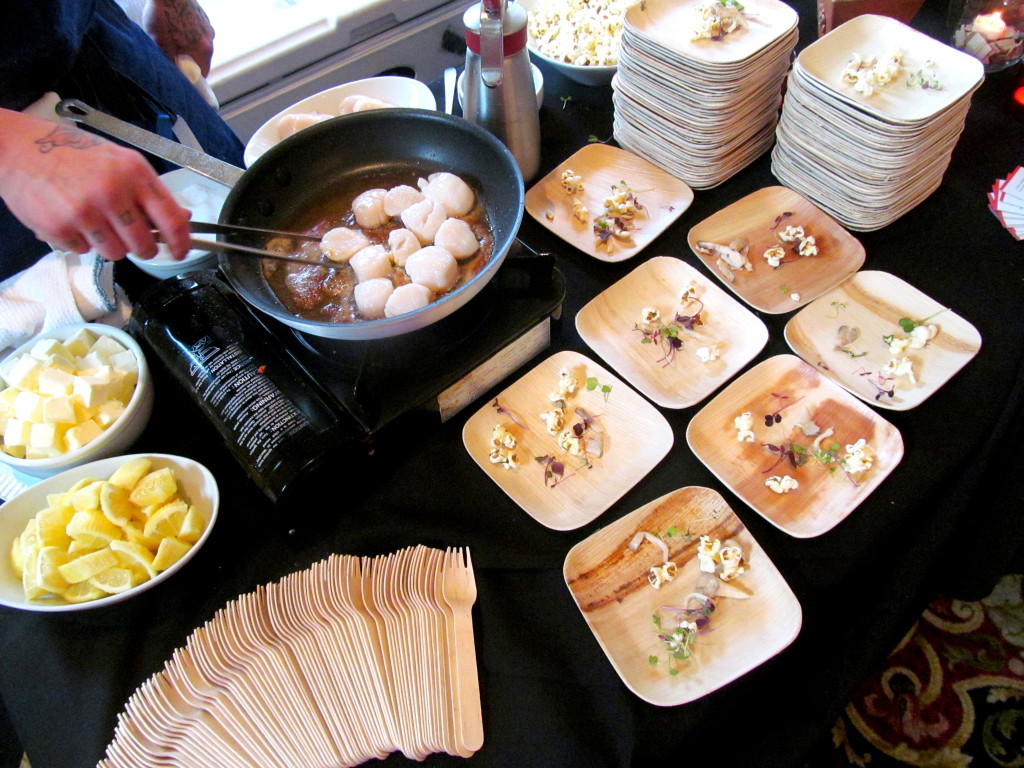 Along with the unique Onyx shooter, Carbone's Kitchen served confit pork shoulder with fresh corn polenta and native tomato giardeniera. The portion was larger than what anyone else was offering! And delicious too – I love love love polenta.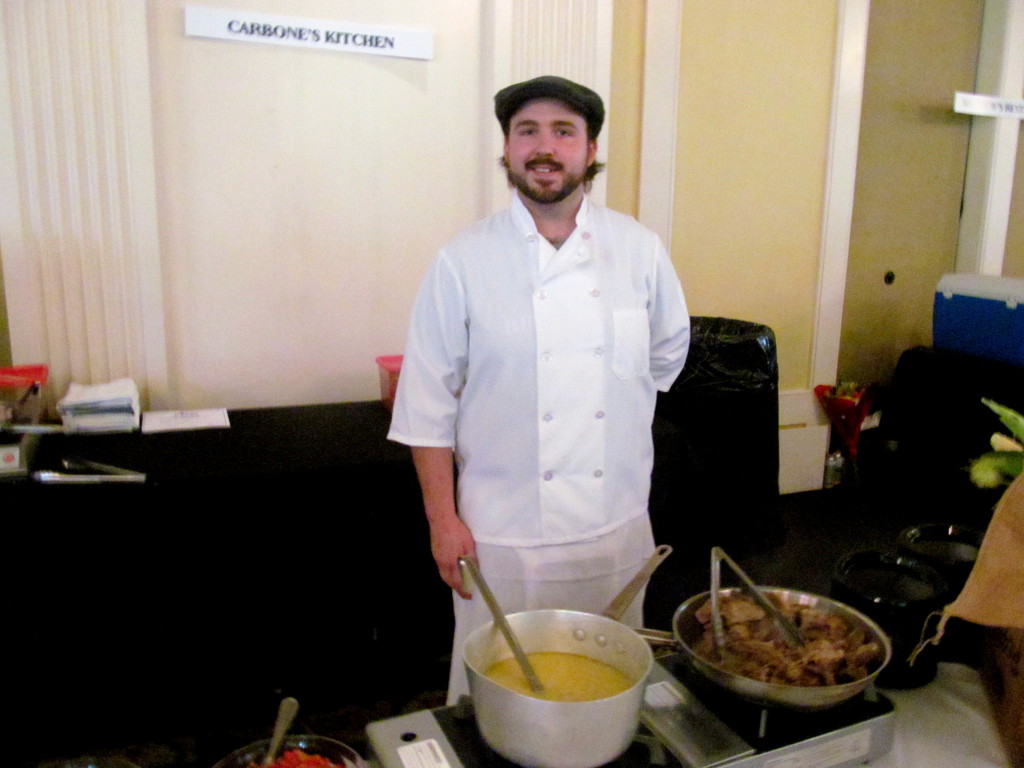 Apricot's Restaurant & Pub, a spot with a legendary beautiful outdoor dining area that I have yet to visit, served two wonderful tastes – a pan-seared sea scallop with pickled local sweet corn, mangoes, shaved red onion and chili peppers and peach and local heirloom tomato gazpacho with lime-zested crème fraiche.
Both scallops and chilled soups were everywhere at this event! Abigail's served red and yellow heirloom tomato gazpacho with Katama Bay oysters and Absolut Pepper with a cucumber floater. Bonus points for use of local Rosedale Farms tomatoes!
I didn't sample Abigail's chilled shrimp either (too average) but did LOVE the local Brie on cranberry walnut toast with apricot jam, tomato marmalade and micro kohlrab.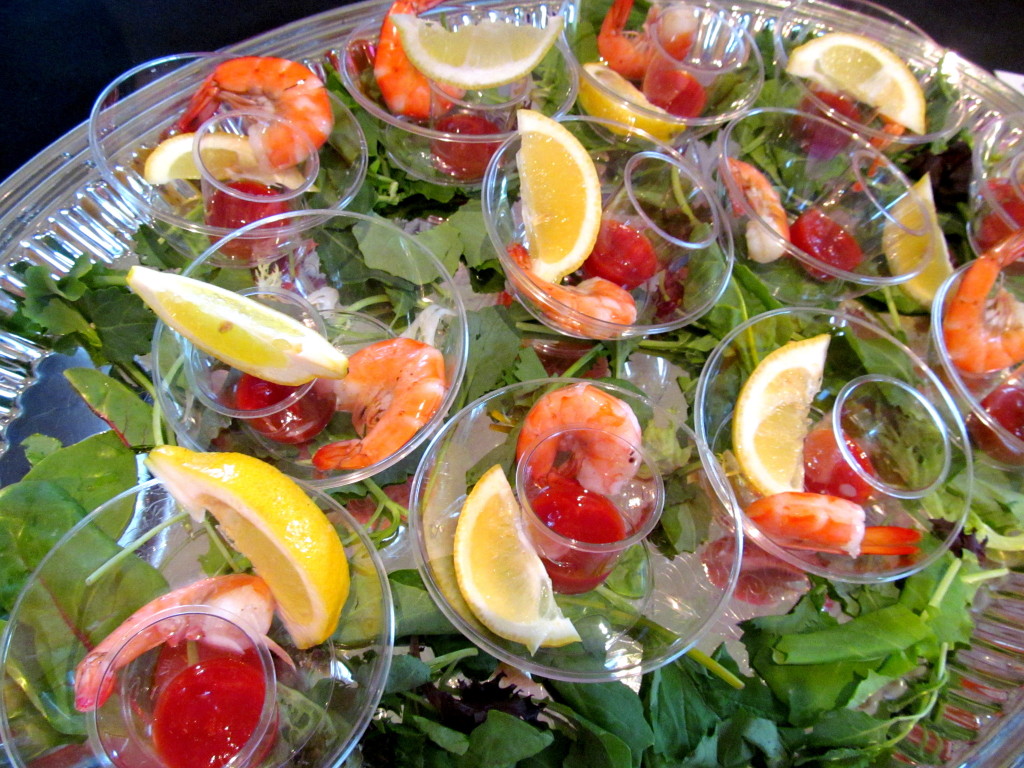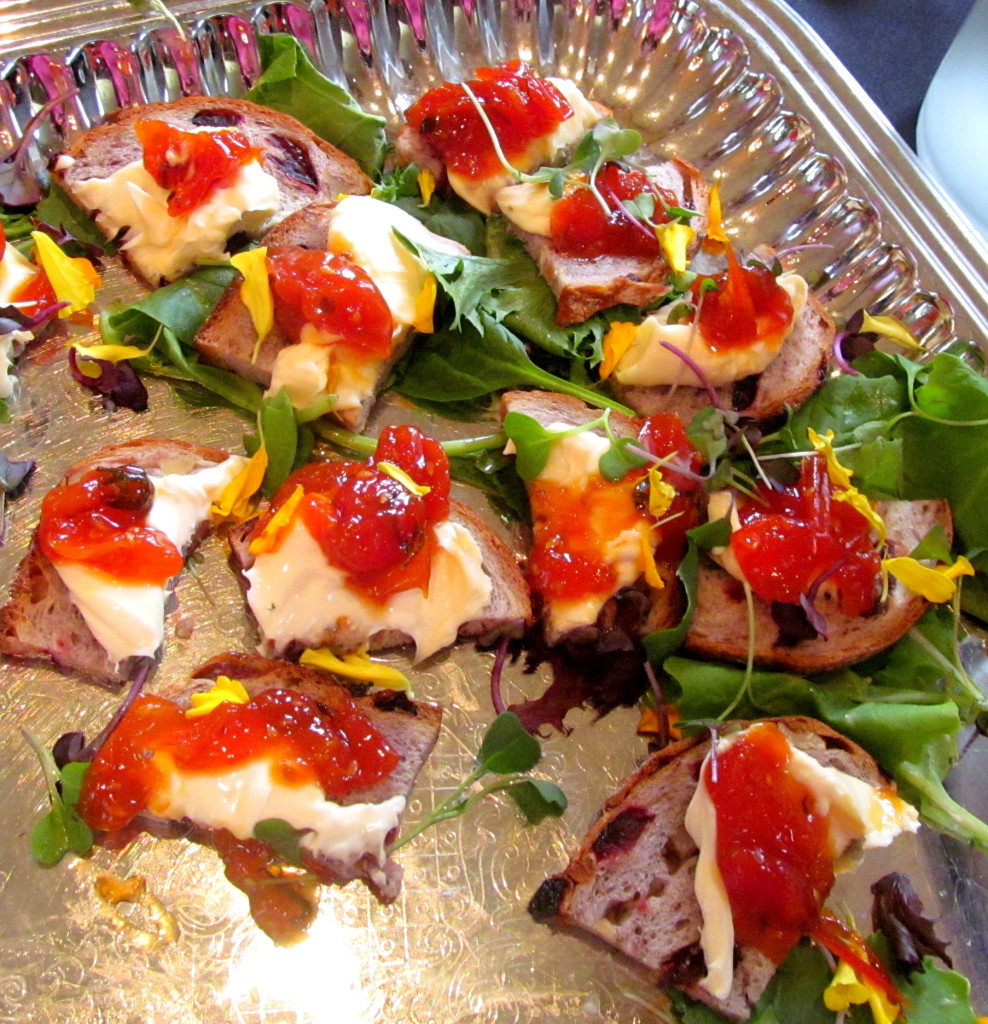 The booth of my wonderful go-to Millwright's was being run by owner and exec chef Tyler Anderson plus newly-crowned Best Pastry Chef in Connecticut, Kristin Eddy.
Tyler's contribution was a wonderful corn chowder with fresh lobster. The fact that it was served at this event made me glad I hadn't yet ordered it during a couple of my recent lunch visits.
I loved both the savory and sweet food of Evergreens at the Simsbury Inn, another place I drive by all the time but have never visited. The butter-poached lobster over sweet corn salad and herbed potato cake stole my heart the moment I heard the words "potato cake"…oh how I love thee, white potato starch.
I'm not usually much for lemon desserts, but the Limoncello Tiramisu tart with lemon filling, creamy mascarpone mousse, and lemon sponge cake WAS INCREDIBLE. Just might have been my favorite dessert of the entire evening.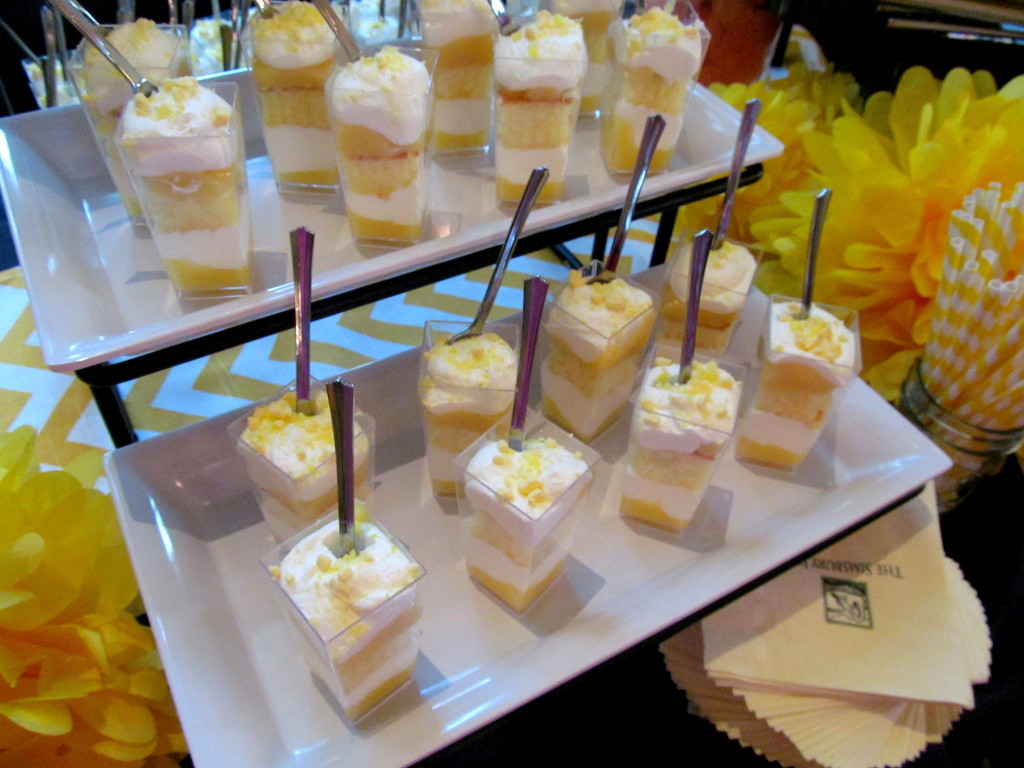 I told myself going into the night that I wouldn't waste "stomach space" on food I'm not big on, like sushi. But Kat was super excited to try it and I'm not one to watch someone eat soooo I tried several offerings from the Asian restaurants at the event, Han Asian Cuisine (Granby, CT) and Meadow Asian Cuisine (Simsbury, CT).
Han's platters came complete with some rather cheesy lighting but I liked the food!
Meadow's sushi roll (salmon, spicy crab, avocado and mango) was nothing I hadn't had before, but was good and being made on-site.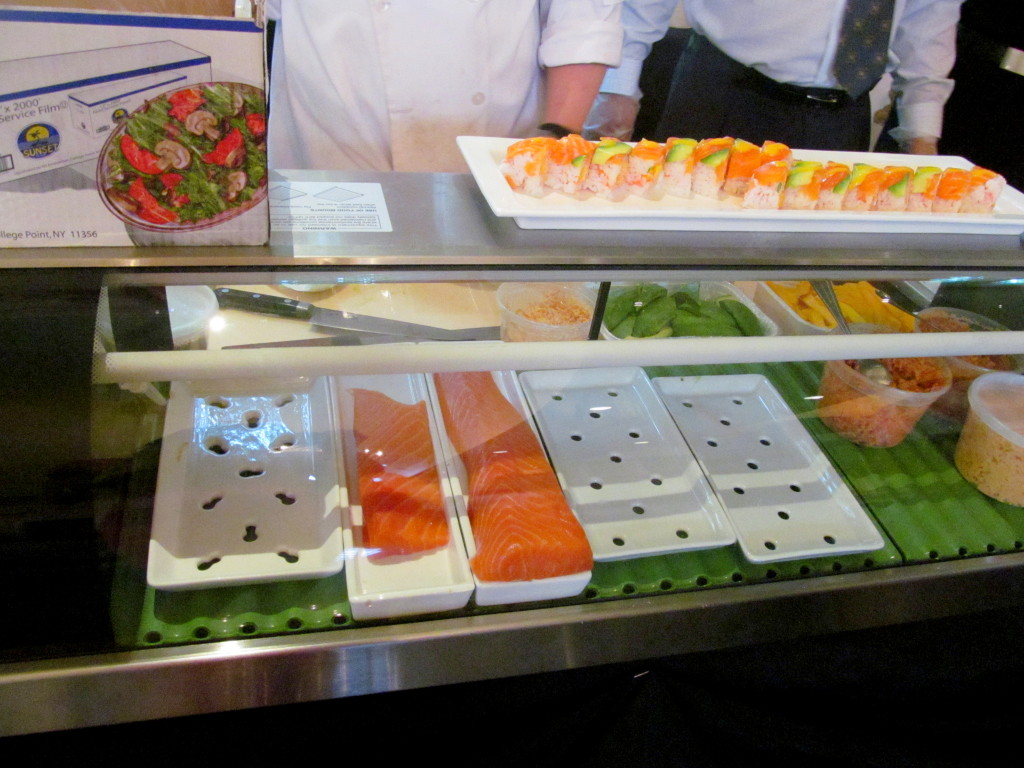 The savory taste from Republic (located in Bloomfield; I've only eaten there once but am dying to go back) had an Asian theme too, but I enjoyed it far more than the sushi…Asian ribs. The meat fell right off the bone, but they were still super messy and required all the napkins.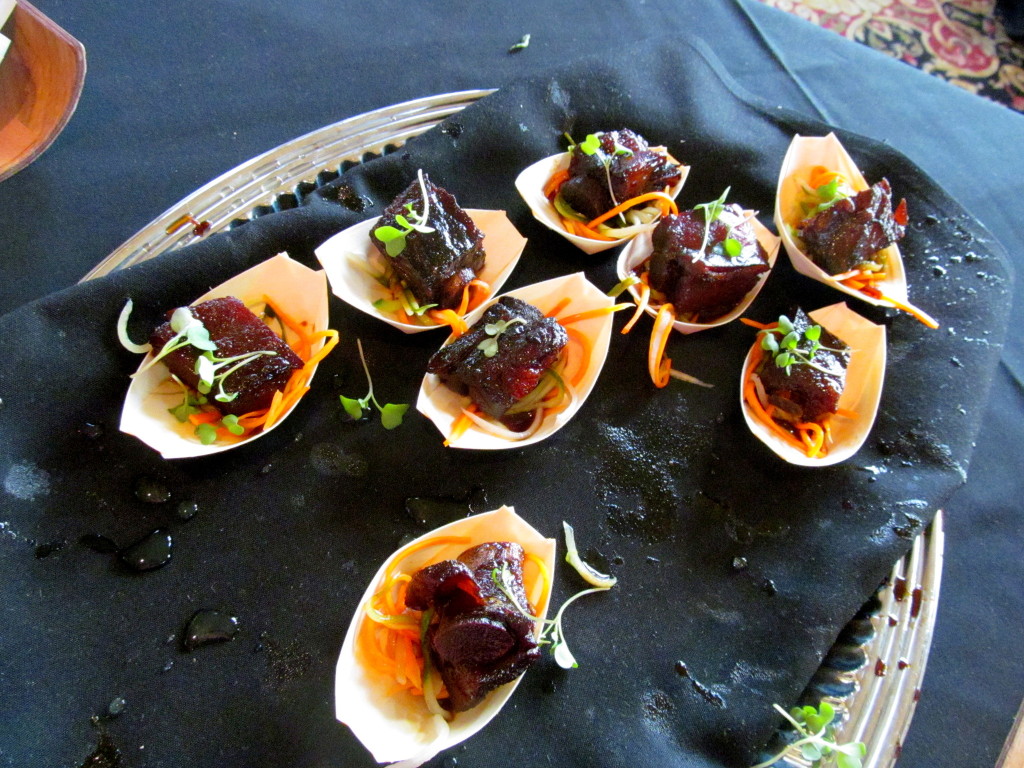 A couple of reps from Republic also walked around with the ribs and the dessert (s'mores cupcakes, I didn't try one because Kat did and said it was too rich).
Unfortunately Kat could not stay long, but I was glad that she got to join me for at least a little bit of tasting!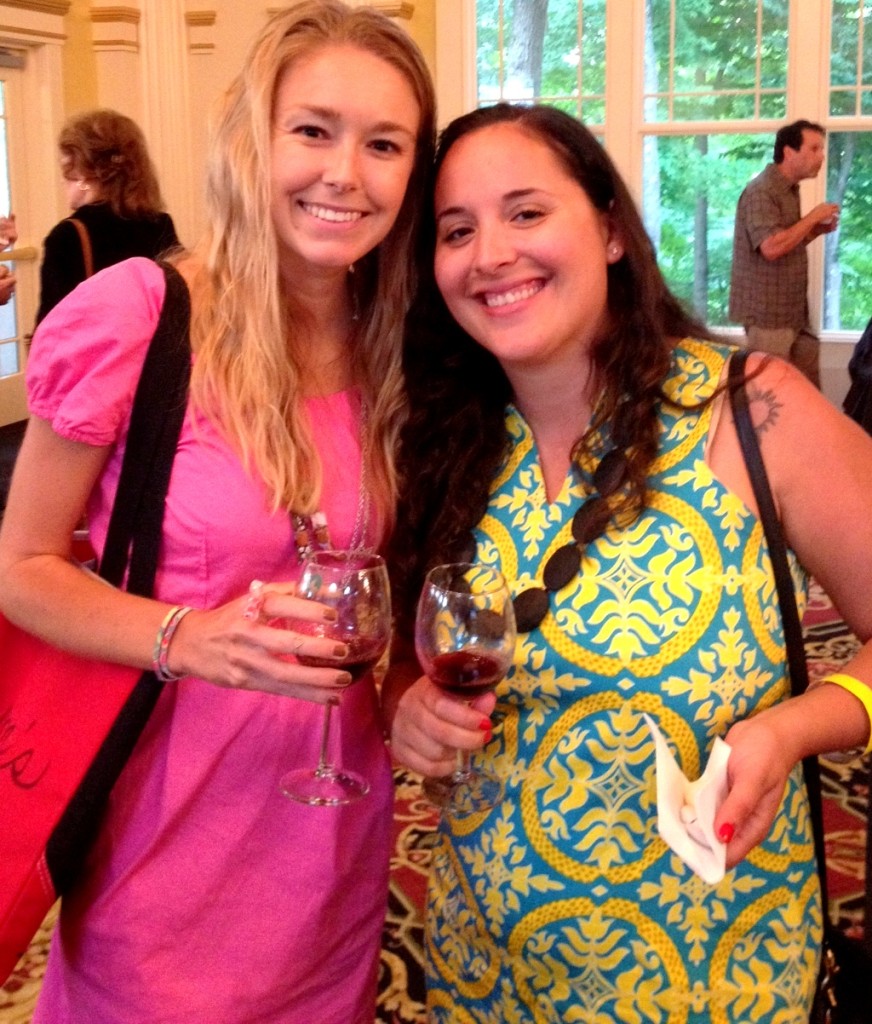 Around "dessert time" I found Carrie of Poet In The Pantry (check out her amazing recap of this event, complete with gorgeous photography). She is a master baker so it seemed appropriate that I did most of my sweet tastes with her! I also encouraged her to try the food from Taste of India; she was skeptical, but ended up liking it after I suggested pairing it with some of my Back East IPA.
J. Foster's has AMAZING ice cream and had to go and offer four choices…the decision could have been torturous if not for Carrie's help! 
I'm so glad I took her rec and went for Graham Central Station AKA graham cracker ice cream, paired with red wine (my favorite wine and food pairing ever is ice cream). Each bite tasted of heaven (yes heaven is most assuredly made of graham crackers) and I definitely detected a slight hint of salt, just the right amount for some contrasting flavor with the sugar.
A Little Something Bakery (West Hartford, CT) also offered several choices, but I stuck with splitting with Carrie a mini dirt bomb. What is that? It's a muffin dipped in butter and rolled in cinnamon sugar. So it's a ball of delicious sin. Contrasts with the heavenly ice cream, yes?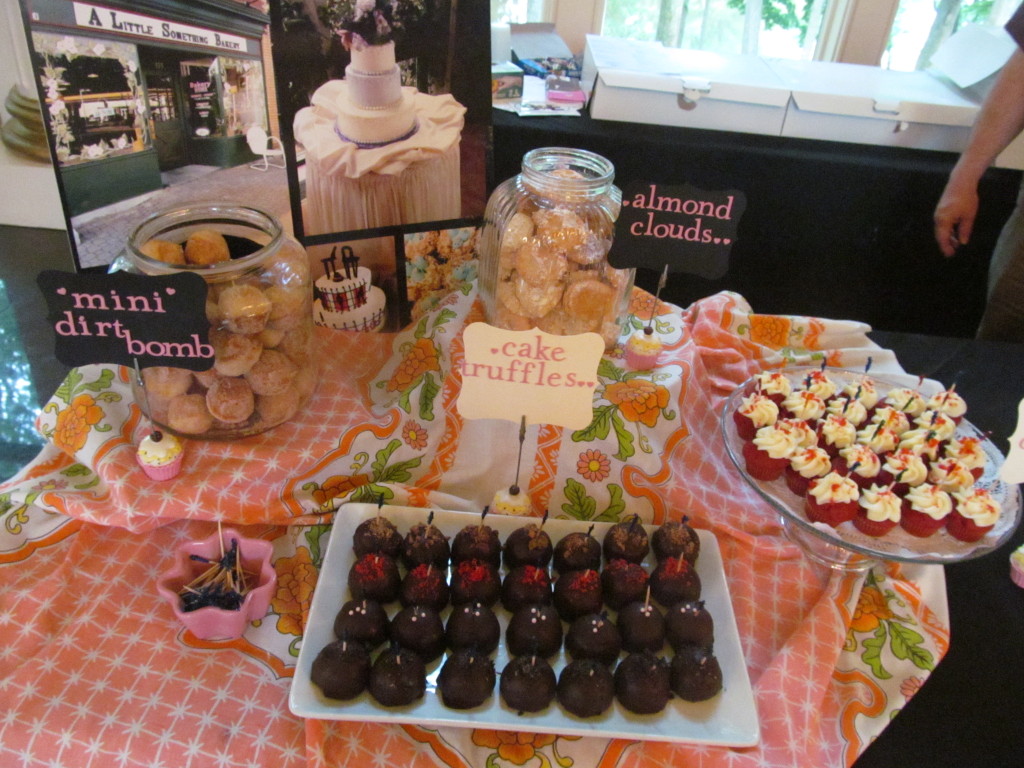 My very last taste of the evening literally occurred in the parking lot. I was about to walk out, as every table was being broken down, and noticed The Riverview's display of wedding cake slices. Now wedding cake usually sucks. I know this. But it looked good to me at the time, and I was on a lovely dessert high. So I went for it, and enjoyed a slice of vanilla and chocolate wedding cake while walking back to my car. Oh well.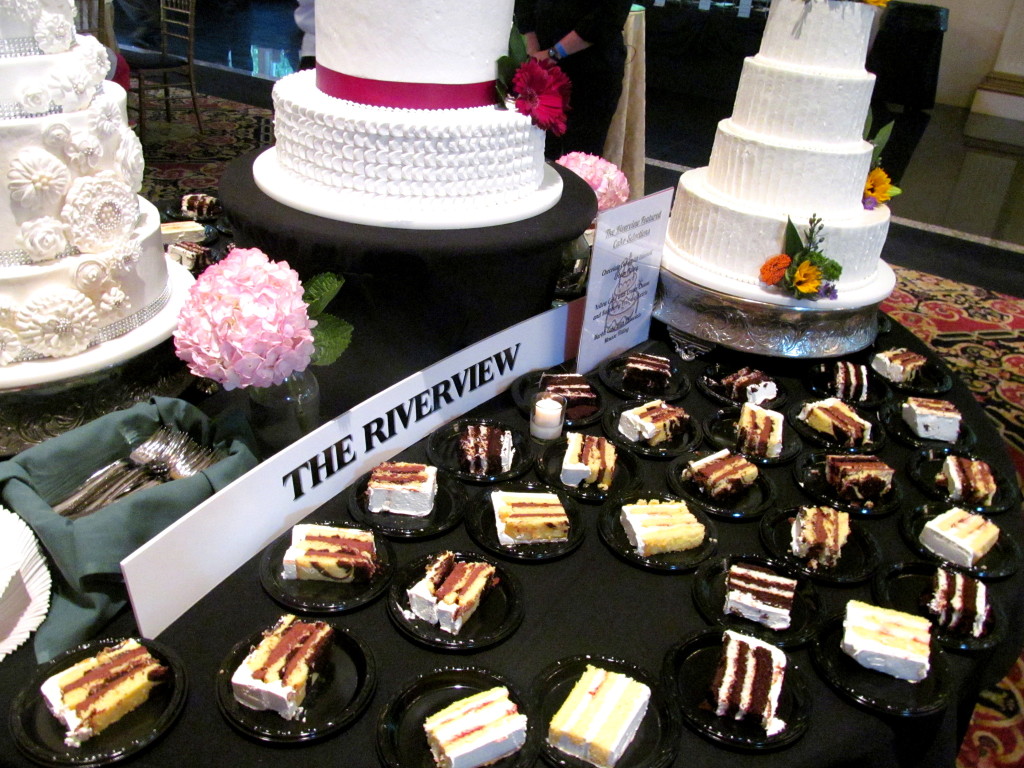 I'm sure you can see if you made it through this huge post why I am calling A Taste in Simsbury the best value tasting event I've ever experienced. $50 for ALL of this?! And it could have certainly been more alcohol if I hadn't been driving! I had a great time and the other patrons I spoke with at the event did as well. I'm so thankful to the Simsbury Main Street Partnership for agreeing to let me help promote and cover the event. And to all the restaurants who participated and helped make the night such a success!