Marvelous Massachusetts and Plan B
Man, I definitely need positive reminders of marvelous on this Monday morning. My morning commute involved a nose bleed and the shocking realization that my car's tissue stock was depleted long ago – and never had been replenished. The fall air is here, with a vengeance!
Marvelous is…finally visiting my darling blend Kelly in Massachusetts! About a month ago, we made a plan for me to stay over this past Friday to Saturday. The timing could not have worked out any better and I was so happy to be able to be there for Kelly and her family during a tough time in their lives.
Marvelous is…Seasons 52 moving up north! I've talked up the chain for awhile and Kelly suggested the newly-opened Burlington location for our Friday night dinner. Twist my arm! I hope this move north continues into CT!
I stuck with wine because I was still feeling a bit dehydrated from the previous evening's late-night Barcelona after-party. Kelly and I started our meal by sharing one of the lovely Seasons 52 flatbreads (emphasis on flat). Thankfully we both had the same one in mind – spicy chipotle shrimp (grilled pineapple, feta cheese, cilantro, roasted poblano peppers).
Instead of an entree I ordered a dinner-size ahi tuna salad and one of the week's special veggies – baby cabbages! Unfortunately these were the first ever lackluster baby cabbages I've ever experienced in a restaurant. They tasted bland and the bread crumbs were too dry. Kelly got her own side and she wasn't a fan either. But my salad was yummy and Kelly really enjoyed her salad of heirloom tomatoes, pesto, balsamic, and mozzarella.
Marvelous is…a FREE morning of outdoor kickboxing! The Lululemon in a super-new shopping center near Kelly was offering free outdoor workouts all weekend, and after Friday's rest day I was craving cardio. The kickboxing instructor was a kick-ass lady with a heavy MA accent and her energy and music were both incredible. I wasn't expecting much out of this workout but it reminded me a lot of Group Kick and my heart rate got pretty high! If it hadn't been for some slowing-down that was necessary to follow the moves, I'd have been really wiped.
Marvelous is…a girly morning of manicures and shopping! MiniLuxe had a table set up by the green where they were giving out free manicures and taking down contact info for a raffle and some promotions. Kelly and I both had bare nails so we were happy to go glitter and get gold glamorous nails! Since the manicure was free, I had to make up for it by purchasing a top on clearance at American Eagle. Obviously.
Marvelous is…an amazing Whole Foods salad beast lunch. Kelly had told me the shopping plaza's Whole Foods was awesome and she certainly didn't lie to me. Not only did I load up my container with baby cabbages, sesame seitan, roasted veggies & tofu, a plethora of bean salads, and a fried plantain, I also purchased a $3.99 bottle of Tempranillo! Please get wine, CT grocery stores!
Marvelous is…an overnight trip to Boston. I departed Kelly's on Saturday afternoon and made the short drive to Boston to visit and stay with my best friend Greg. I swear I love that city so much every time I go, and would definitely want to live there if it wasn't in New England. Can't I escape you, winter?!
Greg showed me around the BU law building, where he spends most of his time, and then we and some other friends hit the Newbury Street area. We ducked into Towne so that I could get my craft cocktail on – my friend Kramer and I shared a Boston Uncommon Gimlet (gin, rosemary syrup, lavender bitters, lime) and a Southie Cider (bourbon, cinnamon syrup, hard cider).
Marvelous is…having dinner salad at Sweetgreen, which I have been dying to try ever since I found out Rachel did their marketing. I got a custom build-your-own salad (is this place meant for me or what?!) with kale, baked falafel, local jalapeno pickles, sweet potato, beets, and roasted broccoli. Oh, and a side of local wheat bread. It was amazing…if I lived in Boston I'd be going here all the time! Greg just converted to veganism and he definitely will be!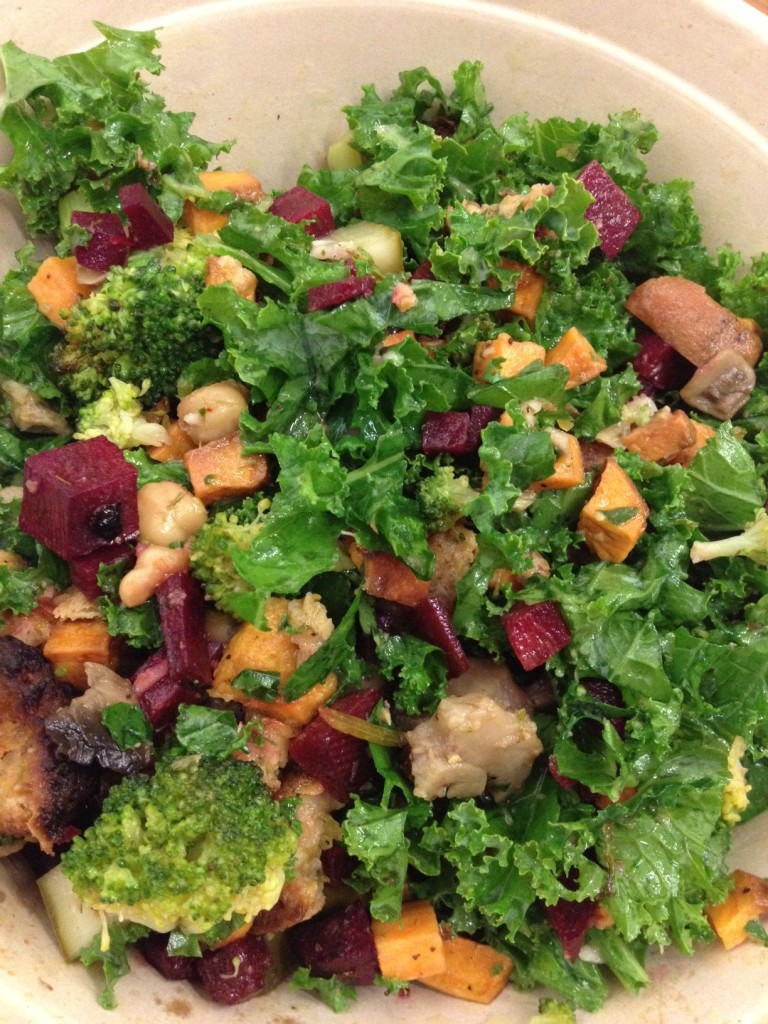 Marvelous is…a house party for adults. That's what I'd describe the shindig I attended! I mean, look at all these classy snacks! I had a hard time with munching on plenty of them throughout the party, even though I'd just eaten dinner. But I tried to tell myself that it was just my dessert substitution. I don't know if that's legit but I do know the snacks were delicious.
Marvelous is…a Sunday morning spin class. Yes, even while away from home I got my Sunday spin on…at Recycle Studios. A full blog post about my experience is to come!
Marvelous is…my dad's work party, which was catered by Plan B! I "earned" my chance to come and mooch off of booze and food by doing a little bit of bartending and clean-up.
Everyone, including me, was very impressed by Plan B's catering efforts. The staff was very helpful and the food was served on-time and never got too low. If there were any hitches in catering logistics, I certainly didn't notice them! Highlights of the evening for me were the chef's apple-bacon jam, the amazing cucumber-tomato salad that is offered as a side in the restaurant, the veggie burger sliders (way better than the full-size veggie burger I tried at Plan B once, which tasted fried), and the EPIC AMOUNTS OF DESSERT.
I had a little bit of each dessert and then went back for some seconds. I also enjoyed a Harpoon IPA and some wine. I'm trying not to think about it and am glad that I still enjoyed myself. The entire weekend consisted of me living my life and trying to tell myself the mantra "I deserve this." I didn't always believe it. In fact, most of the time I didn't. But I have to keep just pushing through and living like I don't have an ED, because I won't be able to get to the point of being recovered unless I actually live out the life I want to lead post-ED. It really sucks to spend so much time feeling gross about myself, but it's better than the alternative.
What was the best part of your weekend?
Have you ever been to Boston?
What is the best catering you've ever experienced?