MIMM: Home and Away
The winner of the Ellovi Body Butter giveaway is Mahdi! Congratulations and look for an email from me about getting you your free jar of raw six-ingredient body butter. Remember if you didn't win you can get 15% off (click here to purchase a jar) by entering offer code "caitplusate".
I went into the weekend wary of how I would handle my plans to visit my good friend/former neighbor Molly in Boston on Saturday night. I still wasn't feeling good about myself after Wednesday night's dinner out and was doing a lot of future-tripping over the guilt I would surely feel after a day and night of restaurant hopping in Beantown. For that reason I made sure to keep Friday night low-key and stayed in my hometown. Of course everything turned out marvelous in the end, as it often does. I've got another weekend of excellent memories and moments I'd re-live again in an instant, even if they also came with some not-so-kind thoughts toward myself.
Marvelous are…my tolerant, flexible parents. I was a bit of a mess when I got home Friday night. I'd been sitting in traffic, stewing with too much time to think about our evening dinner plans. We would have to fight that same traffic again to get over to our planned destination (Rizzuto's in West Hartford) and it didn't seem worth it. But if we didn't go there, where would we go? I'd already mentally prepared myself for one restaurant and I know it sounds silly, but I do not handle plan changes well when it comes to food. Hello, control freak. My parents calmed me down when I got home and let me choose a new restaurant destination that I was comfortable with and that also wouldn't take us on a highway. Speaking of which…
Marvelous was…Friday night dinner at Pond House Grille. That traffic sure had ignited a Manhattan craving in me and I adore Pond House's Tahitian Manhattan so that was where we ended up dining. Unfortunately no room in the bar but we were seated at a table immediately and our waitress Teresa (hello if you're reading!!) did an excellent job. I knew she'd be a good waitress when she brought out bread without us having to ask for it first!
I went for the special (and the LAST serving of it that they had!): fluke with lentils and carrot/parsnip "noodles". And obviously an extra side order of baby cabbages…I hadn't been able to get Pond House's out of my head since last weekend!
The restaurant sent out a complimentary dessert taste – mini eclairs! My dad and I scarfed these up (and I enjoyed my portion with a glass of dessert wine of course).
Our meal wasn't over yet…we concluded with an aroma course! You may remember my experience with one during the chef's tasting I attended. My parents definitely got a kick out of it.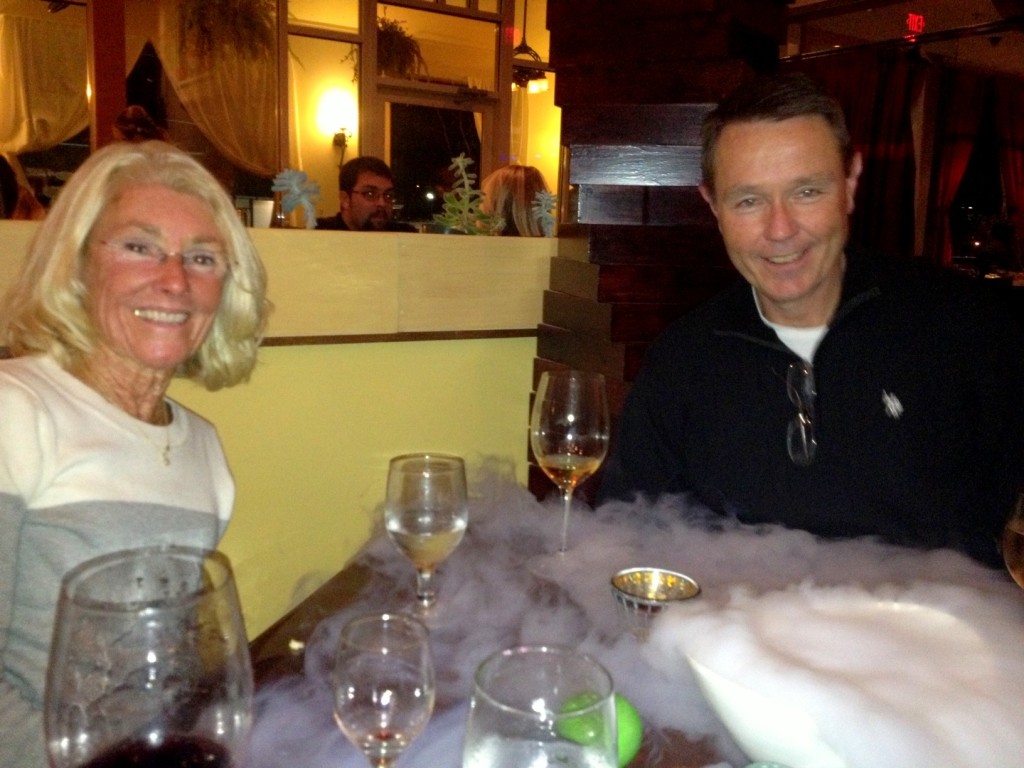 Marvelous was…getting in some good workouts this weekend. I passed out before 9:30PM after dinner so I woke up Saturday morning early enough to make it to 8AM Group Step! The class had a mix of some songs I'd done before and some that were totally new to me, including Taylor Swift's "Red". Sunday morning I took 40 minutes of a spin class (I got there late) and did a few minutes of core work afterward. But after all that cardio I am missing my weights and am so excited for tonight's Group Power class; I look forward to it every Monday!
Marvelous was…my trip to Boston. I just love seeing my close friends for the first time in awhile because how easy it is to pick up right where we left off reminds me of how strong those friendships are. Molly and I have been tight (or as we'd say, biffs) since 2003-ish…10 years!
We started my visit with lunch at Legal Sea Foods. Not exactly a unique foodie restaurant choice but I've wanted to try this chain since hearing Kelly rave about it, and there are none in CT, so why not take advantage? Molly and I each had a salad and shared a delish blackened raw tuna sashimi with seaweed salad.
Legal had a surprisingly awesome collection of not only wine flights, but spirit flights too! We selected "Nectar of the Gods", a tasting of three different rums, to share. Never has a flight been more appropriately named. These vanilla, coffee, and coconut rums were INCREDIBLE! We took the smallest sips to make them last as long as possible.
My favorite thing to do after having lunch out is SHOP…especially with a cocktail buzz. But that can also result in too much money spent, so it's a good thing we ended up sticking to just one stop – the fabulous H&M on Newbury Street. I spent less than $70 so no harm done.
Then we started the journey to Drink, the most amazing speakeasy-style cocktail spot (I blogged about my first visit). It took a few train/bus switches on the T but the trip ended up being worth it, and that's not just because of this view at the seaport…
Drink didn't disappoint. For Molly it lived up to the high expectations I'd set and for me it was great to be back and let them do their magic on my favorite standard cocktail, the Manhattan.
I hadn't planned on having a second Drink drink (ha) but the first went down VERY quickly so I asked for a second creation and named just one ingredient – Velvet Falernum, which I fell in love with during last summer's Newport trip. I don't know the other ingredients in the drink my talented bartender made me but I enjoyed it because I could really taste the Falernum. I still preferred my first drink though – whiskey will always win my heart!
We both developed a cheese plate craving and for some frustrating reason, none of the restaurants we ducked into had one on their menu! Finally we found success with the Salvatore's antipasti appetizer!
Our bartender was awesome and offered us bread with house-made basil hummus. YES PLEASE.
She also was nice enough to pour me tons of different samples of various wines from the reds by the glass section of the wine list. A nice older lady sitting next to us purchased our wine for us too – a random act of kindness!
Our next (but not last!) stop was Legal Test Kitchen (another Legal Sea Foods spot!) to get my daily baby cabbages fix. I didn't get a picture of them unfortunately, or the marvelous bread and white bean spread. But I did get a picture of our red wine flight (oh and us).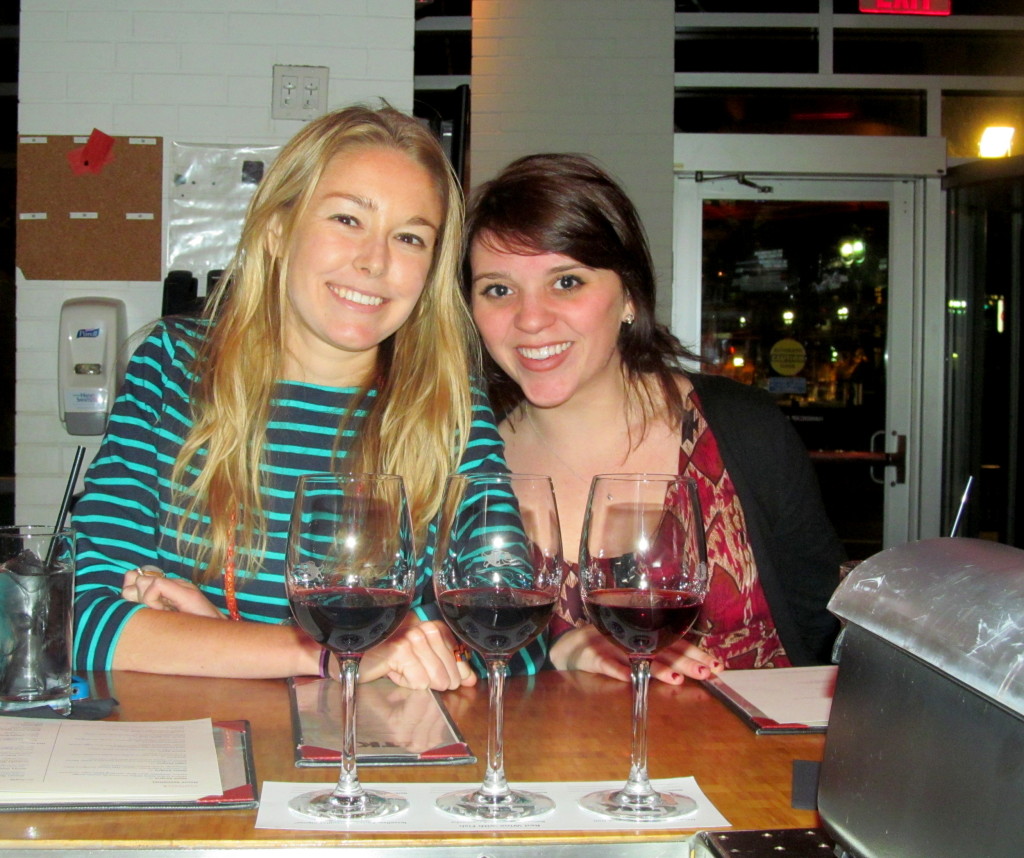 Okay, now on to the last stop…RITE AID! Because sometimes you just want to buy a bottle of Apothic Red, some Ben & Jerry's Late Night Snack (disappointing…I couldn't even taste the potato chips!), snap a quick pic with Santa, and pass out before 10PM.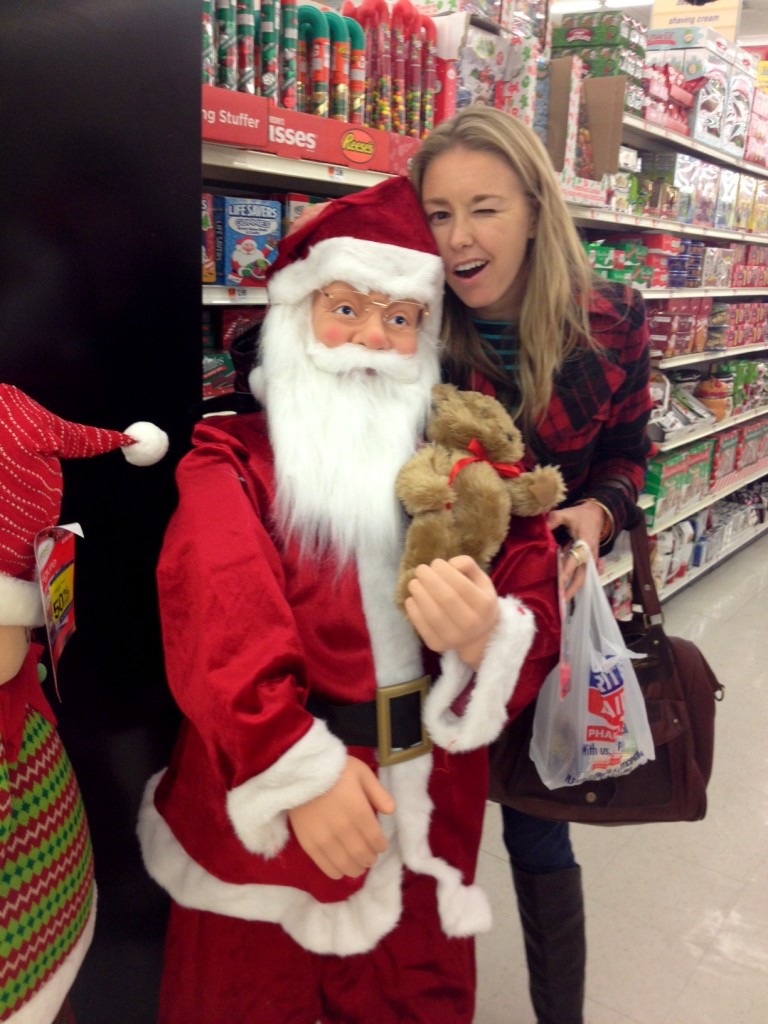 Real talk. I woke up a couple of times in the middle of the night and felt SO guilty. I wasn't having a very hard time about the food because I know I didn't overeat. I listened to my body. But alcohol calories just SUCK. They give me so much anxiety because I can't ask myself whether or not I'm full when it comes to them. I feel like (whether I have one drink or five) I can't trust my body to tell me when I'm drinking too many calories and so if I drink at all, I will over-consume and gain weight. I love trying interesting beers, cool cocktails, and delicious wines. I'd rather not drink than drink Bud Light or Barefoot wine. Part of my Boston experience was the drinks. I just hated myself for wanting that to be a part of it.
The guilt translated into my view of my body and I felt really unhappy with my appearance all day yesterday. My pants felt too tight…even my yoga/pajama pants. Is it in my head? Is it for real? I felt like I had to feel the guilt just like I did after getting really full on Wednesday, because if I didn't then I'd "be bad" again and again and end up weighing more. This discussion is a whole other post in itself that I plan to publish this week.
But I had an incredible time with Molly. I'm so thankful we could spend such a fun time together. I'm so grateful to have such a good friend like her. I'm lucky to have the means to drive to Boston and go to these restaurants and spend money on the food and drinks. And clothes that I wanted but didn't really need. That's why these MIMM posts are really great for me. I tend to deal with the most ED thoughts on Sundays, and that's when I write these posts. Mondays the thoughts still linger as I'm getting back into my safe work week routine, and that's where your helpful comments always make a difference.
Marvelous was…a quiet Sunday. Despite the frigid wind, I enjoyed my Sunday because once I got home at 12:30PM or so from Boston, the gym, and a coffee run, I didn't leave the house once. I wrote this post, did laundry, sat by the fire, and completed a few other chores. It made me feel productive yet relaxed at the same time and was what I needed.
Marvelous is…being featured on Kicks, Turns, & Kettlebells! Kristen goes to a super cool school that offers a minor in social media, so she started her blog for her capstone class. Best homework ever! She decided to interview other bloggers for an assignment and I'm honored that she chose me. Check out my answers to her interview questions over on her blog! Thank you Kristen for featuring me!
Marvelous is…I'm almost at 5,000 followers on Twitter! Can you help get me there?
What was marvelous about your weekend?
Do you enjoy making restaurants and cool food/drinks part of your travel plans?