Trade Em Up Tuesday
Alex is a big fan of Trade Em Up Tuesday (her post today is living proof) and I have always wanted to participate, but the timing never worked out. Well today it has and I have plenty of little shares, so this post is perfect for just that!
I would trade…the serious Monday doldrums I was in yesterday. I know I said that I allowed myself to enjoy my weekend without too much regret and I did…until Sunday night. I went over to Kat's to have dinner and watch the Golden Globes with our friend Carolyn, and ended up drinking way more Cupcake Prosecco and St. Germaine than I'd originally planned. I also ate a TON of baby cabbages (roasted in olive oil and curry powder, a new-to-me roasting ingredient that I'll surely be using again) which just made me feel so full. Even if I'm full of veggies, that full feeling is hard to deal with and messes with my head. I woke up on Monday feeling dehydrated and bloated, so my clothes felt tight on me. I checked the tag on my shirt and it read XS, so I attempted to comfort myself with the fact that such a small size purchased earlier in my recovery surely may feel smaller on me now, but then my ED started beating me up for trying to make myself feel OK with not fitting into the smallest sizes out there. AGH.
I would not trade…the excellent time I had at Kat's! Carolyn is hilarious so having her around to watch the awards with us was great. Kat made an amazing dinner (she roasted a lemon and rosemary chicken and gave me a mini tutorial on how to do so; it turned out delicious) and damn, Prosecco and St. Germaine is fantastic. Of course I also got quality time with Kat's daughter Penelope, and even was able to babysit her for about thirty minutes while Kat and her hubby went on an errand. It meant a lot to me that they trusted me with their little girl and I hope it was the first of many babysitting sessions to come!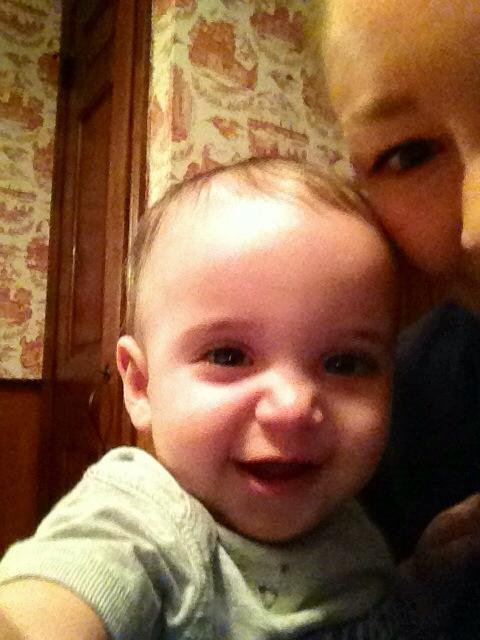 I would trade…my recent fiber overdose. Between all those Brussels at Kat's, leftovers in yesterday's lunch salad, and broccoli at dinner last night, my stomach is pretty much in a big fight with me. This morning I almost had to cut my Step Mill session short because I suddenly felt like I was going to puke during a speed interval. TMI alert, my bad.
I would not trade…the fact that YOU READ THAT RIGHT I went to the gym this morning! I took my mom to the airport around 9 so I had time for 30 minutes of StepMill speed intervals before doing that and then heading to work. I have this weird empty period of time after work today that I'm not quite sure what to do with, but whatever I do I'm going to enjoy it, dammit.
I would trade…the Hunger Games series. I want to see the movies because I adore Jennifer Lawrence (except when she gets a pixie cut and tries to rock Ariel fashion at the Golden Globes) but will not let myself do so until I finish all three books. I finally finished Catching Fire yesterday and I just can't seem to get that into these books. Reading them feels like a bit of a chore and to be honest, the only part of the third book that leaves me curious is the Gale vs Peeta mystery! I have no idea when I will get around to reading it. On a related note, check out this Buzzfeed list…I can relate to so much of it.
I would not trade…last night's Group Power class. It helped me start coming out of that Monday funk and really makes me feel so strong every week. Even though the chest track called for decreased weight I kept mine the same and barely missed any reps, so that felt awesome. I've kept my squat weight the same for quite awhile now but that's because I've really been putting more effort into great form and going down lower. My hamstrings are also already feeling the back and leg track.
I would trade…the waiting game. I cannot be specific here but I am waiting for answers about my future and waiting for them SUCKS. Especially for a control freak like me. It's a good lesson though in just sitting back and waiting for what will be. Sometimes it's nice to worry about something I have no control over because the worrying doesn't involve putting pressure on myself to take action, because there is literally nothing more I can do. Does that make sense? Does anyone get it? It certainly beats worrying about gaining weight because in my head, there is always something that I could be doing in that regard (I could always run more, I could always cut out this food, etc).
I would not trade…the beautiful monogrammed stemless wine glass my sister got me for Christmas. I've been waiting til I drank white wine out of it to post it on Instagram (lame I know but the red would not look as pretty in the glass!) and finally was able to do so last night when I opened a wine I got at the March of Dimes Signature Chefs Auction. The gift means a lot to me because the gift is just so HER…she loves monograms and knows this is something I'd enjoy (hello wine-related!) but not something I'd ever purchase for myself. Thank you sista!
I would trade…how slow my blog has been over the last month or two. It's driving me NUTS. Thankfully I have a transition to a new host and a more dedicated server in the works. I certainly hope that does the trick, and thank anyone else experiencing the same slowness for your patience.
I think that's enough for now. That was fun! Thanks Alex for the great post idea and I hope I will be able to do some more Trade Em Up Tuesdays in the future.
What are your Tuesday trades and not trades?
Have you ever eaten too much of one food group and felt the effects?
What would you prefer to worry about – something you could or couldn't control?
What was your favorite gift of the holiday season?